So much has happened in the sport since a year ago when my entire Swizcorner Millville column was spent chronicling Chad Reed's legendary ejection and inspiring ride following the crash.
So much has happened in the sport since a year ago when my entire Swizcorner Millville column was spent chronicling Chad Reed's legendary ejection and inspiring ride following the crash.
Photos By: THE James Lissimore
MX1
Nick Wey suffered a nasty crash of his own in Millville this weekend but it sounds like he is on the mend and going to fully recover. Anytime you read the words "the hip is back in", makes me cringe. I've never popped a hip but that sounds like some serious pain. Adding insult to injury was the fact that Nick was on a part-time outdoor schedule, more for his fans than anything. Coming into a series where your competition has been all-out since round one is a lose/lose battle. They're more prepared and with points being irrelevant, it's simply a matter of tasting that intensity. The deal is nothing new to Nick. Just a bummer all around. Heal up bud.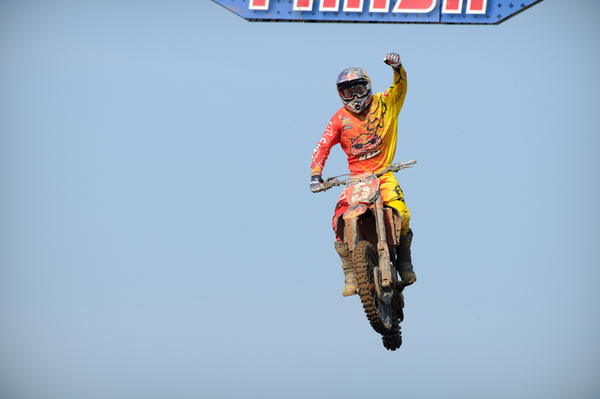 Dungey, for the third year straight, took his hometown race.
There was little debate over who would be the top dog in the MX1 class in Millville. Ryan Dungey has proven he is the man to beat and it's no surprise to see that the last man standing of the "top 5" in the class, is the guy who is known for his conservative approach to racing. Here's the thing though, all along, since his graduation to the 450 class, Dungey has been tagged with that label. Often criticized for his lack of aggression and complacency, is it all part of the plan The Dunge has been committed to? I wrote last week that Dungey is the most consistently improving rider from year to year in the sport. Perhaps he has been planning all along on his competition exiting each year prematurely with injury while he remains in the battle and increases his comfort level and pace at that "next level". One of two things will happen when the 2013 Supercross season kicks-off, either Dungey will again settle into his role of capitalizer of opportunity and suffer the same criticisms as always, or he will have once again improved as he usually does and leave many with egg on their faces. With his track record, I'm leaning toward the latter happening. It's no coincidence that Dungey is considered a sponge by many veterans in the sport. He just continues to absorb and improve and his ability to remain healthy is a big part of that.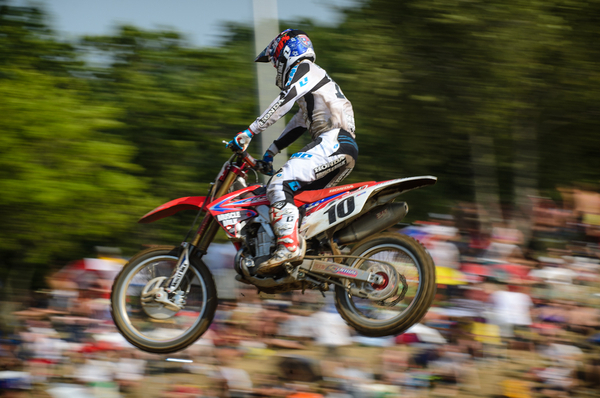 Justin Brayton has gotten down to business in the last two rounds.
Justin Brayton backs up his Red Bud re-emergence with another great ride in Millville. Sure it's a 4th as opposed to a 2nd but that's more due to others' inconsistency at Red Bud than a worse ride by Justin in Millville. I'm not sure how to feel about Justin's approach to hiding his injury through the beginning of the outdoor series. On one hand, it's commendable for Justin to keep it on the DL and not use it as an excuse for his poor first half but you can't erase the results or the conjecture surrounding those results. More power to Justin if he is ok with all the speculation but in a contract year, I'd be erring on the side of "yeah, here's why I'm not riding well right now, I'll be better soon". So it goes in moto where riding injured is apparently classified information.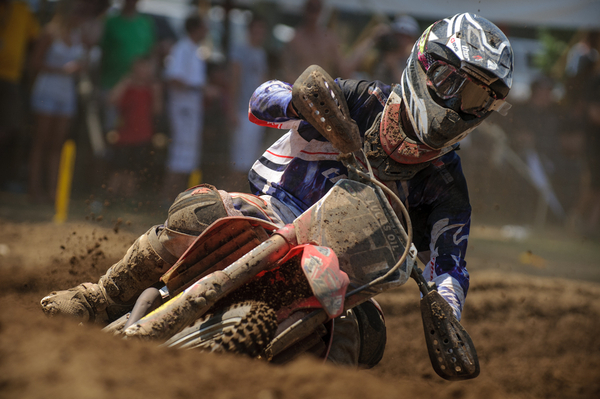 Will Cole be switching classes mid-series?
I purposely left Cole Thompson out of the Corner last week because I knew Matthes would be laying it on pretty thick. This week though, with an 8th to follow up his 7th it's official, Cole Thompson is a true Canadian badass and has made Matthes look silly with his pre 2012 suggestion to stay in Canada instead of racing here on his own dime (Matthes note: I have never said this, I've always admired Cole for not taking the cash in Canada and trying to make it down in the USA. Swizzle is high and drunk). Cole is following in the footsteps of Ryan Dungey by being plucked out of the B class and he's proven he has what it takes to race full-time in America and that he is worthy of a solid ride. The sticky part though is, Cole's young so he needs a 250 ride but he's big so it's got to be a factory supported 250 team or at least a reliable Eleven/10 mods bike. Otherwise Cole is going to be hampered by an underpowered machine and his results will suffer. Hopefully his hard work pays off with that ride for 2013 and he isn't forced to go it alone for another year. ***Well, the news just dropped as I was writing this that Cole has signed with Star Valli for the rest of the 2012 outdoor series. A carbureted 250 isn't exactly what I had in mind when I said Factory-supported team but at least he has an infrastructure around him to let him focus just on riding. Will he finish top ten in the 250 class as he has in the 450 class? I don't see it. Not mid-season, switching brands, classes and programs but like I said, now he just has to focus on riding so it's a positive.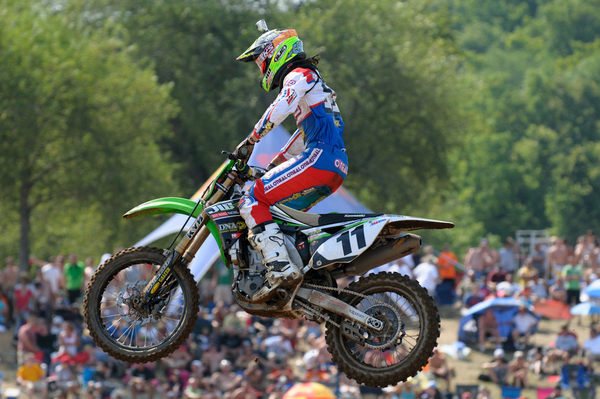 Love that Chizz is always running custom painted lids.
Finally Kyle Chisholm has a moto finish indicative of where he's capable of racing week in and week out. It's crazy, Chizz is one of few riders who really did enjoy the Yamaha 450. Even still, I expected him to only improve when he got onto another brand but it just hasn't happened this year. Kyle's had some lingering issues in 2012 but I remain optimistic that he can figure it out and be a top ten guy every week. He has to, at some point he just has to say eff it, everything's not perfect but it's on me to make the best of it. His good friend Broc Tickle found a way to overcome his mental blocks so I believe Kyle can overcome whatever is causing his struggles as well.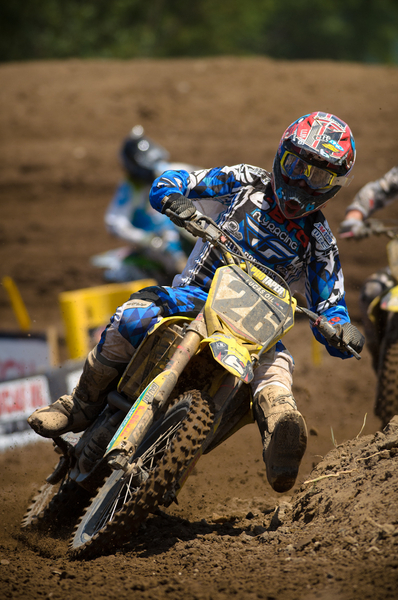 The "Byrne-Seed" is sprouting again.
I'm pumped to see that 9th for Byrner in moto 1. It's been 2 long years of struggles for him and beginning with his 10-10 in Red Bud, the confidence is starting to build again. It's like a little seedling planted in a flower bed. The last two years were filled with a drought but finally the seedling has seen a little rain and a sprout has broken through the surface of the dirt. I'm hoping for a little more rain for Byrner's sprout come Washougal.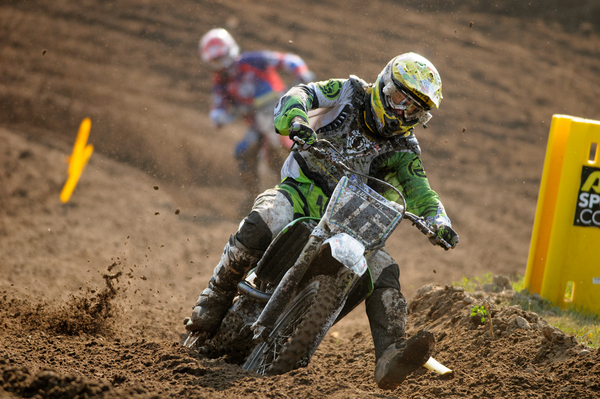 How about trading the number for a "past-Champs" custom number plate background?
It seems each year we find ourselves discussing the old guy racers from yesteryear entering in select Nationals in an attempt to retain their National numbers. For a long time I was of the opinion that if these guys still, at any age, possess the skill to score 25 points, regardless of how many races it takes, they should be able to retain their number. The longer it goes on though, I feel like maybe the better answer is a sort of "past-champs" number plate background color identifier. I just don't see the benefit, for anyone, in the old guys retaining their numbers. The guys who are exercising this right are not attempting to market the number so really, what is the point? Currently the guys going after number retention are John Dowd and Mike Brown. Unequivocally two of the most badass champs to ever line-up and still I say, they need to be recognized but number retention needs to go. Perhaps add an addendum to the rule with a minimum of half the outdoor rounds being competed in and 25pts scored to retain the number?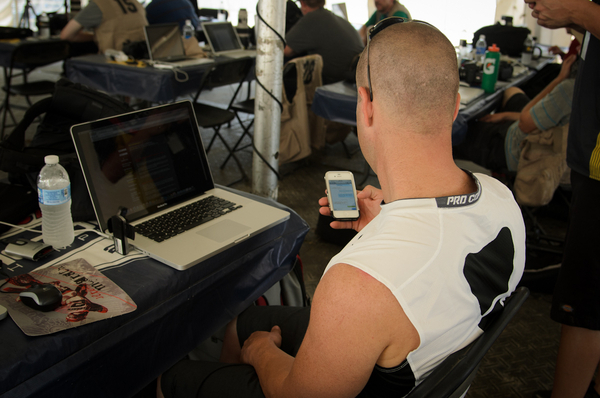 Here JT$ reads the secret to success leading up to moto 2. Yes, it's from me.
Cue the Rocky music. JT$, veteran of pro-moto, star of Small Man, Big Heart, fan favorite and PulpMX Media liaison put the broken chain of moto 1 out of his mind and turned that frustration into a fire in his belly that has not been seen since Sly watched Lundgren put Apollo six-feet under. It's been a nauseating year for JT$ and even though it's his last year of professional competition, it matters to him. JT puts in the work and holds himself more accountable than most in the sport and when the results don't come on the weekend, it makes for frustrating weeks. JT's honesty, insight and dry humor have endeared him to the PulpMX crowd like no other rider so these 4 points mean more to more people than any other in history.
MX2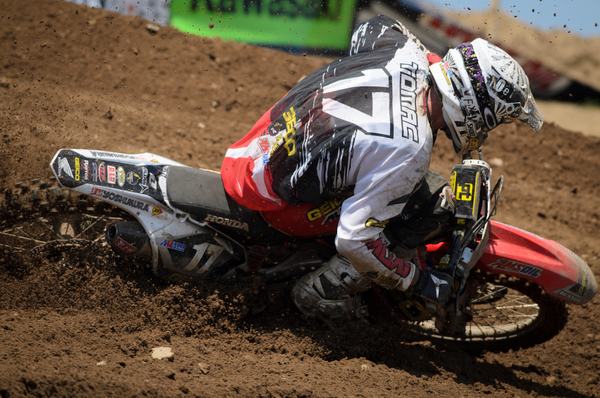 Did Eli learn something about pressuring Blake in Millville?
Eli Tomac has made me look a little silly since his High Point trouncing of the field coming from the back of the pack when I called him as the "man amongst boys" of the MX2 class. Eli hasn't pulled off another performance like that since. Don't get me wrong, he's been strong but at High Point, Eli was "Baggett-impressive". This weekend you could see that Eli was not interested in becoming the latest racer for Baggett to make look silly while passing for the lead. In moto one, Eli got passed in just such a way and it was clear that little lesson was fresh in Eli's head when Baggett went for the pass again in moto two. Although Baggett was able to again make the pass stick, Eli was feverishly trying to latch on to Blake's rear fender and apply pressure. It worked. In the wake of the Millville MX2 race, all the talk seems to be about Blake's amazing charge from the back again and the stand-up pass on Barcia but if you're any of his competitors, trust me, the in-truck discussions are that there may have been a crack found in his armor. It may be a bit of a gamble because it's clear, Blake's speed is a step above everyone else in the class but if you can ride that razor edge of control on Blake's fender long enough, the pressure may just force him beyond his comfort zone too and leave him on the deck. As I said, it's a gamble because in doing so, you are also putting your own fate at risk but if you want to beat Blake, it may just be the best chance you have.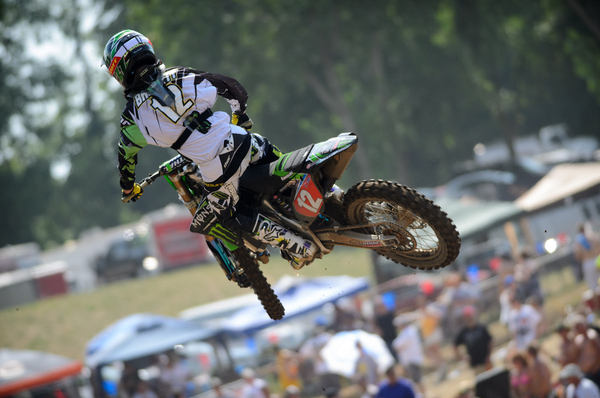 Blake's confidence is soaring, can he keep it in check?
Speaking of Baggett's stand up pass on Barcia in moto one. Wow. Was it impressive? Hell yes. Was it risky? Hell yes. That move could have just as easily left him remounting just as he did in moto two. That's the kind of move you save for the last corner of the race, ala RV on Dunge Steel City 2011; not mid-moto one. Maybe Blake is just that confident but I believe it to be just a bit rash at that point in the race. Hindsight being 20/20 it was great, had he hit the deck though, it would have looked like an over-eager spaz move. Again, awesome? Yes, by a millimeter.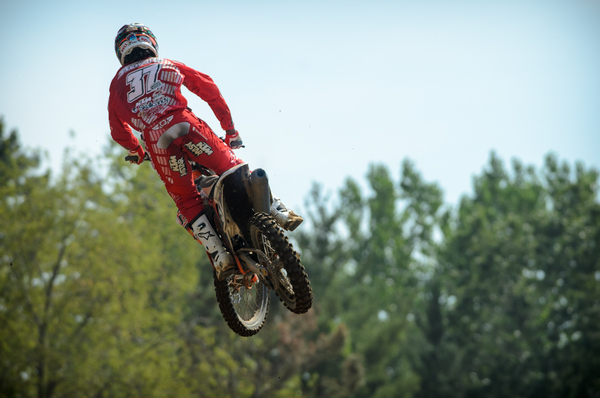 Mookie shows a lot of tenacity just by continuing to gut it out on a bike that has DNF'd 1/2 the motos.
It's good to see Malcolm Stewarts bike finish two motos. I swear, each week as Malcolms bike is inevitably pushed back to the pits in at least one moto, I ask how does Mookie find the motivation to even line back up for the next? He's far to physically solid for an MX2 bike and I have to think that has a thing or two to do with him having so many mechanical DNF's. Malcolm's average finish is 23.8 with 7 DNF's out of 14 moto's. That's half people.
Question, there's been lots of talk about getting the field IV's in between moto's; much like steroids in baseball, how much would the results of this years National series be tainted if we were to find out that certain riders were indeed getting IV's after moto one?
Sure, it's also a suspect issue for years past but there's only one year where something could still be done to assure a level field.