With one title still undecided, a virgin track and blistering heat, the Lake Elsinore finale had shaped up to be the pinnacle of uncertainty in a great MX2 battle. Oh, there was an MX1 race as well.
With one title still undecided, a virgin track and blistering heat, the Lake Elsinore finale had shaped up to be the pinnacle of uncertainty in a great MX2 battle. Oh, there was an MX1 race as well.
Photos By: THE James Lissimore
From the day Lake Elsinore was announced to replace the one 'n' done Pala of 2011, there was massive dissension from the ranks of pro racers from both the MX1 and MX2 classes. For years the site had been known as a blue-grooved, slick as snot, windy and traction-less, flat, once dry lake-bed and far from a track that even the most optimistic Pro would be itching to compete on. Equaling the snubbings to the thought of racing Elsinore, was the consistent claims that MX Sports was working their asses off and all but guaranteeing that the track would be a success and everyone racers included, would be impressed with the results. Well, as far as presentation and creature comforts for the droves of fans, the facility delivered in spades. Aside from the fact that the landscape was as dry and desolate as any of the multitude of desert-based California tracks, the unimaginably expensive white fencing lining much of the racing perimeter did a nominal job of making all that sand look inviting.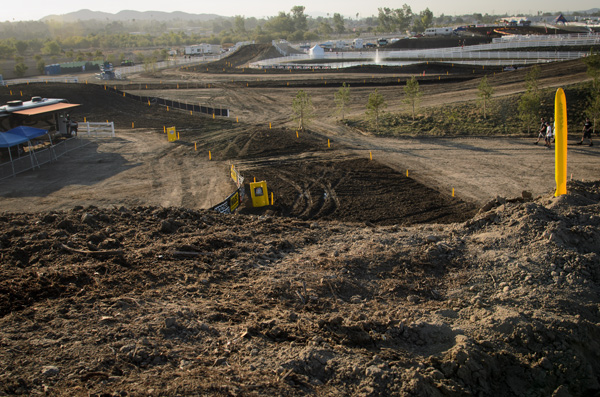 Is this the best Lake Elsinore can be?
As far as the track itself, I gotta admit, I was impressed with their effort and how close they came to making it a really good racing surface. With as much work as they put into converting the abysmal native "soil" into an accommodating, deep race surface (no small feat), it turned out pretty decent. Par for the course throughout the 2012 National series has been water early and heavily(!) to penetrate deep into the base in an attempt to keep the track tacky, constantly evolving and dust-free. There are just some instances where attempting to fight Mother Nature is a hapless affair and the Elsinore heat, native soil and wind fought the track crew and mostly won. There's no doubt, MX Sports did as well as could be expected and it was infinitely better than most anyone expected but honestly, when compared to the truly historic stops of the series, that aint saying a lot. We shouldn't be heading into a final round of the National Series with our fingers crossed that the track will be well received. Apparently it's a lot harder to lock down a truly kick-ass location for a SoCal National than one would expect being the "hotbed" of American Motocross and all. All that aside though, the riders were pleasantly surprised enough that it appears Lake Elsinore will be on the schedule in the future. My main concern of course is, this being the new Elsinore's first impression and first impressions being make or break, can they match the amount of work put forth this year? Will it get better, or is this the peak of what Lake Elsinore can be? Time will tell.
Speaking of time, nearly 3-minute lap times? What gives? It's puzzling to me that the series would end on a track with 1/3 longer lap times than any other track of the series and in that heat?! Did Marc Peters just get carried away on his dozer with no supervision or what? That lap length just seemed like an unnecessary monkey wrench out of left field.
MX2
Days before the race, I tweeted that I saw the upper hand going to Blake Baggett at Elsinore regardless of the track condition because as we all know, Blake is a baked SoCal hardpack specialist but beyond that, Blake's small frame showed to also be an advantage in the deepest of deep tracks, Red Bud. When it came down to it though, Blake Baggett re-emerged from his shell in moto-one and he was simply not going to be beat. He pulled "The Baggett", which we haven't seen in weeks and honestly, began wondering if he still had it in him with all the chips on the table. When the moto started, he began near the front and immediately I began waiting for him to drop back into the clutches of Barcia and Tomac, let them by and secure a safe and thoroughly manageable podium finish, maximizing his chances at the title, with no fireworks. Blake was feeling it though and wanted nothing of an utterly average final two-motos to remember this title by. He wanted to shove it down his main competitions throat with an El Chupacabra display harkening back to High Point of 2011, when it first reared its head. Ok, well maybe not that demoralizing but the result was the same. Victory. He didn't go 1-1 but he did secure the OA and did so convincingly.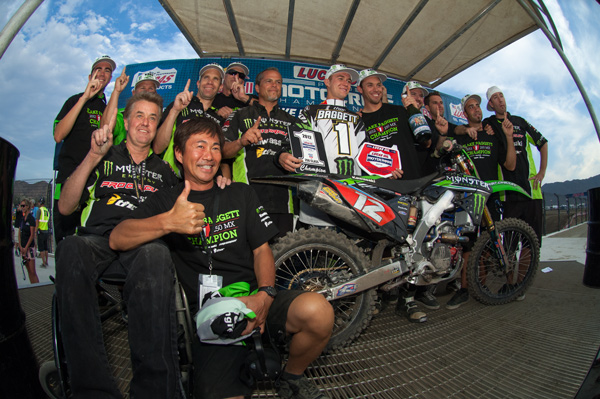 A lone PC rider defeated the Geico consortium. Hard-earned.
Blake showed me a lot during this outdoor series. He held the red plate throughout the series, never showed that propensity of old, to crash when the pressure began to mount, realized that it was OK that there were faster riders than him on given saturdays and to not push, crash or get otherwise dissuaded in his efforts moving on to the next weekend. With as good as we have seen that Blake can be when he's in the right head space and to now have gone through this Championship series and actually reel it in and secure it, it will interesting to see if he can set his sights on a matching Supercross series in the same manner. Or will Blake simply conclude that he is an outdoor specialist and not force it indoors? I'm expecting the former, he's a Champion now after all.
From the day Jeff Stanton and Justin Barcia set their sights on this outdoor title, they were in agreement that focusing on podium finishes throughout the series would put Justin in an ideal position to come out on top when all was said and done. What they didn't count on was Blake and Eli matching that pace for much of the series. It was exactly those few moments of inconsistency that bit Eli in the end and moved Justin permanently above him in the series. Who would have expected Justin Barcia to be the steady consistent rock of the series leading nearly twice as many motos as anyone else in the series? Unfortunately, that script played itself over and over again. A seemingly indomitable Justin Barcia in the first-motos, only to be overtaken and gapped in the closing laps. It was one hell of a last hurrah for Justin to attain the MX2 title he chased for three years and he made it exciting but in the end he didn't get it done. Maybe Justin made a conscious decision to go after this title without any of that aggressive approach he had become known for? Is it worth it though to finish second honorably, than it is first undeniably?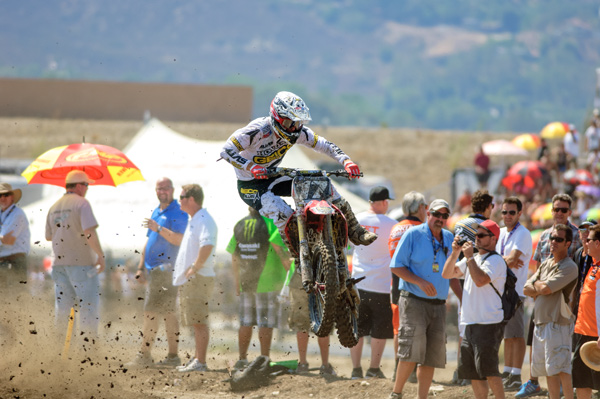 Eli Tomac showed us what 110% really looks like.
The heart and effort that Eli Tomac put into the final laps of the first moto was impressive. It was obvious how bad Eli wanted to finish the series with the upset win but Blake was just better. Oh and lets not forget Eli's teammate, Justin Barcia who was having no part of letting the momentum-carrying Tomac past him to have his way with Baggett. It's a nightmare scenario for a team manager. Having two teammates in back to back podium series-points positions in the last round; though if they get into trouble, can be overtaken on the podium by the fourth place rider. Eli was coming on like a freight-train after an average start and when he caught up to Barcia, that forward progress was halted, quick. I was bummed to see either Barcia, play road block or Eli play Mr.Timid with his teammate. I can't figure out which it was more of but I tend to lean toward Eli just not wanting to get physical with his teammate who is known for banging bars, or was known for banging bars anyway. When Eli did finally make his way around Barcia, Baggett had begun backing it off just a bit and Eli put in that final surge which shocked everyone, including Blake. I gotta say, that effort that Eli put in to catch Blake, successful or not left me in awe. To push yourself to the brink of collapse, throwing caution to the wind with laps left to click off; knowing you can't sustain but still you will yourself to at least put in that final charge in hopes of divine intervention. That's inspiration. I can't help but think of how everything may have unfolded had Tomac discarded Barcia more quickly.
MX1
This title may have been wrapped up weeks ago but don't tell Mike Alessi that. Mike was on a mission of a personal vendetta with The Man at Elsinore. The way he was racing Dungey, you could just sense, he was putting everything he had into staying in front of Dungey just to underline the public perception that he was indeed screwed out of his rightful spot on the Des Nations team. Whether he actually was or not is irrelevant. The longer Mike could stay in front of Ryan, the more he could entertain that shadow of doubt as to whether he was the rightful selection for the MX3 ride in Lommel.
Dungey was like a kitten pawing at a fly on a screen. He knew as well as everyone else that Mikes fate was in his hands, not Mike's. It was only a matter of time before Dungey found a spot to make it stick. Sure it was a few laps of both Mike and Ryan going off the track, around the yellow markers but the endgame was the same. Who wants to take bets on who receives a photo of Jake Weimer from the AMA this week? In case you haven't heard the backstory of that deal; JT was accused of cutting the track at Unadilla, he asked for visual evidence, they assured him they had it and consequently sent JT a photo of Jake Weimer cutting the track. People, I give you the sharp as tacks, sanctioning body of Professional Motocross and Supercross.
I can't wait to see the Dungey that shows up at A1, he's only getting better year after year.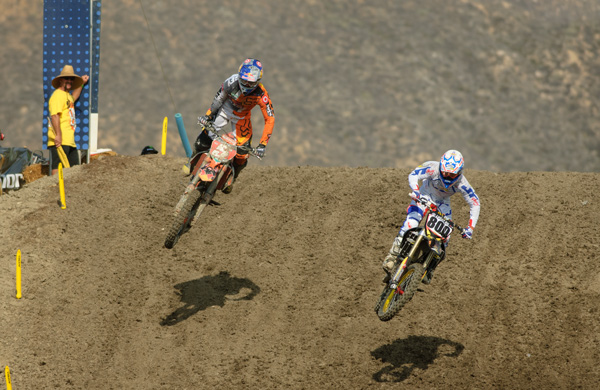 Mike did his best to make the MX1 racing exciting this series.
Has there ever been a quieter 3rd place finish in a series than Jake Weimer's? Zero moto wins, zero laps led, and average finish of 8th but there was one holeshot. That sounds bad but it's nice to see Jake 3rd when all is said and done, after all he's a good guy who works his ass off. Jake has to find a way to cut out the awful races and find a middle ground. It was the same scenario in Supercross. Hopefully 2013 flips the script on the bad races for Jake.
I think back to before this outdoors series began when I was tooting the horn of Broc Tickle and how much more sense it made for him to get Ryan Villopoto's vacated bike than it did for Tyla Rattray to get it. He had already been on the 450 throughout Supercross, had already fine-tuned his outdoor setup and was coming into the Nationals with a confidence he hadn't felt at all in the Supercross series. His calls to Kawasaki regarding the vacancy went mostly unanswered, the typical scenario in moto, if someone does't have good news for you, they just play dumb or absentee until you stop asking. Between the obvious lack of confidence in Broc by the Factory, a HIGHLY motivating talk from Mitch prior to Hangtown and his 2013 ride and future hanging in the balance, Broc had more than enough motivation for this outdoor series to be his most successful yet. Despite three mechanical DNF's, Broc finished 5th in points, just 6pts out of third. Without a doubt, Broc Tickle was the surprise of the 2012 National Series. It's paid off with a great ride for 2013 on the newly focused and more relevant than ever, Suzuki-mounted H&H team with no limits in terms of support. As good as the outdoor series was for Tickle, 2013 has the capacity of being even better.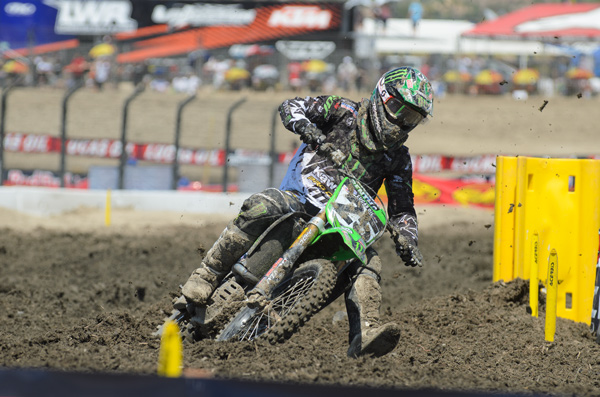 Broc Tickle surprised *almost everyone in the series.
That's a wrap on the 2012 National's.
I really appreciate you taking the time to read this column. Whether you actually read it weekly or just once in a while, the comments I receive make the time I spend organizing my thoughts and putting them to keyboard worth it when it sparks some thought and dialog. Two-years in, where does the time go?
On to MXdN!