Cairoli and Searle sign off in style!

Cairoli and Searle sign off in style!
BY: Jonathon McCready
The final round could have been a bit of an anti climax since the championships had already been decided but, thanks to Ken Roczen, it was one of the best races of the year.
The German superstar was back in Germany and racing the MX1 class for the first time in his career. Roczen, last years World MX2 champion, was going to go head to head with current World Champ Antonio Cairoli in Teutschental, with the home crowd right behind him.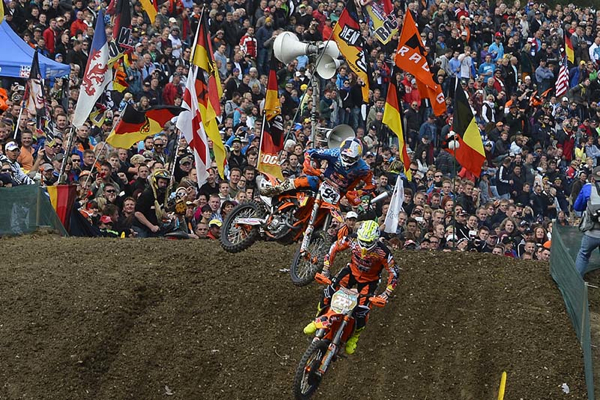 Roczen and Cairolli squared off.
It wasn't just Roczen the Germans had to cheer for, they also had the rejuvanted Max Nagl, racing his last GP for factory KTM before joining the factory Honda team in 2013.
The crowd was loud and expectation was high, and as the gate dropped for the first MX1 race it got even better. Nagl had the holeshot and Roczen was third just behind Cairoli. Then Roczen passed Cairoli, who was adjusting to riding with a finger he cut and dislocated in the qualifier the day before.
It was a German 1-2 and the crowd just went nuts! Air horns, chain saws, and furious fists were being waved in support of the two Germans leading the world.
Cairoli though started to adjust to adjust to riding with his injured finger. He put the pressure back on Roczen and the German stalled, Cairoli went through as Roczen fell to fourth behind Desalle.
Cairoli was now all over Nagl, but Max is a new rider after his back injury, he wants to win, and he has a new aggression about him. He did his best to hold Cairoli off before Tony eventually forced his way through and pulled and epic look -back whip right in front of Nagl off the next jump!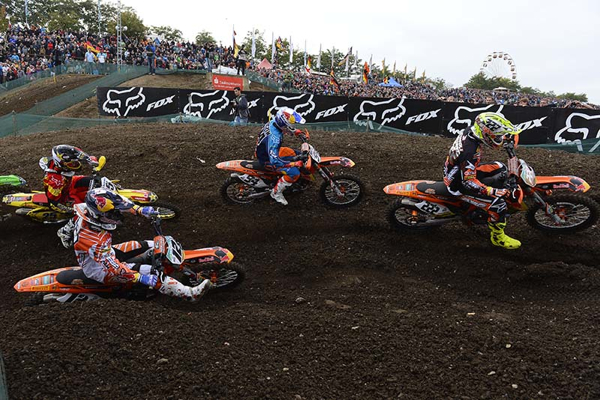 Cairoli, Nagl, DeSalle and Roczen, all with great starts.
Cairoli had beaten the French in their own back yard, and he wanted to do the same to the Germans. Nagle retaliated immediately and the two collided but Cairoli held the lead. Then suddenly Max made a mistake going to wide in a corner and colliding with a fence and went down. When he got going he was back in seventh and stayed there until the end of the race.
German eyes were now back on Roczen as Cairoli pulled away out front. Desalle pulled a gap on K-Roc before Roczen reeled him in again only to have a small tip over in a corner. Third would be Roczen's finishing place in race one with Desalle looking somewhat back to form as he still recovers from the broken bone in his hand sustained at the British GP.
In race two Cairoli took the holeshot but his time Roczen was second with Desalle third and Nagl fourth. The front four stayed close together in the first couple of laps, with Roczen looking for a way round Cairoli while defending second from Desalle.
Eventually Cairoli and Roczen began to make a break for it as Desalle was more concerned about trying to keep Nagl behind him.
At the half way mark Nagl eventually got into third but by then he was 7 seconds behind Roczen and ten behind Cairoli.
Roczen attempted to catch Cairoli getting the lead down to under two seconds but Cairoli responded and controlled the race to the finish, in another impressive ride.
Nagl began to catch Roczen as the laps wound down, and he took Desalle with him getting the gap down to 1-2 seconds, but Kenny held on for a fine second place and second overall.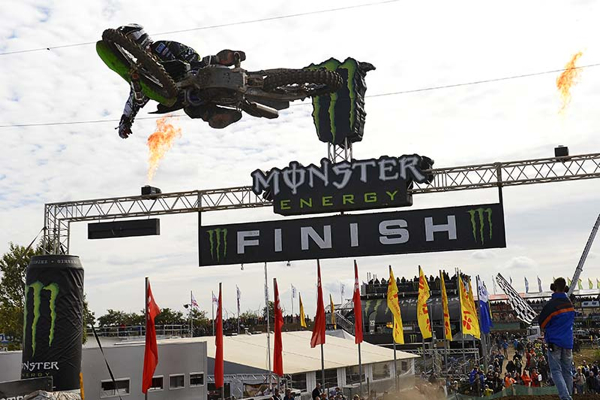 Tommy Searle stylin'.
It was Cairoli on his 27th Birthday who took another fantastic victory, his seventh in a row, and showed everyone that he is still the guy to beat in the World Championship, even against the wunderkid Ken Roczen. This has been the best year of his Cairoli's career, since his double DNF he has been unbeatable, and faster than he has ever been. It has been a truly remarkable season for one of the all time greats.
But, if the Germans ride like they did at Teutchental at Lommel next weekend, and Marcus Schiffer can ride to his potential in the sand, it might not just be Belgium that can threaten the Americans, the Germans are on form and are all good in the sand!
Gautier Paulin secured third in the championship ahead of Christophe Pourcel after Paulin had two good top five riders while Pourcel could only just break into the top ten after bad starts and a crash in race one. We still don't know where Christophe will be going in 2013, but this ride won't have helped his contract negotiations especially with three top MX2 riders moving in and Frossard back healthy, and Nagl doing a full season. Pourcel can win races, but he may find it hard to even maintain a fourth place in the series next season, his bad says are still pretty bad.
Russia's Evgeny Bobreyshev injured the ligaments in his thumb again on the Saturday but bravely rode through the extensive pain barrier again this season to gut out a sixth overall and move up to ninth in the championship. Bobby will be hoping for an injury free year in 2013!
In MX2 Tommy Searle went 1-1 in his last ever ride on a 250f machine, in a great end to a great 250f career. Jeffrey Herlings bike broke early in race one resulting in a DNF and he just rode safe for a second in race two with the nations now his main priority, after Searle cleared off into the distance.
Zach Osborne had a great day, he chased Searle in race one for the lead and got the gap fairly close at the end of the race, but it just wasn't quite close enough. In race two, he had a bad start and a fall but rode a great race to fight his way back through into fourth and claim second on the podium for his last ever MX2 GP.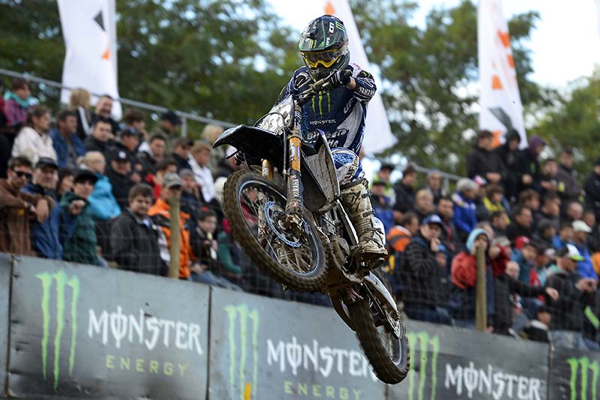 Zach Osborne had a great ride.
To make things even better for the Dixon Yamaha team, Arnaud Tonus got his first podium of the year with third overall. These guys, had it not been for injuries at the start of the year, would have been regular visitors to the podium but it was a nice present for team manager Steve Dixon to get it at the final GP, especially as Steve was taken to hospital on the Saturday in Germany with slipped discs. He was awaiting an operation on the Sunday to repair the damage when his riders made the podium. We all wish Steve well in his recovery, he puts so much into the sport.
MX2 team GB pick for the Nations, Jake Nicholls, rode fantastic to take fourth overall and fourth in the championship just ahead of KTM factory rider Jordi Tixier, who was fifth both in Germany and the championship.
These guys will be even faster next season.
Glenn Coldenhoff warmed up for the nations with a ninth place overall and he will hope to come out swinging in one weeks time for Holland in his preferred sandy terrain.
MX2 Overall top ten: 1. Tommy Searle (GBR, Kawasaki), 50 points; 2. Zachary Osborne (USA, Yamaha), 40 p.; 3. Arnaud Tonus (SUI, Yamaha), 35 p.; 4. Jake Nicholls (GBR, KTM), 34 p.; 5. Jordi Tixier (FRA, KTM), 33 p.; 6. Valentin Teillet (FRA, Kawasaki), 31 p.; 7. Romain Febvre (FRA, KTM), 25 p.; 8. Jeffrey Herlings (NED, KTM), 22 p.; 9. Glenn Coldenhoff (NED, KTM), 22 p.; 10. Alexander Tonkov (RUS, Honda), 22 p.;??MX2 Championship top ten: 1. Jeffrey Herlings (NED, KTM), 694 points; 2. Tommy Searle (GBR, Kawasaki), 651 p.; 3. Jeremy van Horebeek (BEL, KTM), 559 p.; 4. Jake Nicholls (GBR, KTM), 443 p.; 5. Jordi Tixier (FRA, KTM), 434 p.; 6. Joel Roelants (BEL, Kawasaki), 367 p.; 7. Max Anstie (GBR, Honda), 333 p.; 8. Jose Butron (ESP, KTM), 291 p.; 9. Glenn Coldenhoff (NED, KTM), 273 p.; 10. Dylan Ferrandis (FRA, Kawasaki), 272 p.;
MX1 Overall top ten: 1. Antonio Cairoli (ITA, KTM), 50 points; 2. Ken Roczen (GER, KTM), 42 p.; 3. Clement Desalle (BEL, Suzuki), 40 p.; 4. Maximilian Nagl (GER, KTM), 34 p.; 5. Gautier Paulin (FRA, Kawasaki), 34 p.; 6. Evgeny Bobryshev (RUS, Honda), 30 p.; 7. Ken de Dycker (BEL, KTM), 27 p.; 8. Xavier Boog (FRA, Kawasaki), 26 p.; 9. Christophe Pourcel (FRA, Kawasaki), 25 p.; 10. Sebastien Pourcel (FRA, Kawasaki), 24 p.;??MX1 Championship top ten: 1. Antonio Cairoli (ITA, KTM), 692 points; 2. Clement Desalle (BEL, Suzuki), 594 p.; 3. Gautier Paulin (FRA, Kawasaki), 536 p.; 4. Christophe Pourcel (FRA, Kawasaki), 521 p.; 5. Ken de Dycker (BEL, KTM), 505 p.; 6. Kevin Strijbos (BEL, KTM), 405 p.; 7. Xavier Boog (FRA, Kawasaki), 398 p.; 8. Tanel Leok (EST, Suzuki), 381 p.; 9. Evgeny Bobryshev (RUS, Honda), 325 p.; 10. Rui Goncalves (POR, Honda), 315 p.;