There was plenty to get excited about at the third Anaheim visit of 2013 but I want to focus on one thing in particular.

There was plenty to get excited about at the third Anaheim visit of 2013 but I want to focus on one thing in particular.
Photos by: THE James Lissimore
Entering into this 2013 Supercross season, there was (for the third year straight) lots of talk about the increased parity at the front of the class. There were the standard players; returning back to back champ Villopoto, always capable Reed, the ever-consistent Dungey, lightning in a bottle aka: James Stewart, the tenacious Trey Canard and the new player, one we all just knew was going to win races; Justin Barcia.
I don't want to talk about any of them though. The story of 2013 thus far has been a perennial disappointment. Wait, disappointment is a bit harsh. Davi Millsaps has always possessed the skill to do exactly what he is doing this year. In recent years an inability to reach the comfort zone he once took for granted played a large role in hindering his advancement toward the results he's achieved through 5 rounds in 2013. What's that you say, he finished 2nd in the series last year? Yes, well it was clear he was making a push in 2012 but the depleted field made that 2nd overall less impressive in reality than it looks on paper. The checks still cash the same though so it evens out. It's Davi's consistently average past which again, leading into 2013, left him labeled an "also-ran" to the expected race winners by most bench racers of the sport.
Davi had developed such a reputation for limited effort over the years that even his team manager in 2012 would reason "just try for 20 laps and don't pull off and I'll be happy". I can't begin to imagine the frustration to be Davi's team manager through the first 7 years of his 450 class racing. He entered the pro ranks with serious credentials and the pressure from team, Mom, fans and self, to boot. His large frame was working against him on the little bikes for sure and he still makes even the 450 look like a pit bike to this day. As we often see in sport and life though, with years come experience, perspective and maturity. Though for many it comes too little too late, Davi has made amends with the undulating results of his past and has been THE feel good story of the 2013 Supercross series through five rounds.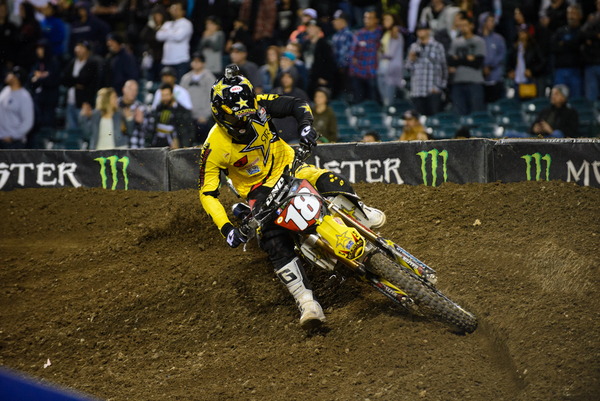 The Millsaps-Formula has been reconfigured.
An argument could be made that Davi is in fact right on schedule with this refocused perspective as he nears the eve of his 25th birthday. Marriage and more-so fatherhood have an irreversible affect on a man. For someone like Davi who has always possessed the skill, though not necessarily the focus or motivation to achieve the pinnacle of his skill; the clarity of purpose and focus that becoming a father bring with it, are a Godsend.
Davi began working with Ezra Lusk in 2012 and you just knew that Ezra wasn't going to be putting in the time if he didn't think Davi was making the best of it, thus putting in consistent effort year in and year out. As year two of their relationship continues, Davi loses even more weight, increases his stamina and finds himself back on a familiar and comfortable steed, his clarity of purpose at it's peak and perhaps most importantly, he believes he can beat anyone, on any night.
At Anaheim 1 nobody batted an eye when Davi was 3rd in qualifying in both timed qualifying sessions. Even when he won his heat race, nobody was putting money on a Davey Millsaps win. He looked great. Clearly better than the sum of his resume had lead us to expect but it was that accrued resume that caused fans as a whole to discount what they were seeing. When it came to the main event at round-one, leading the majority of the race was even sitting backseat to the faux-pas of a floundering Ryan Villopoto. When Trey Canard charged up to challenge and pass Davi, the resounding "sigh" was exhaled in predictable unison throughout the sport. That pass was the age old tale of the Davi Millsaps of the past. He always teased with the speed and skill to give that glimmer of hope, only to get tired or disinterested enough to come up a little short. A lap later though, when Davi made it clear he was not laying down this time, the eyebrows lifted, eyes widened and fans moved closer to the edge of their seats. This single instance of retaliation from Davi was so alien to what we had come to expect from the undelivered prodigy that it created palpable excitement. And that excitement has yet to relent.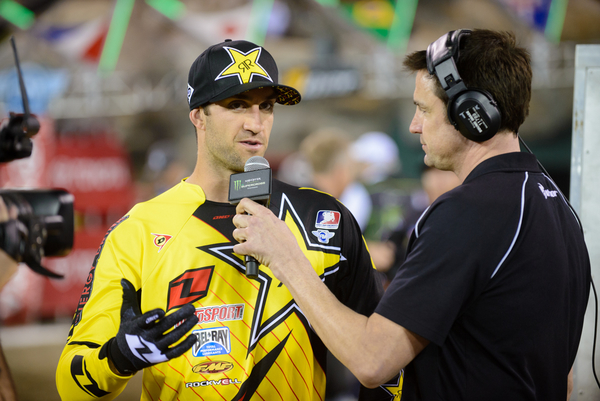 Davi has gone 4/5 on podium interviews through 5 rounds.
When that retaliation paid off with the win, we were again floored. Not because Davi lacked the ability but because he asserted himself and made it clear he was not the Davi of years past.
Fans of sport are cynical and stubborn though. We don't let go of preconceived notions easily and this is no more apparent than in the perception of Davi Millsaps as the series moved on through the 4th round and headed to Anaheim. As each week came and went, fans were still discounting the new Davi and expecting his effort to wane. Not so.
Davi has finished on the podium 4 out of the first 5 weeks of the series, maintains a 10+ point advantage over 2nd place and shows no signs of changing the approach which has gotten him to this point. It is most definitely the story of the year thus far in my eyes.
To break from the norm which had seemingly cemented itself over the prior 7 years is and inspirational life lesson, to say the least. Imagine your own life and breaking from the habits and routines which "sapped" your full potential for such a period of time. Tapping into a new approach, leading to the positive change you were focused on and bearing the fruits of those accomplishments are exactly what every athlete hopes to do year after year. Sure, it definitely took longer than Davi or his fans and supporters would have hoped but as I said, he's nearly 25 and a father now. Fatherhood brings many blessings with it and for Davi those blessings have touched both his personal life and career path as well.
Carry-on, Davi.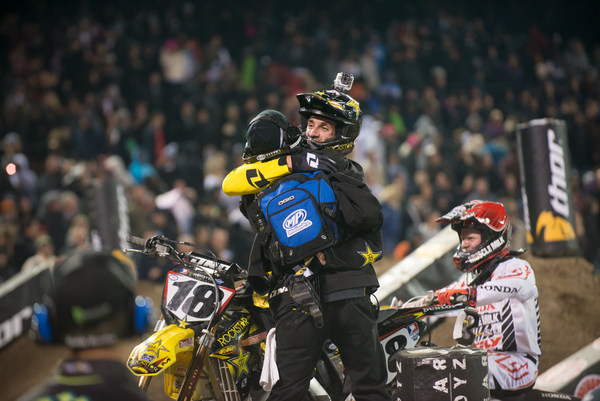 Rare shot of the 18 without a red background in 2013.