Like, seriously. Why wouldn't Davi Millsaps be stretching out his points lead?
Like, seriously. Why wouldn't Davi Millsaps be stretching out his points lead?
Photos by James Lissimore
Captions by Matthes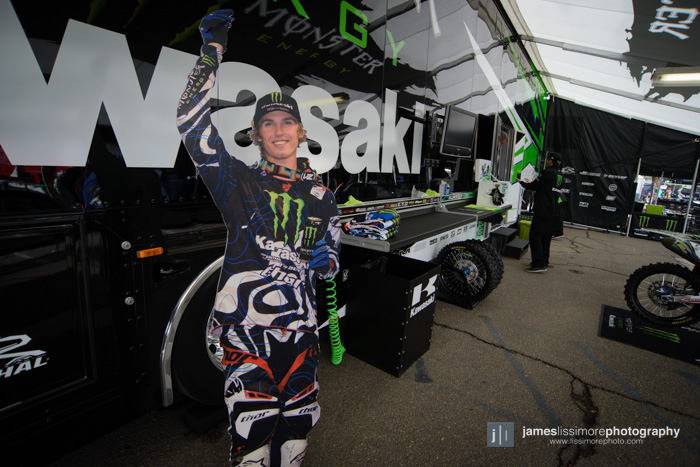 The injured Jake Weimer came out to wave to the fans and show support to RV.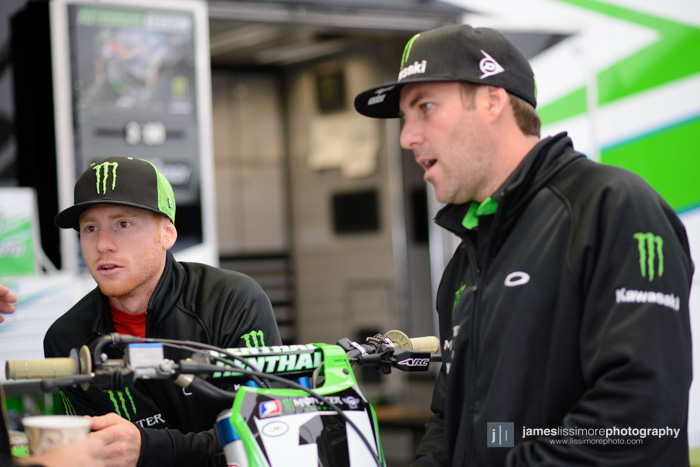 Seriously, these two really make my life miserable with their media critiques. That's my coffee cup on the lower left and they're both yelling at me for something.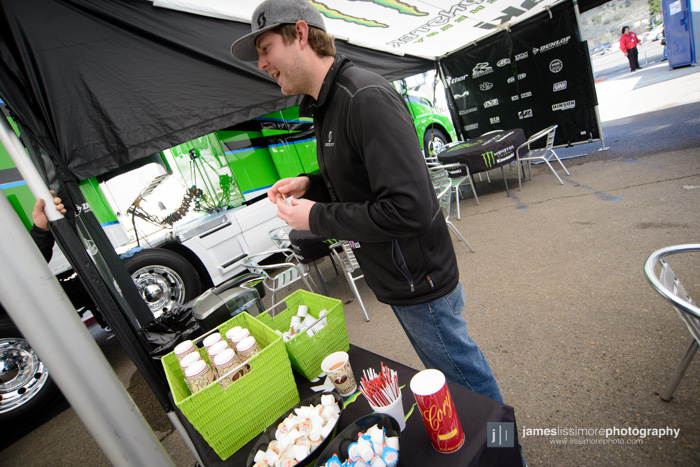 There are goggle guys and then there is Scott's John Knowles (seen here getting coffee at Kawi) who is as pasionate as they come. Eli Tomac's new Oakley goggle broke on the starting line and you know who was all over the situation reporting on the failure.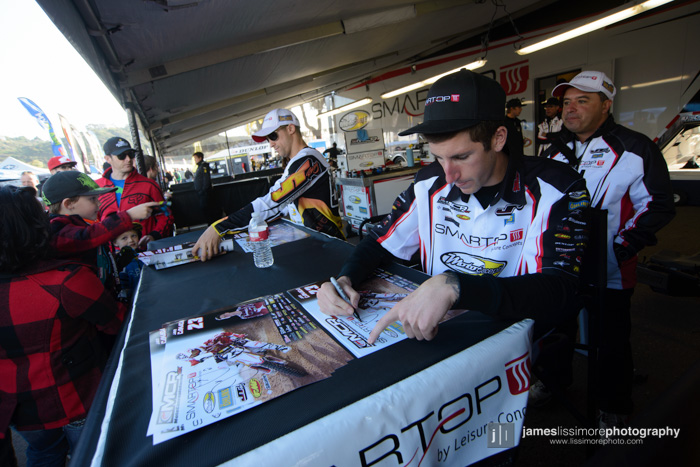 Jake Canada didn't race due to lingering effects from his crash a couple of weeks ago while Mike Alessi rode well to a tenth. Tony Alessi keeps a close eye on the signing to make sure Mike's autograph form is correct.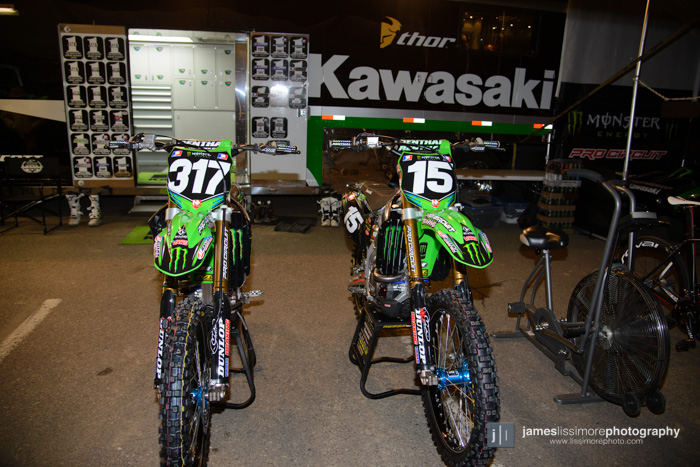 We'll see the #317 (Justin Hill) and #15 (Dean Wilson) next week in Dallas on the PC Kawasaki team.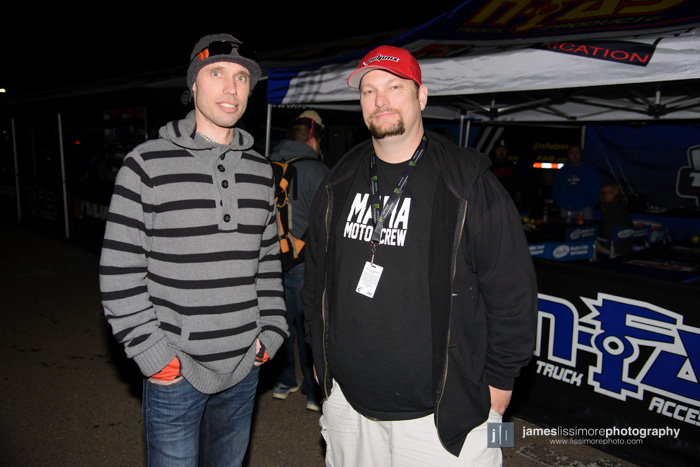 The man on the left is a 5-time Canadian motocross hero and the second best Canadian to ever race. The man on the right is a tubby media member who desperately holds onto his four Manitoba titles because it's the last thing he ever accomplshed.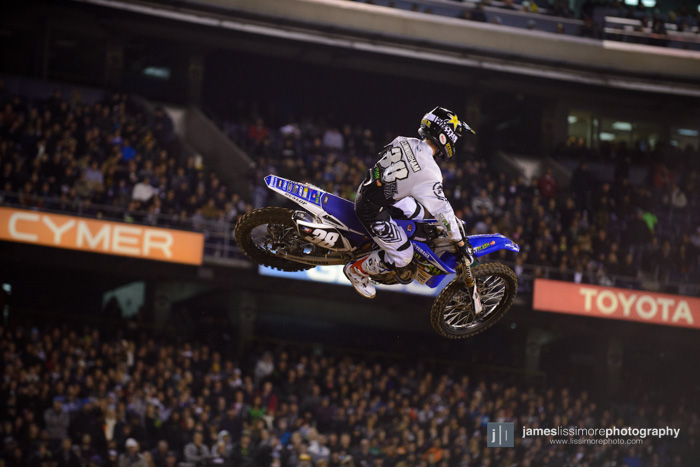 Lookit Kyle Cunningham, he's been very fast the last couple of weeks. Too bad for him the series is now on a break. Nice to see him do well though because the start of the series was rough.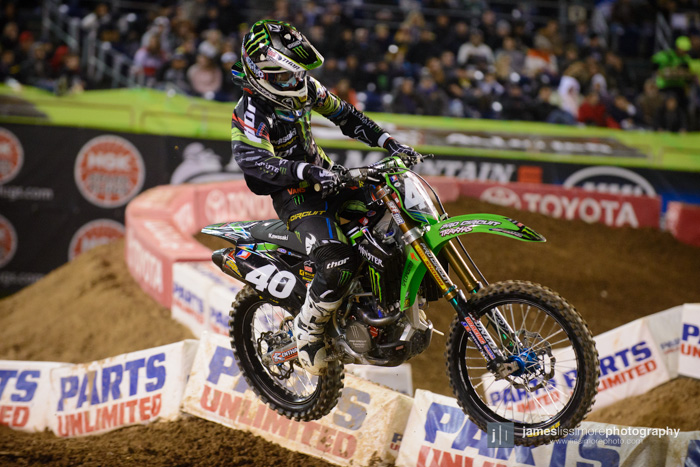 Davalos won his heat and looked great all day. Unfotunately, it's Martin Davalos and once again, he had some bad luck in the main. He was fast tho!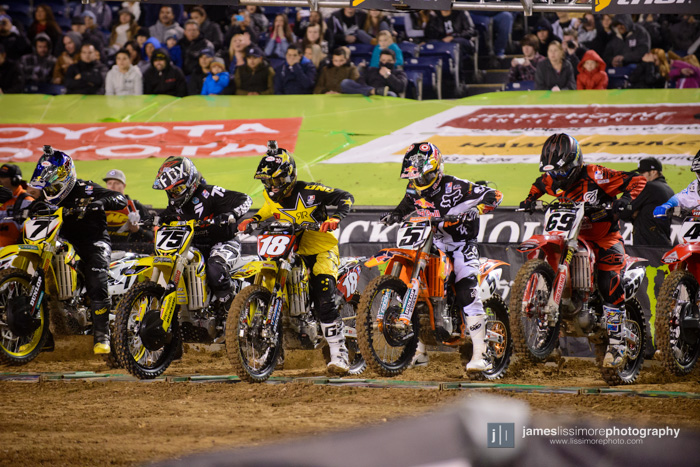 And they're off!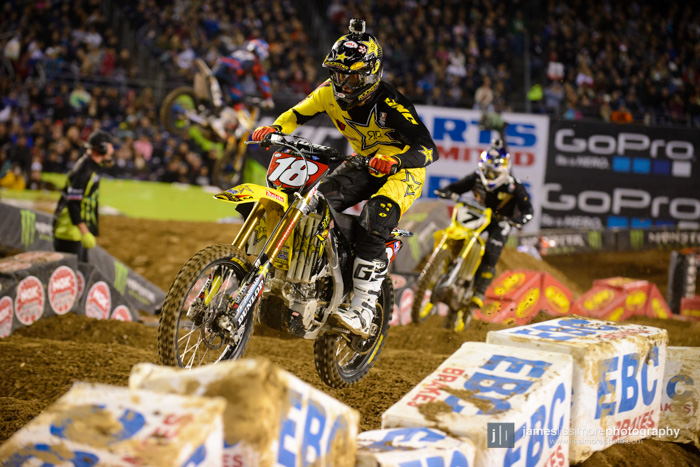 Davi Millsaps won again and extended his points lead with a great ride. Yes, I'm serious. He's so good.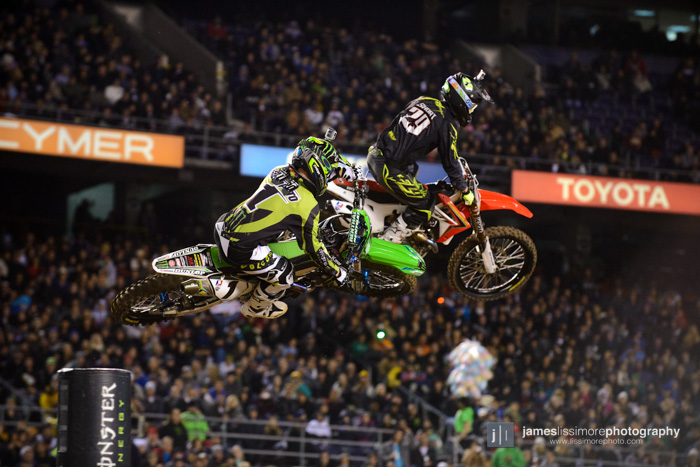 Short's still on the Honda for now and had a nice heat race where he got second. RV's pass on Short in the heat was picture perfect but once again, he couldn't make it happen in the main when he got a bad start.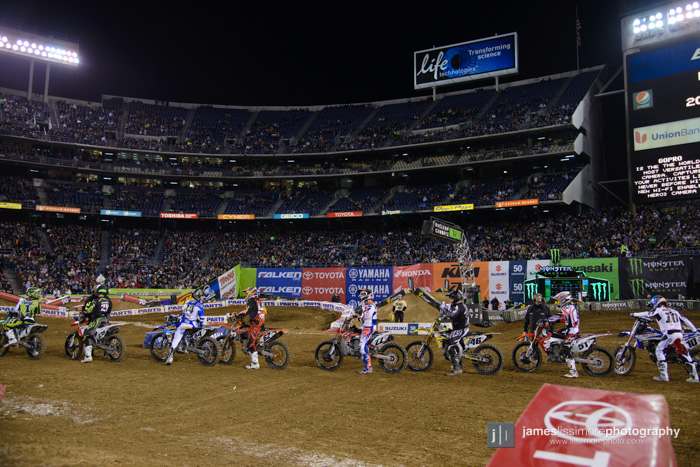 And then later in the heat we had a red flag which caused a single file restart like we saw last year at Indy. It's a little bizarre but way better than a full gate drop which could eff some dudes that had good starts.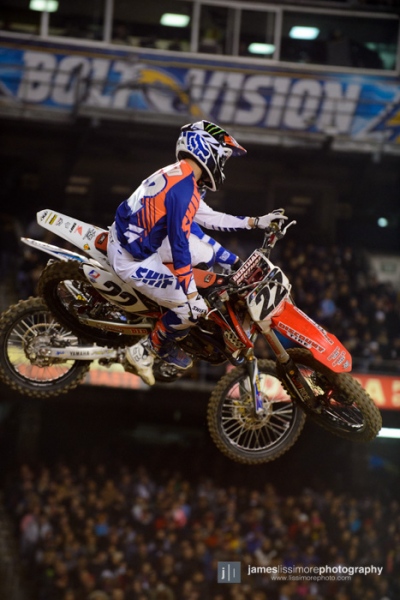 Man, I thought the magic was back for the two-two as he pushed Millsaps for the lead in the main event. Despite not looking that great in practice, Reed showed he could win. But then he fell and the air went out of the stadium. Bummer.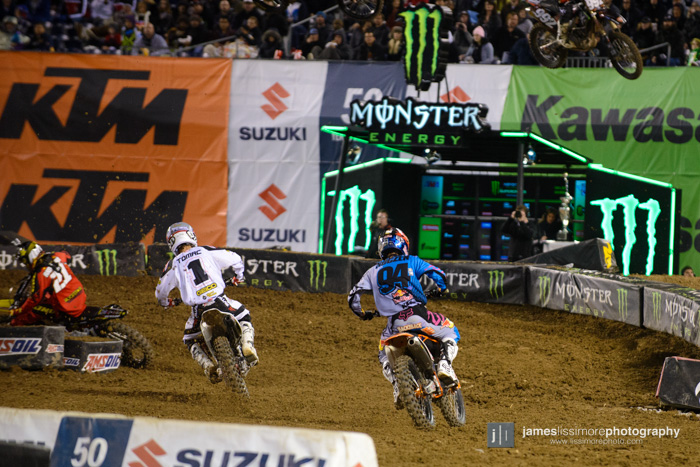 Anderson is getting a taste of being a leader more more lately. Tomac and Roczen need to stop that before he gets too confident.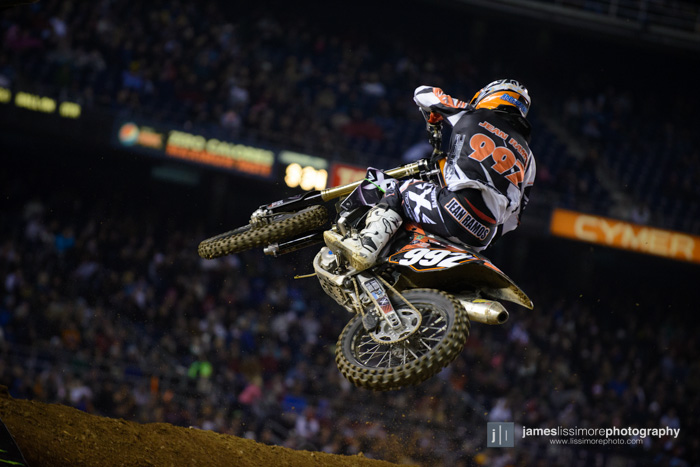 Jean Carlos Ramos is Brazil's finest and Lissimore had a good question when he said "How come no one has ever talked to this dude?"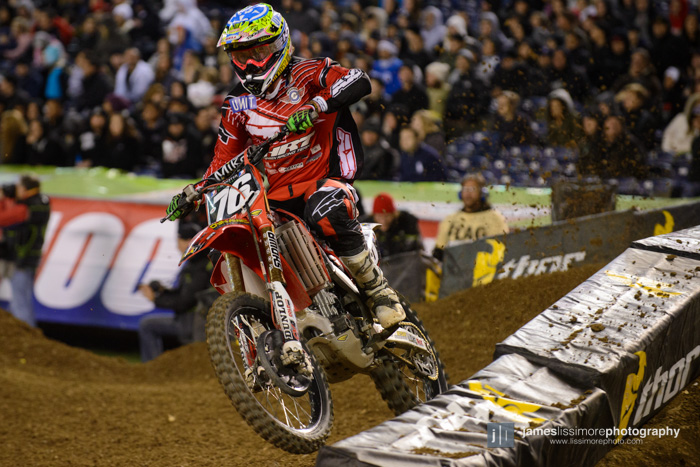 Austin Politelli had a career best fourth at San Diego and looks to be getting better and better each week.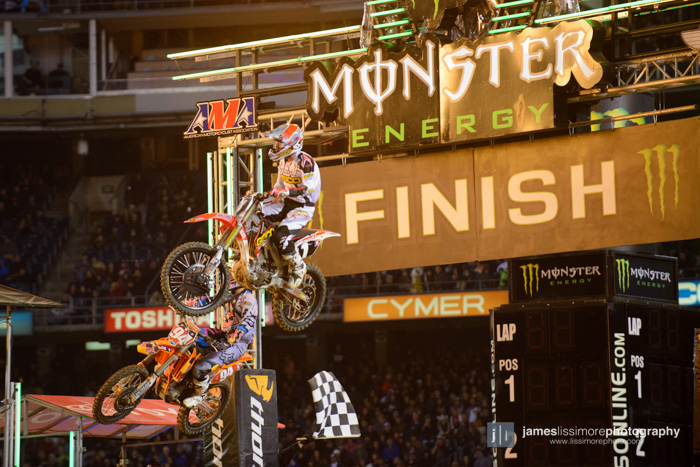 Tomac and Roczen were this close at the end of the main event. Not sure if Eli knew that Kenny was coming or not but it was a lot closer than Tomac and GEICO would've liked, thats for sure. No matter, Tomac moved three points closer to Roczen.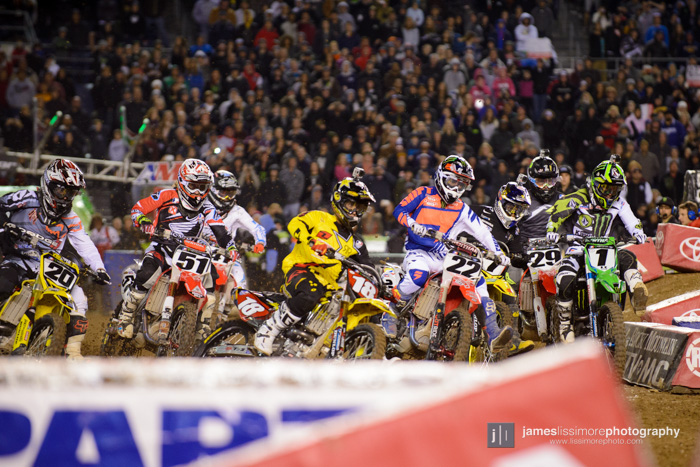 First turn of the 450SX main event and although RV looks to be fine here, he did have a few issues in the next couple of turns and ended up pretty far back. Millsaps' starts have been on point all year long.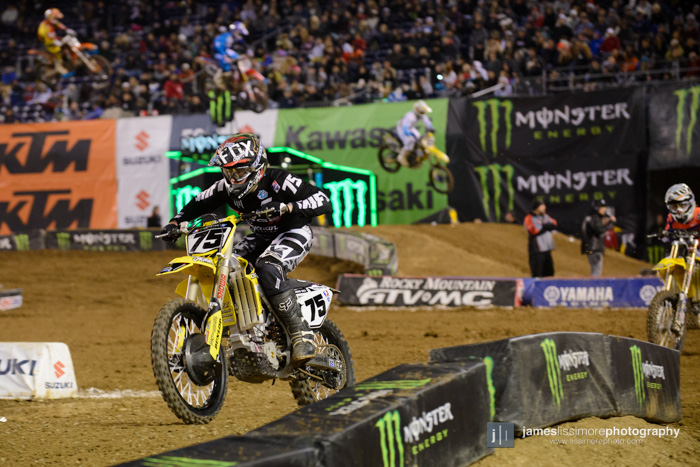 Josh Hill is back in the main event and it's been a long time coming for Hill, his team and his fans.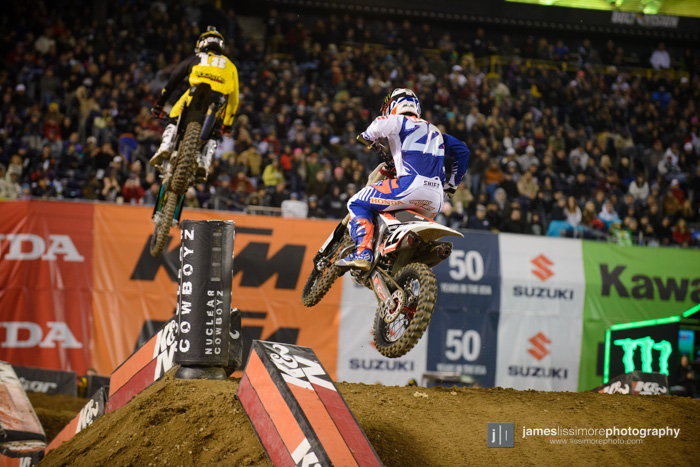 Reed stalked Millsaps for a few laps before really turning it on and getting on the #18.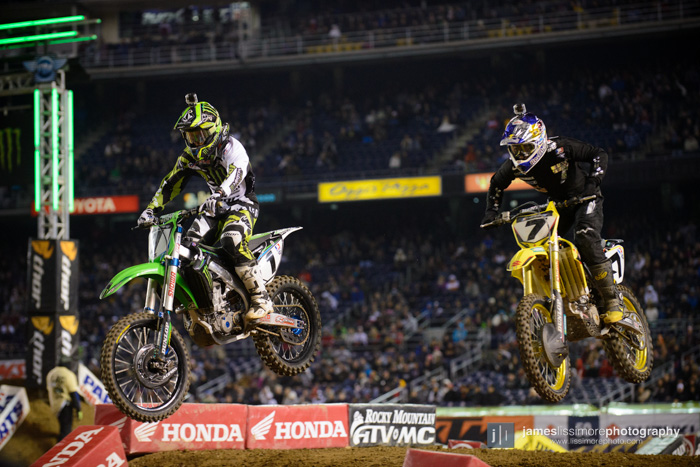 All the big guys (Reed, RV, Stewart, Dungey) were neck and neck but in 4th thru 7th which was a little weird to see. And they passed each other here and there with no drama.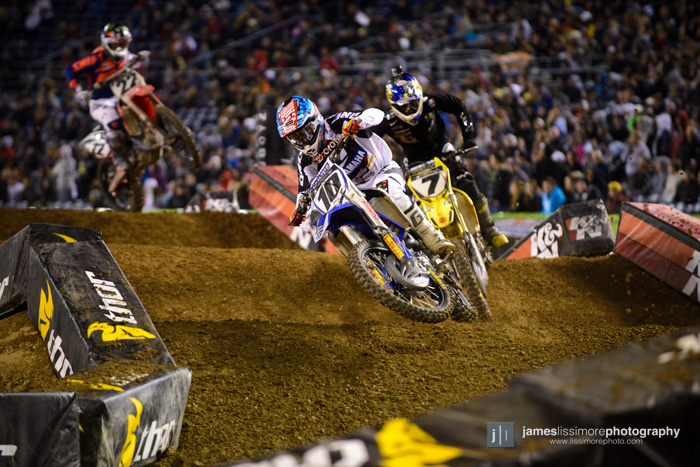 Brayton ended up seventh but for a long time he was in fourth and then third when Reed went down. After the race he was very excited about his speed and just has to cut down on the small mistakes.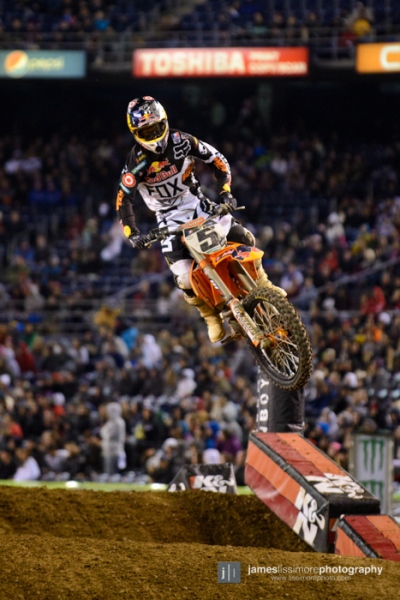 Dungey rode a quiet race to a third but it was a good one.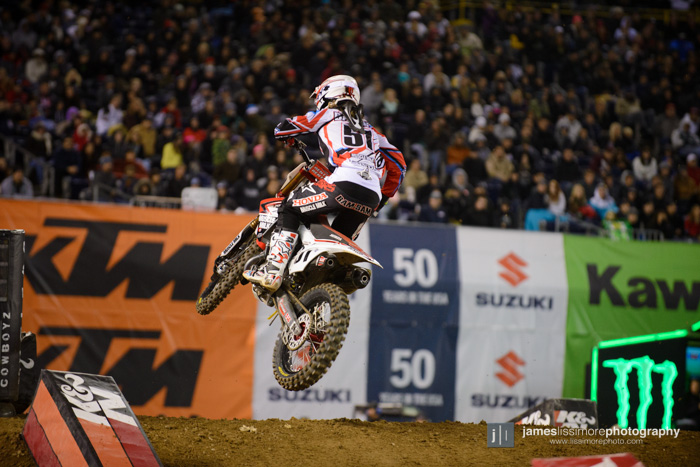 Bam Bam is back! After DNF'ing two straight races, he's now got a 3rd and a 2nd in the last two. And Jeff Stanton has been at the last two as well which probably isn't a coincidence.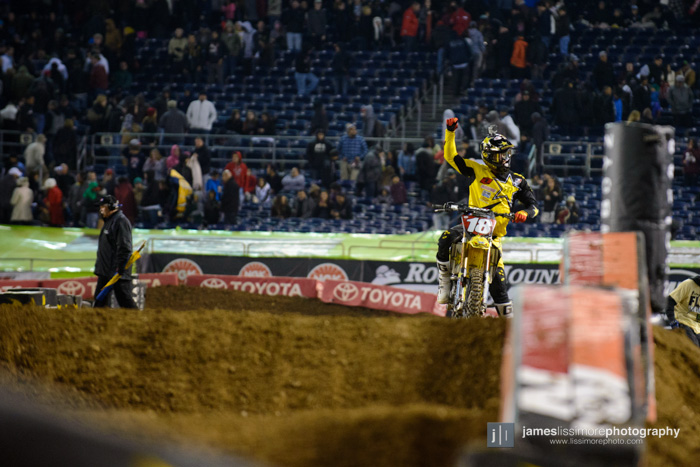 Millsaps wins again. Yes, I said that. Gotta give The Duke some serious credit here, he's been killing it.