Teams like JAB Motorsports are the lifeblood of our sport.

Teams like JAB Motorsports are the lifeblood of our sport. Scott Motorsports and we at PulpMX realize this and we will use this weekly look into the JAB Motorsports Team to make sure they receive a deserved consistent spotlight through the 2013 season. Scott Motorsports is a proud sponsor of the JAB Motorsports Team and keeps team members Matt Lemoine, Gannon Audette and Vann Martin fully equipped from head to toe.
Photos By: THE James Lissimore
I can't remember how many times I've started an article about this sport with a commentary on how brutal and unforgiviing it is. It's a lot, though. I flew to Dallas this past weekend to cover the JAB Motorsports team in their home race. Things had been on the up for Matt Lemoine and the JAB crew in their debut in the 450 class. Gannon Audetter was also joinging the team for his debut in the East 250SX series, which also ended tragically early, for his second year straight. The sport pulls no punches and it offerred no apologies when it bit both riders before the first heat of the night. Gannon suffered a broken pelvis and clavicle, while Matt tore his ACL in a very awkward ejection in the stat of the second timed practice.
Here's what Matt had to say about the abrupt and freak end to a season which was his most satisfying yet.
Swizcore- You got the news today, a torn ACL in Dallas. Go over what happened in the incident that lead to the injury.
Matt- We did the first two practices and during the start of the second timed practice we were going over the finish-line. I had noticed they were watering the track and you know it was super hard packed this weekend; I just went up the finish line just like I normally would. Dungey was right in front of me and Broc Tickle was right behind me. Dungey got on the gas and I noticed he spun a lot but by that time I was already totally committed since I was right behind him and I just spun a lot and endo'd. I bailed off the bike to try and be clear of the landing and landed on both feet. I kind of just rolled off and I was like "well that wasn't that bad". Then I ran up to my bike and when I got to it, I put pressure on my right leg and knew it wasn't normal. It pretty much ended right then.
Swizcore- It's crazy how ligaments can respond to harsh impacts so well in some circumstances and others where the impact seems so standard, the damage is worse.
Matt- Yeah it's crazy. I replayed the crash in my head a million times already and I'll probably replay it another million in the next few months. I've taken so many harder crashes, even like Bell this weekend, for instance; it's crazy. God has a plan for everybody and everything happens for a reason but it really just hasn't registered to me yet. It was a crash that wasn't even bad and it did this much damage but yet someone can completely fly off a jump and be fine. I guess when it's your time to get hurt, it's just your time to get hurt.
It sucks. I've been looking forward to racing so much and having so much fun with it. Now it's like, "what am I gonna' do with myself for the next couple months?"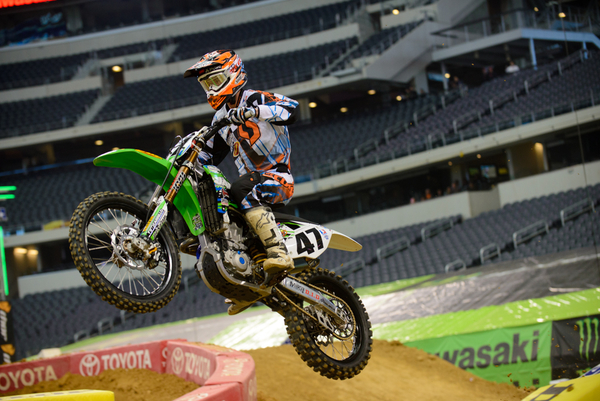 Dallas started out well just like any other practice session.
Swizcore- It had to sting that much more since it happened essentially at home.
Matt- That was the biggest disappointment for me. I had so many friends and so much family there and really just wanted to race; they haven't seen me race in a while and you know, first 450 race and all. I was so amped and so looking forward to racing and I actually liked the track. I felt good on it, the bike felt good and it was just something so stupid. Especially the first lap, I mean, it's the finish line. Ask anyone, that's a first lap jump and a jump that you do with your eyes closed. Like I said, it just hasn't even registered with me yet.
Swizcore- Do you find any solace in the fact that you were doing so well and you had accomplished pretty much all of the goals you set for yourself up to that point, this season? I mean it was just a freak thing, you weren't riding over the edge and out of control.
Matt- You know, that's the thing that gets to me. I'd rather it happen when I was in race mode and I was actually pushing, or someone was pushing me. It's more understandable than something so stupid. I've done it a million times, you know, just step off the bike. That's what gets to me the most. It disappoints me that much more knowing where I was and that I was building and where my confidence and endurance was and was going to be. I feel like I had a lot more to show for the whole season. I mean I did decent but not where I wanted to be.
Everybody has done it. Villopoto, Reed, Stewart… I guess it's just another part of racing.
Swizcore- That's really interesting to me. I can definitely see you're explanation but I can also see the side of you being more ok with it since you had met most of your goals coming into this race. In my mind, you can take away that yes, your season is over but at least you hadn't failed at your goals before it ended. You ended on more of an up than a down.
Matt- That's definitely something to look at too but each weekend I was setting a different goal and like you said I was meeting that goal, so going into Dallas I had a goal to be inside the top 10. I wanted to show my friends and family how much better I've been getting week to week. Yes I met my goals but I had 20 more goals to be set and reached for the rest of the year.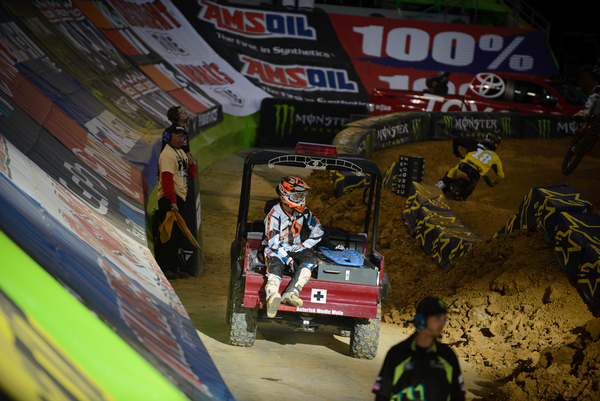 Matt getting an unwanted chauffeured ride back to his rig.
Swizcore- I definitely want to give you major kudos for doing the right thing and getting it fixed now so you can be fully prepared for A1 in 2014 instead of riding injured and possibly causing further injury.
Matt- That's what the doctor told me today. He said "to be honest, it's your choice. I'm going to tell you what I think you should do; I've seen people try to push through it but it's always in the back of your head. Say you go to Atlanta and things seem ok but it only takes one dab in the corner and you're out a few more weeks. It's just a never-ending deal". I decided I'd rather go out feeling good, feeling like I accomplished something, than go out and having people say "he sucked", instead of realizing I was riding with a blown-out knee. Doing it now, I can recover and be solid for the upcoming season, rather than finishing through May and then take 8 months and not even be riding till around Christmas. It was kind of a no-brainer. It needs to be done and I'd rather do the best thing for the long run; for even after racing.
You don't realize how much you need that knee until you don't have it! (Laughs)
Swizcore- Have you discussed with the team if they are going to use any fill-in riders now that Gannon is out as well with his own injuries in Dallas?
Matt- Yes we have, we aren't going to fill the 450 but I'm not sure about Gannon's bike. That's another thing. Even though I'm out and not riding, I want to be there for Vann and whoever else might be out there for the team. I want to help build the team and do whatever I can, for the Team. Just because I'm out, I don't want to be like, whatever. You know my Dad is the Facilitator, we still need to press on and get some results for the team and make things happen. Whatever I can do to help, is what I'm going to do.
Swizcore- What is Vann Martin's status?
Matt- He's been riding a couple weeks and he's headed to my house to get down to business this week. He'll be back with the team and going racing as soon as he's ready.
Swizcore- If they do fill the other 250 spot and are at the races, will you be there so your fans can come see you at the track?
Matt- Yeah definitely. Houston for sure since I'm right down here in the area. Like I said, I want to be whatever they need and help however I can with the team.
Swizcore- Do you have a surgery date yet?
Matt- Yup, it will be in two weeks when the swelling has gone down and he can get in there.