Tech One Designs offers some of the finest custom graphic kits money can buy.

Tech One Designs offers some of the finest custom graphic kits money can buy. I wanted to interview the man behind the company to learn a little bit about his design philiosophy and what Tech One offers its customers. Apparently, good-looking bikes are a very big deal in the Minden, NV area.
Me: Can you give me a brief background of how you started Tech One?
Jamie Bonner: We started (Tech One) in 2009 because, basically, I wanted to print some graphics but the local graphics company wouldn't… well, I don't know if they would or would not… but the bike shop they worked through told me they wouldn't print graphics for anyone but (that shop).
So I decided to start my own deal. I found a guy here in town that had the printer. And he made my graphics for me. I got one set and they only lasted, like, two weeks. So I found another guy who told me what kind of paper you're supposed to use in the whole process. I started getting the correct material, but this guy was charging me an outrageous amount of money, which I thought he was. So I quit using him and bought my own printer. Is that too short?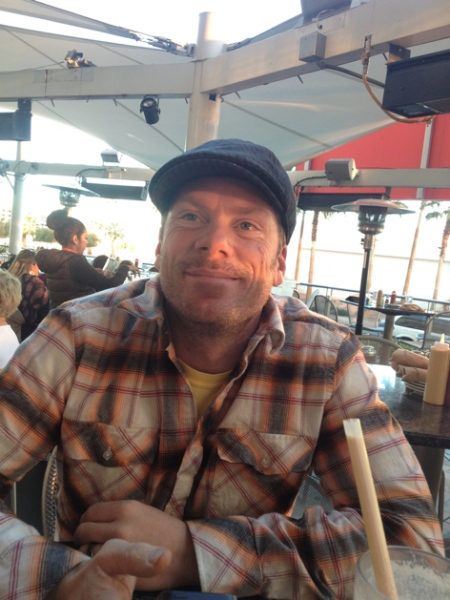 The man who makes the machines sparkle, Jamie Bonner.
Nah, I'll just ask some more questions. You have a background in graphic design don't you?
Yeah. I went to the Seattle Art Institute, which I did quickly find helpful when I really, really started designinga set of graphics. That first set of graphics I had printed off for myself is something that I would never, ever, in a million years, think about putting on my bike now. But when I actually sat down and started designing my first real graphics kit, I probably sat there for an hour thinking, "Wait a minute, this is graphic design, but it's not graphic design. It's weird. It's colors and shapes and shading. It's not really creating a logo for somebody or a page layout. It had a bit of a learning curve to it.
I'm sure a lot of graphic company guys have design backgrounds, but do you feel like there is something about your style that would set you apart?
I truly believe there is a large handful of incredibly good graphic companies. I look at a lot of companies and I'm like, "That's rad, that's awesome, they did such a good job on that." But I also believe there are even more out there that just make really bad, corny, you know, skulls and whatnot, graphic kits.
I'd say 80% of the people who order from us talk to me on the phone at one point or another. I really try to get a feel for what the riders want. People send me logos all the time, and if someone sends me a JPEG of a logo, I redraw it to make sure it looks good and my graphics don't look like crap. That's a big rule of mine. I will never put a JPEG on a graphic kit.
My goal has always been to… Well, when I used to go to the races like Hangtown and Oakland and San Fransisco, I used to go to watch the races. Now I go to look at graphic kits. I want to see what people want and what looks good. And my philosophy has been to keep it simple and clean. Look at racing, at the pro guys. I think that's what most people are looking for. At the same time, I don't think everybody is looking for it. That's why on the PulpMx show we had that graphic kit design contest. It was a dumb contest but it was strictly to find designers. It's been just me and one other guy, John Lee, and we design what we think looks good. But we need to cater to everybody. So we wanted to find other designers to see what they like.
Our kits called Monachino and Guffrida are named after the winners. Magenheim is named after a designer as well.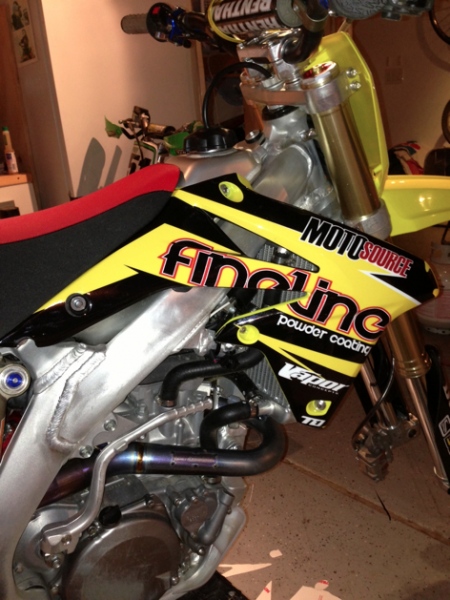 Tech One will make sure that any sponsor's logo looks great on your bike, including Fineline Powder Coating.
Do you have some riders that you sponsor?
Mostly we just sponsor local guys. Tech One would love to get involved with bigger riders, I mean, our guys are good. But we want to be out there on big-name bikes. But we have Adam Conway who did some Supercross and some outdoors. We've got an up-and-coming kid named Jesse Sanchez who just got somewhat of a ride from BTO sports. That's pretty much it. We have a few very, very amateur kids who give free graphics.
It looks like you've got Beau Bamberg on your website.
Oh yeah, yeah, yeah, yeah! We've got Beau Bamberg. Haha!
Is there a moment or something Tech One has done that really stands out to you as something you're proud of?
I wouldn't say there is any one design or anything, I'm more proud of our local presence. We're in a big motocross area that was kind of dominated by that other local graphics company I told you about. Well, John Lee hadn't been out to the races too much, but he went out to a race last weekend and he called just to tell me how blown-away he was with how many bikes were running Tech One graphics. He saw them everywhere. That was huge for me.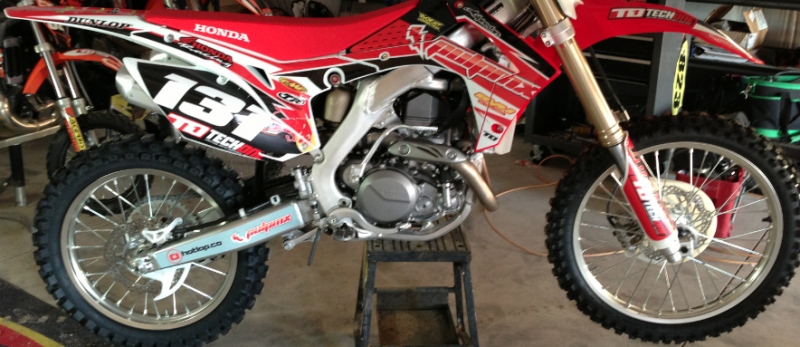 You too can have PulpMx graphics. When you wish upon a star
I'm from the Midwest, and most bikes that you see around here have stock graphics. There isn't as much focus on how bikes look. So can you explain the difference in culture and how bikes look?
Definitely in this area, everybody cares about how the bikes look. Everybody. And if you don't care, you're probably and off-road racer, which is the background I come from. The local off road racers never ordered our stuff, so I decided to focus on motocross. The kids — even the adults — care what their bikes look like.
I haven't been racing motocross long, and I'm almost 40 so I'm not that fast and I still get sketched out sometimes. But I would show up with like, the new Honda with the sick graphics and people would think, "Oh that guy must be fast." But then they see me race and their like, "Oh. He must own Tech One."
But I'll have kids call me all the time like, "Hey, I went down and my number plate got scratched up, can I get a new one?" It's insane. There's a shop here, Testa Motorsports, he buys all of his guys… and I think he has over 20 riders… he buys all of them their first set of graphics each year. And he doesn't even sell bikes! He just does repairs and sells parts and gear. But he just really cares about what his riders look like.
Wow, that is definitely different than what I'm used to.
A couple of weeks ago there was a memorial race for a local guy who passed away suddenly, and probably had six people call me the week before the race wanting brand new graphics just for the race.
Man, I'm going to have to rethink what I want to put on a bike now.
Well for me, why would I put someone on my graphic kit I'm not involved with? Pretty much the only thing I'm affiliated with is the PulpMx show, so it's on everything on my bike and it's going on my motor home. To me, it's all about who are the people who are helping you.
WANT SOME REGULAR, CUSTOM OR EVEN PULPMX GRAPHICS? CHECK OUT TECH ONE HERE