It was the last stop of FLA Week 2013 but it was a productive one.
It was the last stop of FLA Week 2013 but it was a productive one.
Photos By: THE James Lissimore
In 2011 when we began the FLA Week series, I wasn't sure what to expect when we headed to RV's. Chad's compound was very easy going and laid back and when we got to RV's a little late, it was clear, the schedule at RV's was regimented and strict. Matthes would laugh and ask if they could ride one more time and RV would laugh at Matthes even harder, making it clear, breaking from the schedule was not going to happen.
As we drove up the path to the shop at RV's farm this year, I knew what to expect. A structured program that meant we would need to bust our asses to get our fill of footage before they headed out, to stay on schedule with the program. Making this year all the more difficult was the imminent rain. I had to leave our condo at 7:15am to be at Timmy's by 9am, so we could get to RV's as quickly as possible because the rain forecast had moved their schedule forward by an hour. It was supposed to rain by 1pm, so they had to get all their riding in by 1pm, which meant we also had until 1pm to fill our hard drives with footage.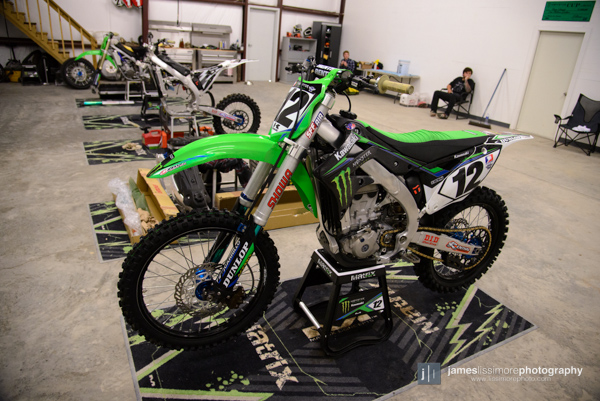 RV's shop is meant for one thing, bike prep and riding.
As we rolled up, RV, Jake and Adam were just about ready to start their first session, so we got our gear out, set up and headed for the tracks. RV and Jake were all Supercross today, while Adam was all Motocross and the subject of much of RV's venom; not as much as Alan, Adam's Dad though. I actually found myself wondering if RV found Alan or Matthes the more fun target for his jabs. Either way, I get a kick out of it. Whereas Matthes just smiles and reluctantly takes the shots, Alan makes his own jabs back at RV but as you'd expect, even when Alan lands a solid shot, RV could not appear to care less. It's a skill.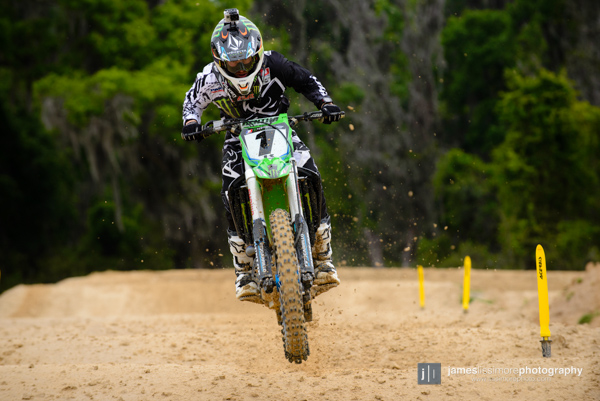 RV getting a little greasy practice in. SLC prep, I'd call it.
The guys departed on their bikes and we made our rounds as they laid laps and shot, shot , shot.
In between sessions it was solely sarcasm, deprication and clowning. It's the RV way. Now don't get me wrong, he's not a dick. Not at all. As a matter of fact, he's totally cordial to me and most people he interacts with but if you're in his crew, it's game on and you better be made of rubber and lob some bombs back if you plan to survive.
I asked RV who's idea it was for the lines shaved into the side of his head. To my surprise, he said simply that the barber asked if he wanted them and he was like, "sure I don't care". He wasn't even sure how many there were. He thought there was two or three and I was like "no there's about six". I took this as a microcosm of how RV operates. His sole focus is racing and preparation. He doesn't bother focusing on the peripheral; vanity being one of them. I'm 36 and I remember when I was about 14, the lines shaved into your head were so sick and as these things go in cycles, perhaps lines are coming back. It certainly wouldn't surprise me and yup I used to have them too. I love it and it's even better that RV is running them and DGAF about them one way or another.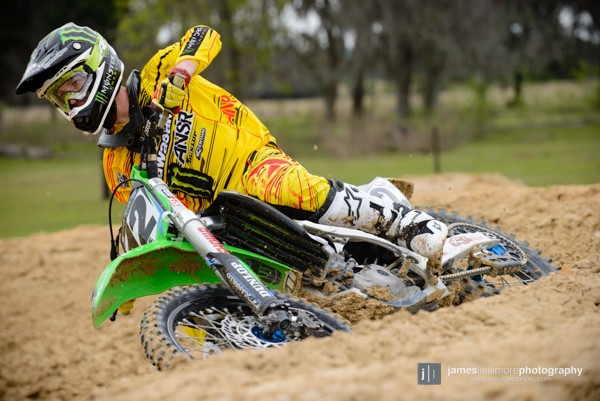 Jake is focused on finishing the Supercross season with results more telling of his ability.
The day went by very fast and our shooting matched their efficiency on the bikes. We hit it hard and fast. Following the riding was the promised down pour of rain and we moved on to some interview stuff and tossing the ball around for RV's three French Bulldogs. We were glad to see that Jake is a proud paid owner of the PulpMX App for iPhone and inexplicably Adam is not. Actually, he thinks he bought it but just doesn't have it installed right now. He was wondering how the sales have been and I could see the wheels turning in his head, trying to see if the numbers could work for a fruitful sponsor partnership with PulpMX. Nothing so far… I asked Adam what has happened to his Mad Skills game because we used to battle on Speed Conservation and he informed me that he found this thing called a life and advised me to get one. I'm considering it.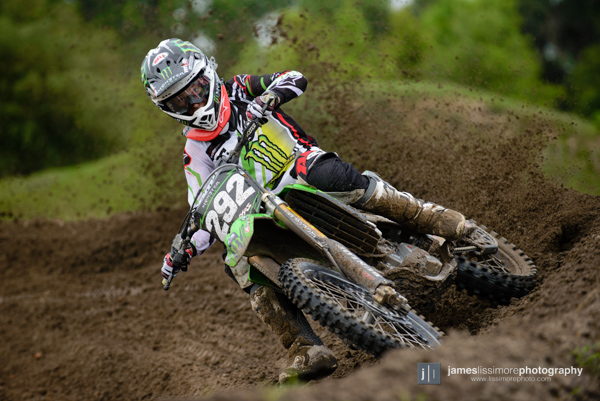 Adam told us he is definitely ______________ when it comes to the Hangtown/Loretta's decision. Glad that's cleared up now.
It was a great last day of filming and I am truly excited to be done shooting. I know this trip sounds like a dream come true for so many out there, and it honestly is a lot of fun but don't get it twisted, this is hard work. The moments sitting around BS-ing and relaxing are out numbered by a ratio of about 40:1… mmmmm premix.
Oh that reminds me. Casey Stewart, RV's practice mechanic and maintainer of the farm is building an insane KX167 and we were trying to talk RV into doing a video on it when it's done. He didn't think it was that great of an idea but we insisted on how nutty the two-stroke lovers out there are and just imagine the hottest rider in the sport currently, just blistering a 167 two-stroke on his outdoor track and the hits would just keep coming. 1 million plus. Easy. RV's idea may have been even better though; throw him on it and build a scaled down Supercross track and film him on it with tight shots so you couldn't tell it was scaled down. Imagine all the bench racing craziness which would ensue about how "two strokes really are coming back". "They are still the answer". Good stuff.
A big thanks to RV, Jake, Adam, Casey, and Aldon too who is always such a polite guy. I can't wait to sleep in tomorrow… errr today.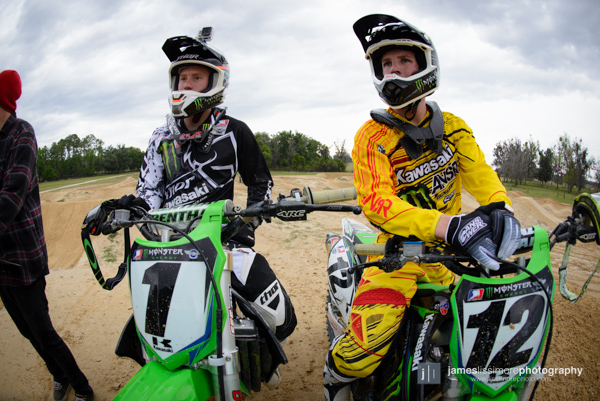 This is the equivalent of a motocross huddle.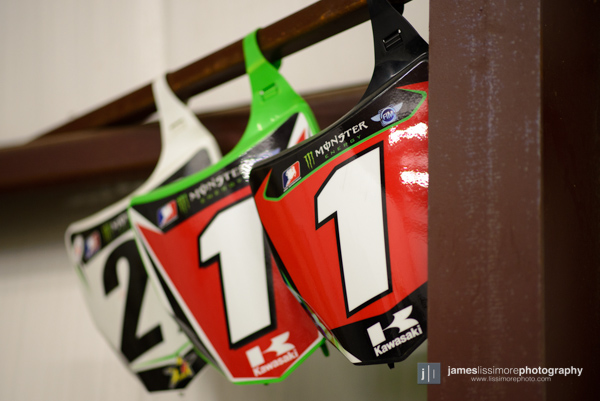 Artsy.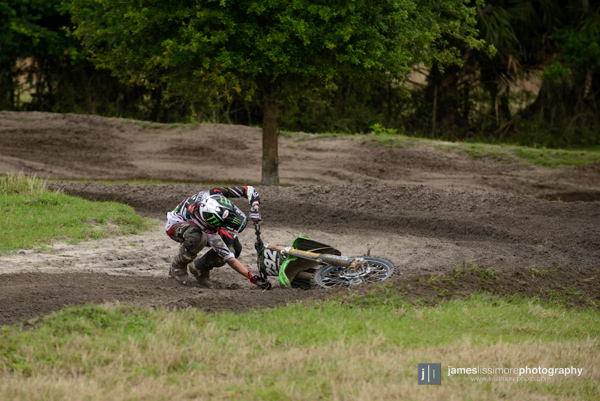 This wasn't a crash, he was testing this crazy new super-tacky grip.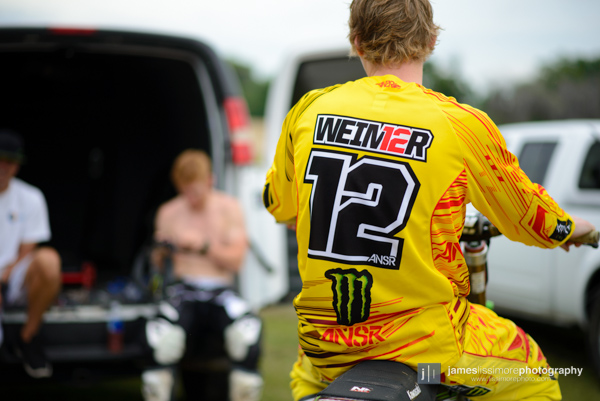 In the background is RV swearing at Alan, as Jake looks on and innocently lobs jabs of his own, at RV.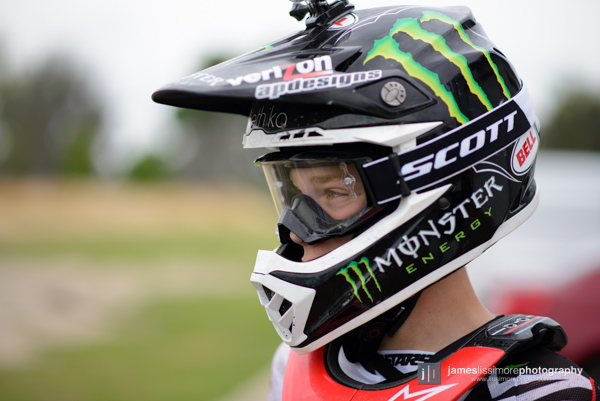 Matthes was denied when he asked Adam if he could get him a Verizon sponsorship because he "didn't want to ever have another phone bill again".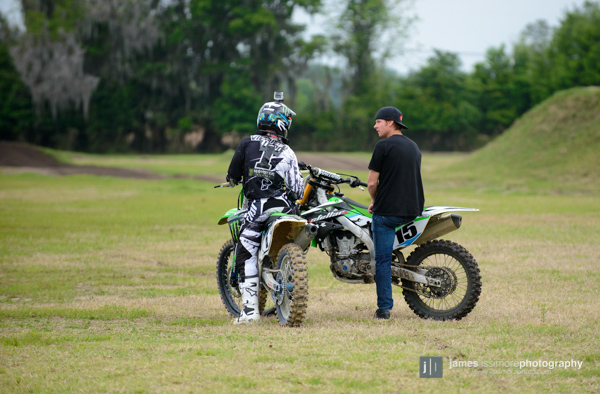 Red Dog stopped out with Evan. Here Timmy debuts his new gear deal with "Denim Gear".