This season is moving right along. 15 rounds are now in the books and Seattle was typical with it's damp conditions, plastic covered track, abbreviated program and of course, ruts.
This season is moving right along. 15 rounds are now in the books and Seattle was typical with it's damp conditions, plastic covered track, abbreviated program and of course, ruts.
Photos: THE James Lissimore
Most riders are not down with these types of conditions in the Supercross series. They train, ride and prepare their machines for the standard indoor track. When a track presents itself in opposition to this status quo, it throws everything off. All their preparation of bike and body is thrown askew. Much like PulpMX is the monkey wrench of moto-coverage, a rutted, greasy, sloppy (yet somehow tacky) track is also the monkey wrench of race-prep.
As a fan of intriguing racing, I love tracks like this which have the riders up to their arm pits in a mad scramble to see who can overcome these unpredictable conditions. If you are a fan who pulls for a particular number plate, these conditions will give you fits, just as it does your rider. For instance, if you are one Cory Moser, you aren't "super-pumped" when you see these conditions, as Andrew Short is well known for being a rider who thrives when his program is running like clockwork and there are no monkey wrenches in sight. There was a race when Andrew looked to be poised to trounce this theory though. Remember San Diego 2010? Andrew was well on his way to victory on a track surface resembling Seattle 2013 and just like that, he landed off the side of a triple and broke his foot. The theory lived on.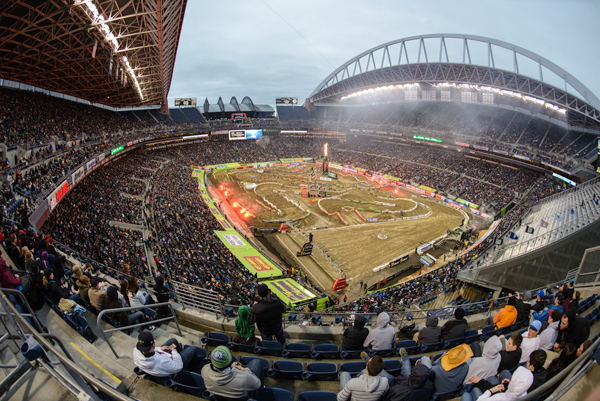 With a fish-eye from afar, it looks like your standard Supercross track. The deception.
Anyway, again, I digress.
If the track builders refuse to or can't develop tracks which require technical proficiency by the racers, Mother Nature sure as hell can. When the series heads to the land of Pearl Jam, Nirvana, SoundGarden, Mother Love Bone and Moser it's pretty much a given that riders who excel in ruts will have great races.
450
Broc Tickle's first Supercross win came in 2010 Seattle's ruts and he has since been noted as a great rut-rider who's name is usually mentioned when ruts are present. This year in Seattle Broc's night did not start out well. A heat race crash left him charging forward from 17th and he missed the last transfer spot by 5 seconds. This put him into the LCQ with, yup you guessed it, Andrew Short. Andrew also had a poor heat race after high-siding over Jake Weimer's rear wheel. The drama between Andrew and Broc this year has become ridiculous. Ridiculous because both of them are super nice guys off the track and have very similar personalities. When the gate drops though, they could not be more different. Broc's race-craft courtesy borders on passive where Andrews is wholly, aggressive. They are both known to rely highly on technical accuracy with their riding, which in this day and age of racing is actually a hinderance. We see riders like Barcia and RV who push to the point of franticness and keep it reeled in close enough to the edge to pull more than the lion's share of W's; and then riders like Broc and Andrew who find it much harder to hang it out, and their results suffer. It's a trade-off though, put yourself in their shoes. Do you step up to that edge of unpredictability and risk injury, especially on a rutted and treacherous track, or put yourself in the best position possible, insuring you live to fight another weekend? It's not a change you make quickly, it takes time to settle into it. But this sport waits for no one. You either commit to the advancements, or get left behind.
In the end, Broc proved again that he is ok with ruts and nailed his best finish of the year, coming from the last qualifying spot and passing his nemesis, no less. Andrew was struggling like most riders on the deteriorating track and went backwards a bit. It was a far cry from Andrews monumental win a year ago; too bad Moser will remember this one and not last years firsthand.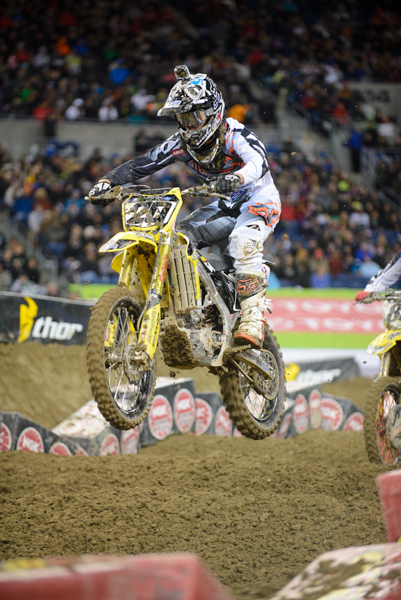 Broc's night started rough but he moved forward for his best finish of the year.
Chad Reed will definitely not be remembering Seattle fondly when all is said and done. This year went like most years in the rain-capital of the Nation. This whole year has been a nightmare for Chad. Between chasing setup, crashes, injury, surgery and the kitchen sink; it's just been a bad dream. His gear has never looked better but his results could not be further from the blueprint. This year has looked more like what you would have expected from year-one for a new team, not the third year and especially not when the staff has grown in both numbers and expertise. I'm not placing blame but with a simple process of elimination you can deduce what is different this year from the prior two years. Chad may not be any younger but I guarantee you his drive and desire is not lessened, I don't think there is anyone in this sport who has more desire to "prove you wrong" in them, than Chad. He's simply not been able to find comfort and confidence on "2013".
Justin Barcia is another rider who just nails ruts with a #YOLO mentality an it usually works out for him. He's just great in them. You could see him attacking with an urgency that most didn't have in Seattle. He turned a blind eye to the conditions and tried to race like the track wasn't what it was: Nasty. It bit him in his heat and he got sketchy a few times in the main but his proficiency to sketchiness ratio was highly favoring proficiency and he nailed his second win of the year. His year has been highly erratic but I see that benefitting him hugely for 2014. He didn't have a dream year like Dungey in 2010, nor a nightmare like Reedy this year. He's experienced the highest highs, a couple lows and a bunch of mediocrity; that's the gamut of experience for a rookie year and I see he and Stanton applying all these lessons for next year and being a serious title-threat.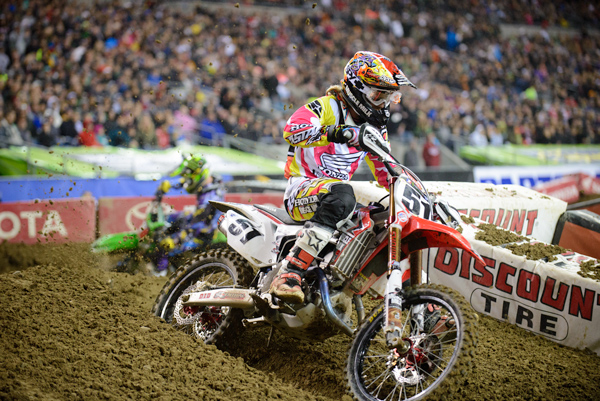 Bam Bam put the conditions out of his mind and rode the wheels off his Honda to the win.
RV didn't cash in the hometown "Super Power" like Dungey did in Minny but when your home-race is usually a monkey-wrench, that super-power is usually neutralized. It's the same indoors and out for RV as he has often been met with tribulation when he heads home for both Seattle and Washougal. It's no sweat off RV's back however to finish behind a non-title-threatening Justin Barcia.
Davi rode well to finish on the podium and snatch second in points back from Dungey by one point. Dungey is usually very good in these conditions but when Dungy starts 17th and Millsaps starts 4th, he pretty much rode like a hero to get back to 4th on that track.
With two rounds left in the 450 series, mathematically Davi Millsaps is exactly one race worth of points out of the points lead and Dungey is one behind that at 26 points down. It's pretty crazy right? I mean, RV has looked indomitable since the halfway point of the series and yet he is still absolutely beatable for the title with two rounds to go! What do you think? Does RV have it in the bag? Is Davi going to prove all those who began doubting his "new blood" wrong? Will Dungey do what he usually does and just hang in there till the end and find a way to claim it? As dominant as RV has looked and even though JS7 is done and Chad Reed has not been a threat in 2013, with two-rounds to go, I'm still really damn excited for these last two rounds!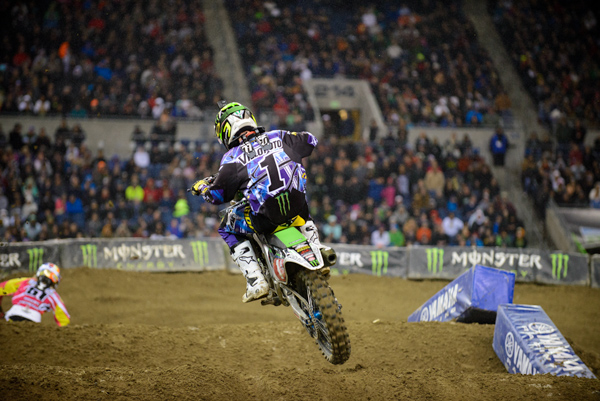 RV made a few runs at Barcia but mistakes on the slippery track kept him at bay.
250
Much like the futuristic Sly Stallone movie, Demolition Man, the west coast SX2 (whoops) riders have been on ice for the last month and a half while we focused on the "lesser coast". Tomac and Roczen dabbled in the SX1 (dang it) class a bit and even Vince Friese has kept racing all along sticking with the 450 in the east and now moving back to his focus, the west SX2 class. The rest of the combatants, though, have been kicking their feet up, playing Call of Duty, eating Bon-Bons and crap-talking the East SX2 class on Twitter. Ok I'm kidding but there's something only one of them has been doing and that is Zach Osborne throwing his hat in the ring for a few off-road races, and finishing on the podium. Zach needed to hit the reset butting after the start of his Supercross series. He was over-amped, injured early and battling poor momentum all the way to the break. There's no arguing he wasn't riding to his ability, both due to misfortune and injury and the off-road racing was a great way to clear his head while pushing his body.
Zach came to Seattle refreshed and ready for anything… and I mean anything. He saw everything nature can offer in those off-road races and I have no doubt the experience helped him on the Seattle track. This was the reset he needed; it was long overdue and good to see.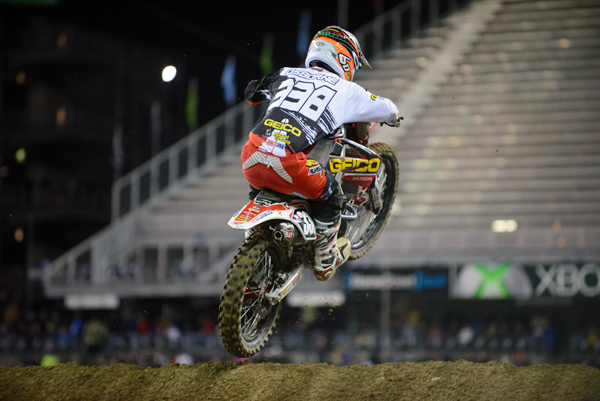 The REAL 338 was back in Seattle, not the imposter we saw before the break.
Eli Tomac has two races to make it happen but it's going to be hard because Ken Roczen has yet to make any real mistake this series. ELi tweeted following the race that he thought he had it in the bag just before he ejected and gave the W to Roczen. It always astounds me when guys at this level reveal that they had a brain fart or that they were caught assuming anything. It falls right inline with first year pro's getting caught in that net of the preparation needed for pro racing being higher than that of their amateur preparation. As someone who studies these guys but could never do what they do at their level, I know that nothing is ever a foregone conclusion, you can never bank on anything and you can not underestimate anyone or the work needed to be at the top of the class. You just don't assume anything. If you are a top AM entering the sport and you think your endurance and preparation is adequate; it isn't. Trust me, it isn't. You will have to step it up and if you don't you will be an also-ran.
I appreciate Eli's honesty with his Twitter-admission, it just shocks me that a third-year pro still appears to be learning lessons. I guess I shouldn't be surprised. I mean, I'm a 7th year parent and I too am constantly learning. I guess it's truer than ever, you really do learn something every day.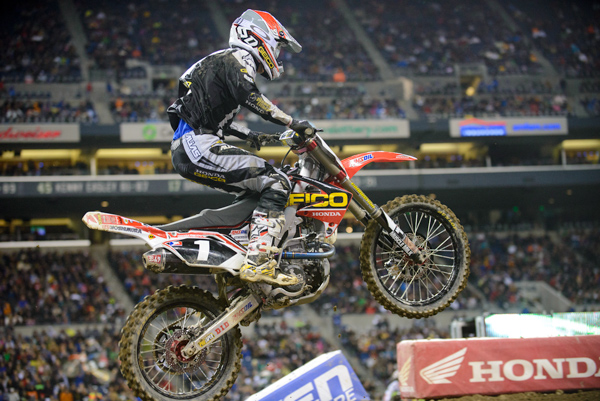 Eli admitted after the race, he may have been overly confident while leading.
I was hoping the Joey Savatgy underdog story would continue with another stellar finish but I'll take an 8th as a solid ride. Austin Politelli delivered another great underdog ride to 6th in his EKS-Brand optics. Cole Seely got a rough starts and very nearly reeled in the podium on the last lap but Zach was fighting for that position like a rabid pit bull on a baby-back rib. Cole Seely, always looking fast in that TLD gear on that pink Honda, sitting 3rd in points despite a pretty quiet series.
We're headed to SLC for the penultimate round of Supercross which usually presents a monkey-wrench or two of it's own. It's a live broadcast so tune in people.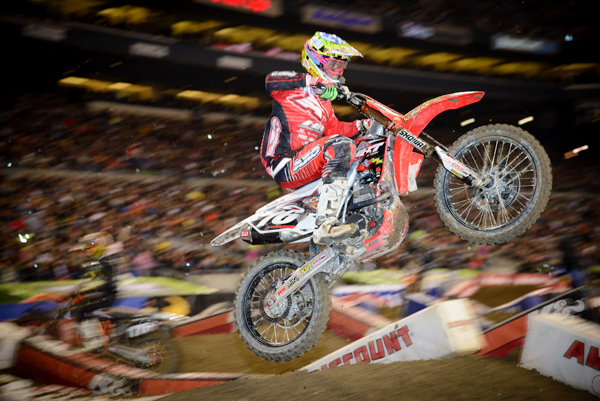 Politelli rode strong to his second best finish of the series.