Photos by James Lissimore
Photos by James Lissimore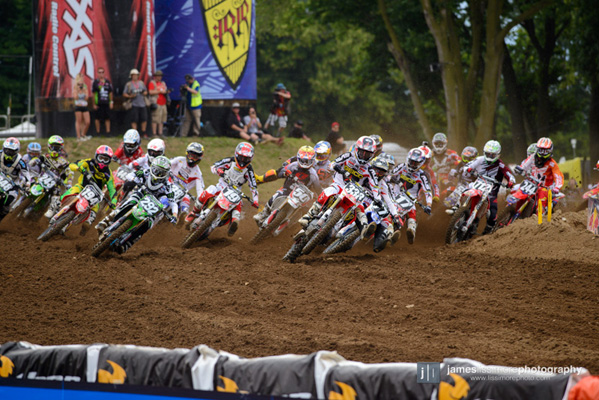 Zach Osborne and Adam Cianciarulo get a couple of great starts in the second moto.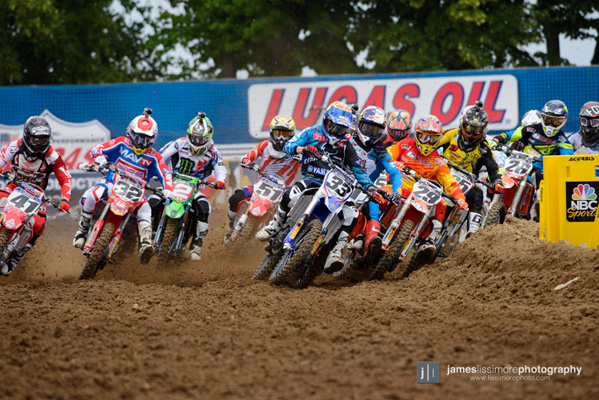 Josh Grant and Andrew Short do the same in 450MX moto 1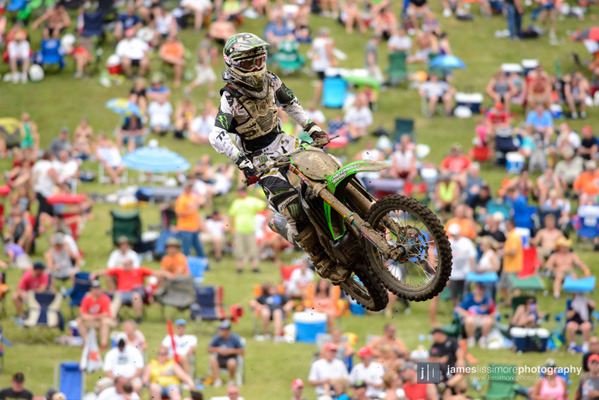 Blake Baggett's wrist has to be worse off than he's letting us of us in on. He's definitely not the same guy that we saw last year and that's too bad. He's a shit-ton of points back in fourth and I don't think he's going to win this title.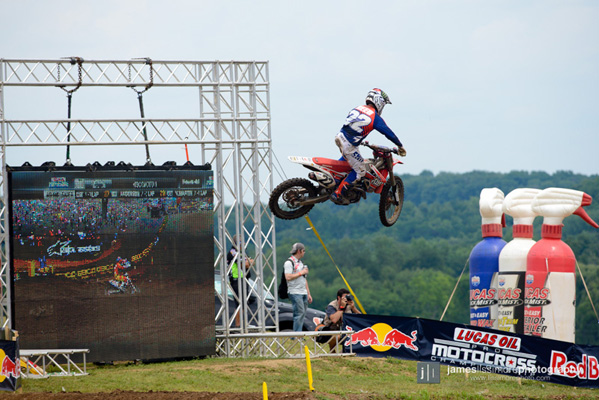 Cool TV screens right? Oh yeah, Reed was better than he's been at Redbud but he still wasn't Chad Reed though. He does have shark's eyes and the look of a gunfighter though.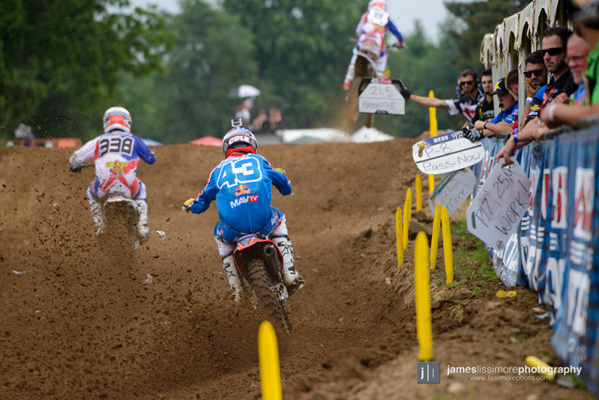 We have "breathe" (props for the wrench spelling it right), "more", "pass now" and "work"- yep, the cliches are still in effect in the mechanic's area. Hey, I can't say I never put Breathe, more, pass now and work all on the board at the same time.
Canada's own Cole Thompson switched to KTM Canada for the second half of the Canadian series and brought his new bike and his new mechanic Donk down to Redbud. Then he mocked Donk for Liss's camera.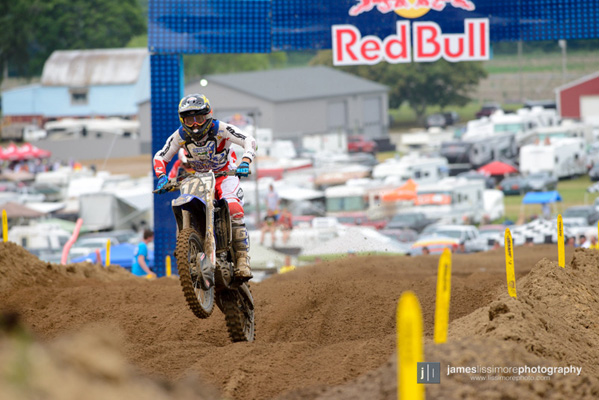 Mini-Coop was strong again. At least this week he avoided the massive mistake in one moto that caused him a DNF.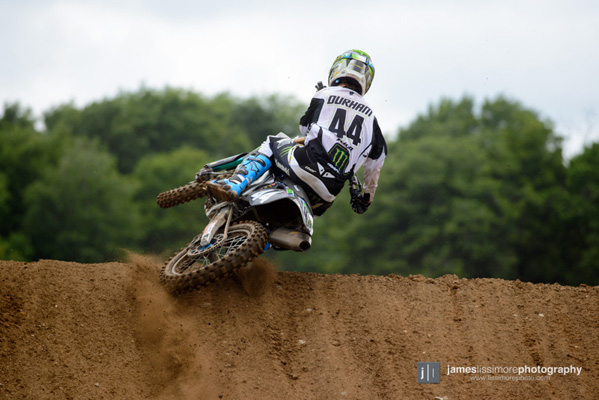 I was waiting for Durham this weekend, I thought it would be a Double D weekend but unfortunately for Darryn and his team, it wasn't.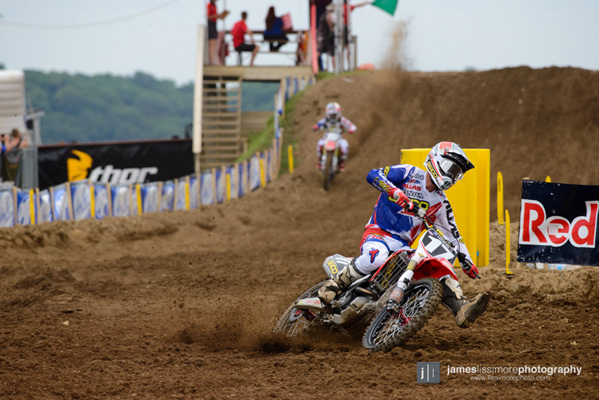 Eli Tomac was on another level in the first moto. Again. The 2014 Alias gear matched the theme of the weekend as well.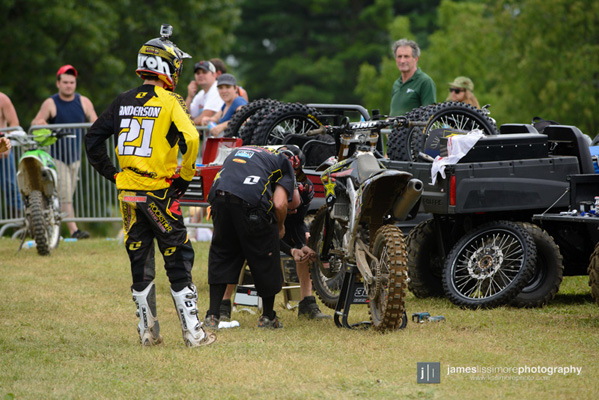 Jason Anderson was flying in the first moto when he blew out spokes in his front wheel and apparantly one of the spokes flew into his rear tire causing a flat. Weird man.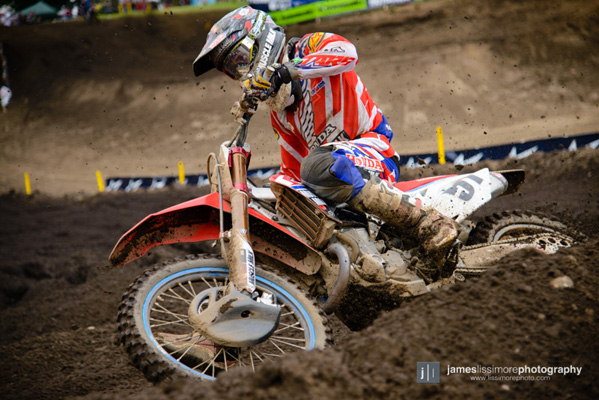 Barcia had to come from wayyyyy back in the first moto and in the second moto he rode alone in 4th. He's been fine no doubt but I'm waiting for that Bam-Bam moment to happen in the last few weeks. He's been quiet…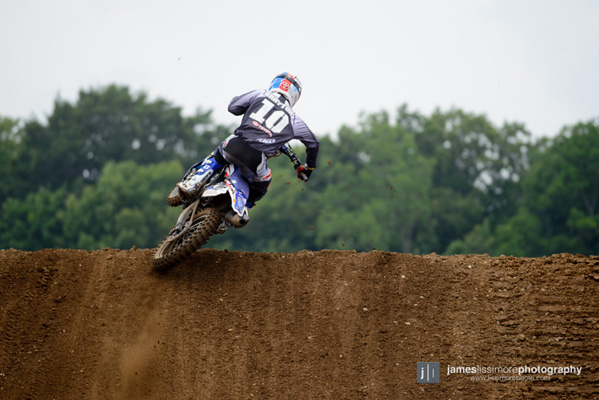 Justin Brayton is back! I don't know who was riding his bike early in the year but it wasn't JB10. The last three races (save for the crash and DNF first moto at Southwick) have been much better, way more Brayton-like.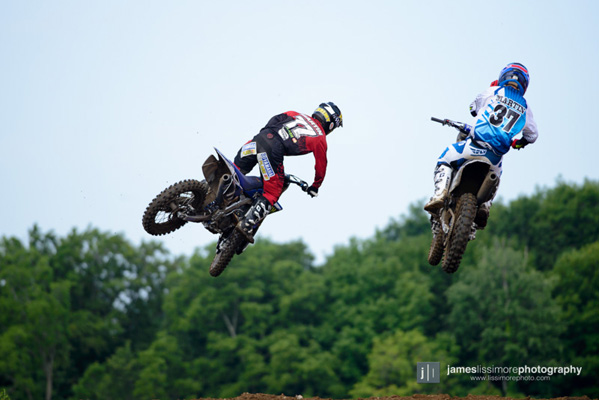 My favorite Martin?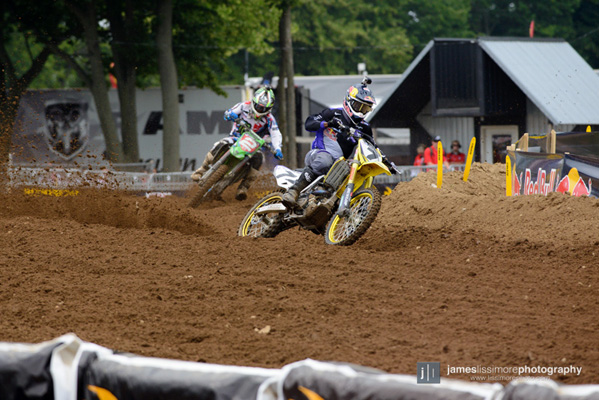 It was raining yellow there for a bit in the second moto and yeah sure RV and RD got him but a 2-2 day was still Stewart's best one of the nationals.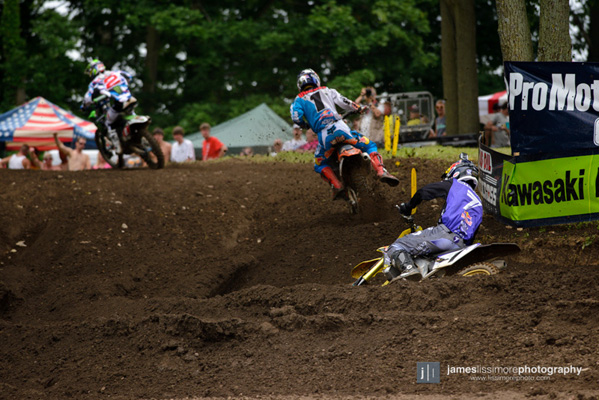 It was pretty cool to see these three go at it in the second moto. Yeah, yeah, I get it- you guys couldn't see it because of the crappy TV coverage. No need to swear and call me names on Twitter. I didn't do it!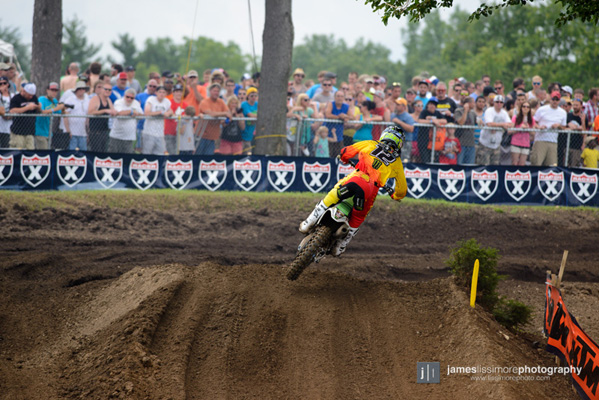 "Jumpin" Jake Weimer finally got a good start in the first moto and was promptly shuffled backwards but hey, at least he learned a few things.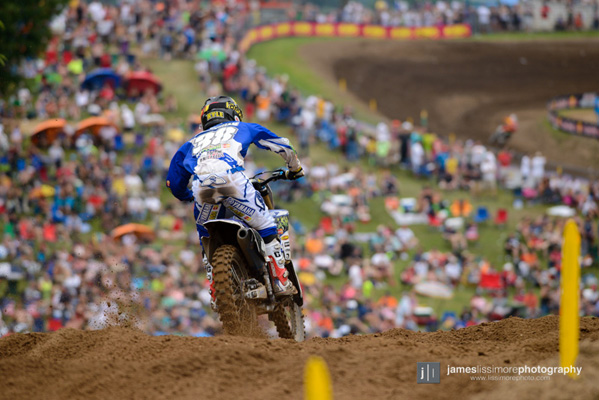 Very quietly Kyle Cunningham is having a good year. Seriously. Go look it up.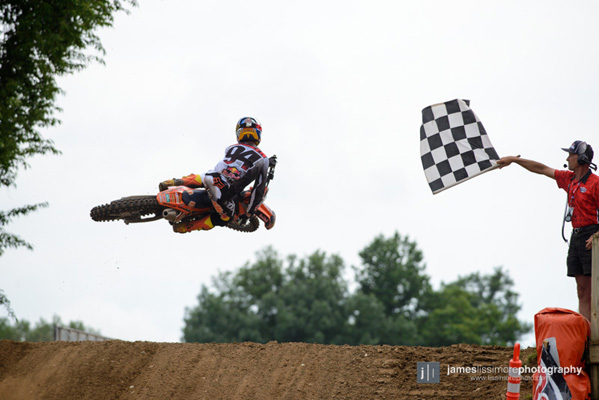 Kenny Roczen is just as solid as they come. He always seems to limit the damage to one so-so moto and rebounds in the next one.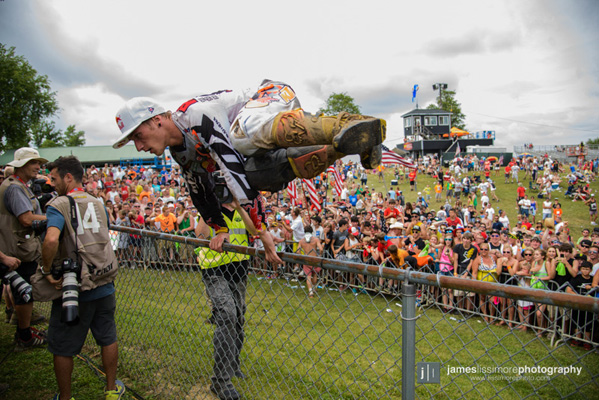 I guess he just sprayed the fans with champagne here and is leaping back? Or a giant drunken Redbud monster is chasing him? I don't know but I do know that after a 30 min plus 2 lap moto, I'm probably not strong enough to jump over a fence like this.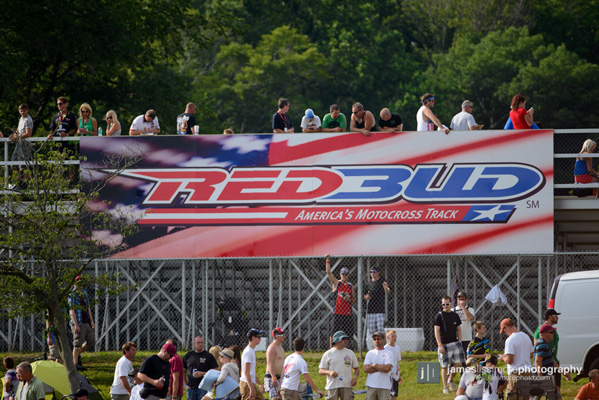 REEEDDDDDDBUUUUUUDDDDDDDDD….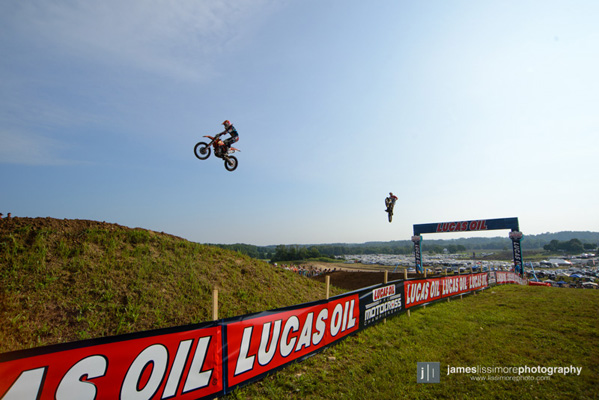 Ahhhh the Leap.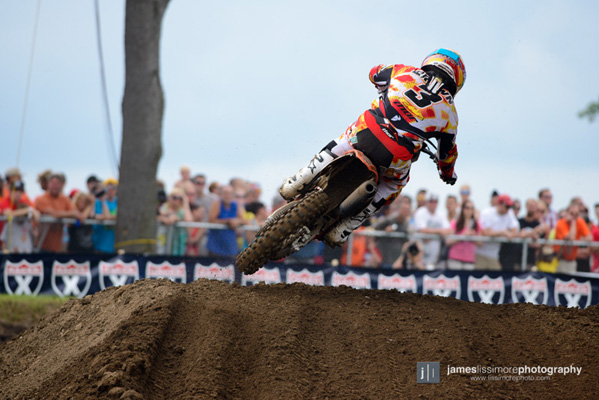 Mike Brown was back and had one good moto and one bad moto. He needs to line up a little more if he wants to get the 25-points he needs to keep his number.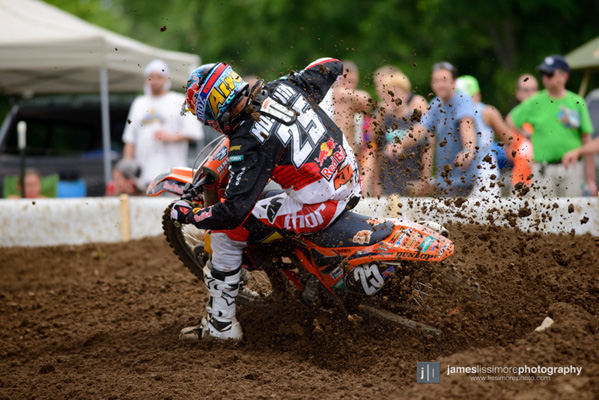 Marvin Musquin won two nationals in a row and was killing it. Then he had a couple of so-so motos which is no big deal but now I look at the points and he's way back. When Tomac and Roczen are that good, I guess it's that hard to rebound when you slip a bit.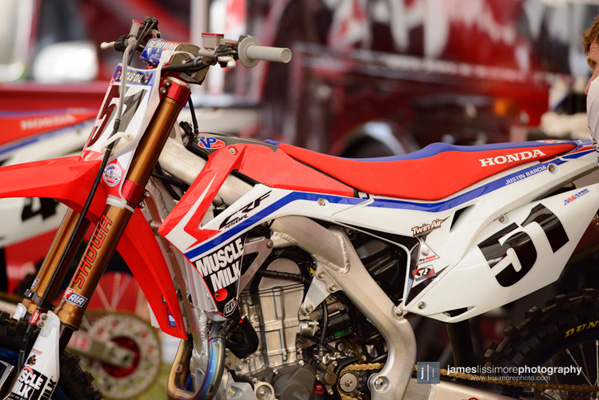 JGR Yamaha, Two-Two and Honda were just a few of the teams that ran the red, white and blue color scheme on their bikes. This is pretty sweet looking.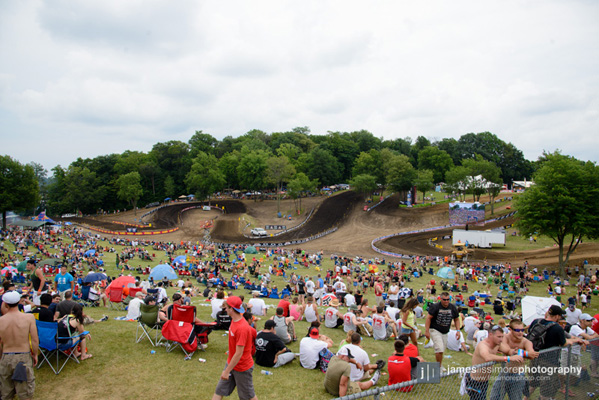 Lots of people at Redbud as per usual.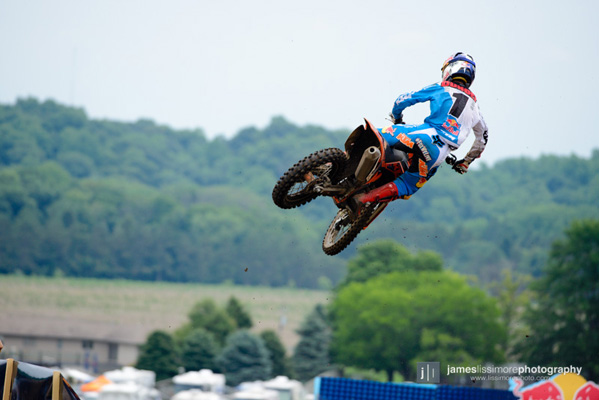 Ryan Dungey DNF'd the first moto when he (probably) flooded the bike and then killed the battery and in the second moto he had a pretty good crash. Not a good day for The Dunge.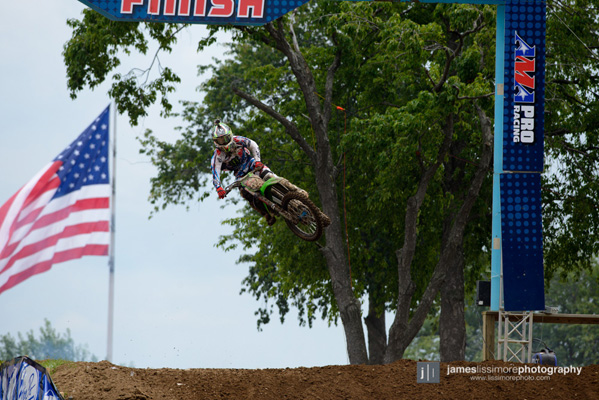 RV, America and dirt bikes- what more could you want in a photo?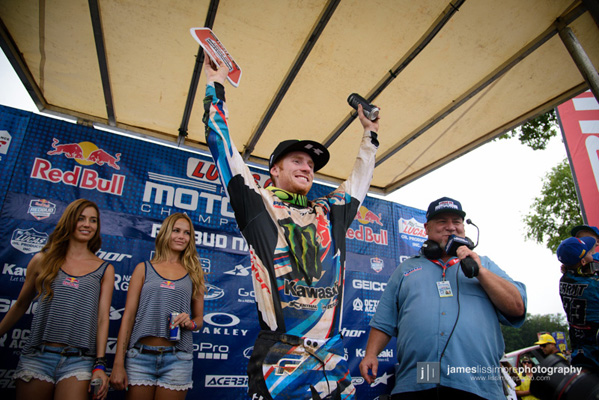 1-1 on the day and with Dungey's bad luck, it's Villopoto's title to lose now.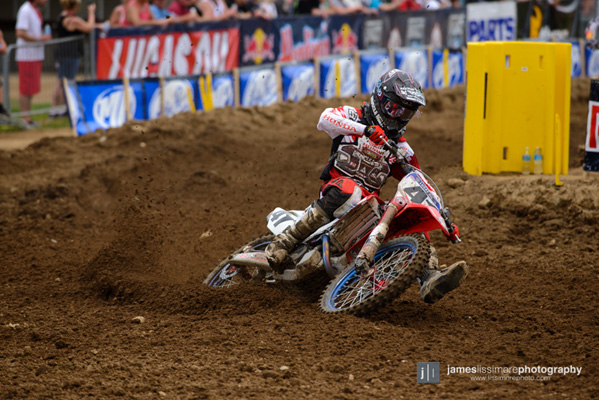 Trey Canard was solid all day but couldn't avoid the small mistakes when he tipped over in the first moto while on the gas.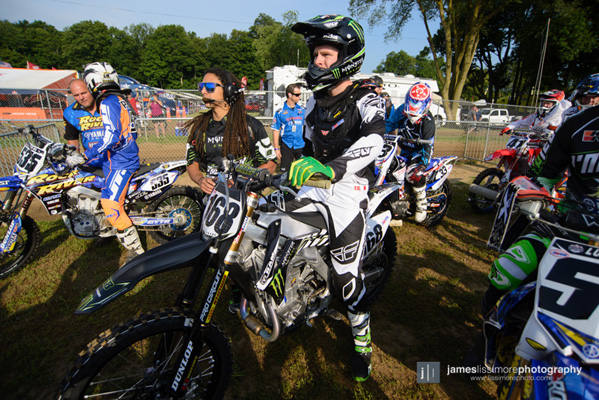 Tucker Hibbert, snowmobile god came out to race the national. He easily qualified but didn't score any points.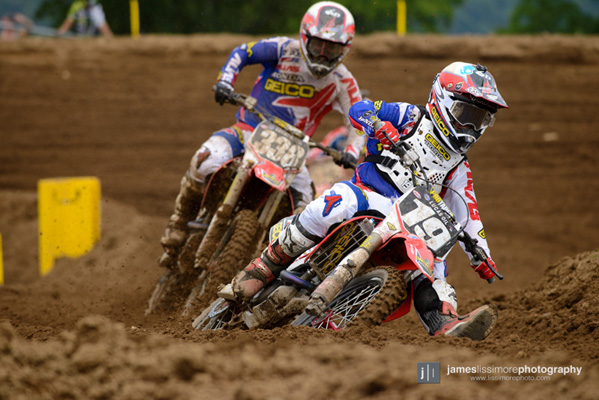 Wil Hahn wasn't happy with his day one bit. He started up front, said the ruts freaked him out and went backwards both motos. He did enjoy co-hosting the Pulpmx Show though!