Moser dives in deep with the sports top mechanic
Moser dives in deep with the sports top mechanic
I called up the guy with the best job in the pits, the personal nut torque and lube specialist of Andrew Short. Nate has the prestigious title of "Matthes's favorite mechanic" I assumed it was because he's Shorty's mechanic but when I asked Matthes why, he said "He lived in a tent to make it as a mechanic and I like that". I've gotten to know Nate a little bit over the last year he's a super nice and funny guy but lets see how he handles my 29 questions.
Moser: It's good to hear your voice are you ready to finally do these 29 questions after blowing me off at Washougal?
Nate: What are you talking about I think you were too drunk to do it.
That's not how I remember it but it's a little foggy. Let's start this off for people that don't know who you are. Where did you grow up and how did you get into motocross?
I grew up in Bourneville, Ohio. Smithville is bigger than Bourneville. We have a post office and a gas station. No stop lights, nothing like that.
So how did you get into moto?
Actually my uncle used to race.
How old were you when you got your first bike?
My first bike I was 11. It was a little 80, Yamaha.
Did you race growing up or did you just ride?
Just raced locally. Mostly outlaw races, too.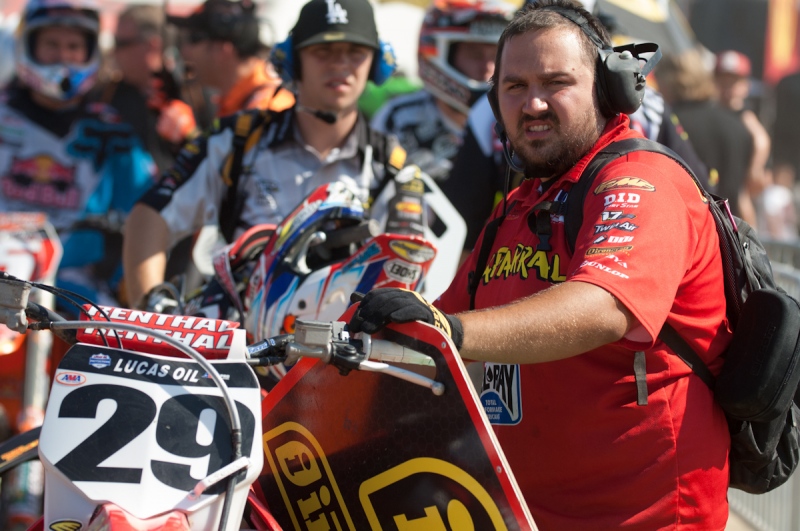 Nate's been around for a little while and he's now Andrew Short's mechanic. Lissimore photo
What the hell is an outlaw race?
They have outlaw races back home. It's a non-sanctioned event. You don't have to have an AMA card or anything. You just show up and you race dirt bikes and that's about it. A bunch of people actually go to them though, just because it's cheaper and the tracks are actually pretty good. It's pretty cool.
So what's the first job you ever had?
I was a loser in high school nobody liked me. My mom step dad and everyone was mad at me because I didn't have a job. I was like, "I'm holding out for this job" or "I'm going to get this job". But I didn't have a job for the longest time. Getting a real job is a good thing to procrastinate on because once you start working there is no going back, you end up working the rest of your life.
They wanted me to go work at a Diary Queen or something.Your first job wasn't at KFC greasing chicken?
No, you know where I started? Well actually I didn't have any money to get there I had to sell my dirt bike to get enough money to live off of for a while once I moved there. So I got a job at this place called YSK. It's a Japanese manufacturer place.
That's where your brother works now, right?
Yeah. I worked there and made Honda parts.
That was your first real job?
Yeah. It was bad. I worked night shift and everything. It was horrible.
My next question was going to be what's the worst job, but it sounds like that was probably it?
Yeah.
So let's go through the list of riders and teams you've worked for, you can consider this a test.
Nathan Skaggs. Now they're all big time. They do Arenacross and stuff. I worked for Nathan Skaggs back when he was kind of an amateur and just started racing Supercross on Spine-chillers Racing for one year. On the same team I worked for Kyle Preston, he's from Ohio. He's like a super sick amateur but then he got fat and drank a lot, so his priorities were messed up. After Kyle was Zach Ames.
Was that the first time you did the Supercross circuit, was with Ames?
I did a few with Nathan, not very many, one or two. But with Zach Ames it was a pretty good year because it was my first year doing a complete Supercross series we were getting 10ths and 11ths and stuff and we were out of a box van. I was pumped back then.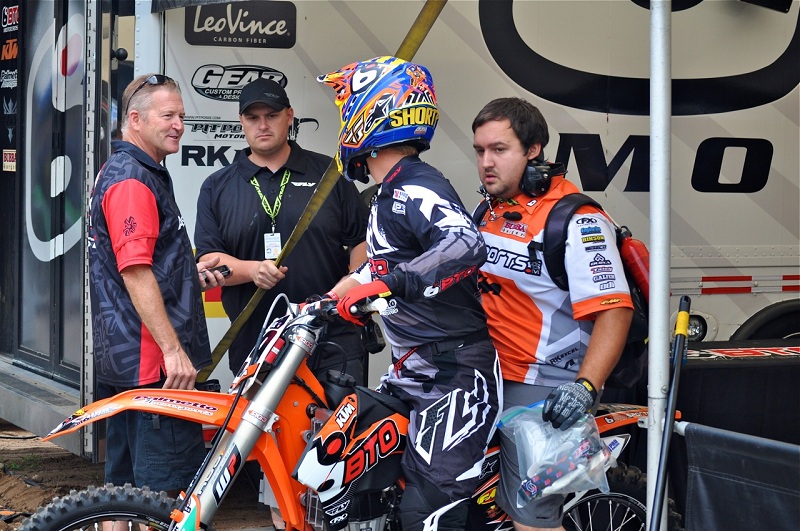 Nate on the back of his trusty steed. Photo by Terry Spazzano
Who was after Ames?
After Ames I worked for this amateur kid and lived at MTF. His name is Lane Staley. He was only like 10 when I started working for him. I basically had to do everything with him, like babysit… you name it. Drive the motorhome, had like 6 bikes. Deal with all his drama with all the kids fighting every day. It was a mess. Halfway through that I got a call from Chad Sanner. Basically he's like, "you want to work for Levi Kilbarger?" and I was like, heck yeah. But then he told me I would have to drive the motorhome. I told him I was going to have to rethink it. Basically I almost didn't get the job because I didn't want to drive the motorhome. They had this real nice big ass motorhome and a trailer and stuff.
But I just winged it. I said ok and I moved back home to Ohio and got the motorhome and just hopped right in and drove straight to Georgia. I stayed with Chad Sanner for two months before Supercross started. We were seriously at the shop every night until 4:00am, 5:00am in the morning and we'd wake up at like 8:00am. It was gnarly, really long days. I wrenched for Levi in Supercross and then Michael Willard outdoors. I helped everyone. I was kind of a bounce around guy. But I mostly did Willard's stuff. That was back when we had to completely rebuild the motors and everything. Not like now.
You guys just change grips and graphics now right?
Yeah, just do grips and graphics.
Who was your next rider?
After that I took on two riders at the same time. The whole Kilbarger and Sanner team broke up and basically I had to choose where I wanted to work. At the time, Sanner kind of sold me the dream and talked me into staying with him and everyone else went with Kilbarger. I kind of just went with what I knew at the time and stayed. I actually had three riders Darryn Durham, Brandon and an amateur kid Daniel Baker.
How long did you work for Durham?
I worked for Darren all Supercross and all outdoors. It was old school but more legit than I've seen a lot of teams do.
One thing you guys were never lacking was horsepower.
Even the first year in the box van, that thing was clean. We had someone to drive the box van with us, Durhams friend Mike helped drive the box van. He'd clean it out it wasn't a mess. After I left, it just went to crap. Everyone would say how they show up with dirty bikes and stuff. My bike was never dirty. I reframed my bike every single week no matter what. And I build my motor every week no matter what.
So even though you were in a flat back box van it didn't mean you guys weren't doing it the right way.
I might not have got good sleep and stuff but I was doing it as good as I could do it. I was basically just trying to help Durham out, and Alex Martin. Alex was too cheap and wouldn't hire a mechanic then. Some of the races I had to work for them both but we would just have someone push Alex bike to the line for him.
That's cool you guys all had each other's backs. You were helping each other out.
I was seriously struggling that year, but at the end of the day I learned a ton from it. I learned how to do things right no matter what. Take the extra minute to do it right so you don't have a problem.
Then you went with Ryan Morais, right?
Yeah, I wasn't going to go do the Morais thing. I finally took it last minute. Durham basically made me go to California. I wasn't going to take the job. I was going to stay with Sanner, because I had no money to get to California. Then Darren said, "nope, you got to do it" and gave me the money to move out there.
Then Morais kind of helped you get the job with Shorty, right? After he got hurt.
When he got hurt he put in a good word for me. I didn't even ask him. That was really cool of him. I respect that a lot. He was just like, "Hey Andrew needs a mechanic and you can help him". (Editors note somewhere along the way we missed that he also spun wrenches for Kiniry and PJ Larsen)
What's your zodiac symbol?
Aries. I think it's a goat or something.
I'm a Leo, mines way cooler than yours. With the TV schedule being live you have a super short time to get the bikes ready in-between motos. How stressful is that? Do you think it's good or bad for the sport? Do you freak out, pull your hair out to get ready in time?
At the beginning of the year I used to freak out and pull my hair out. I got kind of a checklist and it's like a routine. Once you get comfortable with doing something you get it. I check over every single thing on that bike. It's hard. It really is super hard and it's kind of ridiculous that they do that because it's really dangerous but it is possible to do it. I bleed my brakes and everything. But I had to practice it for like three races to get it down to do it like that. The first couple I was so slow. Every little bit helps if you have an extra set of hands there to help you, even just handing you an air filter helps big time. Or if someone helps you pour your gas.
You're thinking about way too much stuff already. I think if they could definitely give you a little more time or figure something out because… sometimes it's not even dangerous for the riders; it's dangerous for mechanics to not eat or drink all day. When I'm working I don't want to eat or drink because I feel guilty because I'm letting Andrew down because if I stop and get something to drink, what if I miss one thing because of that?
It seems like they're cutting it real close. I don't see how they get the bikes ready any quicker than you guys are doing it now.
It's hard. I'm like right down to the minute.
Who was a mechanic that you looked up to when you were growing up? Or someone that taught you a lot about wrenching or helped you learn to be a good mechanic?
I hate to say this but Sanner taught me a lot. If I wanted to be like a mechanic when I got older, I wanted to be like someone like Gothic Jay or Lars. They're just really cool people and they do a really good job.
Do you stroll the pits and kind of check out other people's bikes and stuff?
Yeah, when I have time I'll check out a few bikes. Sometimes if you get done with your bike early or something and another team's parked beside you at the hotel in the parking lot you can check out their bikes and stuff. It's crazy because every week you build your bike and you try your best. But every week it starts looking worse, and worse, and worse. You try your best and you try to make that thing as good as possible. I used to get so bummed but then I started looking at other people's bikes and I'm like, oh man, maybe mine doesn't look that bad. You look at Carlos' bike and you're like, how the heck did you do that? Just put a new frame and everything on the bike?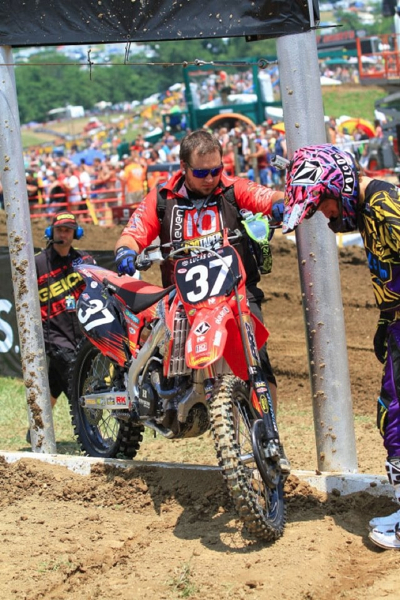 Nasty Nate in the Eleven-10 days with Durham.
What's the worst work-related, mechanic injury you've had?
When I worked at Star at Anaheim 1 I was loading a bike backwards into the semi. I was rolling it I went to grab it by the swing arm. My hand slipped and went into the circle piece in the sprocket. It ripped the tip of my finger off and my glove. I yelled at Blue who was working there I think my finger's gone! He's like, "Go to Asterisk!" I went there and thought they wanted to cut the rest of it off but it just broke the bone and stuff. They just sewed it back together and everything.
Who's a rider you'd like to work for that you haven't gotten to work with before?
Two people that I really, respect would be Eli and Hahn. Those two, they're just good people. I like to work for good people.
So why are you working for Shorty then? (heavy sarcasm)
(Laughs)
Favorite motocross bike ever?
I like the 2009s and the 2012s, Honda 450s Works bikes. I love those bikes.
What's your best/worst travel story?
I have so many from the box van days. Showing up at a hotels and Sanner telling me that I have a room there and I don't. The Washougal story is pretty good it actually started at Millville. I broke my phone before I went to Millville so I didn't have a phone. The other kid that was driving the box van with me, Mike. He just had this little tiny Nokia flip phone. We didn't have a computer or anything, no internet. We headed out, went to Millville. Sanner hadn't paid me for a while then all of a sudden he gave me some of the money he owed me but was like, "man can you use your money that I give you for gas money to get there and I'll pay you back". I got to Millville we just raced, everything was good and stuff.
Day after Millville Alex and his mechanic, flew home. So it was just me and Mike the box van driver and then Briar Perry, from 180 Decals. He was supposed to go with us. We were all supposed to go to Washougal, but we couldn't get ahold of Sanner, our phone didn't really work so we didn't know what to do. Finally we got a hold of Sanner he says "I'm sending you money" that was Monday or Tuesday and I'm telling him we're not going to make Washougal. You got to drive from Millville to Washougal, that's a long drive. Basically he never called us back or sends us any money. I still had the rest of what he paid me in my pocket and then Briar gave me some money and Alex had a Honda card that had $150 bucks on it and gave me the Honda card. So we took all of our money together and we just winged it. Our tires on the box van were like rocks, like square edge all the way around. You'd get over 55mph and it started hopping real bad, we were so paranoid. We ended up getting to Washougal. We were completely broke, had no money. Had to wait for Darryn to get there to pay for my pass to get in.
You made it in time though?
Yeah, made it in time. That was the first race I made it to tech inspection before the time was up. The first race I'd ever shown up in time. We get a hold of Sanner and he freaks out, saying "I told you not to go to Washougal!" I'm like, no, you said you were sending money but we couldn't get a hold of you. So we're in Washougal, the farthest point from Pennsylvania, and he's like "I don't have any money to get you back". So me and Mike were just sitting after the race, can't go anywhere, we're like what the heck do we do? We have no gas money. We have half a tank of gas in a box van right now. Darryn and them are flying out. It was just me and Mike.
We ended up just camping out in the box van at mall parking lots and stuff, Walmart and everything for a few days. And then Sanner finally sent us $150. $150 is nothing when you've got to drive all the way across the country. You need like $1,000. We would get that $150 and fill up and drive as far as we could then we'd just hang out in parking lots again until he sent us more money. Wherever we were at we'd get to the closest exit and we'd sleep in the box van. The box van was so full you couldn't sleep in the back or anything. You had to sleep in the chairs. And the chairs didn't fold back. They didn't recline or anything, so you had to sleep sitting up.
You put in a couple hard years there, buddy.
It was funny. You know what the best part about that race was? The only reason I wasn't so pissed off about that weekend was because in practice I had so many problems with Darren's bike, just with map sensors, injector, and fuel pump and everything. And then at the end of the day he got 7th or something. We ended up beating all the GEICO guys that day and we parked right beside them. It was so sick. That was the only thing that seriously made my whole Washougal nightmare worth it.
Nobody can ever say you didn't put your dues in. What's the worst dirt to try and clean off a bike?
Washougal is the worst dirt to wash off if you don't have soap. You can sit there and spray it, spray it, spray it with just water, even with a power washer and it doesn't come off until you spray soap on it.
What's the most important part of a bike to lube?
I lube everything.
What if you could only lube one thing?
Linkage and swing arm.
Linkage is probably one of the most neglected parts of a bike for the average rider.
I see a lot of people just sit there and spend hours just cleaning it and polishing it but then they won't take it apart and grease it.
Who's the most intimidating person in moto?
At first I thought it was Larry Brooks. But he's just a normal guy. He kind of plays the part sometimes but I don't think he really is intimidating. I think Mitch is kind of. I've had like a meeting with him before and I get so nervous around that guy. It's hard for me to even go talk to him. You don't want to work for that guy unless you're ready to work for him.
Mitch can be a hard guy to read, for sure.
Yeah, he's just hard to read. I think Mike LaRocco is too. I think LaRocco is worse. You can't read him. I think he's a nice guy, you just can't figure him out. He scares me.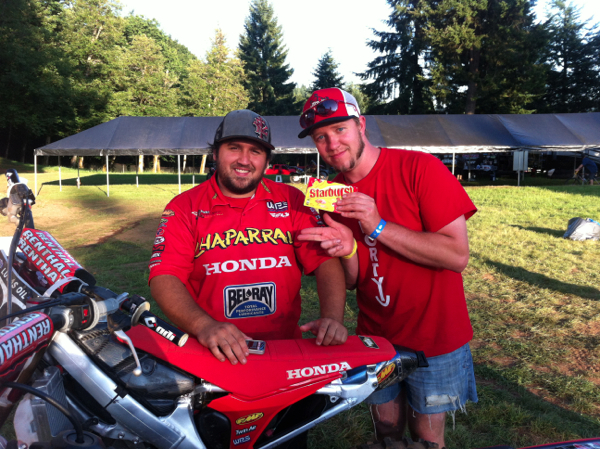 Nate and the author share some Skittles.
How much do you like Jacki's cooking? How does she cater to your likes with food?
She knows that I like pizza. Her pizza is really, really good. She thinks I only like little kid food like nuggets and macaroni and cheese.
Dammit I didn't get to try her pizza. So you eat with Emma and Hudson.
I like most of her food. She cooks sausage too much maybe, but I think that's Andrew's fault.
For any kids that might be reading this, after the races, what's the best approach for them to get some sort of souvenir? I'm sure you get lots of kids coming up and asking for stuff.
Don't come back after I already gave you something. That's rude. I never give out number plates to anyone. I gave this little kid a number plate this weekend because he was a cool little kid. He came back later asking me for goggles and stuff.
And you were like, "I'm going to take that number plate back"
Yeah. I was about to freak out on him. He didn't have the number plate with him. He was trying to be sneaky.
So you hook up the kids that don't ask and they just kind of stand around? When you get the kid that's always yelling and demanding.
Honestly, I give to the little kid that's sitting there that doesn't say a word.
I was the kid that never asked and I never got anything.
I'll give it to the kid that's not going to go around begging asking every single team. I'll give to the little kid that looks like he really wants it but he was afraid to ask.
Is there another job in the industry that interests you? I can only think of two or three guys that wrench forever. Everyone else kind of transitions to doing in-house motor, suspension stuff or they become a rep or do something else in the industry. Is there anything else that you want to do in the future or just wrenching? Or cross that bridge when you get there?
That's a hard one. I'd like to do anything. I know you can't be a mechanic your whole life because it's hard on you. It's hard on everything mentally and physically. But just something in-house like doing motors even or just being a test guy. Helping out, doing all the test stuff, or anything.
I can't imagine the travel you guys put in. It would completely burn me out. I do one weekend of travel and it ruins me for weeks. I don't know how you guys do it every week.
That's how I was this week. I got back at like 4:00 a.m. after I woke up at 6:00am and worked all day.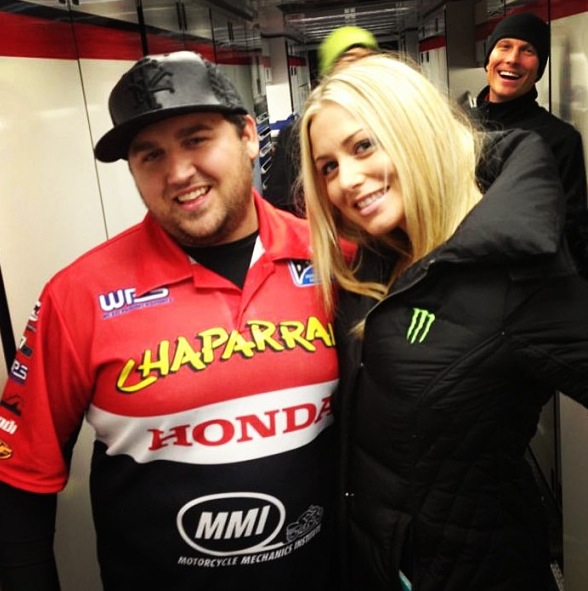 Nathan and Mrs Supercross caught by the paparazzi.
So what are you tricks for people that fly all the time? What do you do on the flights and stuff?
I just sleep. I take a window seats and wear a hoodie, put the AC on high and just go to sleep. I fall asleep before the plane even takes off. And I wake up when I hear "boom." When it starts bouncing I wake up.
Is Jacki as mean as people think she is?
No, Jacki's one of the nicest people ever. She's awesome.
Who are you scared of more though, Jacki or Andrew?
That's a hard one. I think they're both equal. Jacki mad, when you see the wrath of Jacki, something's really got to piss her off, she's kind of scary but sometimes I can't take it seriously, because she's such a nice person. It just kind of reminds me of when my mom would get mad when I was little. You knew she was mad but you couldn't take her seriously.
What's the best part and the worst part about working for Short?
Worst part is I don't think the girls like him. He doesn't get a good crowd of chicks and stuff. There's people that just love him- he doesn't have like 30 chicks like Nico Izzi would get. He's got fans like you.
What's the best part?
Honestly he's a good person. He'd do anything for you, without even questioning it. He does things right. He doesn't try to rip you off. He doesn't try to treat you bad. It's just a good vibe. And you learn a lot from him because he knows a lot about testing and suspension, motors, everything. He's been around. He's a smart dude.
Are you going to list bucking hay bales on your resume?
Jacki told me the other day if I quit working for them that I'm going to have to stay at least until they get one more load of hay. She needs me to help out on one more load of hay.
So you brought up the girls in the pits. Who are the hottest energy girls in the pits? Is it the Monster girls, the Red Bull girls, Muscle Milk girls… You see these girls week in and week out.
That's a hard question because there's not very many. They're all gone. All the Monster girls are just dirty. Georgia is cute but that's mostly because she's just English. If she wasn't English I don't think she'd be as cute. Mrs. Supercross has got some booty though.
Are the girls in the pits better in Supercross or motocross?
Starting at about High Point the bikini tops come out.
What do you like wrenching better – Supercross or motocross? Outdoors has got to be a lot more work.
Outdoors is more work but it's kind of a weird deal because halfway through Supercross you get burned out. The first time you start testing for outdoors you're like, I can't wait for outdoors to get there. But then halfway through outdoors you're like, I can't wait for Supercross. And then when it comes it's cold… It feels like Washougal weather all year round in Supercross and motocross I'd be stoked.
What's the best and worst part about being a mechanic?
The worst part is dealing with people. Everyone thinks that we just build bikes but it's more about if you're able to deal with people. You have to be a people-person. If you can't deal with one person on your team, it mentally eff's you. If that one person told "you sucked" every day and then you think about that one person saying "you suck" every day. You got to learn how to deal with that stuff. The best part is doing well.
Does doing well make it all worth it?
Yeah, if you do a really good job. Compliments are awesome. If somebody compliments you and tells you that you did a good job and you know they mean it, it makes you work even harder.
Thanks for answering my 29 questions
Please send any and all comments to jasonw@racerxill.com