Who's running what?
Who's running what?
Ok people the 2014 national numbers are right here. Sort of anyways. Sorry for the all caps in some spots but I feel I need to make some points
Thanks to Dan Truman who actually updates these year after year (he seems like someone who would have a life though) here's what we're thinking the numbers are going to look like. First though, a refresher:
If you win a 250MX, 450MX or 450SX title you get a career number and it CAN be a single digit number if you would like. Eli Tomac won his first title this year (250SX DOES NOT COUNT FOR THIS) and has hinted that he'll go with #3 because Mike Brown, the previous number 3 holder did NOT score the required numbe of points (25) to hold onto it for life. So we're going with the fact that Tomac will run with number 3.
If you score a top ten position is COMBINED points (250SX, 250MX, 450MX and 450SX) then you get a career number for you to keep forever (unless you win one of those titles like Tomac did and then you can switch to a single digit number). The only new rider we have this year is Zach Osborne who has gone on the record as saying he likes #16 (John Dowd did NOT score the 25 points he needed to hold onto it). So we're also going off the fact Zachypoo will take #16.
You CANNOT take a three-digit number for a career number but Mike Alessi is grandfathered in so that's why he has #800. And yes, Zach is bummed about this decision.
The number 13 is a little superstious so the AMA gives the rider the right to not take it if they don't want to. Jason Anderson finished 14th in combined points this year and was also the FIRST rider who does not have a career number and therefore gets the lowest OPEN number and that is #13. In a text message with me he indicated that he does NOT want that number and will take #14.
So below is the combined points order of the riders this year and the number they should have ont he left. There are 22 riders that now have career numbers.
P.S- The fact that the AMA made the incredibly horrible decision to allow 250SX points for a riders national numbers is still ridiculous one year later. Kyle Peters probably loves it though.
P.S.S- Although Mike Brown, John Dowd and Kevin Windham all did not meet the requirement to keep their numbers, I would not be surprised if the AMA just "allows" them to keep their numbers for another year and therfore render this list moot. Windham is loved by Feld and I can see those guys doing something to allow no rider to take #14 next year. Call me crazy but I will not be shocked.
P.S.S.S- Even though Ivan Tedesco did not race in 2013 and no one wanted his number I would also not be surprised that if he DOES race in 2014 (doubtful) that he comes back with #9. I'm ok with this though.
P.S.S.S.S- Like Osborne last year when he raced some supercrosses, riders with FIM licenses like Desalle and Strjibos do NOT count for national points so hence why they are listed in the combined points but do not have numbers.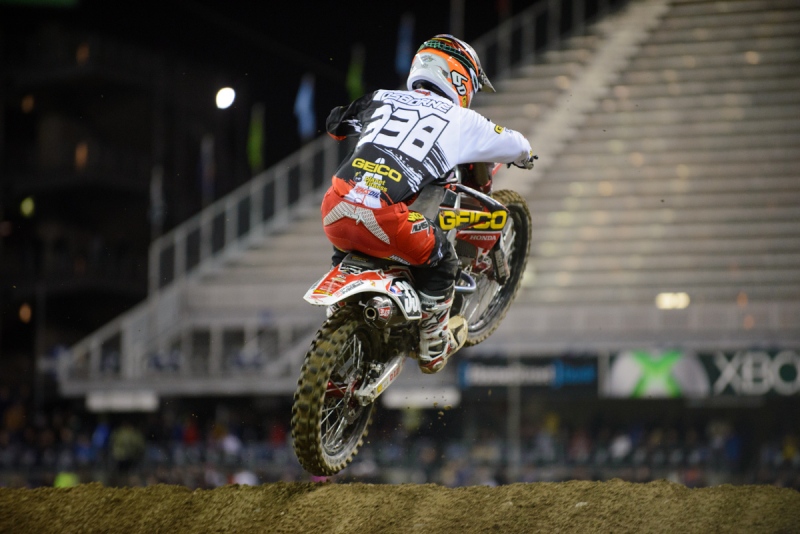 Osborne wants #338 for his career number but he can't take it. Good job to him on a good season. Lissimore photo
#70 is Zach Bell and #71 is Daniel Herriein (we're not sure what happened here but trust us)