Instead of going on a tirade regarding the last two Nationals of 2013 being hand built on flat land plots, I'm plugging in my flux capacitor.
Instead of going on a tirade regarding the last two Nationals of 2013 being hand built on flat land plots, I'm plugging in my flux capacitor.
Photos By: Simon Cudby
2013 has wrapped up and believe it or not, I'm already brainstorming on what I see riders doing when 2014 kicks off with that always welcomed, clean slate. You'll recall in Matthes' podcasts with guests from "moto's past", he uses his trademark line, "let's jump into the time machine". Well he's gone back in the time machine hundreds of times now but I grabbed the keys to the PulpMX Delorean and I can assure you, this baby can go forward too. Just like Doc told Marty McFly, "when this baby hits 88mph, you're gonna see some serious shit". Strap in folks, lets look to 2014, shall we? (Editorial = opinion, people)
One of the first things which comes to mind when pondering the results of 2013 is the mulligan-esque season Chad Reed had. Many fans expected Chad to start off 2013 where he had ended 2012 before going ass over tea cup in Dallas. That seems so long ago now but I know you remember as well as I that prior to that season ending ejection, Chad had never looked better. He was pressuring RV for the lead and looked like he could make the move at his choosing. We know how that ended but Chad made it clear he was coming back for 2013 and it seemed a foregone conclusion that he would just pick up where he left off and be even better when A1 came around.
Innovation can be a bitch though. Chad Reed is a very mentally strong and stubborn racer. It comes from years of experience, testing, a process of elimination and most importantly, results. He knows what he needs to feel from a machine to be at his best and when that feeling just isn't coming around, what else can happen other than building frustration and dwindling optimism? The bike Chad signed on for in 2011 was replaced with an all new machine in 2013 and Chad just never came to grips with it. Not only was the bike new, it sported the new air forks that were all the rage this year which introduced an even more alien feel to a guy who has built a damn successful career on the proven forks of pre-2013. It came to a point where he even ran last years forks to see if that would get things moving toward a comfortable solution but as we saw, comfort was going to take more than a fork switch. The whole of the 2013 race season was spent in a frustrating funk of trying to find trust, predictability and the comfort that he had achieved in 2011 and 2012.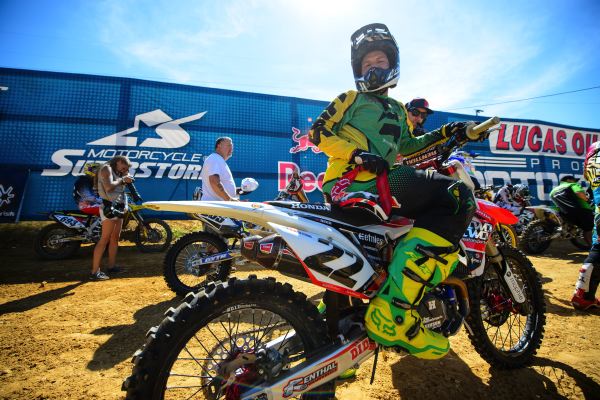 I'm betting Chad ends up on a bike we've seen him look great on in the past. Suzuki.
It never came and instead of spending months at the test track gathering data in hopes to find it for 2014, Chad will be switching to a brand he has seen success on in the past. I see Chad moving to the RCH team where he will be reunited with a very similar Factory Suzuki which he saw great success on in 2009. For all the jabs that Suzuki has gotten for the lack of changes made to it's bikes over the past few years, losing Roger D and handing over of it's Factory racing effort to Yoshimura, the bikes are still very much considered a proven and refined machine since the 2008 release. If it aint broke, why fix it? Just refine it.
I'm glad to see Chad announce that he's missing the MXoN and the Monster Cup. He's all in for 2014. As usual their are bench racers everywhere who have written Chad off this year and they just know that THIS time it's for real. Chad Reed is done and has nothing left to offer. Trust me, if that were true, Chad would be the first person to call a spade a spade and walk away. He aint sticking around this sport for a paycheck or the autograph lines. He's saddled other bikes recently and if he felt the same on them as he did all of 2013, he'd be putting himself out to pasture… and he's not. He's going to feed a good many detractors a healthy portion of crow in 2014. Yes, again.
James Stewart's 2013 started off with controversy at A1 with news of a torn ACL. Fans everywhere were rolling their eyes and claiming "of course, here come the excuses". Certainly he couldn't stick around for all of 2013 with a torn ACL, right? Well, he pretty much did and even won a few races along the way. I still don't know what he's doing about it now. I mean a fully torn ACL is 6 months on the couch, so it stands to reason he doesn't have time for a repair and full recovery at this point before 2014 kicks off. I'll be honest, I for sure thought he would be vastly better on the Suzuki and honestly, he wasn't. He was still an enigma who had the capacity to win on any given Saturday but due to any of a few possible reasons, those wins were few and far between. There have long been whispers of possible head trauma's affecting James more as the years go, his bike setup is often brought into question and of course there is the level of his competition who has unarguably advanced in the last few years.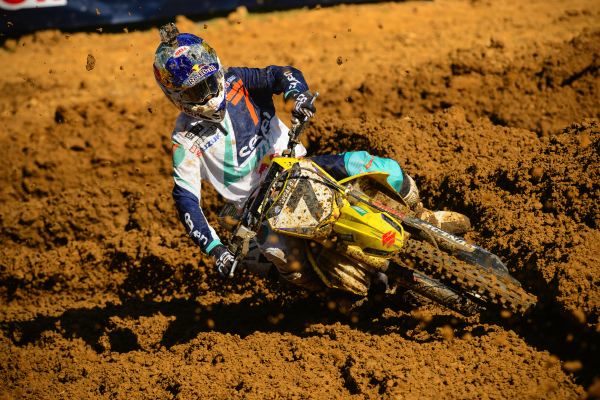 Can James pinpoint the tweaks he needs to make to be "the guy" again?
James will be back with Yoshimura Suzuki for 2014 but in my mind the biggest questions are, will he be 100% healthy when it kicks off and is he open to diverging from a bike setup that demands ~98% precision? The class is, unconscionably, going to be even deeper in 2014 which means less forgiveness when errors strike. I see 2014 as the line of demarcation for James, as well as Chad and I imagine they both see it as such too. The difference is, Chad's situation had clear indicators of the troublesome elements, whereas James was very good but just seemed like "one of the fastest guys" most of the year. Less change in the off season for James but tightening up for those finite improvements at the elite level is the hardest part of the game.
Eli Tomac is entering the 450 class having narrowly missed on the SX2 title and having secured the MX2 title this year. For a guy who had initially hoped to be racing 2013 as a full-time 450 racer, he certainly regained his focus on the 250 and proved to be the beast we glimpsed in 2012. Eli had some high hopes placed on him when he raced a select few 450 Supercross races this year and barring some impressive qualifying times, he was just "pretty solid". Well, there was that awesome ride at Daytona but c'mon, Daytona is more motocross than Miller and Lake Elsinore combined (I kid).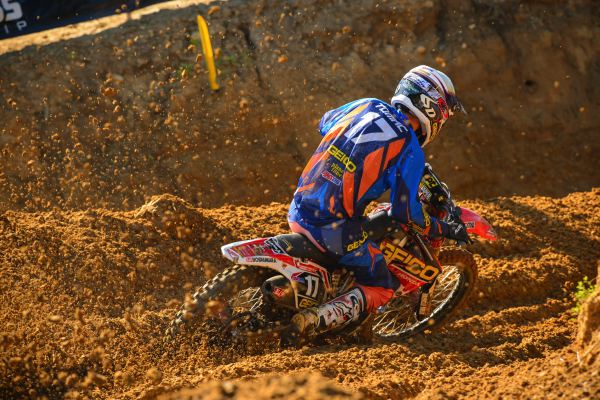 Eli wrapped up his 250 career looking stronger than ever. Will it translate to the 450?
With his full focus on the 450 for 2014, I see Eli playing the role filled by Justin Barcia this year. He'll lead laps and podium but I don't see him securing any wins like Barcia did this year. That's less of a slight on Eli than it is on my expectation for RV to be even better in 2014 than he was this year. That's right, I don't think RV has peaked yet. It's a scary thought.
Speaking of Barcia, he had a great rookie year in a ridiculous field and on a bike he isn't fully confident on yet. I expect him to assert himself even more in 2014 and be better but I don't necessarily think that means much improved results. Contradictory? Not really. With all of the new recruits including Eli Tomac, Wil Hahn, Ken Roczen and the re-booted Chad Reed, not to mention the ever-improving RV and Dungey, Barcia may be the Broc Tickle of 2014. Just as good, if not better than he was this year but with that many new or more improved riders in the mix. Much of Barcia's capacity next year that depends on how much progress is made with dialing in the Honda 450. You really haven't heard of any elite Honda 450 riders who are just like "oh yeah, we are dialed and it's all on me". It's a new bike, this is expected but there need to be major strides taken in these next few months so the 450 red riders are attacking with full confidence because that's what RV's is doing every lap of every race.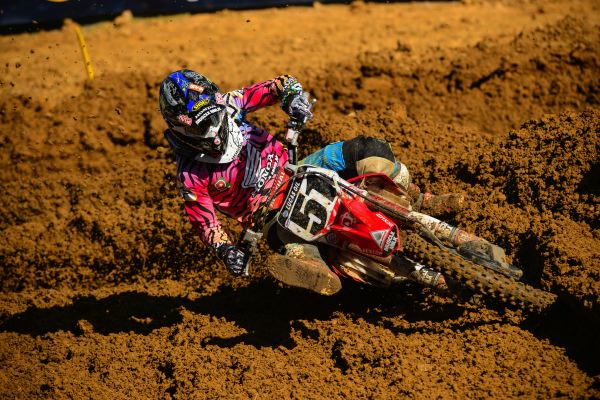 It will be harder for Justin to match his '13 performance in '14. Deeper field bro. Can he do it?
Wil Hahn has also graduated to the Honda 450 for 2014 and if he can extend his holeshot capability to the 450, he's going to have a big part of the battle on lock. I expect Wil to approach his rookie year with realistic goals. Top 10 in each series with some stellar top 5 finishes and most importantly, finishing each series with experience and a list of things to work on for his sophomore year. 2013 was Wil's triumphant return from back to back years of pain so I expect the grind of the longer 450 SX series to play a big role how all of his 2014 turns out.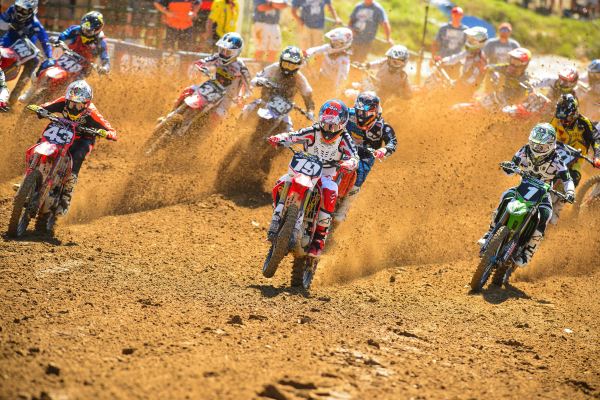 I see Wilbur pulling some holeshots, finishing top 10 and staying healthy being key in his rookie season.
Ken Roczen is also moving to the 450 class and just as you'd expect, he is racing a 450. There was a time where Ken would state that he wasn't sure if he'd race a 350 or a 450 and although he finished runner-up to Andrew Short on a 350, there was really never a doubt. If you want to race full time against 450's, you're racing a 450 too. The silly publicity surrounding the viability of a 350 against 450's is apparently still alive in some dark corner of KTM. Kenny is going to be damn good in the 450 class. He'll have the second best Ryan in the sport to pace his progress off of and that's huge. It will be interesting to see if the dog fight between Ken and Eli continues in the 450 class and if it does, who garnishes the most confidence early on? Does Honda and by extension, Geico get the 450 really figured out prior to A1 or does it take a few rounds as Ken establishes himself confidently as a front-runner?
The gold nugget of the 2013 Supercross class, Davi Millsaps, is also coming into 2014 with some major changes to his program and I see them all as benefits. Firstly, Davi had his gimp leg repaired and that will absolutely make him stronger. To see what his leg looked like prior to surgery and how it looks now, is shocking. How did he lead the first half of the '13 SX series with that Frankenstein setup? His team is also moving to Factory supported KTM bikes which Davi claims to already feel quite comfortable on. As long as Davi's headspace is at least as clear and focused as it was this season, I see 2014 being only better for the Duke. We'll likely get a look at Davi on his new bike at the Monster Cup in October and I can't wait for that.
I just hit on the new comers, rebounders and big program changers for the 450 class here and there is so much more to be inferred heading into next year. As deep as the 450 field was this year, it's nearly unfathomable how the gates will look in 2014, just look at these names: Villopoto, Dungey, Millsaps, Barcia, Canard, Reed, Stewart, Tomac, Hahn, Roczen, Brayton, Short, Grant, Weimer, Tickle, Peick, Hill, Sipes, Lemoine, Chisholm, Nicoletti, Goerke, Albertson, Byrne… that's more than 20 guys right there, 10 of them have won 450 SX mains and 13 have an AMA title of some type!
I'm going to take a look at the 250 class combatants based on the same criteria in my next column but I need to sleep now. This time machine gives me vertigo.
Thanks for reading 3 years of Swizcorner!