A typically slick-surfaced Phoenix had the nice-guys respecting not only the track but their rivals, far too much.
A typically slick-surfaced Phoenix had the nice-guys respecting not only the track but their rivals, far too much.
Photos by: THE James Lissimore
Man, coming off an exciting and utterly unpredictable Anaheim-One race, last week, I would have expected much more intensity throughout the field in Phoenix. And judging from a certain legendary team manager following the race, I am not alone.
There was some great, GREAT racing in Phoenix but it was limited to the exploits of a handful of racers. The majority of the on-track action was a study in restraint and keeping the rubber down. This of course was due to the run of the mill slippery Phoenix surface. It's all well and good to exercise the type of control that will keep you crossing the finish line in the points but as our three-peating 450-class Champion has shown us, that is certain to leave you a bridesmaid when the series wraps up.
Champ is Who We Thought He Was
It's true, in this day and age of bikes that can do anything, it is more up to the rider's mentality than ever, to bridge the gap between impressive and "holy shit, this guy really is putting his balls on the crossbar". Ryan Villopoto started 9th and used his typical methodical, aggressive manner to move forward in that fashion we have all come to know, respect and expect race in and race out.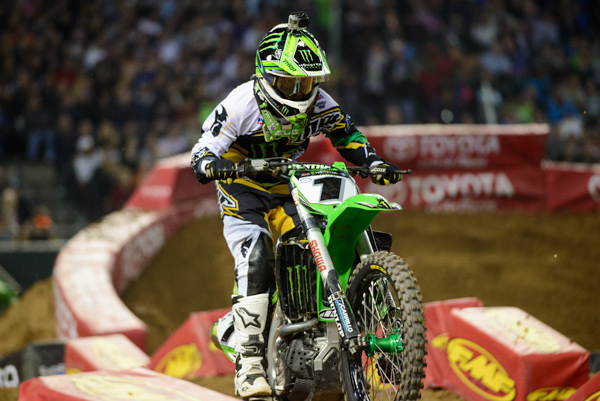 Heeeeeee's Baaaaaaack.
Ryan Dungey has won Phoenix before. It seems like simple math. A slippery race track lends itself better to a controlled and precise rider than it would one who grabs gobs of throttle and terrorizes the surface that terrorizes the fields consciousness. This year though, RV put Phoenix on it's ear and made it look like a rural county-fair race. It was like he was on a different track than everyone else. Where the field was doing their best to maintain accuracy and not get caught over-riding the track, Villopoto was laying waste to the surface and taking names.
Top racers always say there are nights where you just feel like you've got it, and when you feel that way, you have to capitalize. Villopoto was obviously on that bubble last night. He never flinched as he moved forward and made definitive passes, one after another. Ryan Villopoto is exactly who we suspected he was coming into A1. For the 4th straight year.
Nice-Guy Epidemic
Justin Brayton left me a little disappointed. That's right, the guy who holeshot, lead 13 laps and was only surpassed by the fastest rider who's ever raced, left me feeling unfulfilled. Crazy, I know. Brayton was on the cusp of a win in 2012 when he was on Honda. Remember Indianapolis where he held the lead on lap 15 and finished 2nd? He did it the following weekend in Toronto as well. Brayton held podium finishes 5-times in 2012. Don't get me wrong, Justin looked damn good in Phoenix and I never for a second expected him to stave-off RV, let alone make a run back at him, which he did in the closing corners. This "nice-guy" mentality has no place in professional Motocross and Supercross. Justin absolutely had the opportunity to put a move on RV and take back the number-one position and the win.
Brayton being too nice to RV.
I know there are people who took major offense to Chad Reed's move on James Stewart on the last lap in Atlanta 2011. Not me. It's the last lap and Chad had the race in hand for a long duration before a lapped Chris Blose allowed Stewart to close. Chad didn't put his tail between his legs and complain about lappers taking his win from him. He took matters into his own hands and left all his cards on the table. It was one of the most memorable incidents in years. This is what makes racing great. It wasn't a dangerous cross-jump or a high speed front-end clip. It was an aggressive, all or nothing block pass attempt. For the win! For. The. Win.
Ryan Dungey, the perennial "nice-guy" of our sport can not shake this stigma to this day. Five-years in the 450 class and five-years of being overwhelmingly considered traction by those who do not care about their competition liking them. These guys aren't in racing to build a legacy of being liked by their opponents. They are here to win, win, win. Ryan Dungey knows how to run it in on guys, he just opts not to. It's the one weakness in his race-craft that has cost him titles and handfuls of race wins. Would becoming more aggressive cost the Dunge any of his trademark consistency? Possibly but it would almost definitively reward him with more 25pt bundles of series points.
Dungey being too nice to Brayton.
Dungey being too nice Brayton #2.
I've always assumed Dungey had a ceiling for how much he was willing to take and that a day would come where he would snap. No I'm not saying he'd go all Michael Douglas in "Falling Down" and storm a Whammy Burger with an AK47; I just thought he would start looking at this new age of racing as more of the contact sport it is. In the corners, that is. We hear it every week, "I didn't get the start", "I had a terrible start", I was way back on the start", "I was buried on the start"… You know what? If the start means so much nowadays that not getting one means you just circulate the track and pray for your opponents to crash.. well, screw that. Who wants to watch that kind of racing? You need to make things happen. Ryan Dungey's race in Phoenix was exactly the type of boring approach that Supercross and Motocross need to not become. I'm a Ryan Dungey fan but I have to be honest about how I felt watching his race. He's capable of more and it's time he put it on display. I'm betting "The Man" is in full agreement.
I'm not saying we need to throw the rules away and make this the Wild West but if guys are just going to not be aggressive because they know the other guy is faster, then why not just make Supercross races single-rider hot laps and whoever is fastest wins? Seriously. The Champion is not always the fastest but the fastest guy who survives the most adversity over the course of 17 rounds. Create adversity, nice guys!
Fro and RC on Dungey being too nice and too patient.
Justin Barcia, not a nice guy, few friends in the pits and a racer you always want to watch because you know he is going to make something happen. He got by Dungey, yup with contact but quickly errored and Dungey pounced back by. Soon thereafter, coming through the mechanics area, Barcia was going inside-to-out as Roczen was coming back in after drifting wide on the entry. Roczen's front wheel caught a subtle though intentional brake-checking rear end of Justin Barcia's Honda, and Ken ate Phoenix terrafirma. Ken was not happy about it but hey, it's Justin Barcia. He's like a race-win-capable version of Vince Friese. You KNOW what you're getting. Put yourself in his physical bounds and you're just as at fault for assuming he won't inflict damage as he is for doing so. Fool me once, shame on you. Twice? Shame on me.
Barcia takes down Roczen, slow-mo.
250
I was going to write all about the amazing Phoenix 250-class race, then I realized you can just read Observations or Redux or whatever from Anaheim 1 and you'll know exactly what happened in Phoenix. It's crazy. Have two consecutive race weekends ever mirrored one-another more than last weekend and this? Who wasn't watching this race and predicting that again Jason Anderson would make a move on Cole for the W? I'm serious. We had a decent sized group at my house and we were all waiting for it. When it happened we were still in disbelief but not because it happened but because of how much it mirrored Anaheim 1.
Anderson passes Seely, Seely too nice retaliation attempt.
Jason Anderson looks about as good as he always has, except now it is obvious that he has the belief in himself. He 100% believes this West coast 250-class is his. Confidence is and always will be the X-factor that cannot be trained into someone or rode into them at the practice tracks. It's great to see the former Horizon Award winner finally figure things out after seeing so many Loretta's prodigies forced to the sidelines with injuries and pill problems.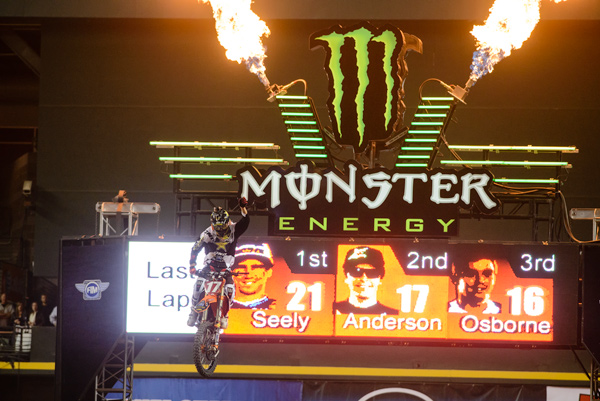 Jason Anderson finally believes in himself and that this title is his for the taking.
Dean Wilson looked indomitable in his heat race yet maybe he really isn't back to 100% yet as in the main he still appeared to be reeling a bit. Once again the ever-so-impressive Zach Osborne put his head down and charged forward to 3rd. It'll be interesting to see what happens at A2 if Dean or Zach can get a better start than Anderson or Seely. Hopefully Zach keeps to his program if he does holeshot. I don't want to see any tightening up if things go right from the gate drop and he doesn't have to fight through traffic.
I've been really impressed with Justin Hill. His rookie year did not go well and although he hasn't podiumed through two-races, he looks more comfortable and like he has better conditioning thus far. I wouldn't be surprised at all to see him podium if he can get a good start.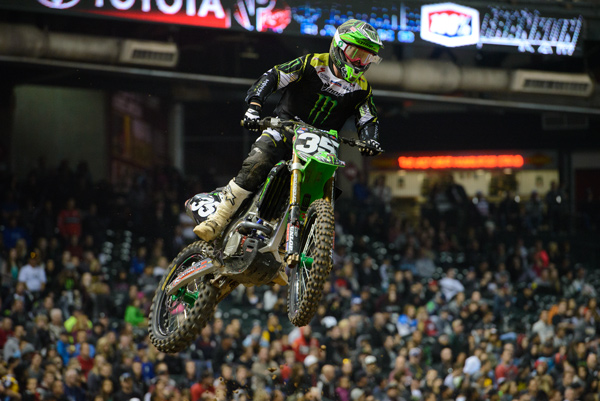 Justin Hill may not have sniffed the podium in two races but he's clearly better than in 2013.
Cooper Webb has also been impressive in his rookie effort indoors. He's not afraid to run aggressively with the veterans and he looks fully at home in all areas of the track. Most importantly, his speed is good as is his stamina.
Looking Ahead
We've saw what happened at A1, typically nearly a throw-out race with it's awkward track and results which rarely tell a story. And now we've made it through round-two where the 250-class saw the same results. Does that mean we still don't have any clue as to how this class will turn out? Interesting.
All I ask is that moving forward, the "poor start" reasonings aren't the precursor to why someone's result was lacking but a justification for what they put all the nice-guy shenanigans to the side and made something happen.
This is a gentleman's game, guys.
@swizcore if you have an opinion.