David Vuillemin takes a look at Daytona and answers some questions
David Vuillemin takes a look at Daytona and answers some questions
Photos by James Lissimore
1– You raced Daytona and finished 3-4 on the "old" Daytona and 4-4-8-4 on "new" Daytona (2004 on which was under the lights, shorter track, more supercross style)–which Daytona do you like better, what was it like racing the "old" Daytona and did you like the changes they made to Daytona?
David Vuillemin: Hey, my results weren't that bad! I'm from the old generation and I liked it better when it was during the day with a lap time over 1minute 30 sec, with the crappy white dirt, made by Gary Bailey and his lack of track building skills. Back in the day, it looked like the track wasn't thought out like nowadays. We had mounts of white dirt everywhere, uneven sand holes made with the bucket of a loader. We'd have to be creative and the track deteriorated way faster and they wouldn't fix anything but the faces of the triples. They also had more races too. And only in Daytona would we have a thirty man gate for the main event with three heats.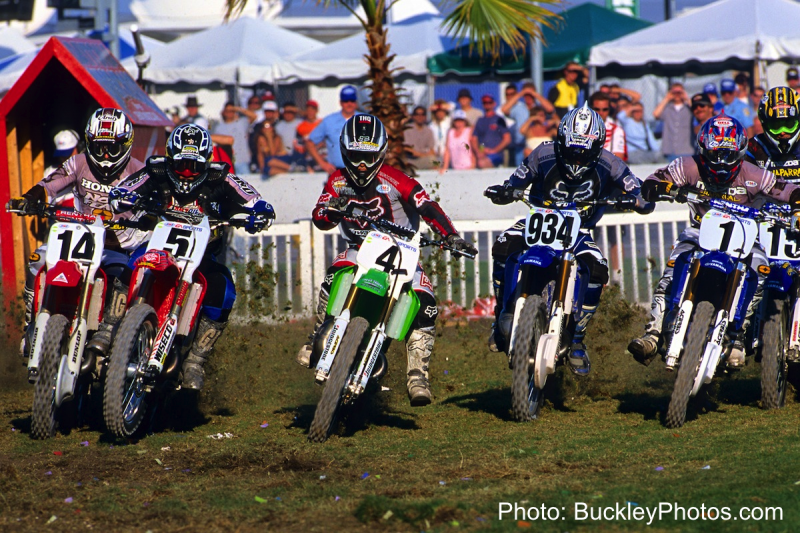 The author (#934) at Daytona 2000. Photo by Paul Buckley
My first year there, in 2000, I couldn't believe how hard it was. I remember RC, MC and I stayed together for 12-13 laps then I started making mistakes, getting tired and I swapped/crashed on some sort of an on/off section. I still managed to get 3rd but I was dead. It was super hot and the main was over 30 minutes. But, I liked it. It was technical and so rough. The transition between the sand and the white dirt made big squares edges and the bikes weren't set up for it. We tested at a private track in New Smyrna Beach for a few days. We came up with some good sand set up but we never used them for the race. After first practice, we went back to close to a normal SX set up. We made the forks a little softer and put the SX shock back with a heavier spring and more sag. But the testing in New Smyrna Beach helped us for the Nationals though.
2- Talking more about this year it was a shorter track, dirt was really soft because of rains. It was a 1:05-ish lap times–what did you think of the track?
Yes, the track looked like a soft east coast SX with just a couple MX sections. If it was dry maybe the lap time would have been under a minute. Daytona used to be a slow track with steep jumps everywhere to break the flow up. Now, it's super fast and I thought the rhythm sections were tame. The track looked fast with flat jumps. That's why the lap times were close to a minute. It was good that they left a bunch of ruts on the track. It made it slower and more technical but it could be dangerous during the night. The lights there make a lot of shadows on the track and it's difficult to know if the ruts are deep or not. I think everything has to evolve and it's maybe the right way to make the track in Daytona now.
But, I really wish they'd do a throwback race there with a track map from the 90s and during the day. I know there are a lot of things to deal with in Daytona, sprinkler, water evacuations and such but it would be cool to have what we had in the 90s or early 2000s.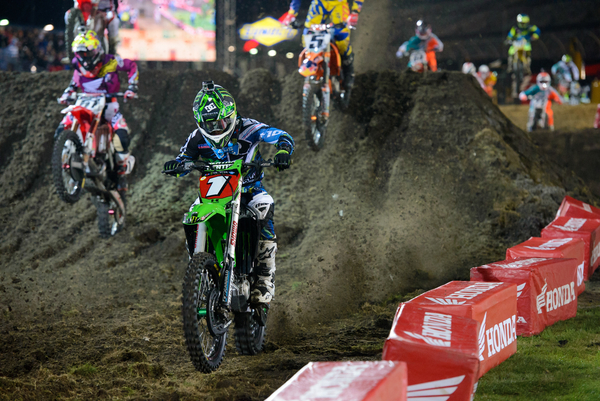 This was about as close as anyone got to Villopoto at Daytona.
3–Ryan Villopoto won easily, no surprise there– were you surprised by how much he did crush them by?
Obviously, Daytona is a track where RV excels and he started up front which helps. He's tough to beat anywhere but when he leads the first lap in Daytona, you know it's going to be a long main event for the rest of the field. And he even crashed during the main. I wasn't surprised. I've said it before, the guy has the best package, he has obviously a great team behind him, he knows his bike and what to do on it for this race, he has the best fitness and he's the SX/MX champ.
He also had a lot to prove in Florida because he only won two out of the nine races prior to Daytona. I would have thought he would have won at least four or five out of the nine but he rode smart since A1 and scored big points at every race. He brought consistency to his arsenal, which is already well garnished. He's the first rider to win three races and I doubt he'll stop there. With his first win in six races, I'm sure it will be a confidence booster for him even if he won a lot of races and championships before. And with over one race ahead in points, Ryan might even be more lethal now.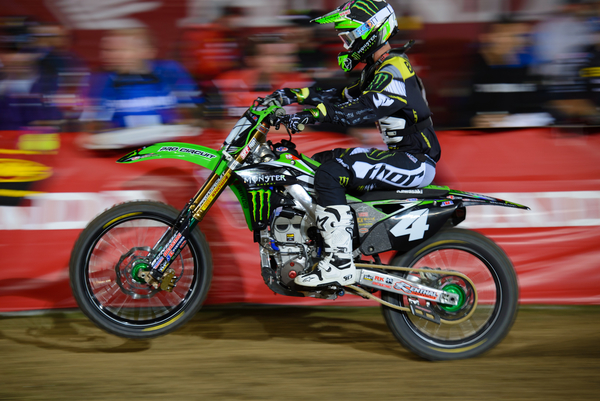 Baggett had a great race to win his first of the year.
4- Blake Baggett's entire sx season just took a turn for the better with his ride at Daytona, how is it possible to be so much "better" at one particular race and specifically why is Blake so good at this track?
Blake is a MX specialist hence his national championship but no SX titles yet. So, Daytona is THE place for him to perform and he did just that. Yes, the track is different and he knows this track suits him better so I'd bet his state of mind was different before Daytona. But it's still a SX and the competition is the same. I'm pretty sure his more positive approach to this race had something to do with his win. He's not known to be a great starter but got a good start. It's difficult to compare 250 and 450 times in Daytona because the track changes a lot but his fastest lap time in the 250 main was only 0.1 second slower that Villopoto's best in the 450 main event. The pace was there and the fitness too. He won by over 15 seconds. In straight math, that's one second a lap faster average on second place. This race has to be his benchmark for the rest of the season. It's going to be a confidence booster and often, when the confidence is up, the starts are getting better also. He's 15 points back from the points leader with five races to go. It's go time for Blake. As a National champion, he has to be a threat for the regional SX title and if he approaches the rest of the races like he did in Daytona, he will be in it to win it!
5- The Justin Barcia/Malcolm Stewart pass and incident, what's your take on it?
The pass was the typical late block pass. Justin was a little too far to make a clean pass. Block passes are successful when they're made prior to the apex of the turn, when both rider are going up into the bowl turn. In this case, Mookie was already going down when Barcia came from the inside. In that situation, most of the time one or both riders go down. We see those every weekend since the creation of our sport. It wasn't Barcia's most aggressive block pass and it was far from it but the fact he was a couple bike lengths to far back resulted in both guys crashing. Yeah, Malcolm got frustrated and pushed Justin when they both tried to pick up his bike. I read online that the AMA was reviewing the whole thing to see if a fine was deserved. I wouldn't fine him but he's done that a couple of times this year. He shouldn't do that but it wasn't that bad and you have to understand that sometimes with the adrenaline you don't always control everything right. I think this incident got blown out of proportion because of the history of Barcia and aggressiveness but I didn't it was bad at all, only the execution of the block pass was poor.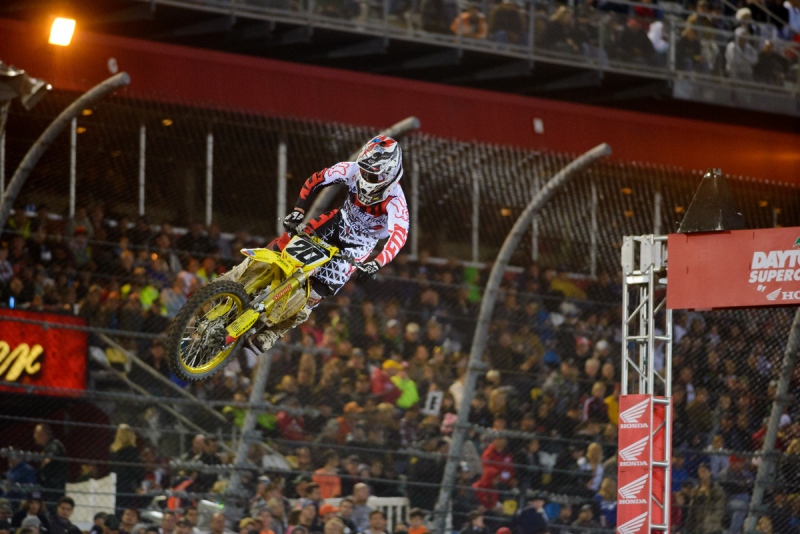 Tickle scored a career best 4th place in the main event.
6- What else caught your eye at Daytona that you want to talk about?
Gotta talk about Watson's rider, Broc Tickle. Broc has been on it since his Atlanta heat before he got cut in half in a turn. His last results, 7-7-5-4, are very good and he has been showing improved speed out there. Having your best race of the year in Daytona is an accomplishment. He is the surprise of the mid-championship and it's good to see him up there and stepping it up. Good for the team and his confidence. I'm not sure if he ever podiumed a race but if he keeps working and plugging away, he should be there soon. He has to know by now that he can beat some of the top guys he needs to beat to get on the podium