Between sickness, a malicious whoop section and a reincarnated James Stewart, Toronto was just plain unique.
Between sickness, a malicious whoop section and a reincarnated James Stewart, Toronto was just plain unique.
Photos By: James Lissimore
With the rumor floating around that Toronto got axed for 2015, fans are certainly a bit bummed but I bet you'd be hard pressed to find a single rider on the gate who is screaming from the mountain tops that this is an injustice. The additional work for teams is a real headache and riders need to make sure their healthcare coverage will be accepted up there, among other requirements for this now solo-international race. Don't get too excited now, there are mumblings of Montreal coming back which would leave this whole fire-drill in effect for the teams.
Toronto has been traditionally regarded as a venue with monstrous floor space(it is) but terrible dirt which is if nothing else completely unpredictable. Well shocker of all shockers, Toronto had pretty great dirt this year! I've seen them pull chunks of sidewalk out of jump-faces and heard more than one story of an animal carcass or two being dug out of obstacles, mid-qualifying, too. These are just some of the standard hurdles you gotta deal with when dirt is stored year to year; it's the weather which is typically the achilles heal for the Toronto dirt and the race each year. With the frost and NFL combine in Indy this year, we saw exactly what happens almost every year in Toronto. I couldn't tell you if they got the dirt in earlier this year but it was drier than normal and I can confirm that Feld had the dirt put through a screener which separates the rocks out of the dirt. A drier and less Unadilla-like track surface are too big, big pluses for Toronto but there was a level of technicality in the track design that had many riders flustered and dialing down the aggression… and those who didn't might have wished they had, looking back.
450
Early in practice Broc Tickle went down in a rhythm section in a dirty crash which left that session red-flagged while they tended to Broc, back-boarded him and sent him to the hospital to have him more thoroughly checked out. There was a scary period where he had a loss of feeling in areas but that passed. Broc ended up breaking his T-7 vertebrae and had surgery to repair it in Toronto. He is expected to make a full recovery. Broc's crash wouldn't be the only one in Toronto but it was the most serious. Broc is a rider who is very calculated and technically accurate, not one to force something and not prone to crashing due to crossing his comfort threshold. He's toying with getting to that level but his crash was more indicative of the technicality of Toronto, not his "balls-out" approach. This would be a precursor to the night show.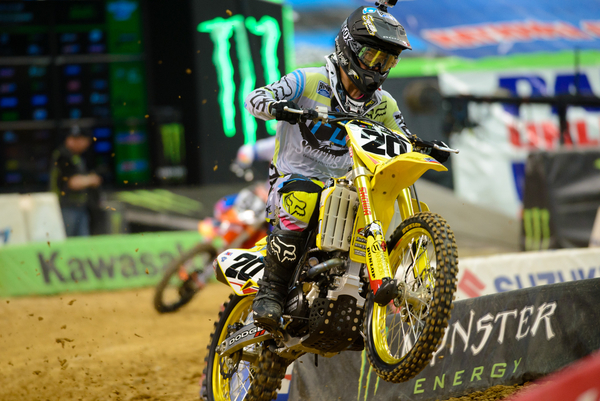 Broc could use your prayers and/or positive vibes, folks.
Ryan Villopoto was noticeably absent from the first practice and it was pretty much then that Kawi made it known that RV was not intending to even see the track until his heat race. Food poisoning wreaked havoc on RV and Josh Grant as well. Being the points leader is a real bitch when something as serious as food poisoning gets you. We've been talking for weeks how all of RV's main title threats have had their share misfortune and that the odds are on for RV to have his own too. Food poisoning indeed fits that bill but RV is just too gnarly, focused and forward thinking to let it get the best of him. He didn't make it in via the heat, his first look at the track but he sealed the deal in his semi which was a best case scenario considering how worn down he was. Racing the LCQ would have compounded RV's exhaustion exponentially especially with the short break between it and the main. I found it sort of silly how during the broadcast Fro made mention of RV's situation and that SX racers are creatures of habit and that they can attack a track with minimal exposure to it. I mean, I totally understand what point he's making but there's a dichotomy at work here that makes the most minimal alterations in race craft result in precious tenths of seconds each lap and ultimately many positions on the results standings. So yeah, RV could have probably accomplished the same finishing result had he not seen the track even prior to the main but he's one of maybe 5 riders who you could say that about.
If anyone had any doubt as to RV's commitment and desire to tie MC's record of 4 straight Supercross titles, no more. RC hated losing more than RV but I don't think RV is second to anyone in pure desire to be the top dog. He's less affected by individual race losses but he has a keen eye for the most important battles in pursuit of being victorious in war. He leaves nothing to chance. He could have said, "hey I have food poisoning and that's gnarly. I feel like death and I just need to get healthy for next week" but nope, he's taking his destiny in his own hands and leaving nothing to chance. I hope he doesn't retire at the end of next year. Hopefully as he gets a little older he'll keep his laser-focus on domination but also find a way to enjoy the road and the process more.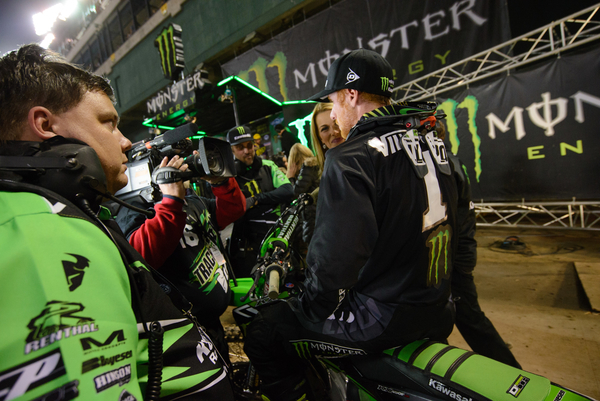 RV made lemons outta lemonade in Toronto.
Justin Barcia qualified first, started second and finished second. He was clearly feeling it in Toronto but there was just no denying JS7's onslaught throwback. It's no secret now that Justin has been wrestling with his factory bike this year, yet it's weird how at times he can look like nothing can throw him. He's kind of like Blake Baggett in the 250's. Both have days where they are nearly untouchable and then they have other days where they look like they showed up for their rookie rodeo, drunk. The fact that Justin can still have those perfect days even on a bike he's at odds with, makes 2015 look pretty damn promising for Bam Bam. I've heard a thing or two regarding the 51 in 2015 and if they are true, all those kooks who were claiming him to rival RV in '14 may have just been a year early.
Lets get to the meat of this edition, James Stewart. James FREAKING Stewart. Did anyone see James arrive in Toronto? I'm serious, did anyone actually witness James Stewart arriving in Toronto? I'm betting if someone did, they watched him exit an aluminum Delorean sporting a Flux Capacitor. We haven't seen THAT James Stewart since 2007 when he earned his reputation of crash or win. James won 13 of 16 rounds in 2007 and I GURAN-DAMN-TEE you that Saturday night in Toronto there were many racers that James passed on his way to victory, and when James went by them, they thought "who the eff is this guy?!" My friends and I were watching the race just laughing at how easily and quickly James reeled in everyone ahead of him, made his moves and walked away. He walked away. Perhaps if RV wasn't sick he may have made the race look different but I'm not convinced of that. James was simply the James of 2007, dripping with confidence and not a doubt in his mind that he was the fastest and not to be denied.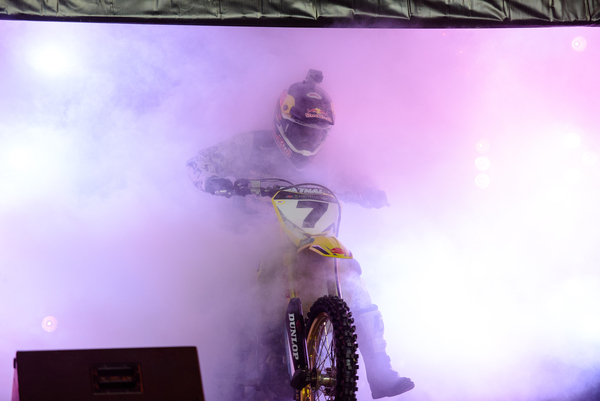 PROOF that James arrived in Toronto in a Delorean.
As James started his charge toward the front and we saw the sections he was putting together as he reeled in the leaders one at a time, it was comedy thinking of the leaders thoughts as he was overtaking them. Maybe, "ok here he comes, don't give him the race line" or "I gotta protect the inside". Then he went by and all they could think was "there goes Crazyballs, I'm not doing that"! He was supreme in every sense. I was stoked to see it. It gave me a sense of deja vu, I could remember my disdain during the 2007 series when he would just make the races boring. He was in another league that year and it was always a race for 2nd through 21st that made you watch each race. In doses, it's impressive as hell to watch. In rapid succession? Not so much.
It'll be interesting to see how James looks and approaches St.Louis this weekend. Will he bottle that magic and tap it again or was it a flashback anomaly? Lightning in a bottle. I'd be all for him driving the Delorean to the rest of the races this year to make it really interesting as the series wraps up.
250
Anybody caught sleeping on Matt Lemoine looking that good out front in heat-race one just hasn't paid close attention to him before. He has one of the most fluid styles around and really looks like a BMX racer out there. His achilles has always been starts, he just never seems to nail starts and when he does, I swear something always happens a corner or two later and he's charging from the back again. Matt's a veteran out there and in case you couldn't tell by the industry-wide response to his heat win and first podium, he's a great guy who works his ass off, clearly never gives up and has the skills. It would be awesome to see him get a Martin Davalos-type shot with Mitch and the PC crew. Matt's work ethic and skills, paired with Mitch's experience and his hardware are far less of a crapshoot than might appear at first glance.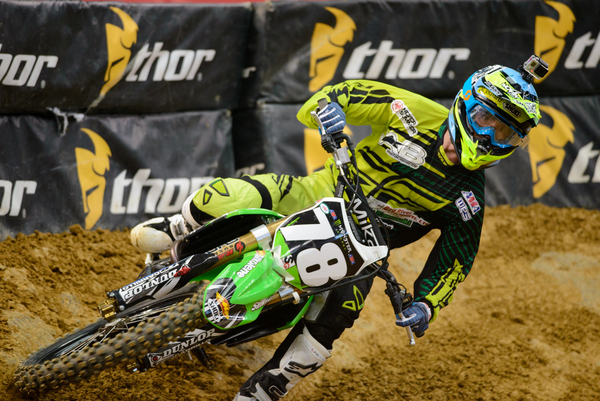 I'm chanting "Lemoine to PC" right now, join me.
It seems like a lifetime ago that Justin Bogle was smacking Malcolm Stewart in the nether-regions of his helmet, cross-jumping in Toronto and then blaming the guy he jumped into. These are just the two most memorable of Justin's rookie indiscretions but I was making the case for Justin to get a pass then based on juvenile tendency and a lack of experience. I'm pretty confident in claiming I was right then and now I feel justified in saying Justin has matured and really earned the spot he now finds himself in. Where is that? A minuscule opts out of a tie for first place in the East region series! He has made the most of his 2014 re-emergence from round one and with Adam Cianciarulo's miss-step in the treacherous Toronto whoops, he is now essentially in control of his own fate. He's tasted disappointment already so I'm betting he's going to take this challenge head on, by force if need-be.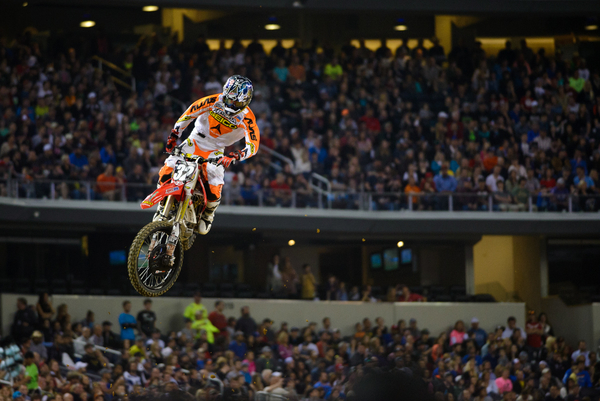 Bogle dropped his bik after the win. (Get it? "Bik"… Like a rapper drops the "mic"…)
There was an audible "awwww" in my house when we saw AC sitting on the side of the track in the Toronto main. You never want to see a rider go down but when it's the fan favorite rookie, who has been anointed the future of our sport and in the midst of a dream-like series, its just a gut check bummer. Shoulders are no joke and to see him getting his left shoulder, not the shoulder he jacked in practice, popped back in mid-race… it was just a major bum out. I felt a glimmer of hope when he got back on his bike and pulled back onto the track but it was just too painful and sketchy to continue. If anyone has the formula for a comeback in St Louis, it's Aldon Baker. I have a feeling they'll be taping the hell outta those shoulders and hoping for as little physicality as possible.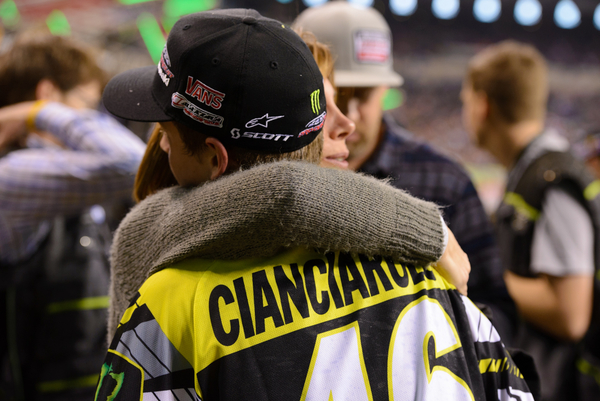 Admit it, you wanted to give AC a hug after Toronto too.
So long Toronto!