One old winner, one new winner in the deep sands of Belgium
One old winner, one new winner in the deep sands of Belgium
Cairoli and Anstie master the sand!
Report: Jonathan McCready
Picture: Youthsream and Ray Archer/ KTM Images
Antonio Cairoli produced two masterful displays of sand riding to edge close to his eighth world title. Cairoli didn't panic in race one when Strijbos passed him for the lead and calmy sat back as Strijbos went too hard too early before re-passing for the lead and then picking up the pace just enough to break Guatier Paulin who had a storming ride to second.
In race two Cairoli fended off an early charge from Shaun Simpson and a crazy thunderstorm in the last ten minutes to prove one more just why he is World Champion. Cairoli controls the races but never rides on or seemingly even that close to his limit. He did it again in Lommel and left the rest scratching their heads again over what they have to do to beat Cairoli in a championship.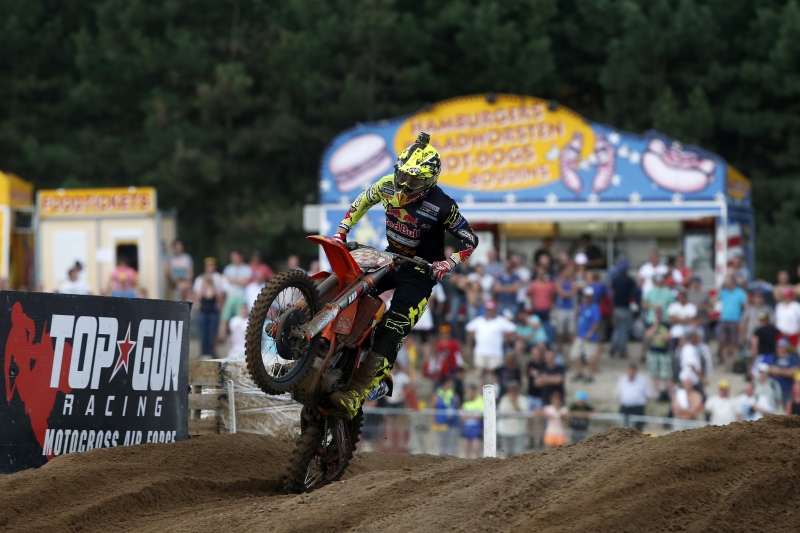 Antonio Cairoli won again and is on the verge of yet another MX1 World Title.
Behind him it was a very happy Ken De Dycker and Shaun Simpson on the podium. De Dycker has been plagued all year by a wrist injury but admitted the sand didn't hurt as much as he went 4-2 for second overall. But that is the last GP of year for Ken as he will go for sugery to get the troublesome plate removed from his wrist so he can prepare properly for next year. It mean Belgium won't have De Dycker to replace Desalle if the Suzuki can't recover from his own wrist injury.
Shaun Simpson loves the sand and proves that he is among the world's best on the toughest surface in the world. Simpson came through late in moto one to take third after pacing himself at the start. In race two he went with Cairoli at the beginning but Cairoli just had too much from the half-way point. De Dycker got Simpson during the thunder storm after the Scot admitted he couldn't see a thing and didn't understand how De Dycker could go so fast!
Gautier Paulin missed out on the podium but had the same points as Simpson and De Dycker. It was a superb ride from Paulin in his second race back from injury. Paulin started just inside the top ten in race one but worked his way up to second and even put mild pressure on Cairoli. In race two another average start saw Paulin work his way up to fourth.
Kevin Strijbos was left scratching his head after scoring fifth overall. It looked like he would be definitely on the podium with his speed but it all went wrong after Cairoli passed him for the lead in race one and Strijbos never recovered.
Dean Ferris was an unknown quantity in Lommel but the determined Aussie figured it out by Sunday with two steady top ten riders for seventh overall.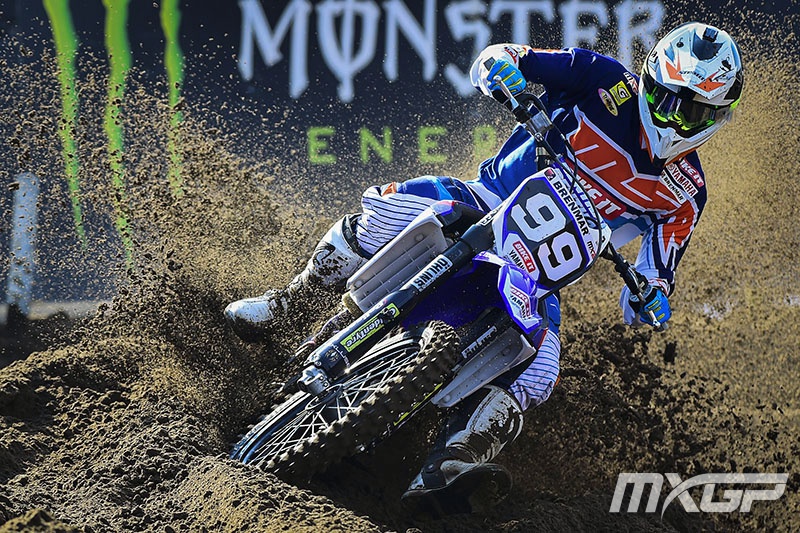 Mad Max Anstie won his first ever GP overall at Lommel.
In MX2 it was three Frenchmen against a Brit but the Brit won! Max Anstie almost didn't make the start of the both races due to his bike not starting for fortunately it got fired up just in time to allow Max to win his first ever overall GP win.
The Brit smoked the field in race one winning by 20 seconds in the most impressive race of his career. In race two he started seventh but passed his way into second and was searching for a way by a stubborn Tixier when Anstie hit the deck. Luckily the bike didn't stall and Max brought it home for second place to take the overall win.
Relief was an understatement for everyone involved in the team who have had a nightmare season with getting reliability in the 2014 machine. But Anstie has shown speed this year and finally everything lined up for him to win the GP and put him firmly back in the frame for the British MX2 spot at the Nations – if his bike can be trusted!
Jordi Tixier was second overall but his second moto win was truly impressive. Tixier has always had trouble with pressure but with Anstie, Ferrandis and Febvre all on his tail in race two, Tixier was the rider who made no mistakes and took home the win. His title challenge is most definitely on and if he can be in the top three again in Brazil in five weeks he will really put the pressure on Herlings who will have to ride the last round and be up to speed to prevent Tixier taking his title.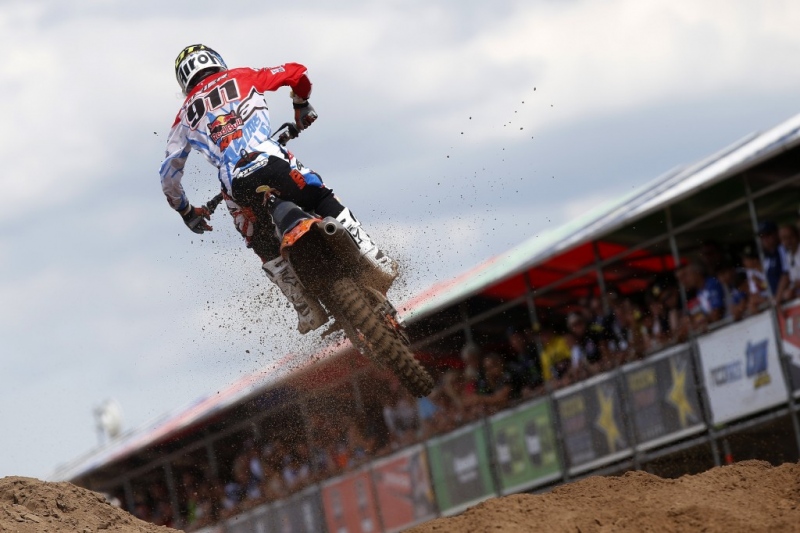 With Herlings injury, Tixier looks good to win his first World Title after a good ride at Lommel.
Dylan Ferrandis was very fast once again but a crash in the qualifying heat left the Kawasaki man with a painful shoulder on Sunday. Second in race one just ahead of Tixier meant he had a shot at the overall but a crash in race two while in the lead battle stopped Ferrandis challenging for the overall win but he still made the podium in third.
Romain Febvre was surprisingly fast in the sand but just ran out of steam in the last five minutes compared to his rivals Ferrandis and Tixier. Febvre though is apparently not going to the USA now next season and appears to have secured an MXGP ride possibly with Husky.
Tim Gajser was a steady fifth overall but he wasn't on the pace of the top four in the sand and that is something he needs to work on for next season. But it was still a decent performance for Gajser who DNF'd the qualifying heat after his bike stopped and had to work through the pack in both motos.
New KTM Factory rider Pauls Jonass opened some eyes with some excellent raw speed in the sand and carded a fine ninth overall.
The series takes a break for five weeks now and won't resume until September in Brazil, Tixier admitted he won't think about the title because if he did he wouldn't be able to race with the pressure. But it will undoubtedly be on his mind and it will be interesting to see if he can keep his impressive performances up at the last two rounds.
Herlings meanwhile was there in Lommel on crutches but was unable to put any weight on his broken femur. Herlings still has a mountain to climb to be able to race at the final round in Mexico.
Cairoli on the other hand has a big lead and said he will go back home to Italy to see his family and do some fishing!
MXGP Overall top ten: 1. Antonio Cairoli (ITA, KTM), 50 points; 2. Ken de Dycker (BEL, KTM), 40 p.; 3. Shaun Simpson (GBR, KTM), 40 p.; 4. Gautier Paulin (FRA, KAW), 40 p.; 5. Kevin Strijbos (BEL, SUZ), 29 p.; 6. Marc de Reuver (NED, HON), 27 p.; 7. Dean Ferris (AUS, HUS), 26 p.; 8. Jeremy Van Horebeek (BEL, YAM), 26 p.; 9. Tyla Rattray (RSA, HUS), 24 p.; 10. Steven Frossard (FRA, KAW), 23 p.
MXGP World Championship Classification Top Ten: 1. Antonio Cairoli (ITA, KTM), 669 points; 2. Jeremy Van Horebeek (BEL, YAM), 588 p.; 3. Kevin Strijbos (BEL, SUZ), 498 p.; 4. Clement Desalle (BEL, SUZ), 484 p.; 5. Shaun Simpson (GBR, KTM), 365 p.; 6. Steven Frossard (FRA, KAW), 356 p.; 7. Maximilian Nagl (GER, HON), 307 p.; 8. Gautier Paulin (FRA, KAW), 275 p.; 9. Davide Guarneri (ITA, TM), 245 p.; 10. David Philippaerts (ITA, YAM), 234 p.
MX2 Overall top ten: 1. Max Anstie (GBR, YAM), 47 points; 2. Jordi Tixier (FRA, KTM), 45 p.; 3. Dylan Ferrandis (FRA, KAW), 42 p.; 4. Romain Febvre (FRA, HUS), 36 p.; 5. Tim Gajser (SLO, HON), 28 p.; 6. Aleksandr Tonkov (RUS, HUS), 28 p.; 7. Glenn Coldenhoff (NED, SUZ), 26 p.; 8. Valentin Guillod (SUI, KTM), 25 p.; 9. Pauls Jonass (LAT, KTM), 25 p.; 10. Petar Petrov (BUL, YAM), 22 p.
MX2 World Championship Classification Top Ten: 1. Jeffrey Herlings (NED, KTM), 594 points; 2. Jordi Tixier (FRA, KTM), 537 p.; 3. Romain Febvre (FRA, HUS), 489 p.; 4. Dylan Ferrandis (FRA, KAW), 467 p.; 5. Tim Gajser (SLO, HON), 448 p.; 6. Arnaud Tonus (SUI, KAW), 389 p.; 7. Valentin Guillod (SUI, KTM), 379 p.; 8. Aleksandr Tonkov (RUS, HUS), 363 p.; 9. Jose Butron (ESP, KTM), 337 p.; 10. Jeremy Seewer (SUI, SUZ), 301 p.