And just like that, one title is on the brink of seizure and the 450 series is more than 1/3 complete.
And just like that, one title is on the brink of seizure and the 450 series is more than 1/3 complete.
Photos By: James Lissimore
It's crazy how these things work. After the season starts the weeks click off in rapid succession. It's certainly a good thing. As they say, time flies when you're having fun and with the craziness we've seen thus far in the 2015 Supercross series, we as fans, have certainly been entertained. At round one in Anaheim it was the red-hot Eli Tomac, coming from a blisteringly dominant off-season overseas race schedule, who faltered and gave himself a highly unenviable position to claw upward from for the rest of the series. A week later in Phoenix he put his best foot forward and did all he could to bite into that massive points deficit. Unfortunately for him, Ken Roczen finished runner-up and that meant a mere 3 points netted in his struggle. If you listened to Ryan Villopoto previously on the PulpMX Show, you'd know his money was on Dungey to win this 2015 title and in that perspective, Eli had erased 5 points form his deficit.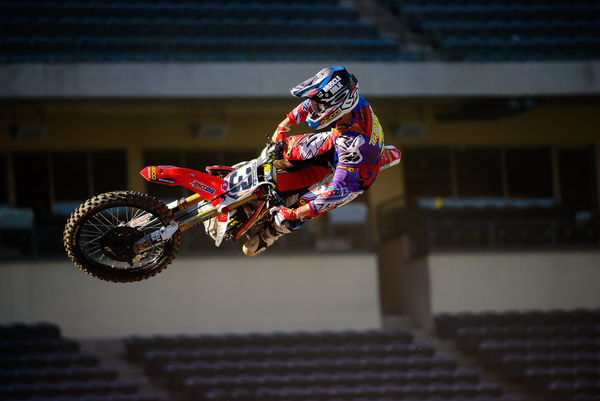 Eli's start to the series was ironic to put it mildly.
Round three at Anaheim 2 will go down as one of the most historic in the annals of Supercross. It was the Black Flag thrown in Chad Reed's direction. It seems crazy to think of how many of the biggest stories year to year in Supercross can be linked to Chad Reed— well it seems crazy until you think about how long he has been a frontrunner. When you're competing, legitimately, for race wins for 13 years and counting, and you have a knack for being a squeaky wheel, or honest, or whiney (depending on your frame of reference and bias) it starts to make perfect sense that Chad is either loved or hated among fans. There really is no middle ground. You never hear anyone say, "Chad Reed? He's ok." It's pretty clear at this point that the Black Flag was a mistake. When the guy who was the target of the rider and fiasco which drew the Black Flag says it was a bad call, well… yeah. Following this Black Flagging, Chad knew his quest for the title had hit a brick wall. How high that wall and whether or not it is still scaleable remains to be seen. He talks in interviews like his motivation is waning but I see that as gamesmanship and part of the way he plays the mental game.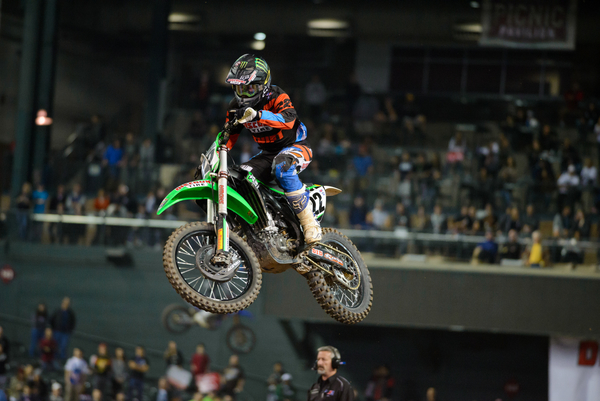 The Black Flag both euthanized and invigorated Chad's series.
At round four in Oakland it was unbelievable to see the two guys who had manifested all the fireworks at Anaheim 2 running one and two in the Main. It couldn't have been better drama had it been scripted. Wrestling writers thought it was a stroke of genius and a brilliant move by Feld, until they realized this action, was real. Chad made the same costly mistake twice, which allowed Dungey to sneak by and the podium looked a lot like that crazy night in Jacksonville from 2011 when Ryan Villopoto failed to qualify for the Main and James Stewart was injured and DNF'd right after the gate drop. Trey and Chad shared some words and a bit of consolation toward one another following their miss-steps in the previous week, then focused onward toward Anaheim 3.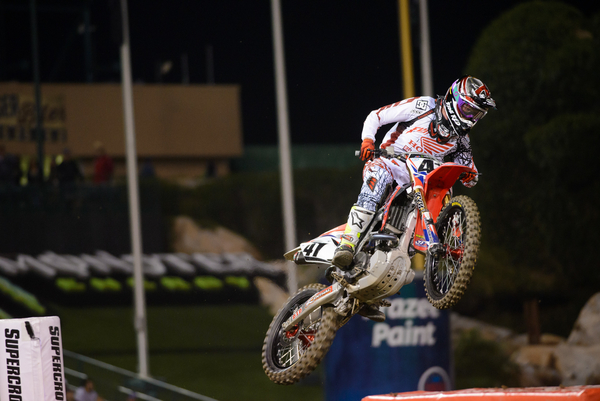 Trey Canard absolutley has the speed and fire to chase this title to Vegas… if he's smart.
Ryan Dungey had finished runner-up at the two rounds prior to Anaheim 3 and sniffing the win had become too much to bear. At A3, Ryan Dungey looked more dominant than he ever has on a Supercross track. In 2010, as a rookie he accrued a 60pt cushion by the final round to secure the title and even during that dominant, though unlikely campaign, he never looked as impressive as he did at Anaheim 3. Anaheim 3 saw another break-out ride, this time by 450 rookie, Cole Seely. It's no secret that Cole is a technically proficient racer who rarely makes mistakes on his own (much like Ryan Dungey) and he took that great start and cashed it in with runner-up honors. It's testament to the current state of affairs in Supercross that Cole won the first heat of the year, finished 14th that night and the following week, and then rides a brilliant race at A3 to finish second. 450cc bikes, combined with non-progressive Supercross track-design have tightened the gaps between skill levels more than ever.
Looking back to last night in San Diego, Dungey didn't never showed the prowess he did just a week earlier. There was really no moment that he looked to have the killer instinct from A3 but you know what, in this era of Supercross, it's moments like Ryan Dungey's ride in San Diego where titles are salvaged. We've seen MASSIVE fluctuations in finishing position already through the first 6 rounds in 2015 (just like we always do) and once again, Ryan Dungey has adhered to his race craft that has paid dividends since his rookie 450 season in 2010. His worst finish through 6 rounds is 4th. Second place in points is Ken Roczen, who's worst finish is 15th. Third in points is Trey Canard who's worst finish is 11th and Fourth in points is Eli Tomac who started off A1 with his worst finish of 20th.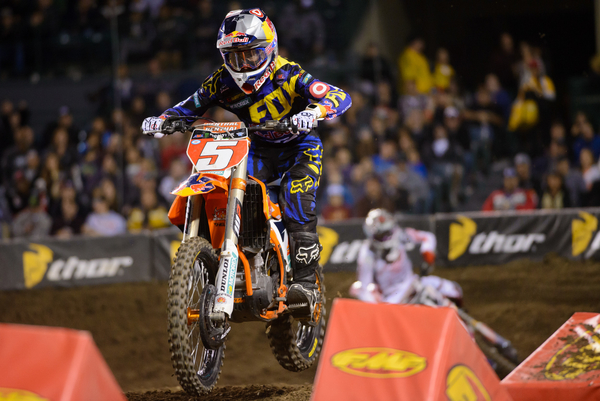 Dungey's nickname should be "Milkman" because he always delivers.
Ryan Dungey has always been a solid bet and he is one of very few riders who has been able to stick to his honed race craft and not be bitten by the wildly fluctuating finishes during the course of a series. That is no surprise and a great pedigree to have. On top of that is the recently departed Four-peating Champion of the class, Ryan Villopoto also station his belief that Dungey "The Diesel" is where the safe money is. I'm inclined to agree and imagine the next two-thirds of this series playing out very similarly to the first one third.
On to the east!