Typically when someone has reached the level of elitism, it's more a matter of management than tactile improvement.
Typically when someone has reached the level of elitism, it's more a matter of management than tactile improvement.
Photos By: James Lissimore
I gotta say man, I am so impressed with this new Ryan Dungey we have been seeing in his two wins in 2015. Above and beyond the stellar colors Fox has dished out to him in all the KTM-complimenting hues, his prowess on the bike has never looked better. I'm half starting to think that all the griping he was doing to Roger and the Team at the 2013 Motocross DesNations loss, may have really been valid! You remember the talk from Roger about Ryan not being comfortable on the bike and Roger "putting him on blast" with the "Ryan sometimez jüz need? to ride ?e bike". Following that MXdN loss, you'd be hard pressed to find an American fan who didn't agree with Roger's sentiment. At that point, we all wanted Ryan to just shut and put up. Quit searching for the ideal settings and just ride that pumpkin as hard as he could… and then a little harder. Now though, maybe he really was that uncomfortable? Recent KTM defector, Ken Roczen has often said (and for a while now) that the bike was not that great for him and clearly, we now see that it wasn't that great for Ryan either. Either Ryan's complaints were valid and he is the most "in-tune with his bike-setup" guy in the history of moto, or Aldon Baker really is a magician of rider preparation. Probably a little of both, honestly.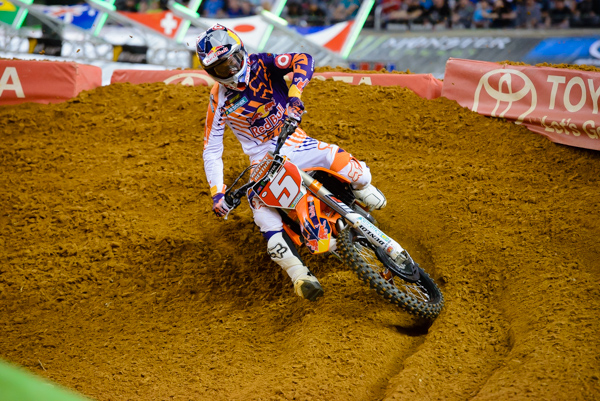 Improvement and growth in year 6 on the 450.
It really shouldn't surprise me all that much that Dungey has shown pretty stark improvement over 2014. He's always been a self-motivated guy who draws nuggets of training information from experiences in his past with his many trainers and even still, he often found himself second fiddle to someone, often a student of Aldon Baker. With RV2 off to the GP's and Roczen's desire to get back to the training roots he found success on, Aldon was free'd up in a big way and Dungey made the obvious and smartest move he possibly could have for his career. Aldon has, for more than 5 years, trained his riders to find their peak and exploit Dungey's weaknesses. So who better to help Dungey focus on those weaknesses and mold them into his toolbox of strengths than Aldon Baker? It couldn't happen at a better time either. I feel Dungey had reached the ceiling of his abilities on his own in 2014 and had he not paired up with Aldon, we wouldn't be witnessing this level beyond elite that Dungey is now tapping into.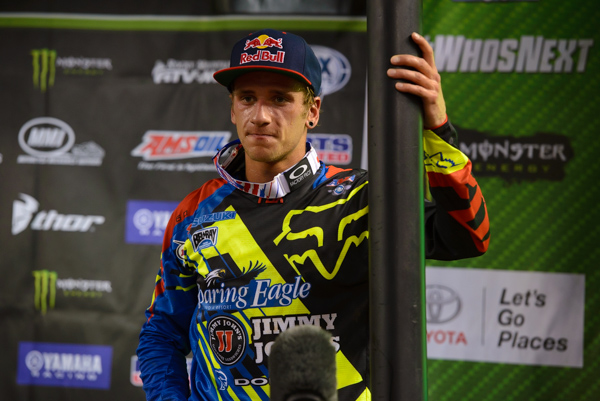 PulpMX may be the monkey wrench in moto but so far it looks like Kenny may have monkey wrenched his own program.
It's not to say that I think Dungey is the fastest in sheer speed either. I think that goes to Trey Canard. No one is willing to twist the grip harder and push to the limit than Trey… well, other than JS7 but that's utterly irrelevant in 2015. The more I focus on Dungey's riding in his two wins this season, the more I think he looks like Ken Roczen does on the nights he wins. Dungey is just a different cat now under the guidance of Aldon Baker.
When Roczen's split from Aldon became public, all the talk was of how it would affect his physical performance throughout the racing calendar year but I think we are now seeing that the bigger disparity in the Roczen/Baker split is the new alliance formed with Aldon and Dungey and a rider who had so few flaws to begin with, now etching away at them and realizing his true pinnacle of ability.
And now for my sidenotes from Dallas…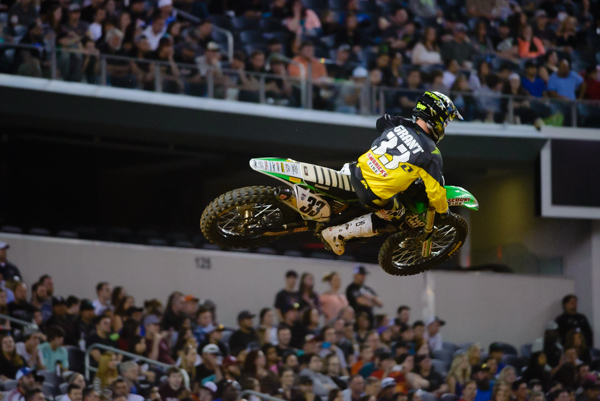 JG looked like a different man in Dallas. He gets my nod for most-improved thus far in the series.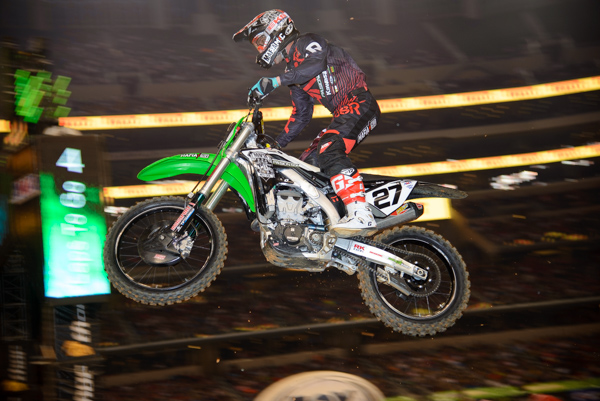 Nick Wey has had a frustrating series so far. One main made and you know he didn't mean to dirty Chizz but that's what it takes to make the trip worth it. Chizz wasn't happy and Nick wouldn't be if it was the other way around but I guarantee you they both are fully aware of the necessity of the move. #notsorry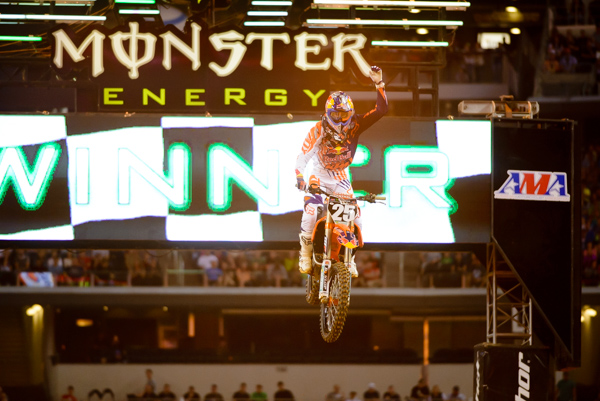 Marvin proved sometimes nice guys don't finish last. He's the fastest guy in the class again this year but he has been a few times. It's putting the finishes together as a whole that matters most.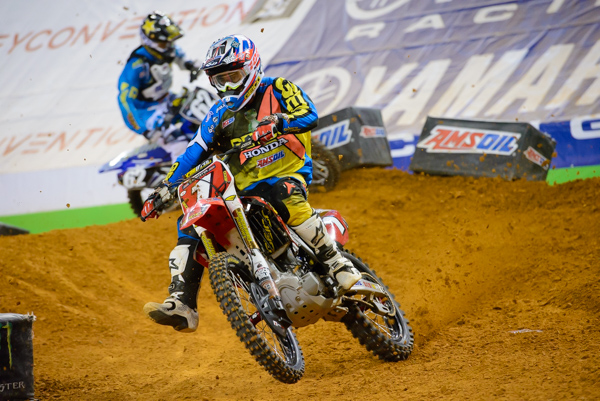 Bogle was closer to Musquin than I had expected. Their speed is pretty similar so this title could be determined by starts and error minimizing… oh wait, that's very class of racing.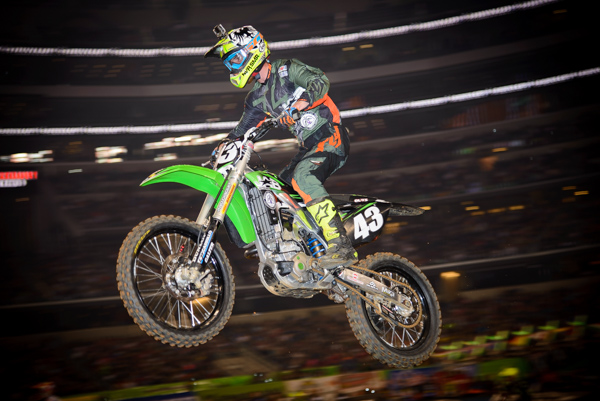 Finally, Matt doesn't get dirtied by his home-race. OF COURSE I'm giving Matt his props, he deserves them. A veteran of the class, coming off a podium in 2014, riding with the fastest guy in the West and lets not forget, Matt's another year older with more perspective than ever. I fully expect him to deliver the consistent finishes over this series that have been so elusive in prior years. The red-flag restart which took away the position he had taken from Savatgy was a bummer but thems the rules.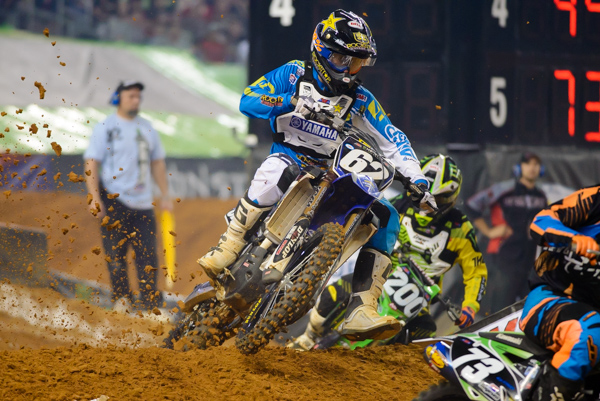 A-Rod better learn to keep the rubber-side down. He's got speed covered. When the gate dropped in the Main, I wasn't at all surprised to see A-Rod up there. Not even surprised that he held the position for a good long time. And nope, not suprised when he went down late in the race and did what he did in his two races last year. twice is a coincidence, three times is a pattern. Gotta break that pattern.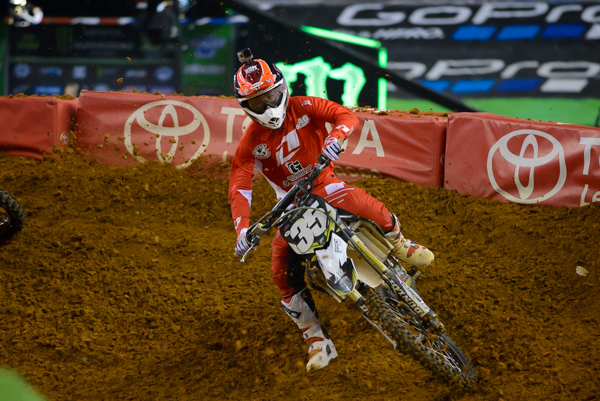 The only thing redder than Kyle's gear in Dallas was the flag which brought the staggered re-start. Or as Weege might say, "Re-Starting Gate". I was in Indy in 2012 when Kyle caused the first staggered re-start. It was mass confusion in the pressbox(as it was also on the track as the AMA/FIM were clearly confused on how to proceed) but the important thing was Kyle was ok in the end. In Dallas Kyle went to sleep again and again it was super scary. Those two hits alone would make me start thinking about all those NFL retiree's who have been seeing the longterm affects of head trauma and really ask if it's worth it.
I know these guys all weigh the risks and go for it but when you've actually dealt with the risks and suffered the results? Maybe I'm looking at this too much from a parents perspective… I'm sure no racer would appreciate these thoughts but it's how I feel.