DV took a moment from pool-time to cover Thunder Valley, here.
DV took a moment from pool-time to cover Thunder Valley, here.
Photos By: Mike Sweeney
You know all about how this sport is so gnarly and you cannot take any lap for granted. Tomac got bit by Thunder Valley and it's a shame for him and his team. What happened, why did it happen and who do you blame if anyone at all?
At the level Eli is riding these days, just a small mistake can result in a big crash. He's riding at a level only a few riders were able to ride in the history of the sport. He was flying on that downhill. You can't see well on TV because of the camera angles but that downhill was rutted and rough. His back end got kicked sideways a bit but his rear wheel went over the line/rut. The back washed out and he ultimately high-sided throwing him on the ground hard. If he was going slower, his rear wheel wouldn't have kicked sideways that much and he wouldn't have crashed. I think what happened is very simple. He was just going too fast in a very rough section. That section, over the years, bit a lot of riders. Stewart was one of them and the photographer crossing the track back then had nothing to do with Bubba's crash.
It's pretty ironic that this section of the track in Thunder Valley got the best of Stewart and Tomac after winning all the motos up until that moment. In 2012 Bubba won 4 in a row before he crashed in that downhill and Eli won 5. On a very treacherous track like Saturday, you have to pick spots to go fast and spots to play it safe. I just don't think Eli played it safe enough in that downhill. I don't know the degree of his injury but I really hope he'll be on the gate next weekend and able to compete in the front.
If? Tomac is out or weakened for a while, Roczen is 30 some points back of Dungey…can he turn this into a title fight or no?
Even if Eli is racing and with a 35 point deficit, Roczen will have to gain an average of at least 4 points a race on Dungey and Tomac to be champion. Mathematically it's very doable. Ken's speed and fitness are coming back pretty fast after his back injury. He's starting to look like himself. I think the next 2 races before the break will be very important for Eli and Ken. Tomac needs to get healthy and Ken needs to step up his game a bit, which shouldn't be a problem. If Eli shows up at 90% in Tennessee, it's gonna be hard for both Dungey and Roczen. There are too many unknowns right now with the Tomac injury and it's about Ken's time to get back to his top form. The only thing we know is that RD will be on the podium every weekend and will score at least 40 points a race. After Hangtown, Roczen might have thought the championship was over but it's far from it. Dunge isn't riding at the level he was riding in SX, Tomac just cartwheeled bad and it should give Ken wings now. He isn't 100% but what he showed in Colorado, he will get there soon.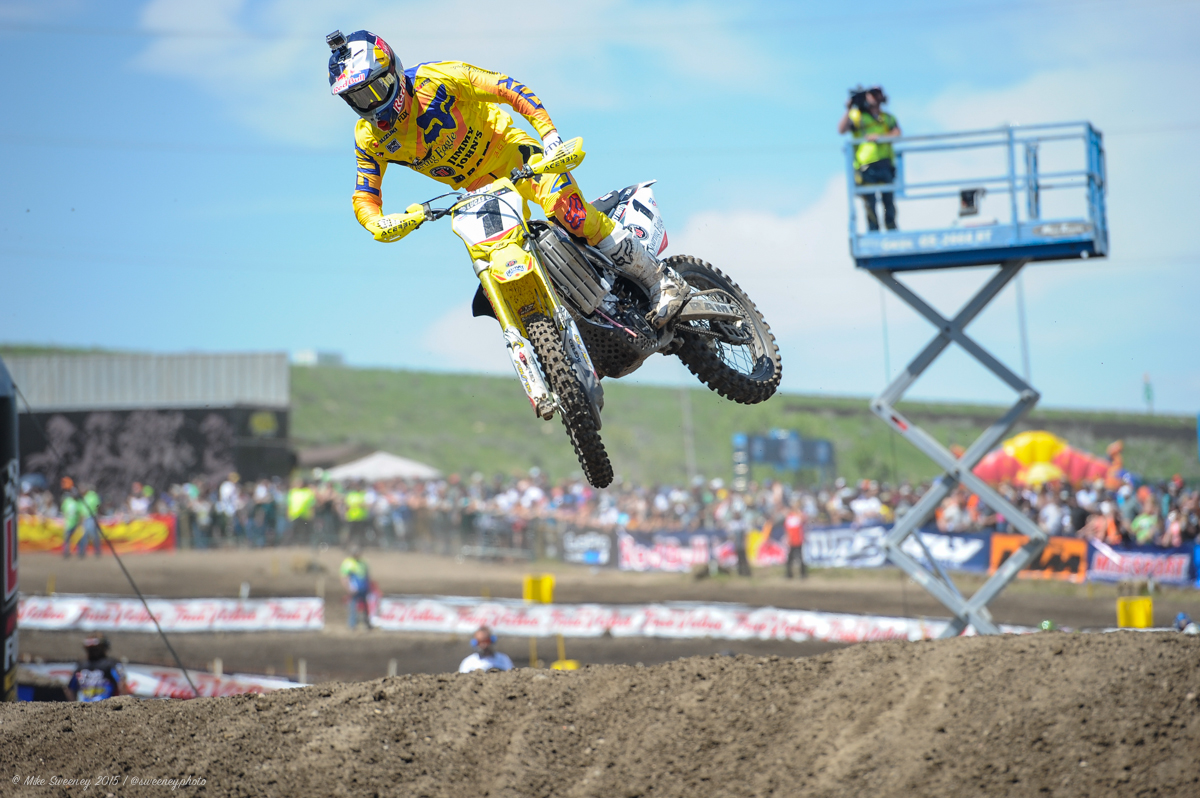 IS Roczen back to 100%? Ready to take control?
Jeremy Martin, two hole shots, perfect day and he rebounded from some bad luck at Glen Helen. This week it was Marvin who made a mistake–the title is already down to these two right?
The title was already down to those 2 guys after Webb got hurt in Hangtown. I don't want to be mean but who else in the class could ride with those two? You have Nelson, Cianciarulo, Savatgy, A.Martin, Osborne, McElrath following Martin and Musquin and in the top 10. They are good riders but very far from the top 2 stature. Like I've said in a previous column, I think Martin has an edge on Musquin right now. I also think he can improve and go faster. The same goes for Marvin. I don't really like the way he has ridden since the beginning of the season. It's not the innovative, playful Marvin I know on the track in the first 6 motos. Even with his 1-1 in Glen Helen, I didn't think he was riding that well. You're gonna ask me the reasons; I am not sure. Could be maybe about his training focusing on being fit and strong rather than working on raw MX technique and speed. Marvin looks tight and uncomfortable out there. It might also be a visual effect I guess.
Which young kid in his first or second year as a pro would you sign right now out of the 250MX class?
There is a lot of young talent in their first or second year the 250 class. I think we give way too much importance on today's results and names on jerseys to speculate on who we would like to sign. Today's results for those kids don't mean anything. What's important is to find a kid that is smart, ready to put in the work, ready to listen to others to improve, ready to learn, ready to accept they haven't accomplished anything other than getting a nice team shirt and a 6 figure paycheck that will be gone quicker than they got it. I am not inside the MX world enough to give you a name. Most of the kids these days, I don't even know what they look like without a helmet on. What I know is that some of them need to stop taking selfies with their "love of their life" for their instagram account and go ride and train. Some stuff I see go by on social media makes me shake my head so hard I need to take pain pills for my neck!
Lot's of talk about how O'Show wasn't working for Barcia but now Martin loves him and of course Aldon's guys are all pretty fit…what's the deal with the trainers in the sport? Do they really help?
On the physical aspect of things, yes, they help obviously. Taking Barcia on Mountain Bike rides everyday for hours, isn't what will help him. Barcia needs to hang his bicycles and ride, ride and ride. Not ride motos all day. Far from it. He needs to learn how to ride a 450 properly and how to be efficient on it. It would take a lot of technical work to make it better. Mountain bike rides won't. What's tough for a trainer is to do program a la carte for riders. When I see all the guys doing the same shit in the gym and on the track, I need more pain pills for my neck. Trainers train. They make you do things to make you fit. They come up with out of the box exercises that would amaze any soccer moms. It's cool for instagram videos but what's the bottom line in MX? It's to go fast!
When the 450 guys are 5 seconds slower than Tomac in Hangtown, all the trainers' training, bicycling and exercises with a yoga ball will not make you gain anything on those 5 seconds. Motocross riders spent more time on a mountain bike or on a road bike than a motorcycle. How can you improve your technique and your speed on a MX bike by riding a bicycle? Most of the training should be done on a MX bike. While working on your technique and speed on a MX track, you're automatically working you're fitness. I am fine with doing recovery rides on a bicycle and doing some gym work but riders need to ride and work on their MX skills. You put 10 ruts on a SX track these days and the best riders look like C riders at a REM race in Glen Helen on Saturday morning. You have ruts in Lakewood, most of the riders look like shit and it's painful to watch. They can't go through 2 ruts without having their legs fly everywhere.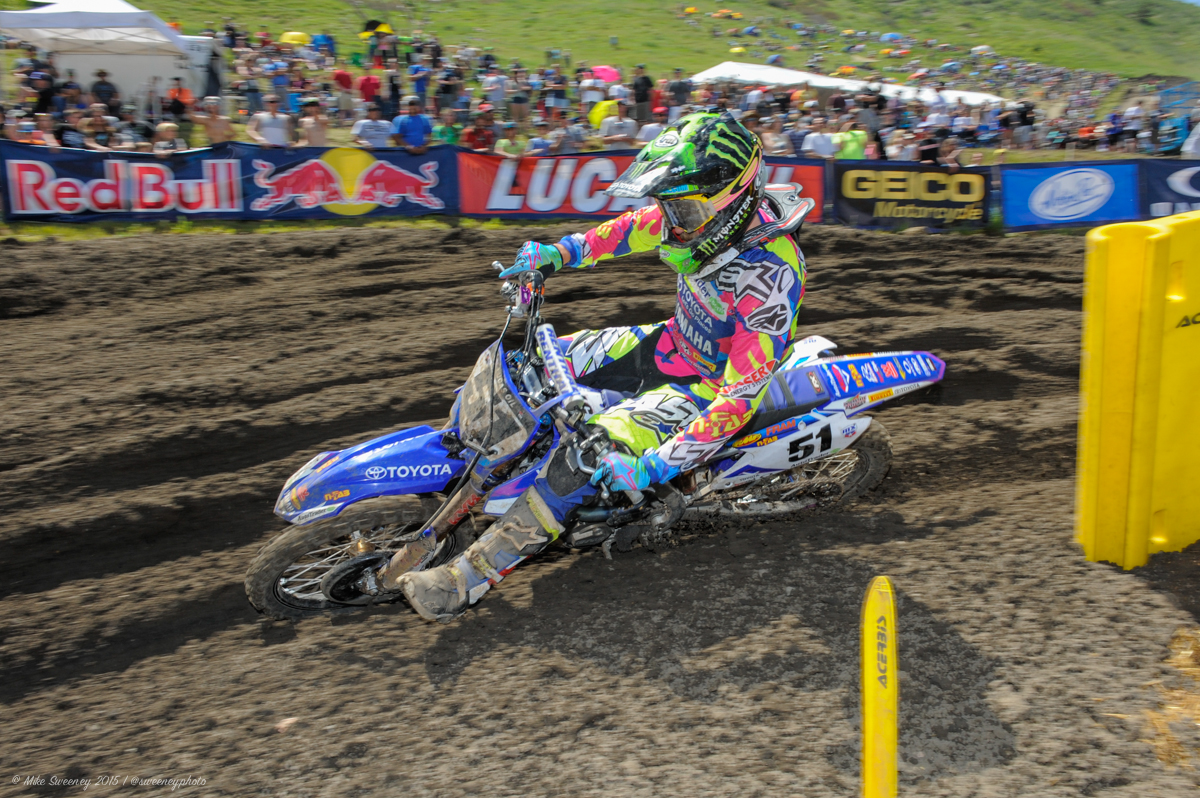 Barcia moved on from O'Show and the cycling program.
Chad Reed had an off day at Colorado and says that he may not race if he's not allowed to use this new camera sponsor he has…do you believe him and what are your thoughts on riders not being able to use anything other than a GoPro?
I love this story! I love how promotors in SX and MX get all the sponsorship money, sometime even "steal" teams sponsorship money, they don't distribute crap other than the ridiculous prize money. SX/MX is one of the only sport that teams don't get money from promotors/league and they dictate what sponsor you should or shouldn't have by their agreements with people… It's just incoherent. I'm sure GoPro asked for these terms when they came on as series sponsor but the promoters of both SX and MX need to be forward thinking before granting the fact that no one else could use a helmet camera.
I understand the biggest sports league in the world, the NFL, having issues when their players use Beats by Dr Dre at a game when Bose is the official sponsor but you can't dictate the same to a sport as small as MX. Compare sports worldwide to a bucket of popcorn at the movies, MX would be the crumbs at the bottom that no one eats. When you're that small and companies want to come in, advertise, sponsor and use the image of a MX rider like Chad Reed in mainstream media (I'm sure that camera isn't only made for MX), you let them because if you want the sport to grow you need all the exposure available. I am sure 10 or 20 times more people watched College Girl Softball on TV Saturday than Lakewood. MX TV ratings suck and have been sucking for years. We show the races on MAVtv. I didn't even know the channel existed and it costs me $10 a month to watch the first motos. I think MX Sports has bigger fish to fry than playing dictator with Reed.