Josh Grant has always has a reputation for bursts of speed.
Josh Grant has always has a reputation for bursts of speed.
Photos By: Ray Archer
It's no secret that Josh Grant is one of the more naturally talented riders who has ever thrown his leg over a motocross bike. He came into the sport with some fan fare and did quite well right off the bat. He was never a shining example of consistency and over the years he really had to deal with a string of injuries that had seemed to leave him a little trigger-shy, though honestly he was doing his best to stay on the track, and more than once that meant returning from injury before he was back to 100%. There are a few schools of thought here, one being you have to love the heart. Someone putting health and comfort aside to keep turning in results and attempting to remain relevant. The other school of thought is, you're not doing anyone any favors when you ride hurt. Your results suffer and the team tells you to do your best, all the while, tension increases as the return on their investment appears to be turning up null.
It appears though, for Josh, that those two steps back in speed while regaining his health over the last couple seasons (let us not also forget the failed JWR effort that left he and Kyle Chisholm in no-man's land), have truly been the longer road but the best path toward progress and a rebirth in this sport that rarely allows for rider resuscitation.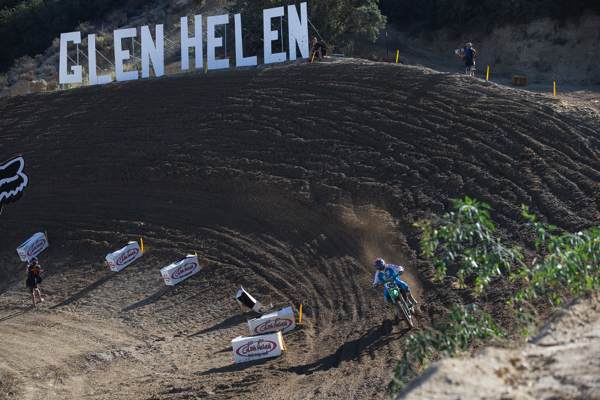 Grant held a comfortable lead for much of moto 2.
This year when Josh was again dealt an orphaning blow with the dissolution of the Two Two Motorsports team, his sights were beginning to focus on 2016 plans and prep when Team Kawasaki needed to field a rider and phoned Josh to be their long-shot for fill-in and respectable results. Expectations weren't high as Josh was forthcoming with the fact that he hadn't been riding much since the Two Two closure. Josh cashed in on the opportunity with impressive finishes by all accounts. Josh no doubt knew that this was as close to divine intervention as anyone could prove and it was all in his hands to make it happen now, or possibly never again.
As the USGP of Glen Helen approached, the number of top MXGP regulars who fell to injury was staggering. Add to that Josh's prowess and reputation at Glen Helen and his realization that the USGP was a blueprint to his 2016 fate, had to have him as motivated as he has likely ever been in his career. Motivation and desire is one thing but to deliver on it and confirm the expectations of yourself, the fans and the teams who could possibly be signing your checks in the coming year; that is every racers dream. And Josh, against all odds and all tendencies of his career to this point, managed to deliver on that goal. It was damn impressive.
Josh didn't secure the overall at the USGP but his job security for the 2016 season may start on more solid ground than it has in nearly 4 years. That is an incredible feat in this sport that spits riders out at alarming rates.