Feld has done something I never imagined possible.
Feld has done something I never imagined possible.
Photos by: James Lissimore
There's a lot of blame tossed around the industry when something controversial occurs. Often, the finger of blame is targeted in multiple directions, mostly due to confusion, and Feld is regularly included in the group of "individuals" who find themselves in the crosshairs.
You've no doubt read on PulpMX at times over the years that even we have indicted them from time to time. To their credit, they are never shifty or make any attempt to side step our blame-ridden assertions. They simply answer factually and with conviction. This interaction is based completely off of the fact that they are a group of people who, while yes, they do run a multi-faceted entertainment conglomerate, really do care about the racing and specifically, that race-fans are satiated and believers in their management of the series.
Simple math proves this is true. It's no secret that we as a moto community are pretty rabid when it comes to the purity of racing and when management decisions are made that adversely affect the racing, we are vocal. We are also known to express ourselves with the concept of "speaking with our wallets". Defined, this means we either show up at the venues or we don't. It would be silly for them to not make decisions which made racing better.
Five rounds into the 2016 SX series, it's obvious to me(even prior to confirming with Feld's Dave Prater) that decisions were made in pre-season with regard to track design that have been paying off with positive results. The tracks have begun to achieve something that I never thought very realistic. They are taking the typically brutal power of 450's in Supercross and slightly neutering it.
I've long voiced my opinion that 450cc four strokes are a terrible solution in racing Supercross.
They still are.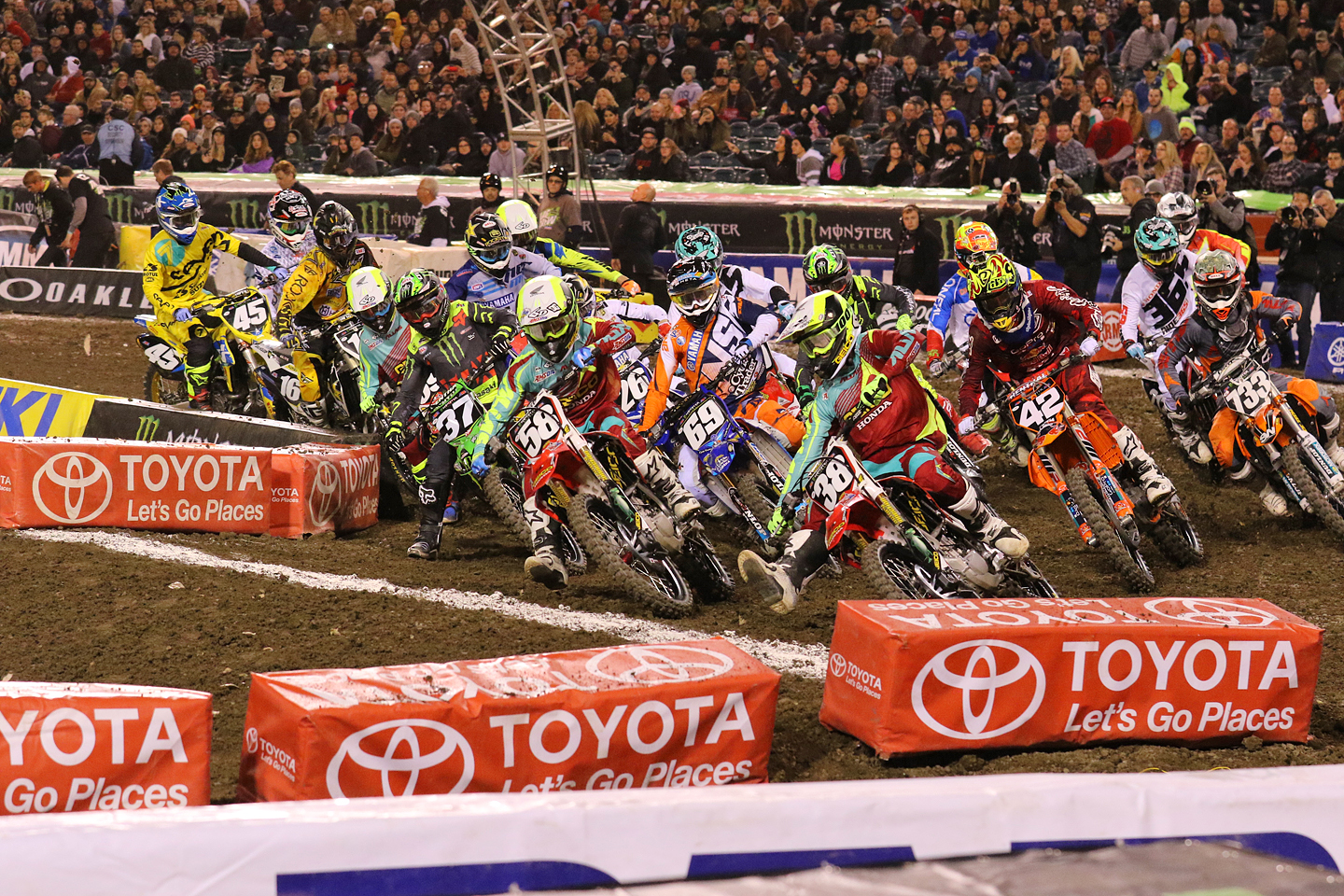 A right-handed turn is just another of the rare sights that is being tossed in the hat.
They take what used to be high technical prowess and replaced it with gobs of thunderous power that is merely a flick of the wrist away. The phrase "when in doubt, gas it!" has never been truer than since the four stroke takeover. Ironically, since the conquering of four strokes, doubt has never been less of an impedance on the conscience of a racer. Instances which used to incite doubt on a racer have become a reliance on power. Lacking in technical proficiency? Twist it! Problem solved. Well, sort of… More like, twist it and pray it works out because when it doesn't; it hurts.
This weekend in Glendale, the maiden-voyage for the new location in Arizona, we saw a few indicators of just what those pre-season updates discussed at Feld were. Some of the indicators we have already seen this year in the prior 4 rounds. Whoops, for one. The whoops this season have been bigger. Not early 2000's acute angle monstrosity's but deeper and "peakier" than we've seen in many years and they are putting the balance of power back in the brain cradle, not the engine cradles. That's a good thing.
Many riders haven't been a fan of the super steep walls that slowed down racing, so we haven't seen many of those but the Dirt Wurx guys have moved on to something even better. We don't see them everywhere but I've noticed a smattering of steep-faced "short jumps" at the end of speedy sections which definitely introduce more of a thought process and technical approach than usual. The steep-faced take-offs are sometimes as simple as the over-under and other times a triple with a quick pocketed landing which forces a racer to check-gauge their approach speed to keep the following rhythm smooth. Again, just another example of reintroducing technicality and separating riders by little miscues.
There were even more obvious departures from the typical track in Glendale and I verified with Feld's Dave Prater that they were a clear choice to assure the debut of Glendale was not only a success but a standout. There was 1/4 more dirt brought into Glendale to really showcase the vast floor-space and utilize the ultra-cool ability to exit the stadium. It could be considered blasphemy to utilize only the "over" of the over-under bridge but that entire U-shaped exit/entry portion of the track was one of the biggest opportunities for separation at Glendale. Timing the downside of that "over" bridge was straight out of a Madskills MX track. Scrubbing speed on deceleration into the face and timing it to fluidly downside the back of it was the difference of a half second per lap and you could clearly see the gains and losses as riders crested it together. And of course there was the steroid-start straight. I bet at least one team out there was jokingly entertaining the though of an outdoor transmission.
Coming into Glendale, I was thinking "are we really going to call this the "Glendale Supercross"?" After seeing the track and racing on it…
Hell yes GLENDALE SUPERCROSS!!