I know, I know… it's the same age old tale of talking all about Alex Martin.
I know, I know… it's the same age old tale of talking all about Alex Martin.
Photos By: James Lissimore
It's mere delightful coincidence that we so often hear claims of bandwagons in sport and the latest fever buzzing in motocross lends itself to just such a trope. Alex Martin's name begins with "A" (I know this is high level cerebral activity) and another saying from America's industrial age is "all aboard the A-Train". Thus, here we are stupefied by the apparent wildfire-like surprise of Alex Martin's start to the 2016 250 Nationals.
Sure, Joey Savatgy bounced back from his forgettable Glen Helen hiccups to claim what very well should have been 1-1 scores but nonetheless, the overall victory. I know, Jeremy Martin finally began looking more like the repeat-Champ he is, on his quest to three-peat, than he did in the first two rounds. Zach Osborne finally dumped the clutch when the gate dropped and started toward the front, finishing with 4-6 moto scores and something he can build on. Cooper Webb was clearly affected by the little seat-time he has had and that was amplified by the high altitude. He was smart to realize his limitations, to focus on meeting his capacity at altitude and not force it and risk crashing and further injury.
YEAH YEAH YEAH… That all happened and it's all worthy of discussion but let's be real here, Alex Martin is the story of the class, the Nationals and yes, the sport of Motocross as a whole.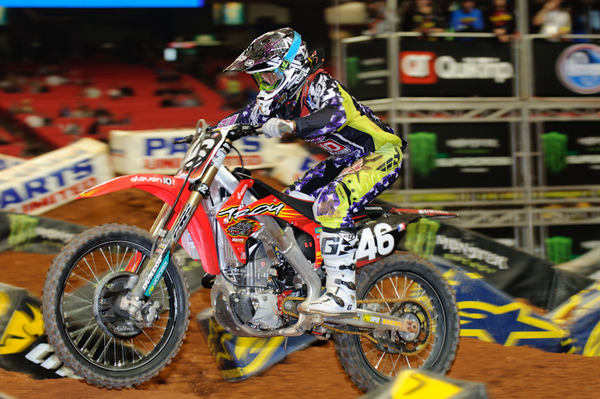 Remember this A Mart from the 2011 season?
This just doesn't happen. I mean, do you remember in Supercross 2012 when Alex was in the 4th year of his pro career, when he went AWOL from the whoops along mechanics row and launched his bike, skid plate first, into the line of pit boarding holding Wrench's?! Hashtag "shortguyissues". Alex has had a few claims to MX infamy in his career. Obviously the first is being son to John Martin, owner of the property where the Millville National is held (In contention for best track on the schedule, no less). Alex's next talking point in the sport came as part of the wild history of the Eleven/10 Mods team. You've certainly read that tale and trust me, it was all that bewilderment and more. Racer's have quit under less dire circumstances. When Alex's younger brother Jeremy came into the sport as a fairly highly-touted amateur, Alex felt the heat a bit as before his first pro race even, Jeremy was noted by most as the faster Martin. Ouch.
Heart has never been in short supply when it came to Alex. As a man of shorter stature, something a person has no control over, he knew his will, determination and effort were areas he did have control over and would have to make gains where his vertical prowess was limiting him. He's always worked hard and tried to make the decisions which would help him excel and reach his peak in short order (that is an absolutely unintended pun). Lot's of these guys play this game. Changing diet, changing trainers, sleeping habits, riding schedules, mental training… There are many(!) viable options for a rider to choose from in forms preparation of a race program that it's no wonder they switch it up so often. The sport waits for no one so when gains aren't seen on the results sheets in timely fashion, it's time to make another change.
Alex has always worked hard but there came a point this season when his maturity caught up with him and he made the decision that what had propelled his little brother to such heights of success, may just not be what his DNA was in search of to reach his own potential. It was no easy decision either. In the mind of Alex, it had to have almost come across to himself initially as a decision of admitting failure. Think about that. A program which he had been a part of, which had proven success for not only his brother but plenty of others, including the greatest outdoor rider of all time; and he was deciding that this elite program wasn't doing for him what it had for them. That introduces a thought process of questioning self and heaps of doubt. Only the mature mind can deal with these considerations and trust that the hard decision is the right one.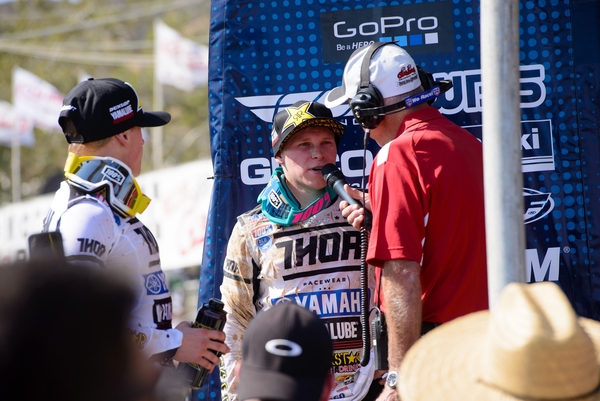 This is A Mart's time. Lil bro and 2x class champ standing by, proudly sharing the spotlight.
I'm not interested in the minutia of the differences between the program of old (O'Show) and the program of now (Gareth Swanepoel). What interests me is the 8 long years of struggle and searching for Alex Martin. He's always been a very thoughtful, cerebral if you will, racer. Not one of the guys who just knows how to twist the throttle and hang on, it needs to make sense to him. He needs to understand why one thing works and another doesn't and the struggles have lead to his current maturity and resolve. Combine his new program with everything else he has learned about himself over the previous 7 years of effort, failure and learning and this is why the A Mart train is at max capacity and burning more coal than ever.
This is the type of success story nobody can or wants to diminish.