Let's clear this up right away yes?
Let's clear this up right away yes?
Photos by James Lissimore
I don't hate Martin Davalos.
By all accounts Marty is a great guy who's ultra-nice and he probably does nice things like hold doors open for old ladies and treats other people on his teams well. How do I know? Well for one, my buddy Tim Ferry has been working with him this year and Davalos and I have many mutual friends of which I cannot remember one of them ever saying a bad thing about Davalos. And in these pits, that's hard to do people.
I know how many people could think I don't like Marty, after all I've railed on him over and over for his lack of success in the sport. Even Marty himself has been known to utter a few choice words about me to said mutual friends and as I've said, he might be one of the nicest guys in the sport. I 100% get it, I deserve Marty's scorn for the words I've said about him. Perhaps the statement I made about him "stealing money" from teams all these years was a tad much but for the most part, I stand by what I've said about him.
I just thought I'd write a little blog about him to maybe once and perhaps clarify my thoughts and why I say the things I do about him.
The number one reason I've said the things I've said about Marty is because he's so damm fast. Seriously, Davalos is REALLY good on a dirt bike. He's got tremendous skill, technique and nice style. He can really ride the shit out of a dirt bike. Unlike other 250 lifers, I believe Davalos could/should win because he's, like, really good and stuff. You can disagree with my stance all you want but you cannot, simply cannot, disagree that Davalos has underperformed for a long, long time.
He's just been a classic case to me of a guy that's not trying that hard, made a bunch of money and has been coasting off his talent for many years. Just because he's a great guy doesn't exclude him from dancing around the 250 eligibility rules year after year. Now this year Ferry, a guy that I'm good friends with, tells me all about Davalos' work ethic and how this year, his eleventh year in the class, he's working hard. Better late than never I suppose.
Marty's first year pro was 2006 on a Star Yamaha and he finished ninth overall in the 250SX class. Not too bad for the rookie. From the top ten in the points that rookie year, only two riders remain full-time in the sport (Davi Millsaps and Josh Grant) and they've been in the premier class for at least eight years. But there's Marty, still racing first, second and maybe some third year pros week in and week out.
This is a guy that led 10 out of 15 laps in Daytona 2009 on a factory bike, got passed because he was tired then talked about how happy he was to finish second. Seriously, it was like he won the lottery on the podium. I don't expect a guy like to go all "Bradshaw" but he had a huge lead and blew it yet was stoked. It struck me then as a very strange reaction to a race he had in the bag.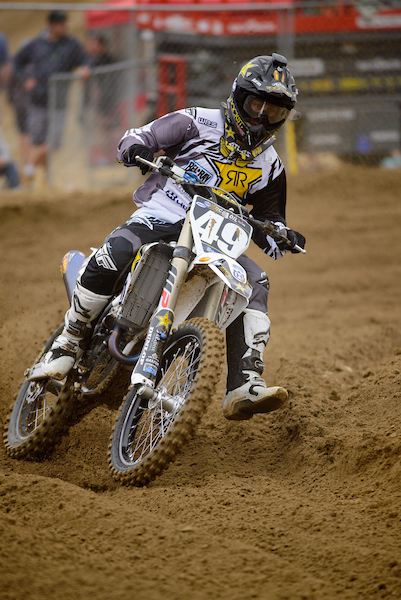 Motocross has proven to be much harder than supercross for Davalos with just two top ten in the points finishes.
This was a guy who, when offered a ride by Mitch Payton for the 2008 season told him that "If I don't win on your bike, no one will hire me for their team afterwards" or something to that effect. Does that sound like a rider that is striving to get better? People around Marty say that the money offer for an MDK KTM team was way better…I say the PC bike (especially back then) was way better and the bonuses from race wins would dwarf the KTM offer. You gotta put yourself in position to succeed and going with a KTM support team over a Pro Circuit Kawasaki is probably the exact opposite of that.
With his first race in the 2017 250SX series, Marty will move into second all-time in 250SX starts to long-time privateer Barry Carsten. The good- Davalos has a ton of heat race wins and fastest qualifier awards but yet, the bad- just four wins in his time in the class. Four wins in eighty career starts is not good especially as we said, his equipment and teams have been top notch and he's racing against kids that tend to make a lot of mistakes. Yet as we've seen time and time again, it's Davalos that repeatedly makes way too many errors or isn't in good enough shape as the kids.
***To be fair to Davalos, he should've been the 2014 250SX champion as for once things were working his way with injuries to the top two riders in the class allowed him to grab the points lead. This was Marty's title to win but a practice crash (bike malfunction) left him with serious injuries and he wasn't able to race the final rounds.***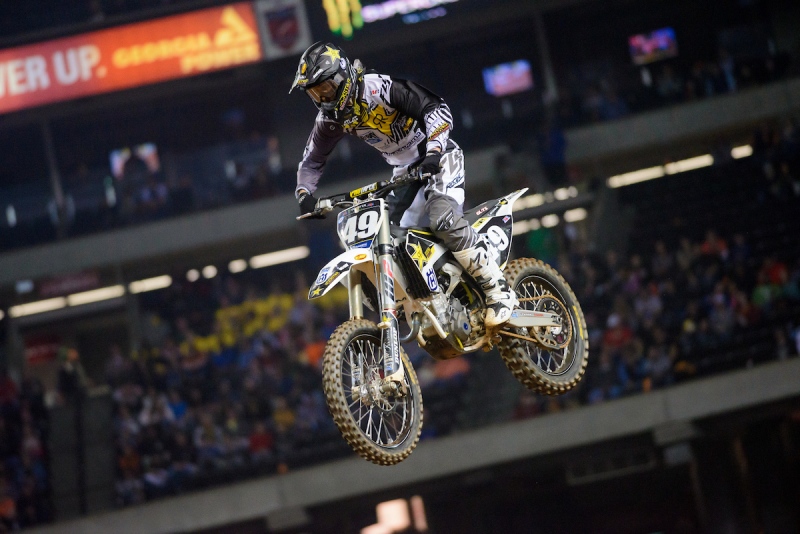 Davalos has the bike, has the speed but has just lacked that…something for a while now.
At least you could understand these results if he was so, so solid in the outdoor motocross season…you know, the one series where ALL the competition is lined up week in and week out.
Nope, he's failed to finish a complete series since 2011, has only finished in the top ten in points three times and has missed 45% of outdoor motocross races since 2006. So you have a high salaried factory rider who can't seem to stay healthy to race the series where all the riders are and when he does manage to make it through a series, his finishes are towards the back of the top ten. Not a lot of value to a team for the outdoors.
There is some hope for Davalos to log a complete motocross season this year as he's made every moto this year and there are only six motos left. Unfortunately, on a factory bike, against riders like Austin Forkner (who was only eight years old when Davalos debuted in the class!) he can only manage a twelfth in the points.
In each of those four 250SX wins, Marty has talked about silencing the haters and how it feels good, etc, etc but we're here to say that the battles over bro. The evidence is right here on paper that Martin Davalos is not producing the results that his skills, his salary, his equipment and his experience says he should. That's the bottom line and that's all I've ever really said, he should be way better than what he is. Year after year. No matter what, the anvil falls on Marty time and time again.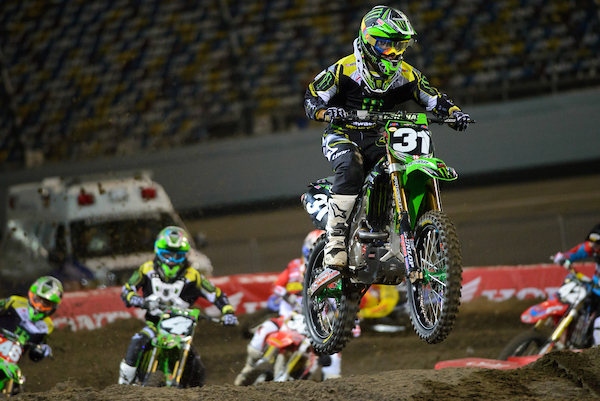 After #4 and #46 went out of the 2014 250SX class, Davalos had the title on lock until a practice crash that wasn't his fault ruined his season.
Hold on though. Wait a moment. Perhaps it's not Davalos specifically that gets to me, maybe it's the "idea" of a "Davalos" that works me all up into a tizzy. The idea that a rider can have factory motorcycles, make a lot of money and never have to race the whole year against the best competition for eleven straight years is what the real issue is. Maybe the fact that team owners see so much value in a rider who can get pole positions, win heat races and then, generally speaking, underachieve week in and week out indoors (in the mains) and out is where my "problem" is.
Race a whole season? Nah, doesn't matter. Can't get anywhere near the top five outdoors for eleven years? Nah, doesn't matter. Can't seem to win more than four times against half of your competition and against riders that have nowhere near your experience? Nah, doesn't matter. We'll sign you up for big money year after year because maybe this year you will finally break through!
I get the "We can work with speed" chants but eleven years in, we're still thinking that?
It's sad really. Sad for the teams in the sport that they value 250 lifers so much, sad for Marty that he can't seem to get any better and settles for the paycheck despite what his talent indicates he can do. Davalos has made a ton of money and I get those that tell me, many of them ex-racers, that as long as you're not breaking any rules and someone wants to pay you, stay down as long as you can. I say, hey, who knows…perhaps if Davalos moved up to the 450's his riding style would suit the bigger bike better and he could slot himself in a nice "B" rider on a great team. Maybe success would follow. One thing for sure, this 250 stuff ain't working out.
Davalos is making a great living and I'm happy for that in a time where more and more riders get screwed. His success or failure doesn't affect my life one bit but that doesn't mean that someone like myself can't look take an honest look and wonder why others don't see the broken system that I do.