Photos by Rich Sheppard
1- What a race by Eli Tomac! He just crushed them and looked to be on rails. Whether it's the quad, the 3-3-3 or the triple before the first turn he looked smooth and in control. He's also now just one race behind Damon Bradshaw on the all-time win list and going to pass him for most wins by a rider who doesn't have a title. Thoughts on Eli's race and a record he doesn't want to have?
Eli's ride was impressive to say the least. Whenever the 3 best guys in the series start 1-2-3 and the winner relegates the field to 20 seconds, he's doing something right. That was obviously his best ride of the year. It's up there with Phoenix last season. That ride also reminded me of a race he won when he was on a Honda, might have been St Louis or Indy a few years ago, where he rode so good technically, speed wise and spanked everyone. The difference in his riding was very noticeable. His corner speed was great and never lost his momentum. That's exactly what I was trying to do with Dylan this off-season. Technically, he was above everyone, that little triple before turn 1 was great and pretty tricky to do. He did the 3-3-3 easily in the rhythm before the finish where others had a tough time to do it in the main. Tomac amazes me in greatness and in failure in the same season. Some races, I'm like "wtf is he doing", others, I just sit back on the couch, watch, enjoy and say "wow"…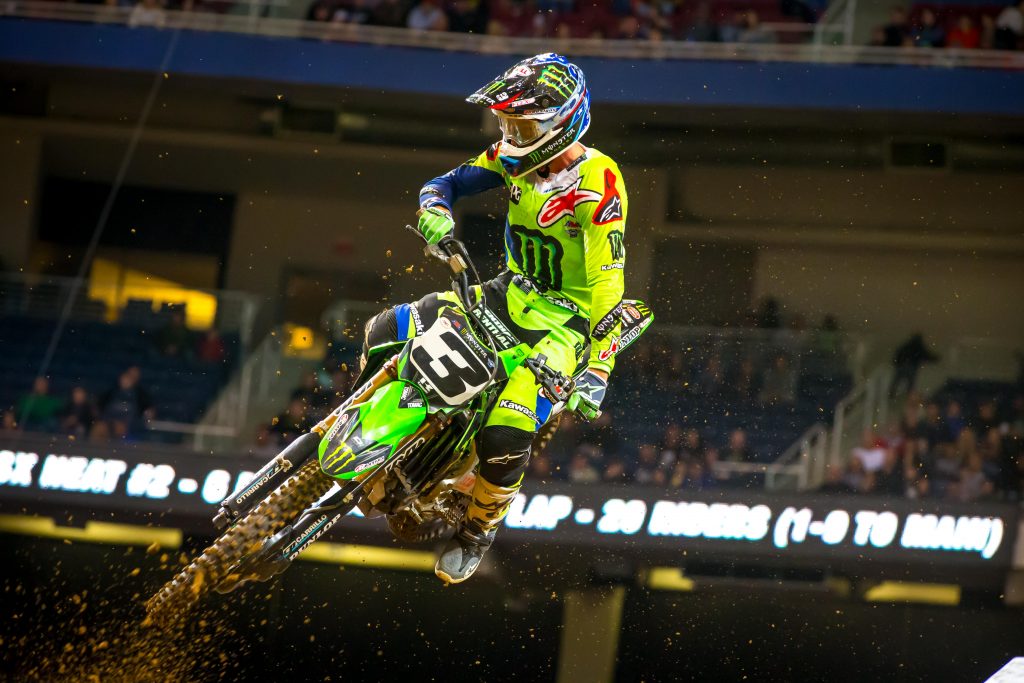 I didn't see the mains live but you the results before I had the chance to watch them on my DVR. I saw the top 3 stayed the same for 27 laps and I asked on twitter if the race was boring after seeing the stats of the race. A guy replied to me saying, "I could've watched Eli do another 27 laps like that" and I feel exactly the same. I'm not a groupie or an unbiased fan of any riders. I love excellence and when riders impress me. I was there before so it takes more to impress me than any regular guy in the stands or in front of the TV but Eli impressed me Saturday. As far as his "almost" record of the rider with the most wins without a championship, I don't think is a bad thing to be that record holder and I'm positive he will be champion in SX one day. He's only 25 and can be the best rider in the world any Saturday… But a ton of wins don't replace a championship. I have more wins than a few champions and as many as Emig and O'Mara. I'd trade a few of them for a number 1 plate… I just hope Eli doesn't get too frustrated by not having a SX title yet. He could've had a couple already but I'm confident he'll get at least one in the next 3 years…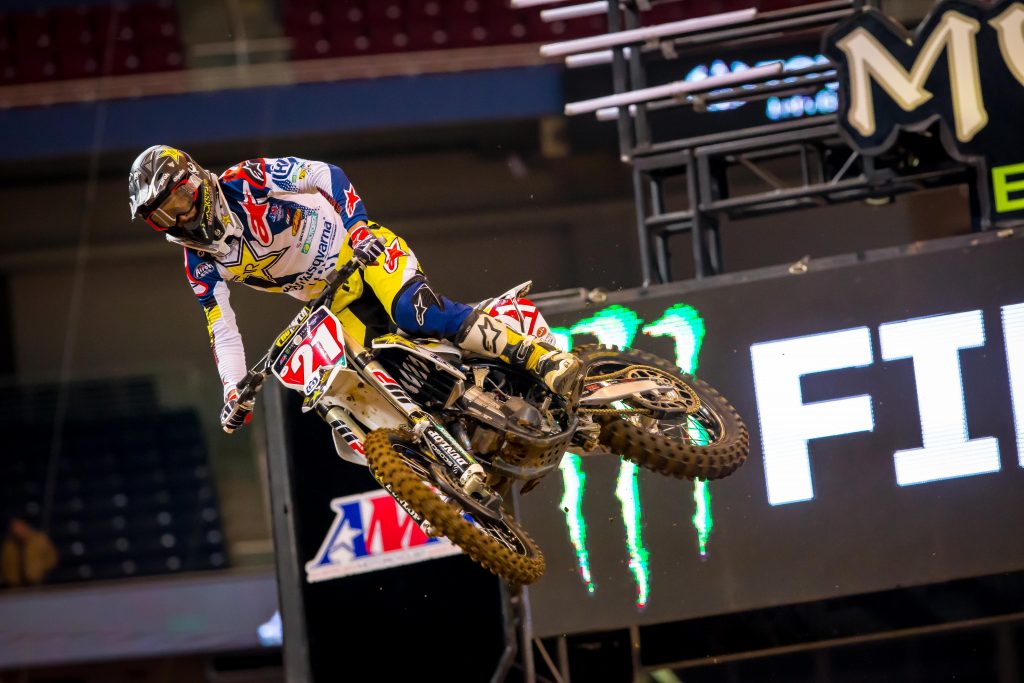 2- Anderson says he wants to win races and challenge Eli but if you were in his spot, wouldn't you be taking all risks you can out of your racing?
Anderson wanting to win is normal. He doesn't want to hear the groupies, the media and the industry say he won the championship because Eli, Marvin or Roczen got hurt. But in the other hand, why risk to blow the championship by wanting to win the championship. Dungey won the title with "only" 3 wins out of 17 races. Eli had 9. Ultimately, who cares really? In the record book, next to 2017, only Dungey's name will be there and Eli's 9 wins, as impressive as they were, won't be written or noticed down the road. Being on your A game, scoring big points and winning when you can is the key to win a title. Dungey was the best in history doing just that. Anderson's riding style is a little bit more on the edge but he's having a Dungey-like season. Before Daytona and after 9 races, his worst result was a 4th. For a guy with Jason's riding style and drive, it's very impressive. Whatever happens in the last 6 races and if Anderson wins the title, he will have deserved it 100%. Talking about Anderson, he seems exhausted lately after the race. Not out of breath or lacking fitness but overall fatigue. It's my opinion but it looks like he could fall asleep on the podium he looks so tired. I've noticed it for a while now. Not sure where it's from.
3- Was St Louis also a favorite of yours for the great dirt?
I grew up riding in the south of France on blue grooved tracks which were never prepped nor watered so I liked the crappy west coast conditions. I've always been cautious in the ruts because I didn't grow up racing in them. My first full year in the premier class and my first time going to places like Indy, Pontiac or St Louis was challenging for me. I've always been based in California in my career so I never really got used to it. I've won in the ruts of Seattle, Minneapolis or Indy and I was good in the ruts outdoors but never really enjoyed it. I preferred Anaheim, San Diego, Old Hangtown or Washougal. But, yeah, St Louis has been the best dirt of the circuit for years and the tracks were always fun.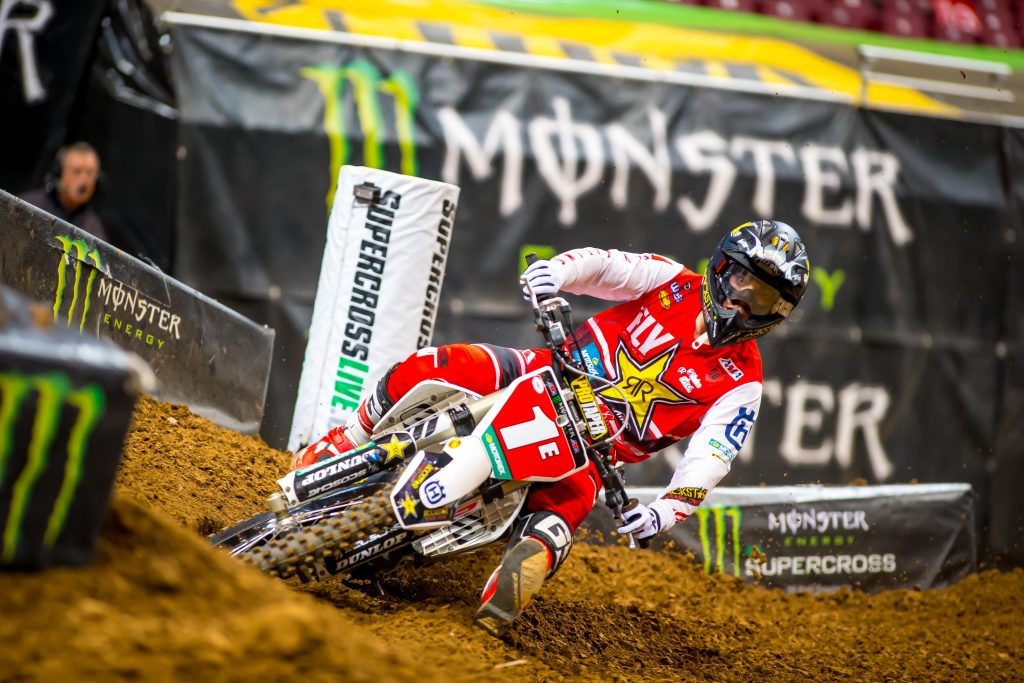 4- Osborne just hung around behind Forkner pressuring him and got a crash out of the kid. He said after that was all he was planning on doing until it got late and he needed to pass. Tough strategy to do but it worked. Thoughts?
To tell you the truth, I wasn't impressed with Osborne since the start of the East Coast series. I thought he would've been better but in St Louis he rode the best this year yet. His corners were good, he was efficient charging on the track which wasn't the case weeks prior to St Louis. I also really liked the way he was jumping thru the whoops in the main. He was the best guy jumping thru them in both classes combined.
As far as Forkner goes, what happened in St Louis was meant to happen. He's been on the edge since Dallas. I was surprised he kept it on two wheels until then. If you remember Tampa or Atlanta, he was very sketchy. If that was Zach's strategy to push him it was a good one. I've said it to Dylan earlier this year also. He can't not crash riding like that. He's had many close calls this season but he saved all of them until Saturday. He was the fastest by a hair over Osborne in the main in St Louis but Zach looked more in control. It would've been a fun race if Austin would've kept it on 2 wheels and I was looking forward to it. Too bad, Forkner crashed. I don't want to see riders crash and I'd rather see a battle until the checkered flag. I'm sure we're going see those 2 going at it again in the last rounds of the series and I'm looking forward to see the first shootout of the season next weekend.
5- Thomas Ramette and Cedric Soubeyras are a couple of French SX veterans who have been doing decent, thoughts on them?
Ramette did better than I expected. He hasn't raced a 250 in several years and was never the best guy in Europe even if he won some UK arenacross titles. I thought he was a very weird pick as a replacement but he did very good in St Louis. Top 10 in practice and top 10 in the main. For a first race after a very hectic week of travel and only 2 days on the bike, I thought he did very good. I liked how he approached his heat race. He started up front and tried to stay with the top guys. He made a few mistakes but I'm sure it helped him a lot to ride in the front. I don't know him as a rider as much as Cedric and I'm not sure what he's potential could be but seeing how St Louis went, he could be able to get a top 6 before the season ends.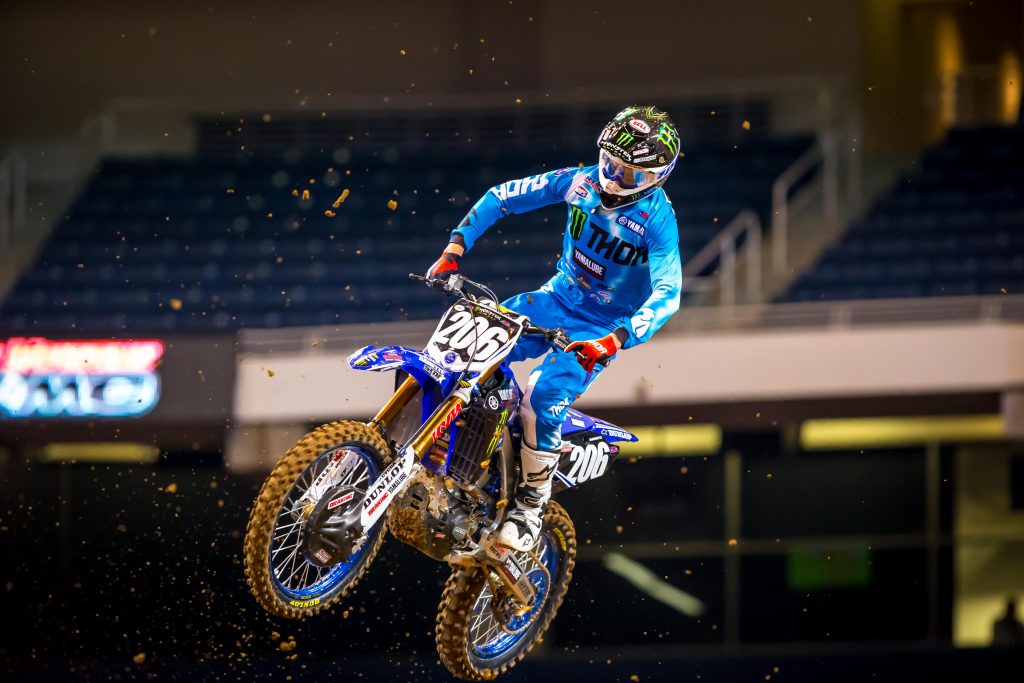 Next week will be challenging for him and he will have to qualify for the main. The heat race will be like a 6-minute East Coast main even. He got 10th in St Louis and they will only take 9 to transfer from the heat… Cedric is, on paper, a better/faster rider than Thomas. He would beat a Bloss, Friese, Cunningham and Chisholm today in Europe. I think we haven't seen the best of him yet and he should be in the top 12.
6- What else?
Just a quick word on Marvin. He was disappointed about his ride Saturday. I was a bit too especially with starting third behind Eli and Jason. His issues were pretty easy to spot in St Louis. He only jumped the 3-3-3 rhythm section a few times as well as the quad. At this level and to win races, you have to take more risk to jump those obstacles regularly if you want to be a contender to win a race. We've seen it many times in his career where he doesn't take those risk and stay too much in his comfort zone. In Tampa, for example, he never jumped the quad where Seely crashed on. It was sketchy but you had to do it to win the race. And it's also the same problem in the whoops. He's got to get out of his comfort zone during the week more so it will become more natural for him on Saturday…