The 2020 season will mark the fiftieth anniversary of one of the most historic brands in the sport of motocross – O'Neal USA. Started in 1970 by motorcycle enthusiast Jim O'Neal, the brand that bears his name began not as a gear company, but rather as a distributor of hard parts. Much like Moto-X Fox and Answer Products, the origins of O'Neal are based on fenders and tires rather than kidney belts and jerseys. 
For most of the first decade of its existence, this was the core business of O'Neal Distributing (as it was known at the time). At the time, selling aftermarket accessories for motocross and off-road motorcycling was a huge business in America. The sport was experiencing tremendous growth in popularity and participation and even the best machines of the time needed significant upgrades to make the most of their potential.  Fragile bodywork, shoddy electricals, and flimsy switchgear were all common problems facing aspiring racers of the day. 
With so many pressing needs to be filled, companies like O'Neal, DG, Moto-X Fox, Answer, and FMF were more than happy to step in to offer solutions. Fenders, shocks, wheels, motor parts and even complete frames were all popular upgrades. If you had the cash and a little know-how, just about any machine could be transformed from a sow's ear into a silk purse by the aftermarket in the 1970s.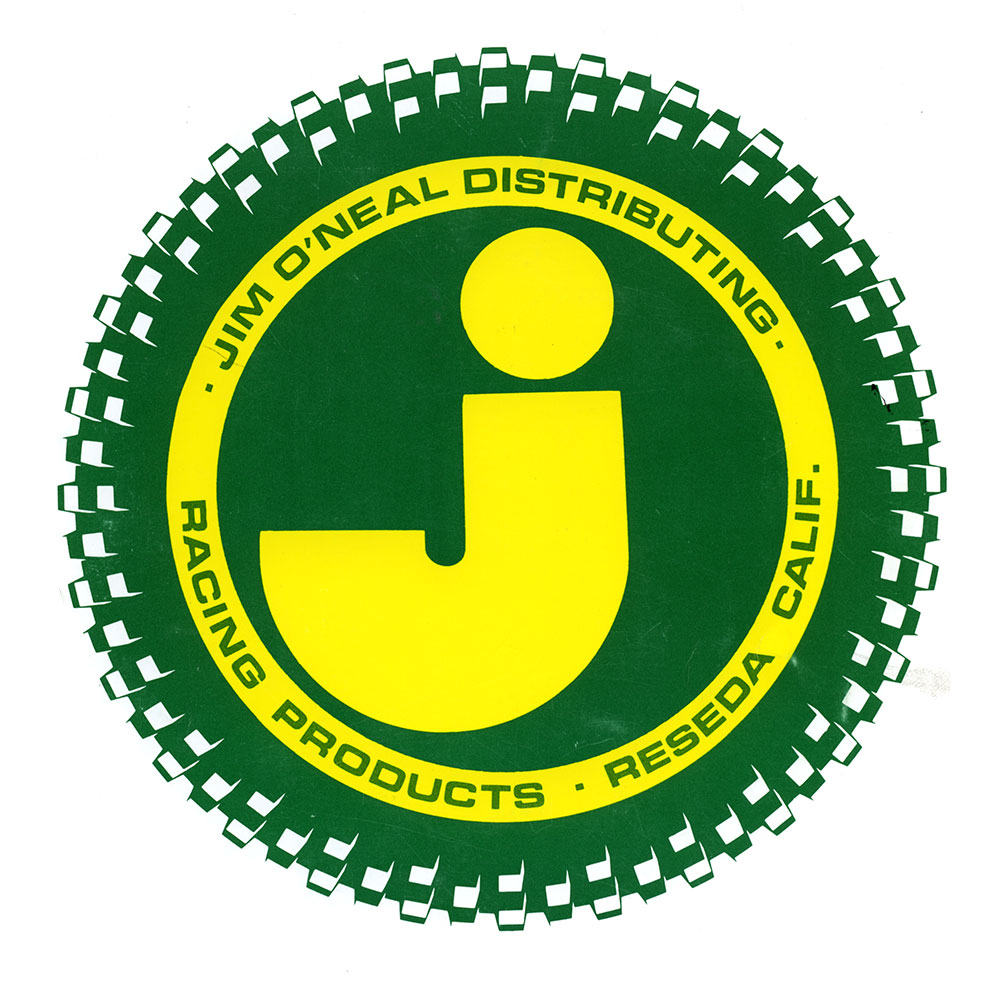 For O'Neal's first ten years they were a distribution business that focused on selling aftermarket motorcycle accessories. Photo Credit: O'Neal USA
In the case of O'Neal, their first big break (if you'll pardon the pun) had been Preston Petty's "unbreakable" fenders. Today, of course, we take tough and flexible fenders for granted, but in 1971 the standard was inflexible steel or fragile fiberglass. With the arrival of Petty's rugged and resilient plastic fenders, a whole new world of crashworthiness was introduced. As an early partner of Preston Petty, O'Neal was in the perfect position to capitalize on the huge success these revolutionary products provided.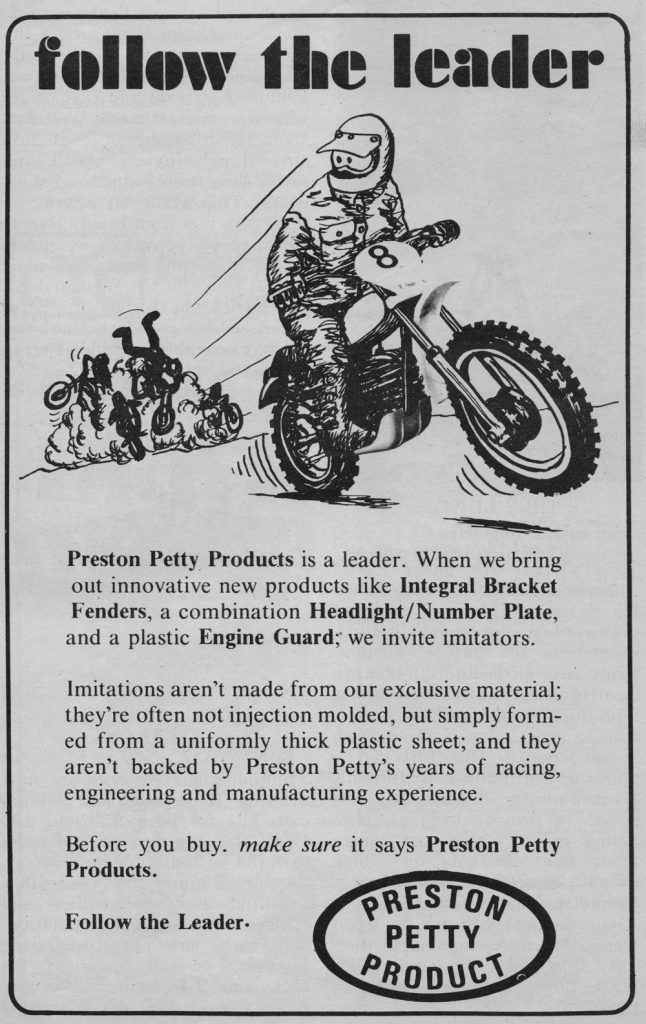 O'Neal Distributing's first major product success Preston Petty's innovative plastic fenders and bodywork.  Photo Credit: Preston Petty Products
In 1974, O'Neal made its first foray into riding apparel by offering to customize other brand's jerseys with a name and number.  This was quite a novel service in 1974 when it was not as easy as ordering some iron-on transfers and doing it yourself. Eventually, this led to partnerships with several existing apparel makers. Joffa, Scott USA, Oakley, Carrera, Electro, Gold Belt and AXO were all early O'Neal partners.
 In the late seventies, O'Neal made the decision to expand into its own branded apparel. They signed up with AXO to help design and distribute a new boot for the American market and partnered with Griffs to produce an O'Neal branded nylon riding pant. Today, Griffs is largely forgotten, but they were a major player in the apparel business in the late seventies and early eighties. They were pioneers in the transition from leather to nylon riding gear and a provider of pants for the Big Four's OEM-branded gear as well as early pants provider for Moto-X Fox, Answer and eventually, O'Neal.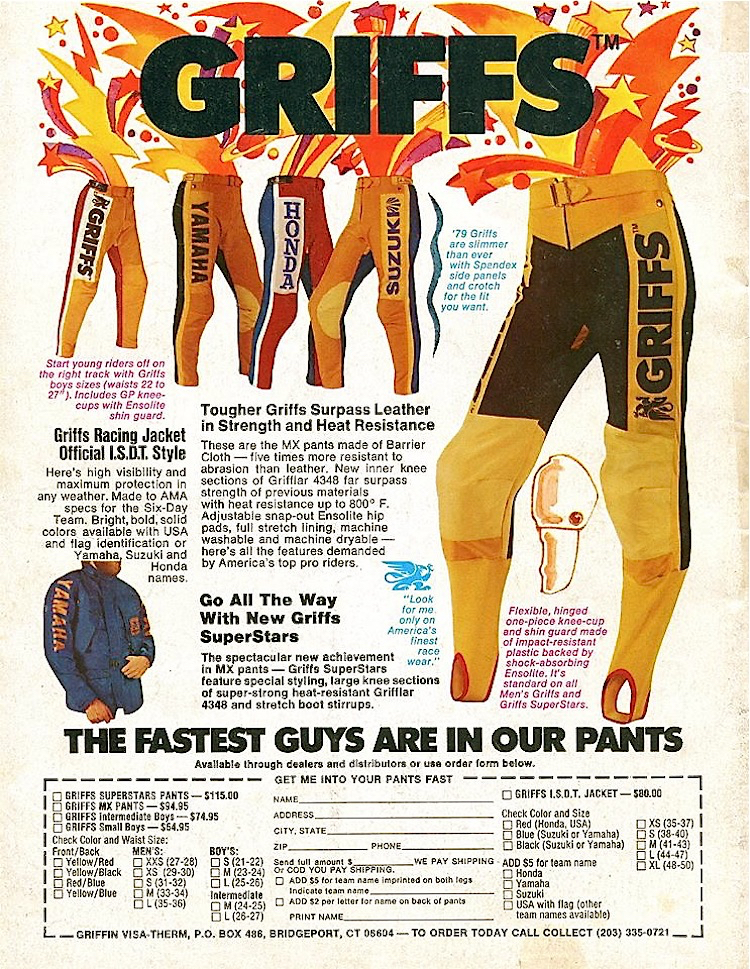 An early manufacturer of motocross pants for several companies including O'Neal, Moto-X Fox, and Answer, Griffs helped pioneer the move from heavyweight leather pants to the lightweight nylon ones in the late seventies. 
In 1980, O'Neal launched its new Griffs-built pants under the name of "Ultra-Lite" with a price tag of $84.95 ($280 in today's dollars). The pants were paired with a new Ultra-Lite jersey that went for $16.50 ($50.75 today) and an O'Neal AXO boot that cost $139 (a whopping $427 in 2019 dollars). If that was a little too pricey, you could also opt for O'Neal's M.Robert plastic boot at a more reasonable $109 (a bargain at $335). 
From this humble beginning launched one of the most successful motocross gear brands of the last forty years. O'Neal Distributing would morph into O'Neal USA in the 1980s, transform to O'Neal Racing in the 1990s, and rebrand itself once again as O'Neal Motocross in the 2000s. Along the way, O'Neal has provided style and protection for National and World champions, rising stars, journeyman privateers, and countless weekend warriors. Their sponsored riders include motocross luminaries André Malherbe, Kent Howerton, Erik Kehoe, Jim Holley, Darrell Shultz, Doug Dubach, Mike Craig, Mike LaRocco, Jimmy Button, Tim Ferry, Grant Langston, and Dean Wilson. 
Today, O'Neal is still pushing the envelope as it enters its fiftieth year in motocross and what better way to celebrate that milestone than with a look back at how it all got started. As in my previous installments of Gear History, this O'Neal retrospective is going to take a look back at the brand through the ads they produced. This first chapter is going to focus on the 1980s and cover all the great designs and styles that took O'Neal from a relative unknown to one of the trendsetters of the industry during the Reagan decade. As before, Steve Matthes and I are going to share our thoughts on the ads, but this time we are going to mix things up a bit by getting long-time O'Neal rider Doug Dubach to chime in where he sees fit. 
If you like this installment, make sure you check out the ones I did on Answer Racing, Fox Racing, AXO Sport and JT Racing. You can find them here –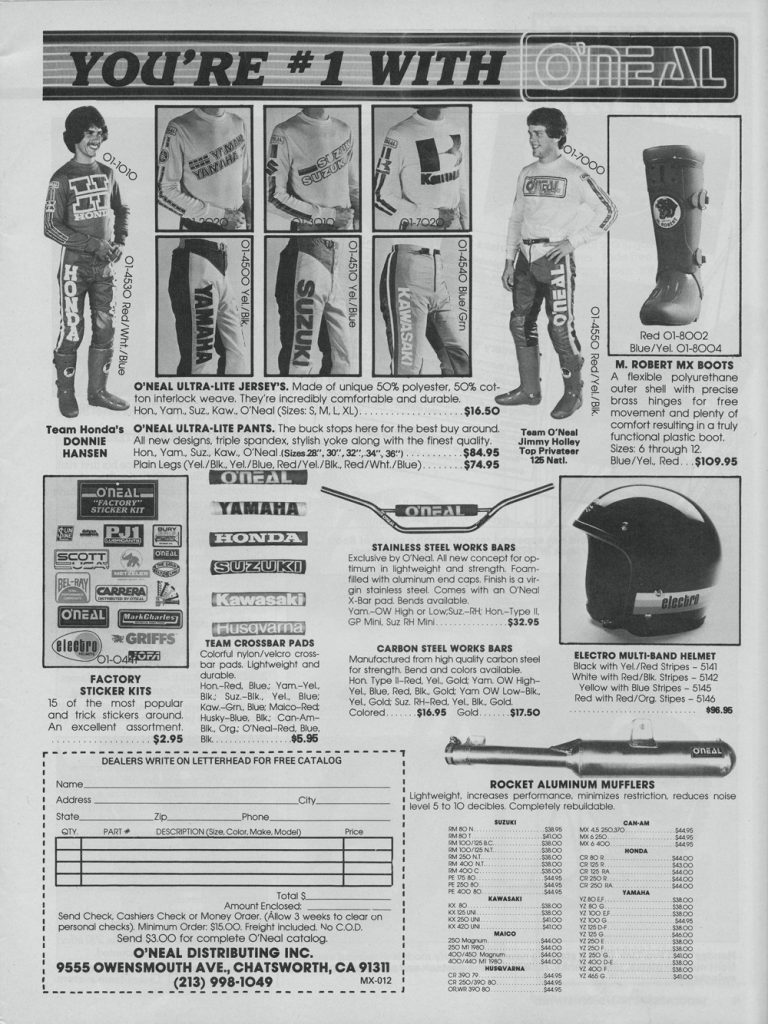 Blaze: This 1980 ad is the first one I have been able to find for O'Neal's motocross gear. In it, O'Neal has factory Honda's Donnie Hansen and 125 privateer Jim Holley as the models for their new Ultra-Lite line. As you can see, the gear is still a side business at this point and not the sole focus of O'Neal's ads. 
Matthes: I always liked the "O'Neal" logo, it's simple, plain but works you know? I didn't know that Hansen went that far back with O'Neal and soon he would sign with JT. Also of note, it looks like handlebars are a big thing for O'Neal which is how Answer got started if you remember.
The Doctor: I knew of O'Neal in 1980, but like most starving pros in that time we would seek whatever was easiest to get. I got my aftermarket stuff from a little 1000 square foot building in Garden Grove from a guy named Tom White. It's crazy how all these guys started.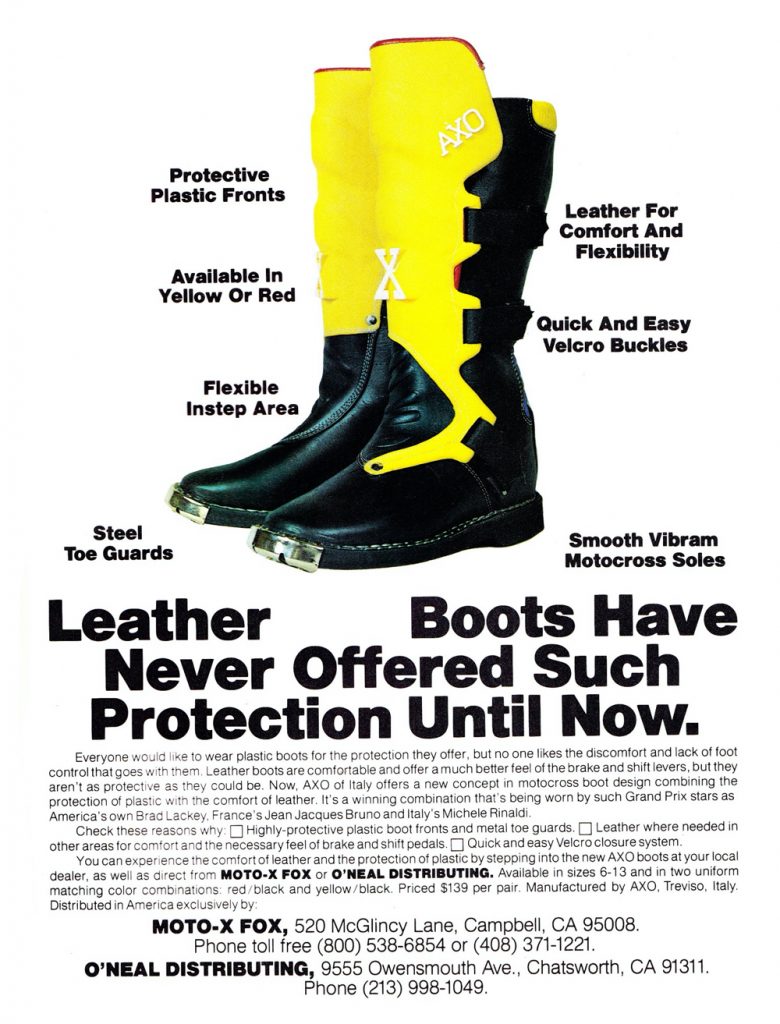 Photo Credit: O'Neal USA, AXO, Moto-X Fox 
Blaze: Before the launch of AXO Sport America in 1984, AXO's boots were distributed jointly through O'Neal Distributing and Moto-X Fox.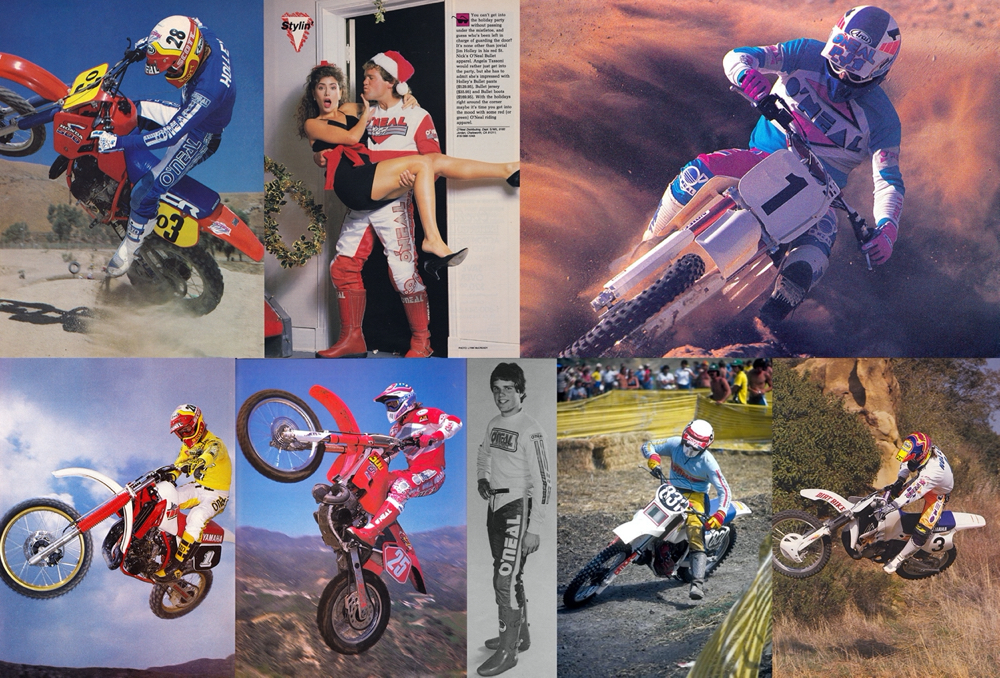 Photo Credit: O'Neal USA, Dirt Bike, SuperMotoCross 
Blaze: When I was a kid and thought of O'Neal, I thought of Jim Holley. He was there from the very beginning and is still a great ambassador for the brand. 
Matthes: Oh yeah, Jim was and is O'Neal to this day! Wonder if Dirt Bike magazine ever gave him shit for wearing O'Neal in the mag every time he tested a bike. I'm sure behind the scenes the other advertisers were wondering what was going on. Of course, Doug rivals Jim for the longest sponsorship ever!
The Doctor: At this point, I was wearing anything I could get for a discount or free.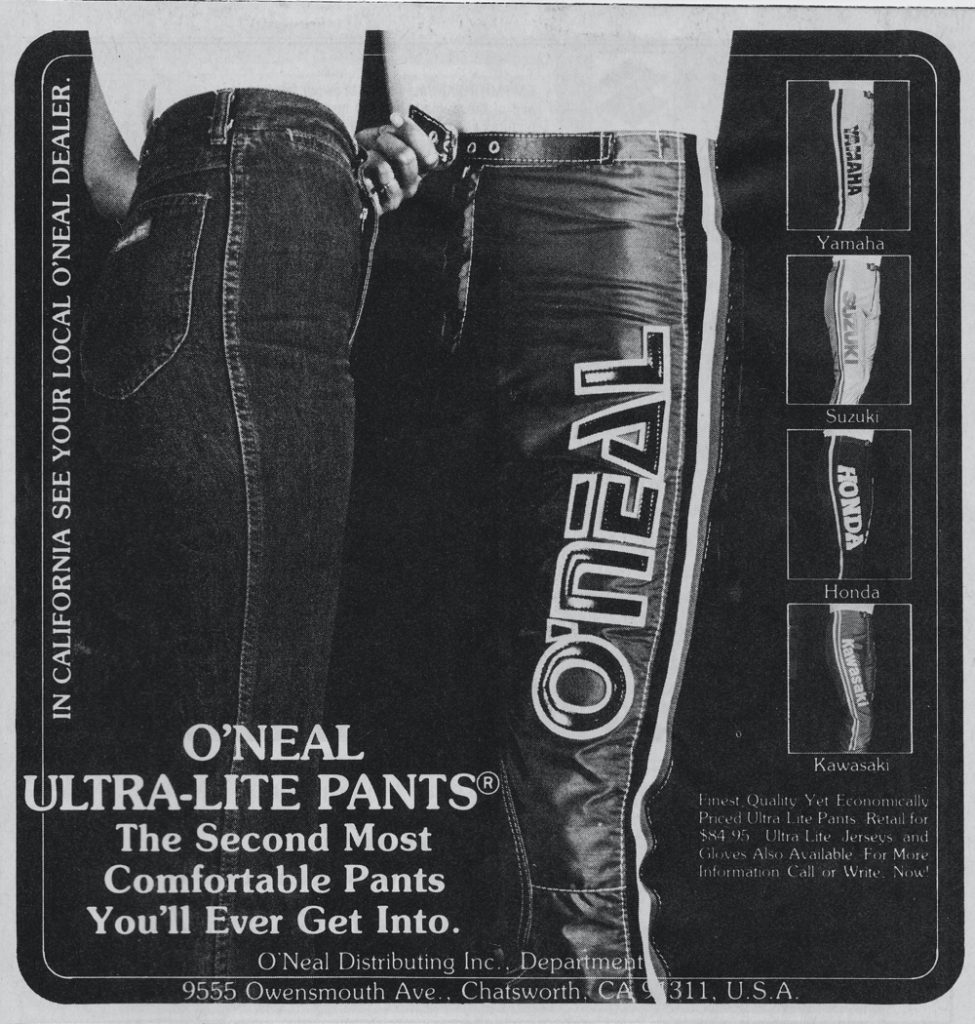 Photo Credit: O'Neal USA
Blaze: Apparently in 1981, the only thing that got between Brook Shields and her Calvins was O'Neal's second-generation Ultra-Lite pants. 
Matthes: Yeah, uhh wow. That's tight! Are these real leather?
The Doctor: That was the style back then, I don't know how we rode in those things?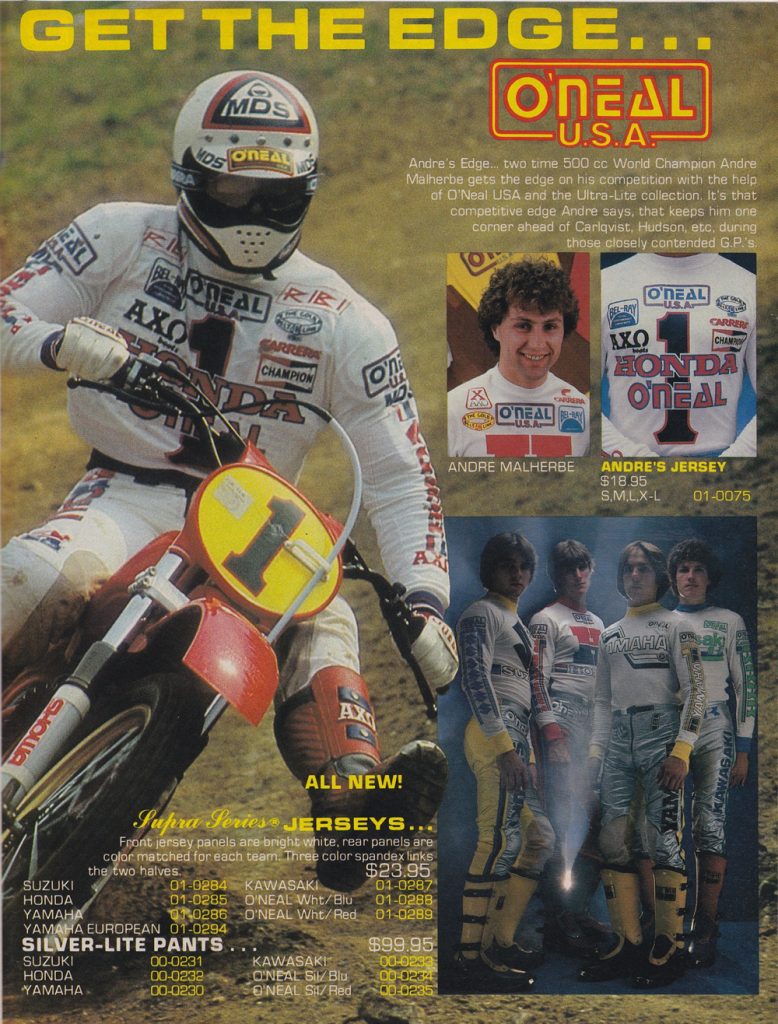 Photo Credit: O'Neal USA
Blaze: In 1981, O'Neal brought on some major star power with the hiring of 500 World Motocross Champion André Malherbe. In addition to the World Champ, O'Neal had a large stable of up-and-coming riders as well led by (left to right lower inset) George Holland, Brian Myerscough, Erik Kehoe, and Tommy Benolkin. 
Matthes: Crazy that for a long time USA companies featured European GP stars in their ads. Fox and JT did this also. O'Neal featured Andre in their ads for a long time also! I never met Andre either but apparently, he wasn't very media-friendly but maybe I was just reading too much MXA back then.
The Doctor: This was my first O'Neal memory. Andre was a moto god and I always loved his "euro" look!!!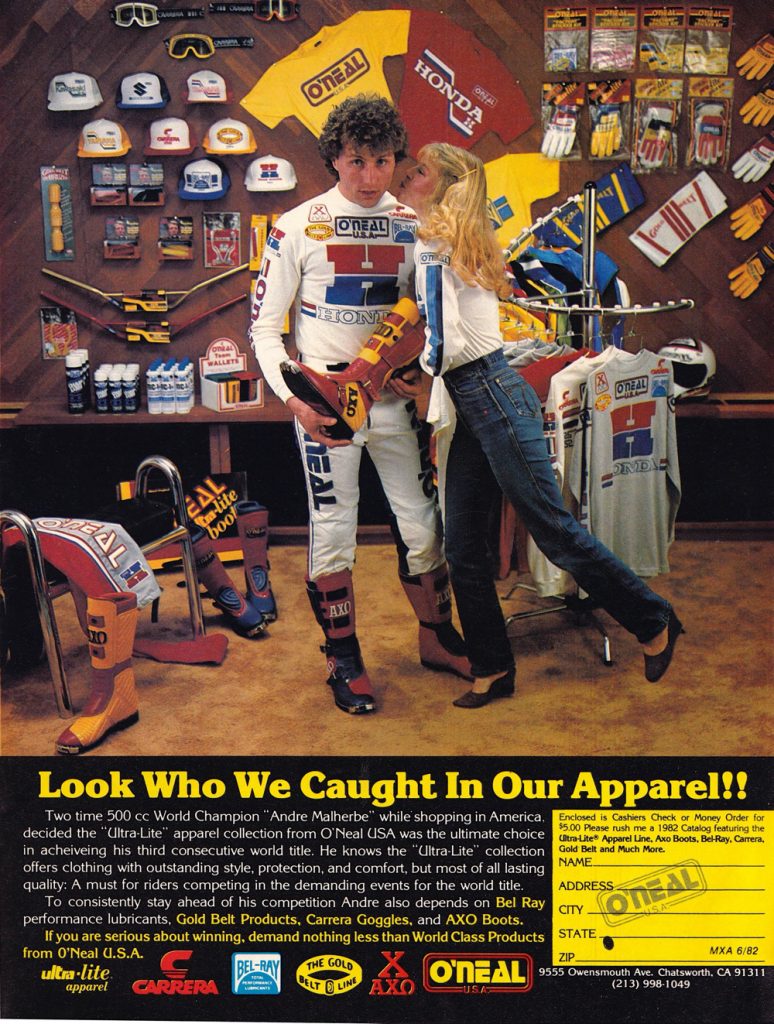 Photo Credit: O'Neal USA
Blaze: In hindsight, it is interesting to see AXO figuring so prominently in these early eighties O'Neal Ads.  At this point, I believe Jim Hale was actually an O'Neal employee and AXO Sports USA was still about three years away from coming on the scene. I have to imagine things were not nearly as rosy between the two companies after AXO started selling their own motocross gear. 
Matthes: AXO boots were pretty good I think back in the day, like before Jim Hale started importing it. Again with the Andre guy in a main USA magazine ad! The gear itself was looking pretty good at this point.
The Doctor: This was still before I was getting anything free, so I was just a kid pouring through the books dreaming of having cool shit. I would just get old boots off of friends.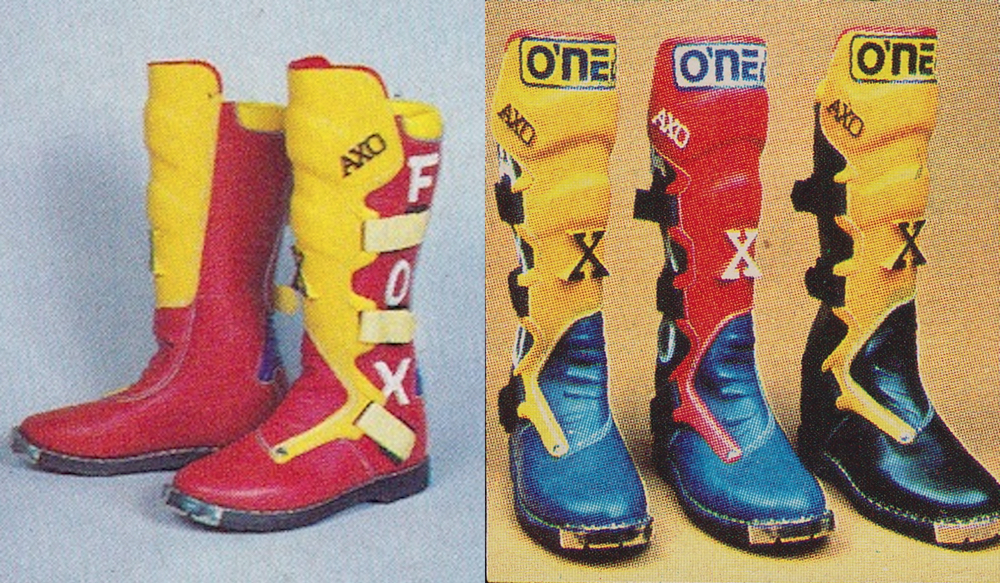 Photo Credit: O'Neal USA and Moto-X Fox 
Blaze: In 1981, AXO's boots came in both Moto-X Fox and O'Neal versions.  Personally, it is hard for me to say which one of these actually looked worse.
Matthes: True Blaze, I didn't know Fox had brought them in also.
The Doctor: None of my friends had these to give away…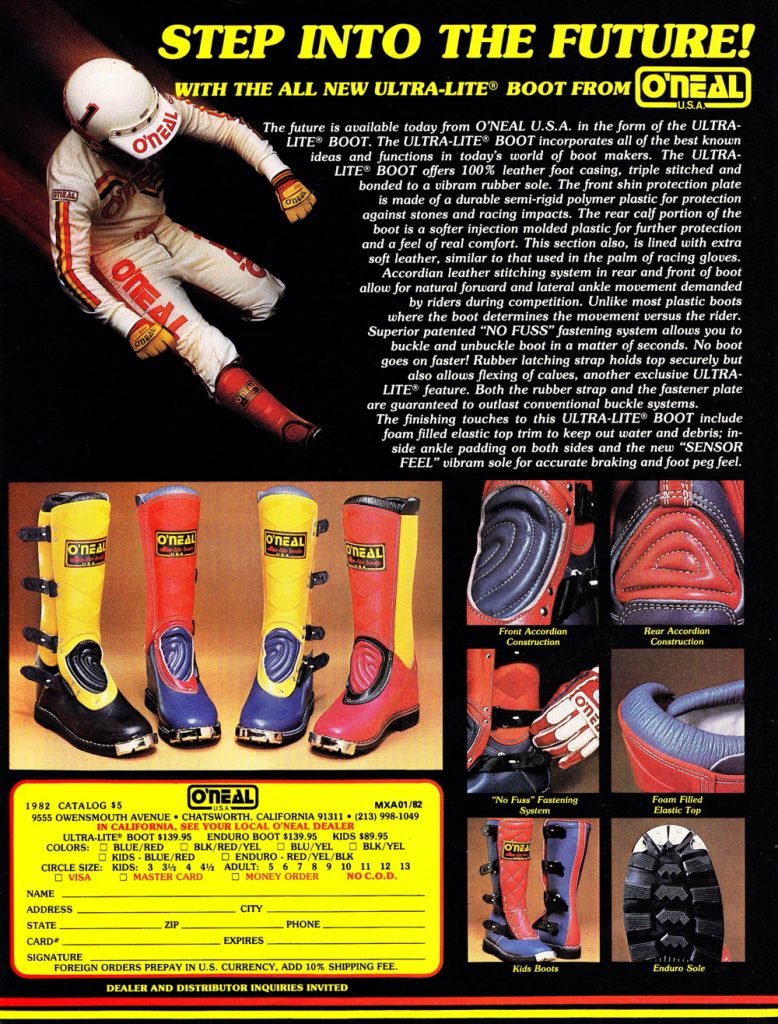 Photo Credit: O'Neal USA
Blaze: Stormtrooper-Lite: In 1982, O'Neal added to the Ultra-Lite line by introducing a new boot that was perhaps even uglier than the old AXO version had been. At $139 they were $20 cheaper than the Malherbe but not nearly as stylish. 
Matthes: The less said about these the better.
The Doctor: I don't remember these.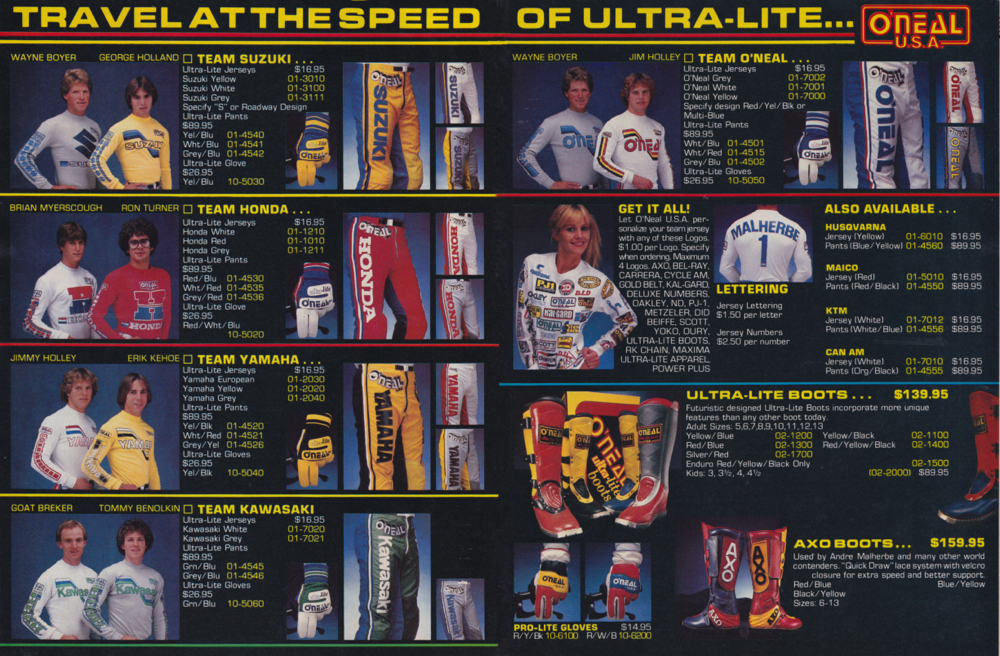 Photo Credit: O'Neal USA
Blaze: As was common for the time, the '82 Ultra-Lite line included designs branded for all the major Japanese manufacturers. I used to love it when they did this, and I thought it was a bummer when the OEMs got a stick up their bums in the late eighties and cracked down on it.  
Matthes: Now THIS is the O'Neal that I remember from my childhood! They were starting to get some more style and had a huge roster of riders back then. That jersey or shirt or whatever just covered in logos was something I never saw in person, did they make that or was that just an example?
The Doctor: I was coming onto the local scene at this time, fighting for local pro class wins. I was still dirt poor, so I could only admire this stuff from a distance.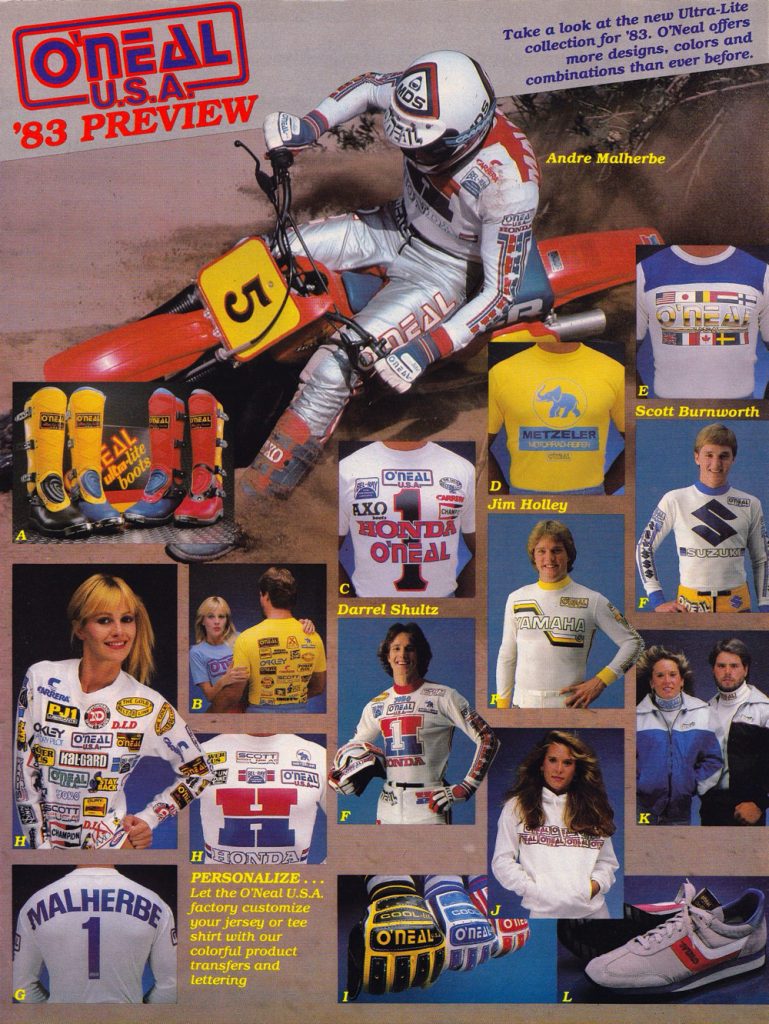 Photo Credit: O'Neal USA
Blaze: The fact that O'Neal was offering fully customized jerseys as far back as 1974 was damn impressive. I don't remember anyone else doing this for average Joe at this time. I would be willing to part with an absurd amount of cash right now for that Honda jersey 500 National Motocross champ Darrel Shultz is wearing here. Those Honda jerseys with the big red and blue "H" were so badass. 
Matthes: Andre again! Here's the thing with that Honda "H" that Blazier is talking about. It was so iconic and looked so good that all the companies used it so Answer, O'Neal, JT- whomever all had the same basic look and it was hard to tell from one company from another. Also, look at those silver pants Andre has! I would rock those today.
The Doctor: The O'Neal brand at this point was something I really wanted.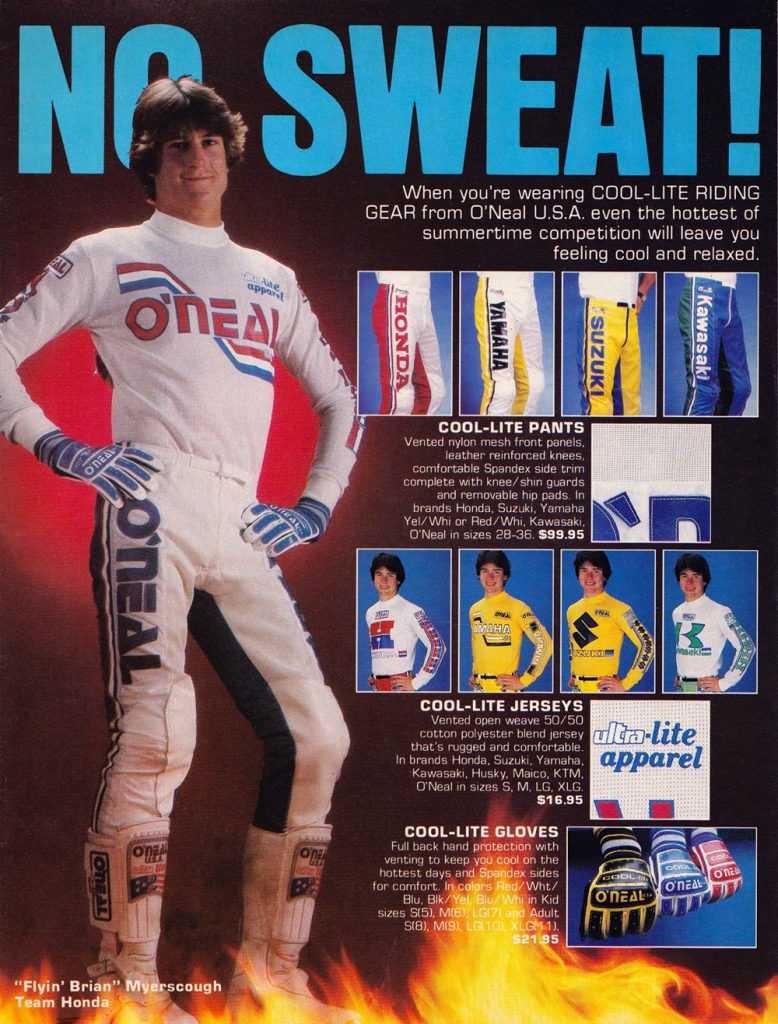 Photo Credit: O'Neal USA
Blaze: Here we have Flyin' Brian Myerscough modeling O'Neal's latest additions to the ever-growing "Lite" lineup for 1983. Considering less than a decade before these guys were riding in leather pants and rugby shirts, this vented stuff had to be a revolution in hot climates like SoCal and Florida. 
Matthes: Oh what could have been for Brian! This was the year he won the first moto at the Unadilla USGP and was gone in the second moto before getting tired. It would've been a big win for him and O'Neal. Look at the fire on the bottom of the ad; it's pre-emoji so clearly, O'Neal saw the future.
The Doctor: Ever since I went to the Saddleback National in (I believe 1980) I was a huge Myerscough fan.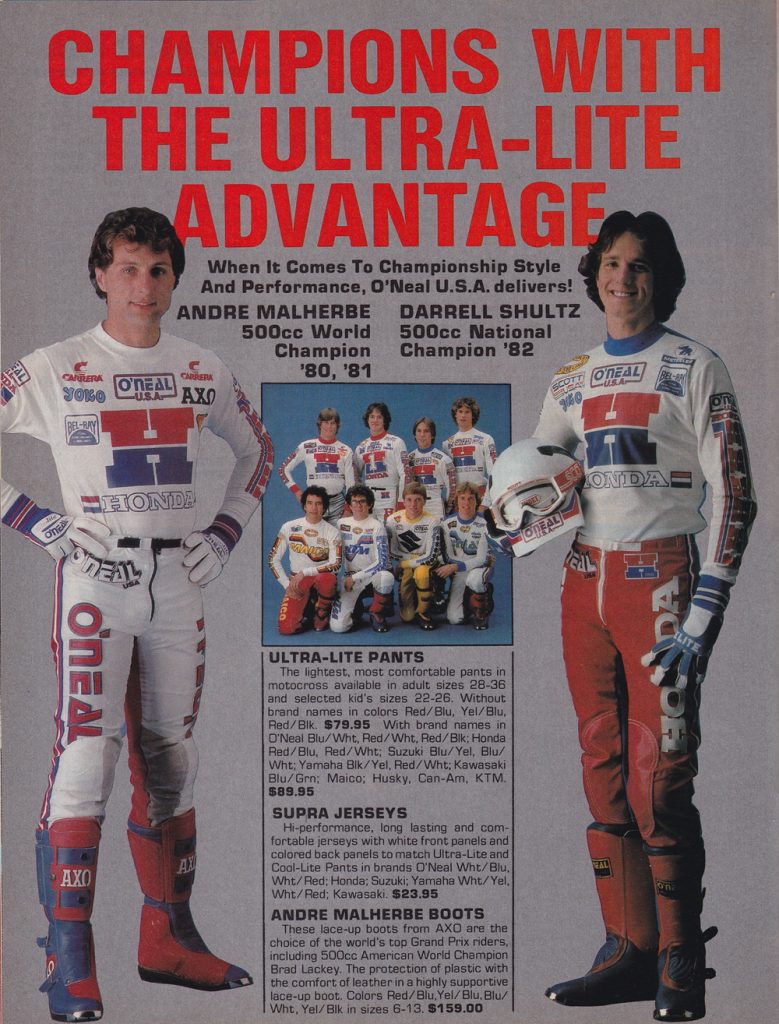 Photo Credit: O'Neal USA
Blaze: O'Neal had a fair amount of star power in their gear in 1983. André Malherbe would go on to win a third 500 World Motocross title a year later in 1984, but injuries would force an early retirement for Darrell Shultz before he could defend his '82 500 National title. 
Matthes: Shultz sounded like a unique guy and he never got a real chance to defend that title and again, there's Andre!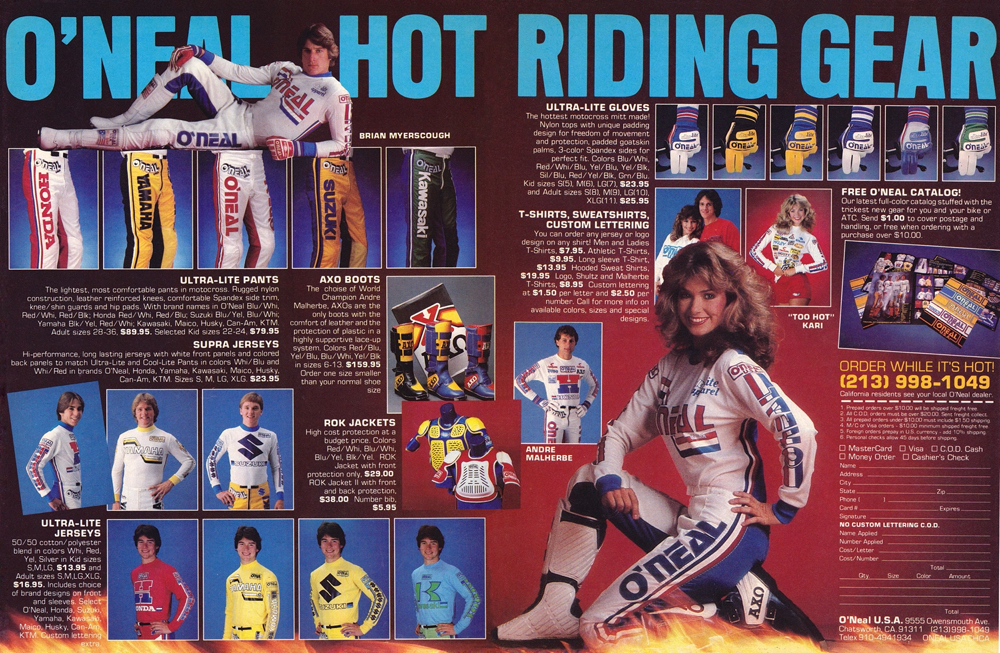 Photo Credit: O'Neal USA
Blaze: The 1983 lineup is pretty good looking overall, but I have to wonder what color blind nimrod thought sky blue and Kawasaki green would be a great color combination. Ugh… 
Matthes: Looking at this ad reminded me that O'Neal just never ever got the chest pro right you know? I'm sure we'll cover this when the Rok Blok comes out but they never had a V-2000, Roost-2, whatever that Answer one was called—a signature chest protector might've helped.
The Doctor: Ah, Gary Bowman…my nemeses from saddleback for a few years. Maybe from Jimmy Holley's influence, but this was the beginning of them bringing "hot chicks" into the ads.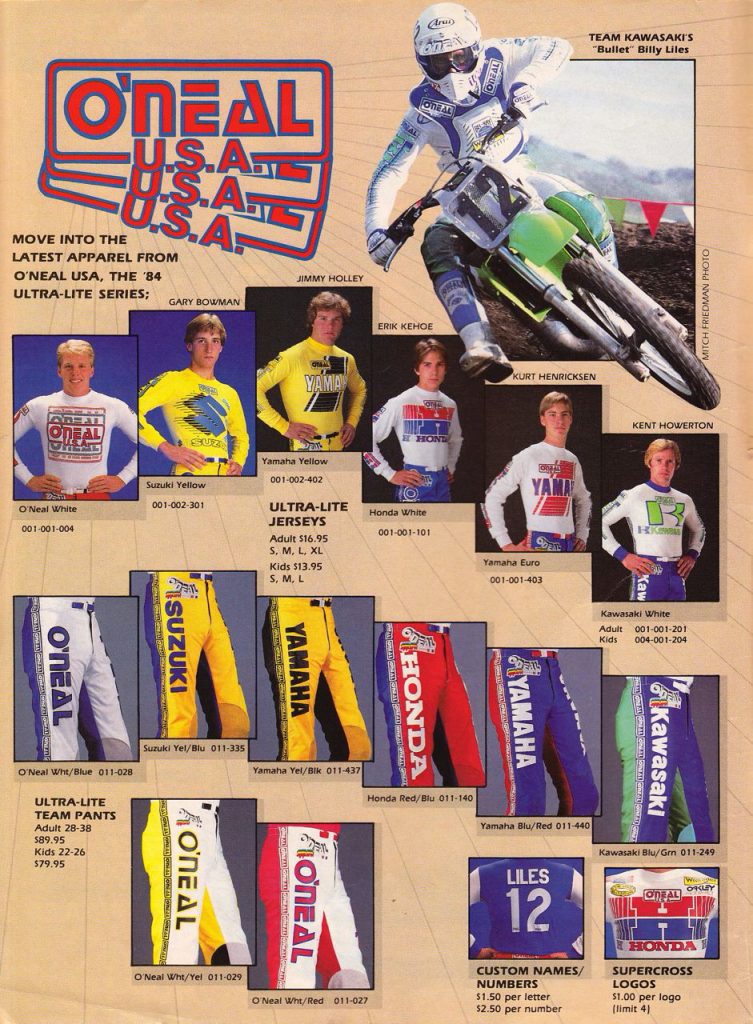 Photo Credit: O'Neal USA
Blaze: With the retirement of Darrell Shultz the door was opened for Billy Liles and Kent Howerton to make their way into the O'Neal stable for 1984. 
Matthes: Bullet Billy was fast this season for Kawasaki! Howerton won Superbikers this year wearing O'Neal. Between that and Hollywood appearing in Dirt Bike magazine every single month, O'Neal was blowing up! Gary Bowman had to have been pumped to get in an ad BTW.
The Doctor: I came on board in '85 and this was basically the stuff I was first introduced to.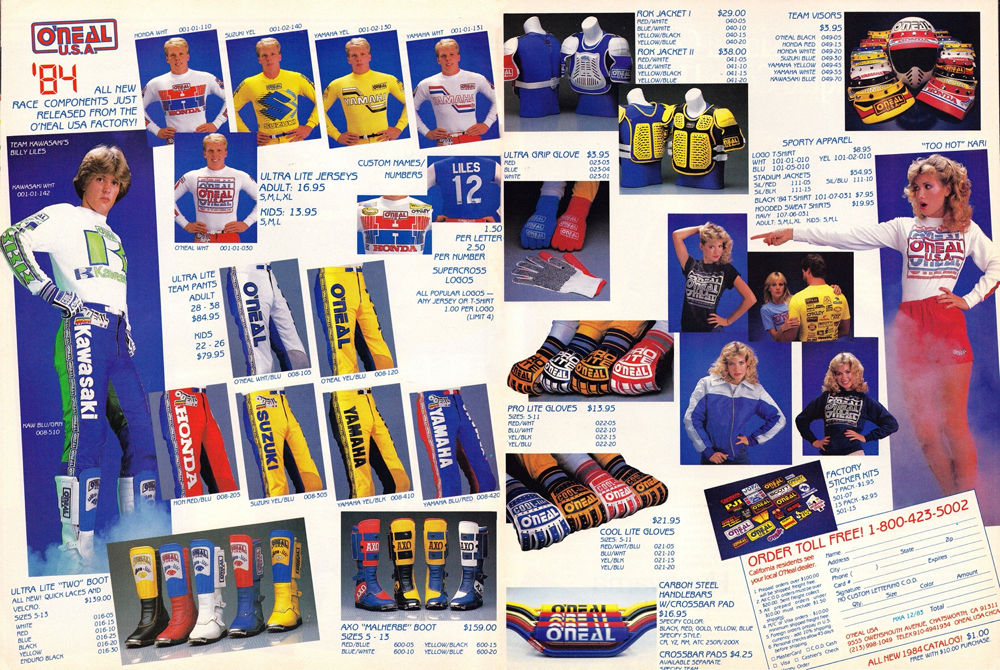 Photo Credit: O'Neal USA
Blaze: Overall, I really like O'Neal's gear for 1984. The new Ultra-Lite Two boots are 300% better looking than the first ones and the revamped Ultra-Lite pants are pretty handsome overall. I am particularly fond of the yellow and blue O'Neal ones. I have always thought this was Suzuki's best color combo and it pops on the gear as much as it did on the bikes.  My only complaints are the new Honda jersey logo, which is a bit too busy for my tastes and the continuously terrible-looking gloves, which have been pretty hideous since day one.
Matthes: These boots were popular up in Canada and I actually had a set of the blue and white ones that didn't match my red and white Yamaha. That Kawasaki look with blue and green on Liles is good. I could be wrong here but I think that's the same chick in every ad so far?
The Doctor: Probably one of Holley's girlfriends.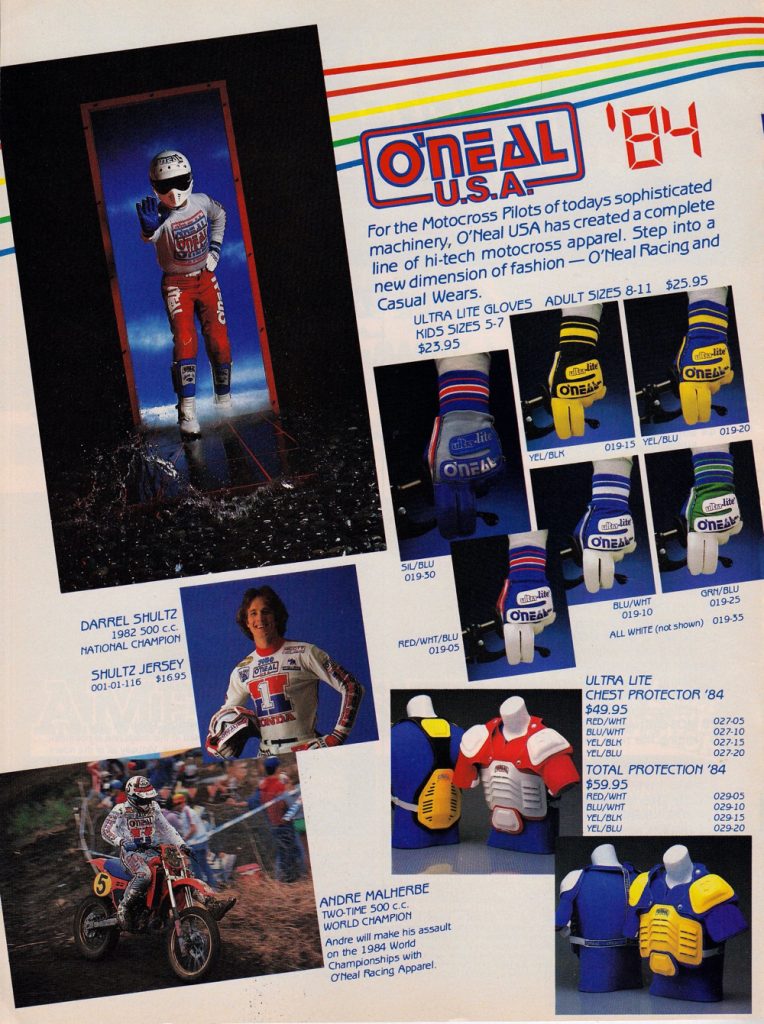 Photo Credit: O'Neal USA
Blaze: These Ultra-Lite gloves are nothing to write home to Mom about, but I do think they are significantly better looking than any of the other ones in the O'Neal stable. That new Ultra-Lite Protector, on the other hand, is about the ugliest piece of motocross equipment I have ever seen. Whoever designed this must have been getting paid to sabotage their lineup. Fuuuugly... 
Matthes: Told you, Blaze! Jim could never get the chest pro right. This ad was clearly some sort of homage to Star Wars.
The Doctor: Not their best stuff.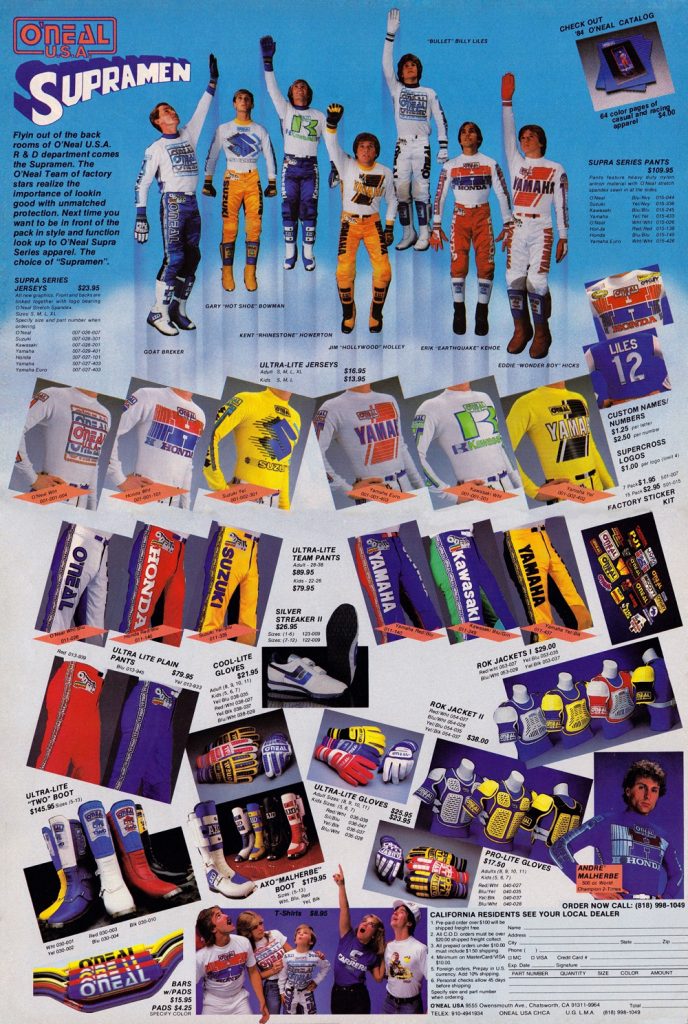 Photo Credit: O'Neal USA
Blaze: Check out all the rad nicknames in this 1984 O'Neal "Supraman" ad. Goat, Hot Shoe, Rhinestone, Hollywood, Bullet, Earthquake, Wonder Boy, these are proper nicknames people. Today they would all just be a bunch of lame initial and number combinations.  Let's make nicknames great again! 
Matthes: I agree Blaze…but what's with the "Supramen" tagline there? I understand they didn't want to get sued by Superman but did they all drive Toyota Supra's? I don't know, still kind of funny.
The Doctor: They were the king of the nicknames. They threw several at me, The Surgeon, The Doctor, Doctor D. finally one of them stuck.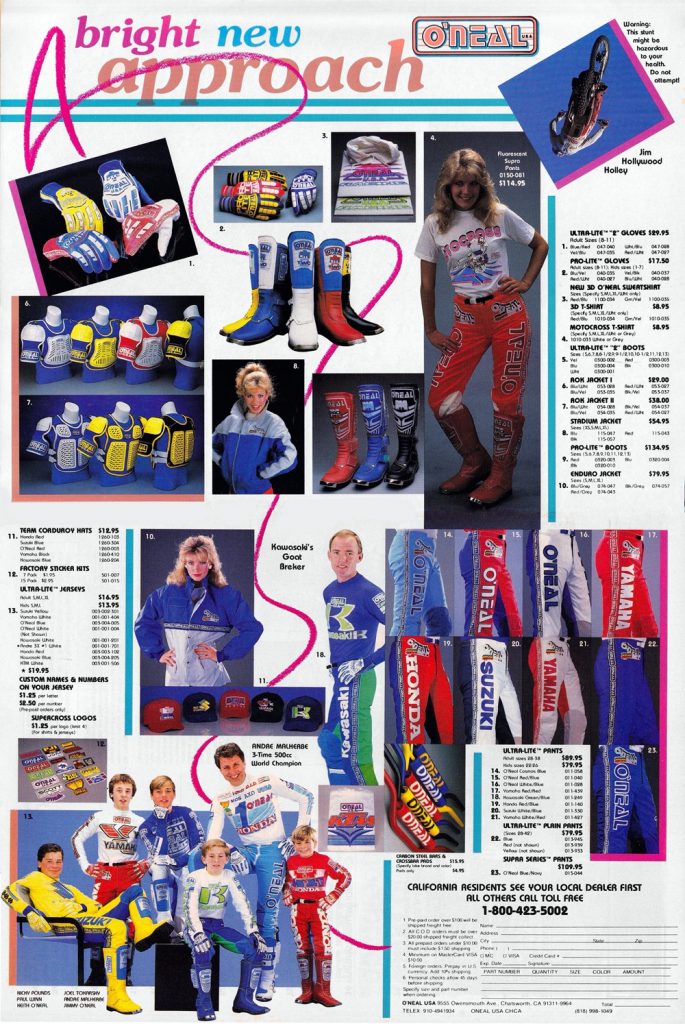 Photo Credit: O'Neal USA
Blaze: Fluorescent gear was starting to become all the rage in 1985 and O'Neal was right there with some sweet Day-Glo offerings for the masses. Of note is the absence of the awful Ultra-Lite chest protector of 1984. Apparently, everyone else thought it was just as horrible as I did, and O'Neal cut theirs loses quickly. Those old-fashioned Rok Jackets looked about a decade behind the times (particularly compared to JT's sano V-2000), but at least they were not going to get you pelted with rotten tomatoes by onlookers. 
Matthes: Goat Breker makes an appearance and there's good ol'Andre but this time with a bunch of kids. See, he IS a good dude! Although two of them are Jim O'Neal's kids, still it's good to see. Warms my heart.
The Doctor: The 1980s colors were the best!!!
Photo Credit: O'Neal USA
Blaze: For 1986, O'Neal finally launched a replacement to the Ultra-Lite line. These new Bullet Pants offered injection-molded plastic logos, a clean design, and an array of super-bright colors. For me, this is where O'Neal started appearing on my radar as a legit competitor to JT in the style department. Good-looking pants. 
Matthes: Agreed Blaze. This is the same chick, right? One of our local pros in Canada wore the flo-orange pants on his Honda and it never looked quite right. If I remember right they also faded after some washes so the hype didn't last long. The Yamaha red and white pants and jersey were a strong look. O'Neal was very strong in my area of Canada growing up.
The Doctor: This was actually great gear. The fit was good and it was very durable.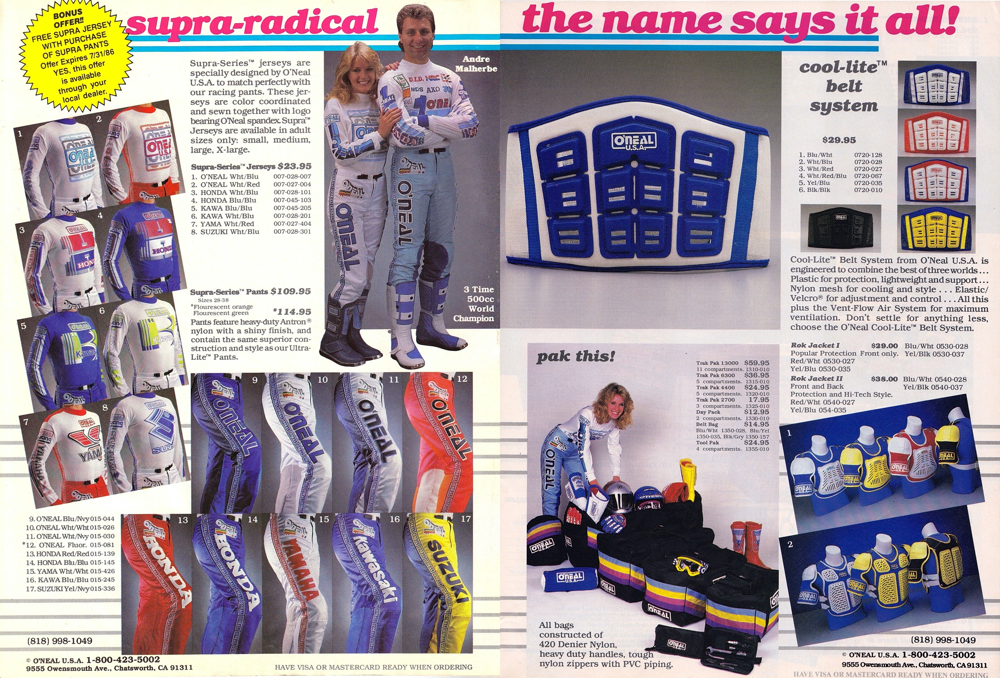 Photo Credit: O'Neal USA
Blaze: This Supra (not) radical gear was starting to look a bit long in the tooth by 1986. The basic design had not changed much since 1984 and while it was not ugly, it was also pretty boring compared to the bold designs being released by Fox and JT. That Cool-Lite kidney belt was also pretty cheese-ball looking compared to the ultra badass Fox and AXO belts of this era. Check out the "AXO-less" AXO boots Andre Malherbe is wearing. Somebody colored out those logos but they are clearly still his signature boots. 
Matthes: That giant O'Neal bag was so big, you could put Jojo Keller in it.
The Doctor: I remember those gear bags. I could put half a bike in them to go do European races.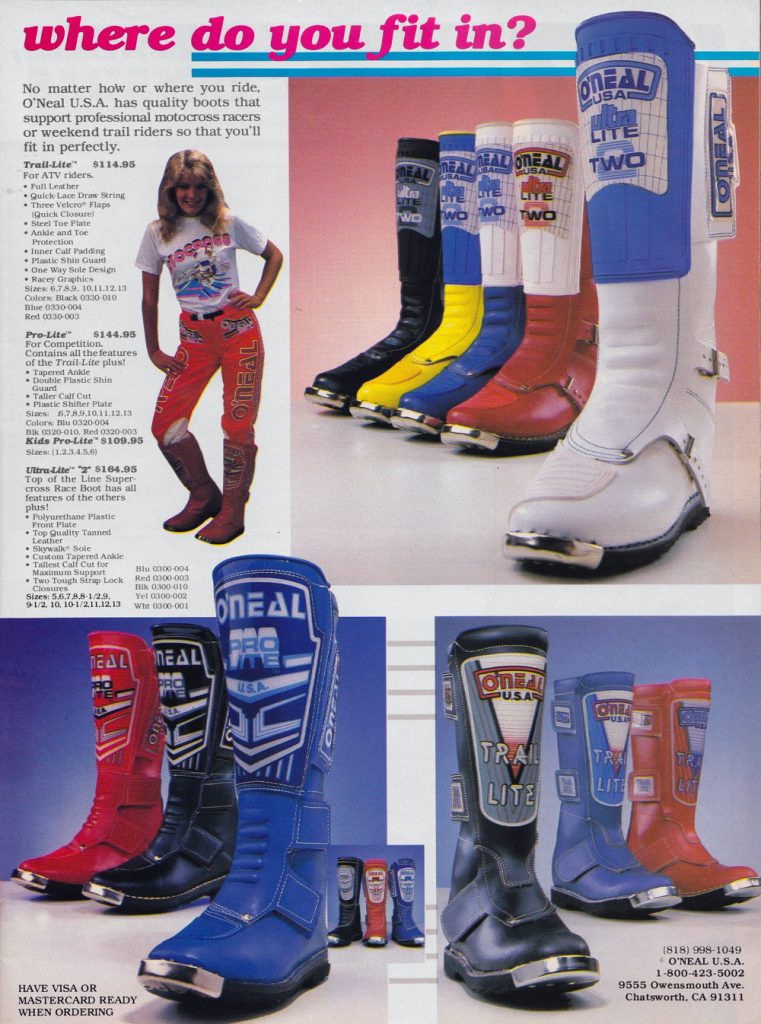 Photo Credit: O'Neal USA
Blaze: It is funny how Velcro was everywhere in the eighties. Even high-end boots used it as a replacement for traditional buckles much of the time. In spite of the fact the Velcro was not the most secure way to latch your boot, I do miss it every time I am struggling with some infernal buckle that refuses to cooperate. 
Matthes: Wait, these were the blue and white boots I had. The Velcro was massively strong though Blaze on these. Remember all the boots back then had the drawstring closure at the front, which was a good idea. Someone should bring that back.
The Doctor: the Velcro was great until it got mud in it from a crash.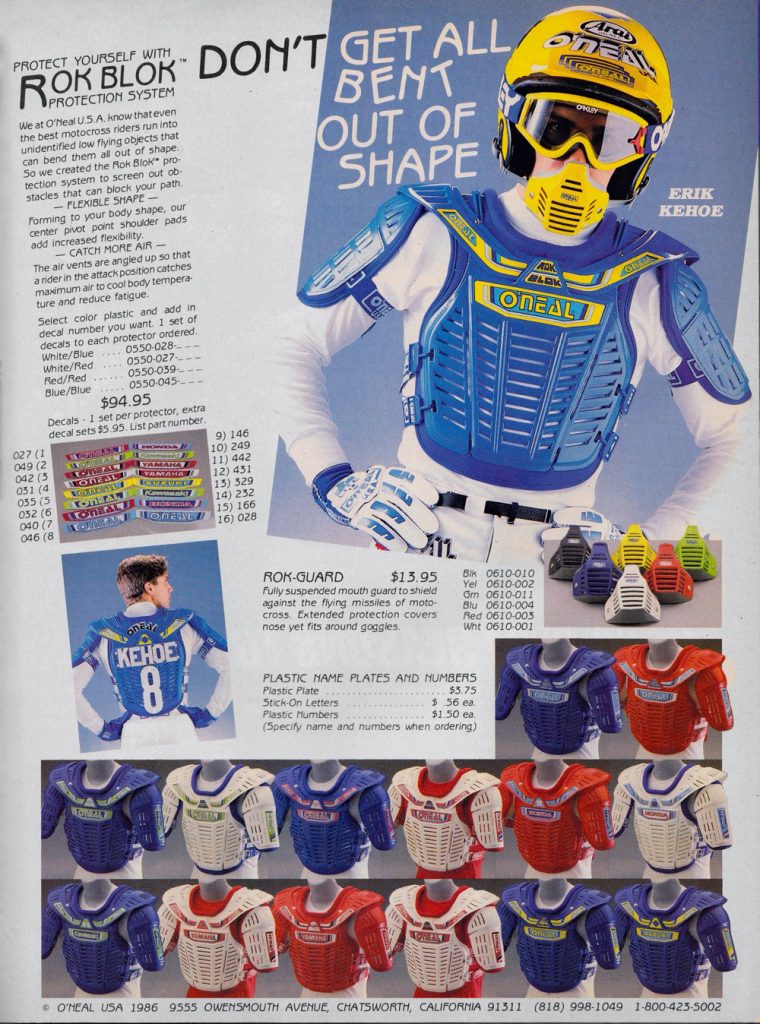 Photo Credit: O'Neal USA
Blaze: In 1986, O'Neal finally retired their seventies-era-looking Rok Jackets in favor of an all-new and much more modern design. In my opinion, the new Rok Blok was not as attractive as JT's V-2000 or Fox's Roost-2, but it was thoroughly protective and more eye-catching than anything else they had offered up to that time. By this point, I have to question anyone's rationale at running an open-face helmet, but if safety was not your thing at least the O'Neal Rok-Guard was pretty handsome. 
Matthes: As I wrote above, this thing never caught on and I forgot that O'Neal even made a Jofa knock-off! Did Dr. D ever wear this in a race? Did any O'Neal rider ever wear this at a SX or MX? Serious question.
The Doctor: I wore it as the front piece only. There is a great photo in '88, I'm in all red and white gear wearing this.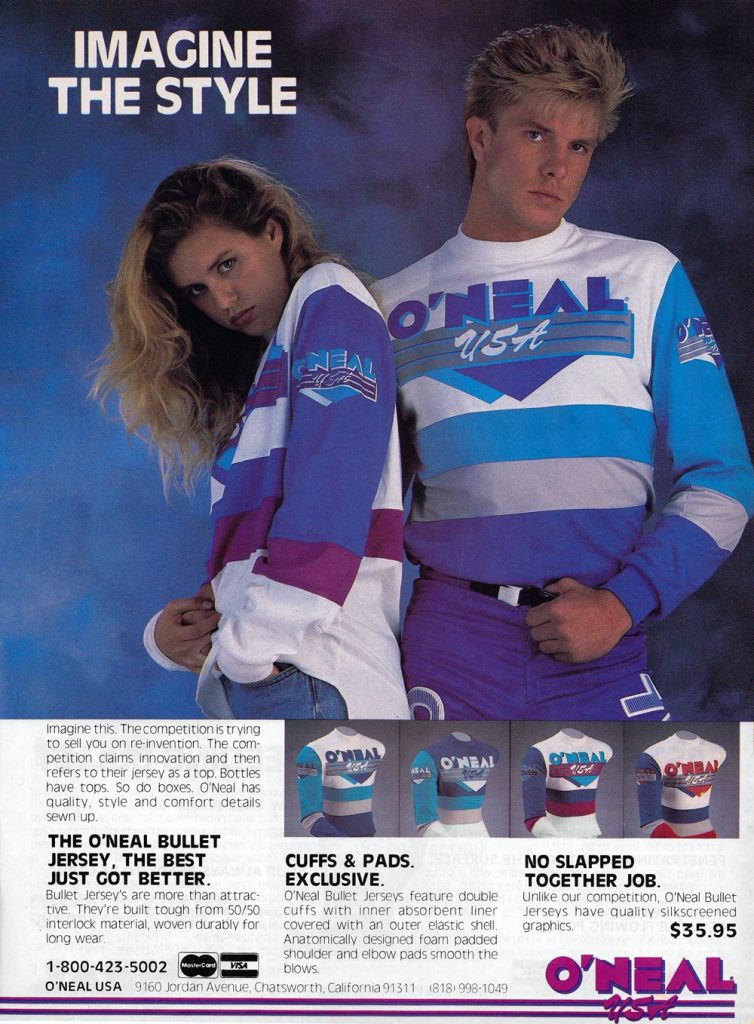 Photo Credit: O'Neal USA
Blaze: For 1987, O'Neal took another big step forward in style with the introduction of the new Bullet jersey. I really loved the new look of these jerseys and I think they are still really attractive even today. The multi-panel design is slightly reminiscent of AXO's '86 Superplus jerseys, but the new logo treatment is fresh and really unique. In my opinion, this is one of O'Neal's best-ever jersey designs. 
Matthes: New chick! Yes, Blaze, very much a copy of the AXO stuff around then but it's a good look. 
The Doctor: These jerseys were like sweatshirts, ok for SX but we would cut them to shreds for outdoors.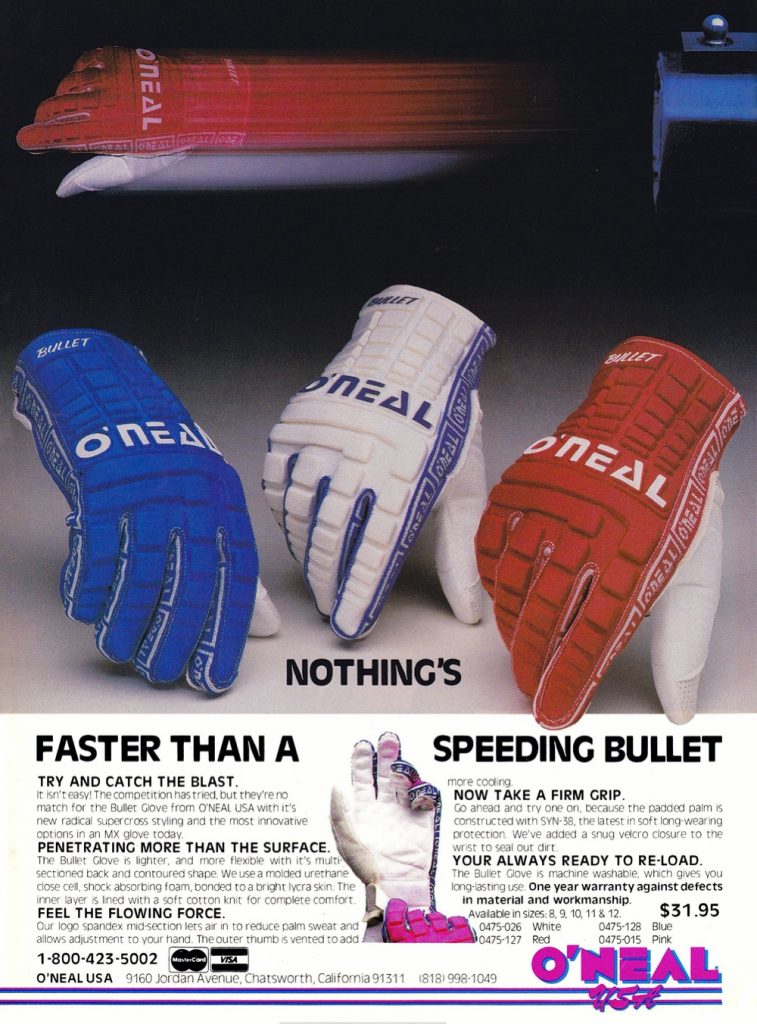 Photo Credit: O'Neal USA
Blaze:  Along with the new jerseys, we got some all-new Bullet gloves for 1987. Today, of course, people would be horrified by this level of protection, but in the eighties, we valued our knuckles for some crazy reason.  While I would not call these gloves particularly attractive, they were far better-looking than anything else O'Neal had offered up to this point. 
Matthes: I'm out.
The Doctor: The "oven mitts," not the best looking gloves but when you were at Binghamton…they were great!!!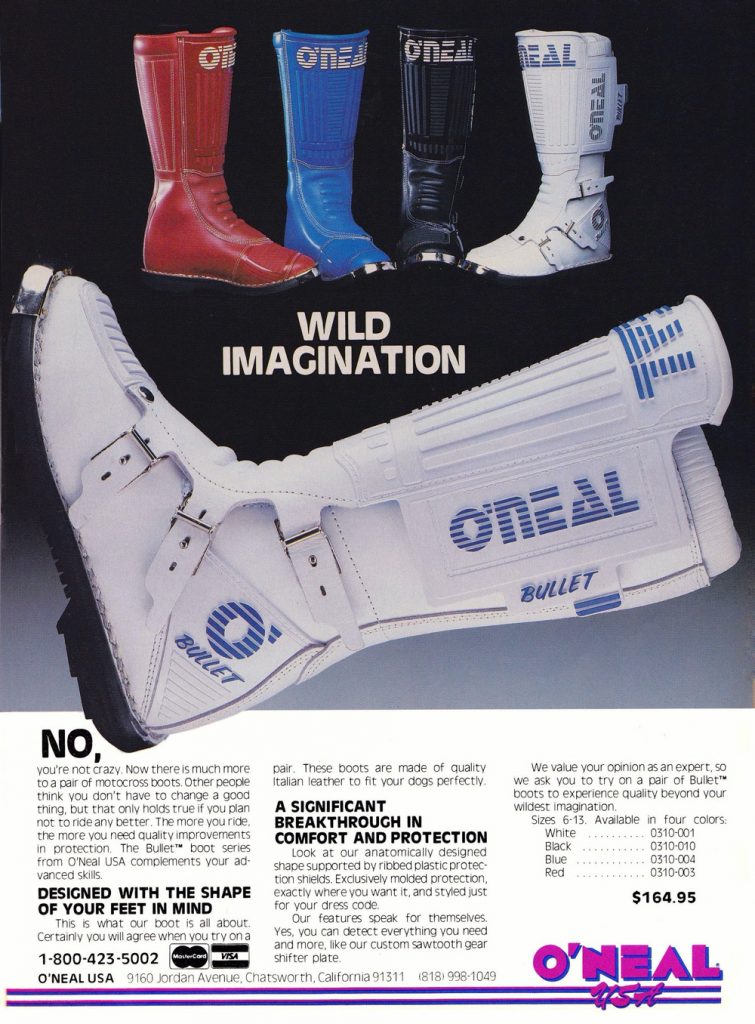 Photo Credit: O'Neal USA
Blaze: Americans love their ammo, so for '87 O'Neal dialed up some more rounds in the form of the all-new Bullet boots. Personally, I never loved the look of these boots. Something about the design of the shin plate and the logo placement always made them look ultra-wide and kind of cheap to me. I'm sure they were fine boots, but unless you were obsessed with being O'Neal from head-to-toe, I think there were better-looking alternatives available for similar money in 1987.   
Matthes: I'm good with the look of these Blaze but never saw these boots in person.
The Doctor: I wore these. Not great by today's standards…but I didn't know any better.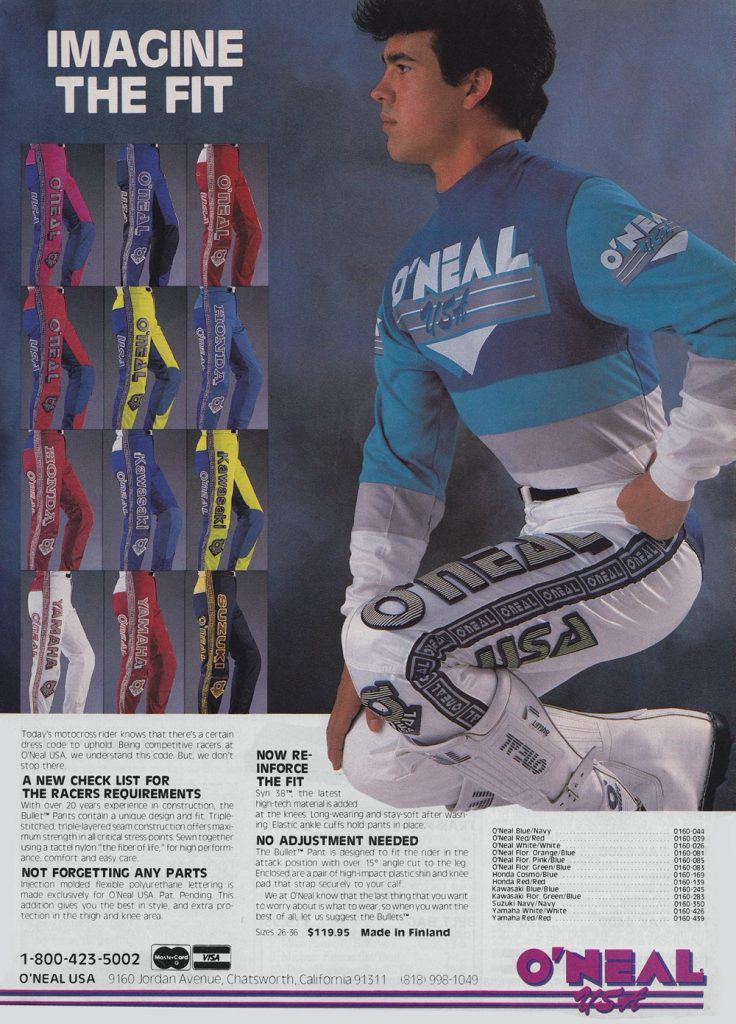 Photo Credit: O'Neal USA
Blaze: I really loved the new Fluorescent Pink/Blue colorway in the Bullet pants for 1987. 
Matthes: Good looking pant. Yes, I'm serious. Holley, Kehoe, and Dubach always looked pretty stylish right?
The Doctor: This stuff was great. Jim made us some one-off stuff at this time and it looked pretty sweet!!!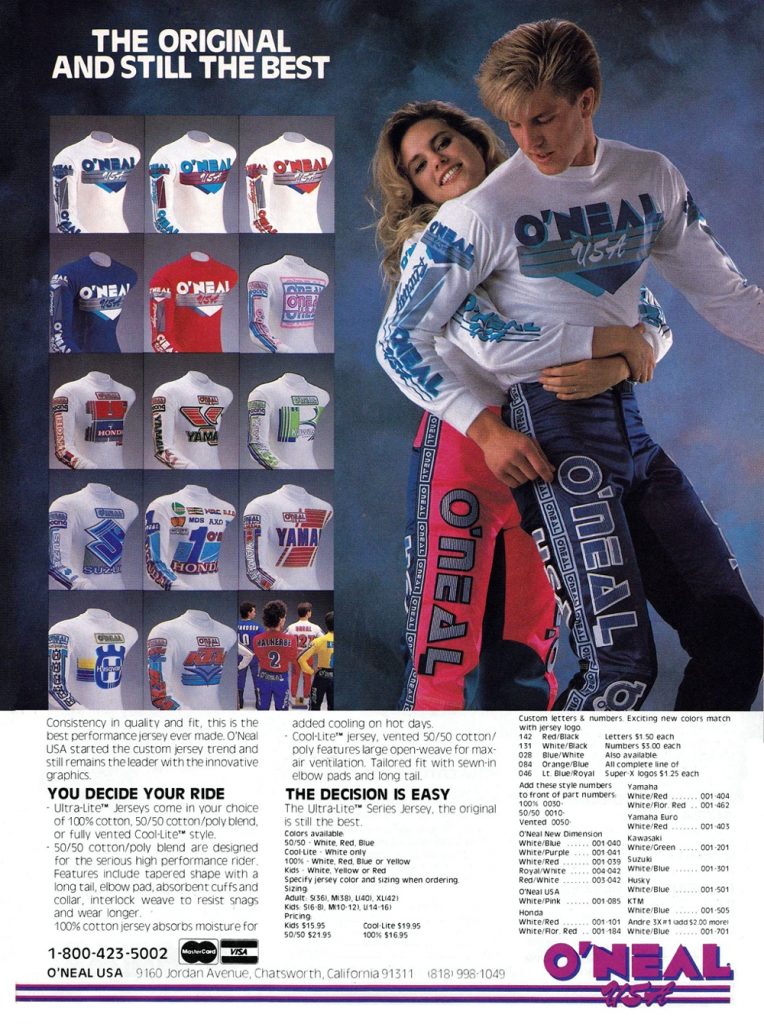 Photo Credit: O'Neal USA
Blazier: I dug the redesigned Cool-Lite jerseys with the new logos for '87 but the rest of these moldy-oldies belonged back in 1984. 
Matthes: I always liked that Yamaha logo. It was something a little different for sure than the usual big ol' Y. My buddy had that #1 blue Andre jersey on his CR80 and it just never made sense to me.
The Doctor: This again was some of my favorite stuff!
Photo Credit: O'Neal USA
Blaze: The Bullet jerseys and pants were back for 1988 with the addition of vented options being the only significant addition. 
 Matthes: Wonder if Jim just took the "bullet" line of gear from "Bullet" Billy?
The Doctor: The vented stuff was really nice on those hot summer days. The only downfall was at Southwick when you had 5 pounds of sand that would come in from the front of the pants.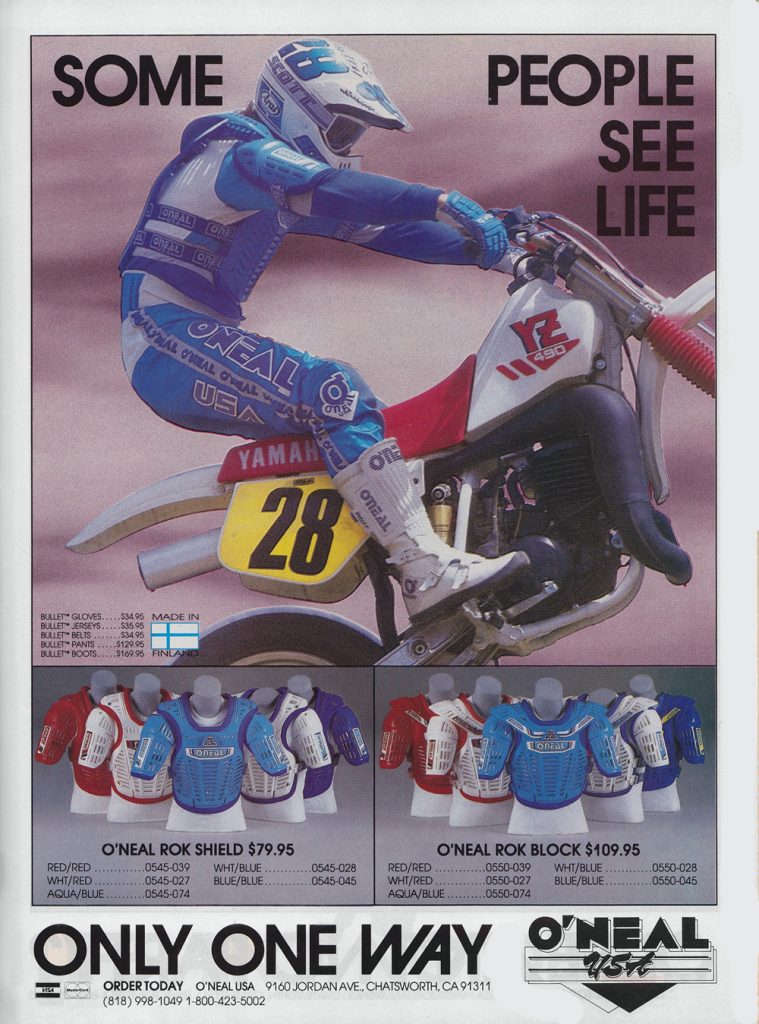 Photo Credit: O'Neal USA
Blaze: Jim Holley and the mighty YZ490 were still around and still in O'Neal for 1988. For my money, the addition of a more colorful option would have helped the looks of these Rok Bloks considerably.  
Matthes: I think this was from a race so I have my answer on whether anyone actually wore that Rok Blok thing at a race. But why would Jim pick a photo of Jim on a YZ490, perhaps the most unattractive bike ever for this ad? 
The Doctor: That was Jimmy's favorite bike then.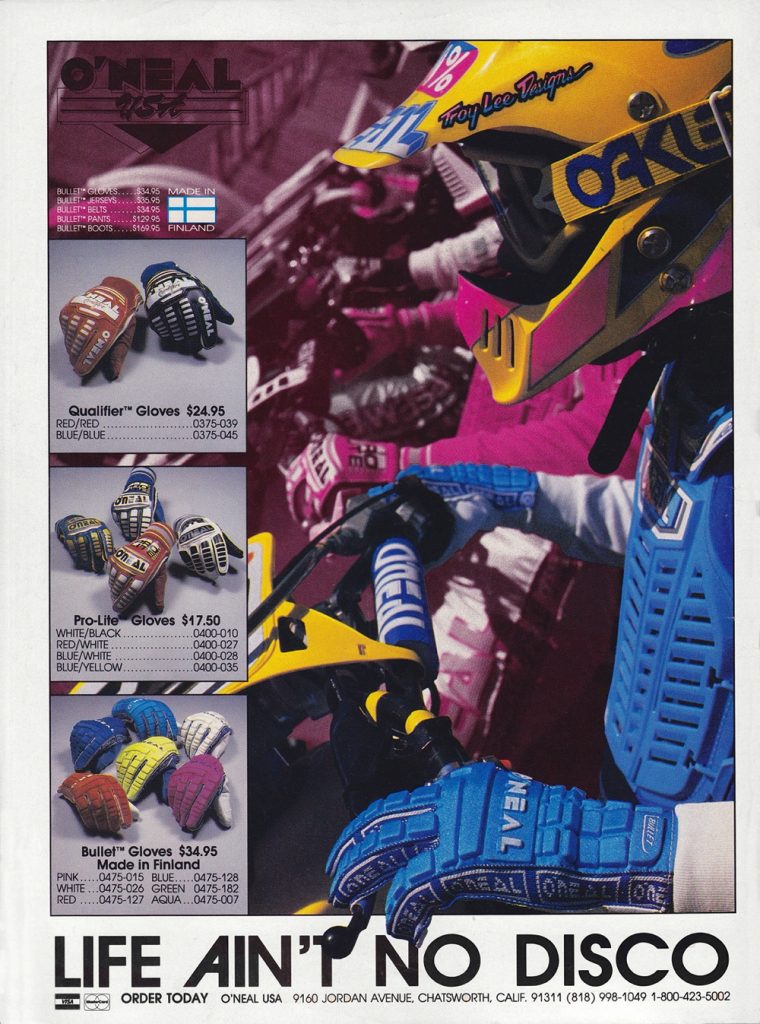 Photo Credit: O'Neal USA
Blaze: Like the rest of the O'Neal lineup the glove offerings were basically unchanged for 1988. On a side note, Erik Kehoe's Troy Lee Designs helmets in 1988 were easily some of my favorites of the era. That yellow with neon pink combo absolutely popped and looked fantastic with Kehoe's O'Neal gear that season.
Matthes: A lot of the O'Neal riders, Dubach included, ran that big ass O'Neal sticker on their visors. Serious coverage with those gloves and yes, Kehoe looked great this year.
The Doctor: Jim and his visor stickers…ask Goat about that sometime.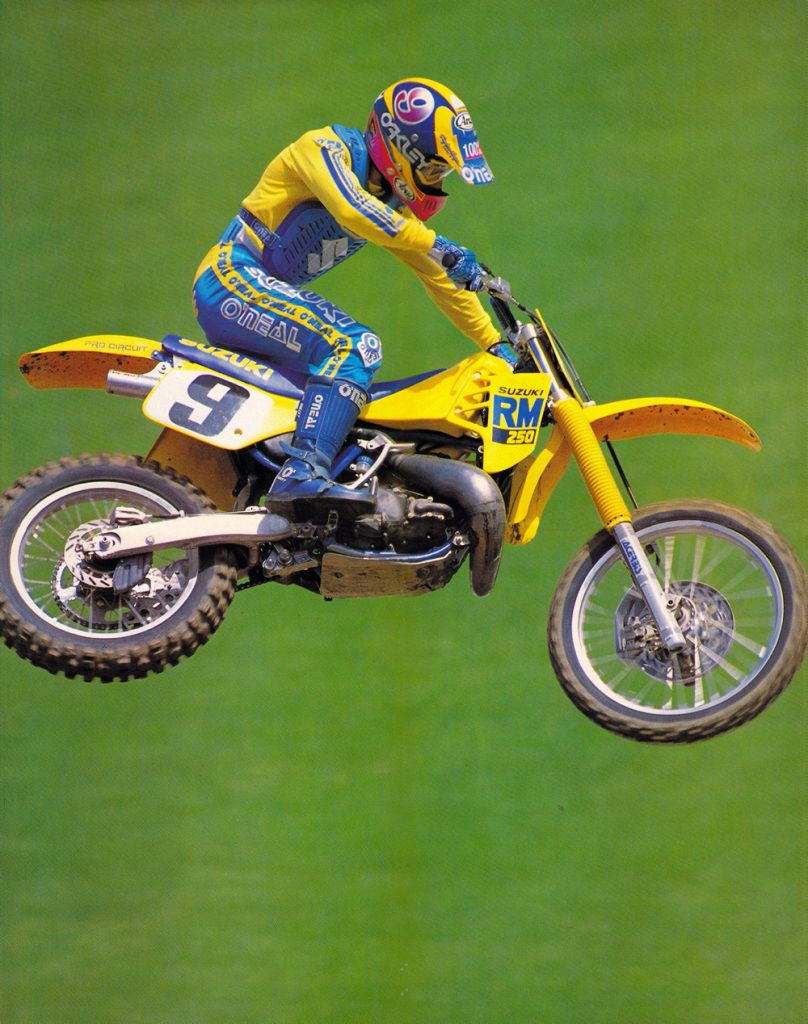 Photo Credit: Kinney Jones
Blaze: Damn this was a great look in 1988. For my money, you can never go wrong with Suzuki yellow and blue. 
Matthes: There's the sticker and yep, strong look for the Earthquake. 
The Doctor: That's a great photo!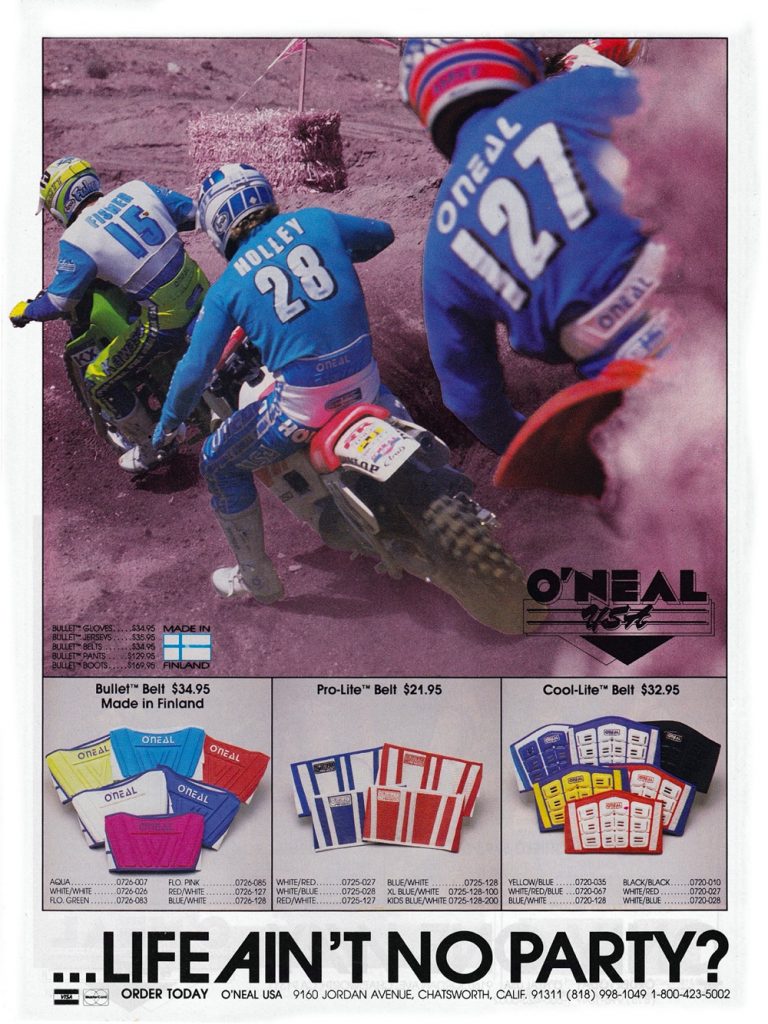 Photo Credit: O'Neal USA
Blaze: The new Bullet Belt (man when they get stuck on a name, they really run with it) finally gave O'Neal a fighting chance in the kidney belt wars. 
Matthes: I mean, by this point kidney belts were starting to go away right? This is 1988 and I feel like they didn't go much longer before we all ditched them. Keith O'Neal started to appear in the ads at this quite a bit. Did he ever race pro?
The Doctor: I wore one.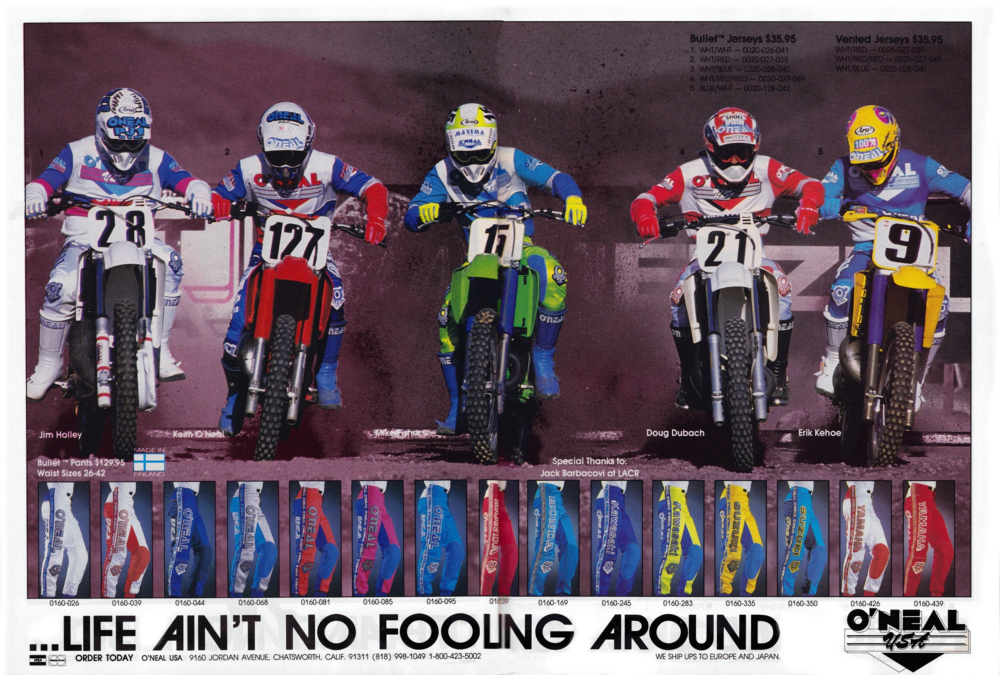 Photo Credit: O'Neal USA
Blaze: This ad from 1988 has always been one of my favorites from this era. The bikes, riders, gear, and action are all on point.  Great gear, great era, and a great ad.  
Matthes: Lots of major stars in this ad, imagine trying to get four top riders together now for an ad like this? Then there's Keith in the middle, just hanging out. Hollywood just got the big ass O'Neal sticker painted on his visor to save him time. 
The Doctor: This was my first O'Neal photo shoot. It was this day that I realized how frugal Jim was. For an eight-hour photo shoot, he brought one loaf of bread and one package of lunch meat for ten of us to share.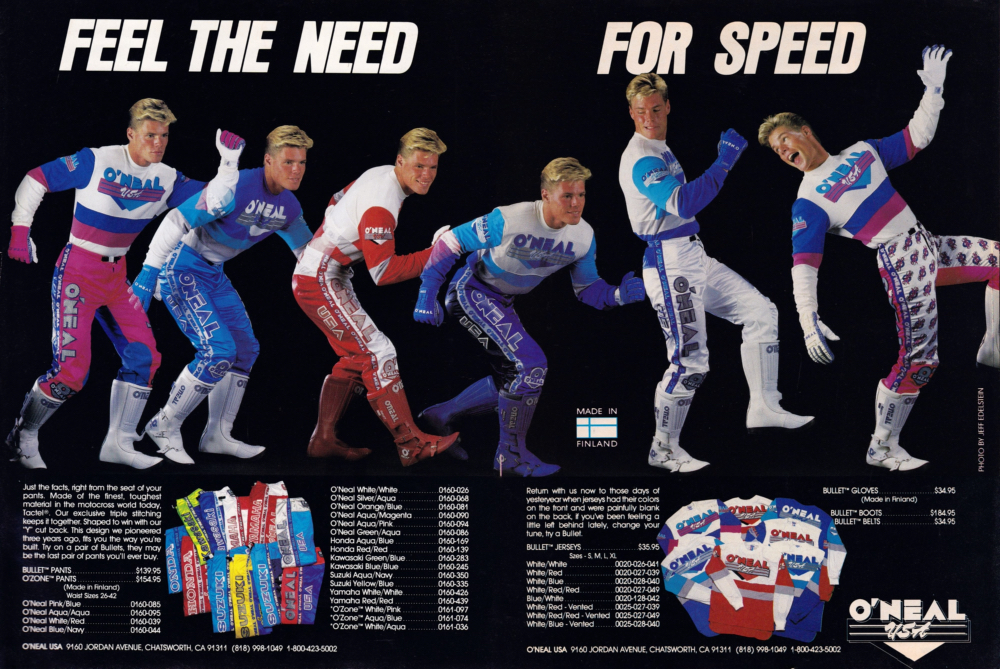 Photo Credit: O'Neal USA
Blaze: It is interesting to me that today the motocross gear companies seem to iterate at a breakneck pace, but in the eighties, O'Neal was content to basically keep the same designs in the lineup largely unchanged for three to four years. For 1989, the only big news was the addition of the new O'Zone pants on the far right. I can only assume this was a reaction to the success Fox and JT were having with their colorful and bold print designs. 
Matthes: Those things on the far right are NOT good. I'm out on the dancing men modeling new gear also.
The Doctor: I must have been busy that day…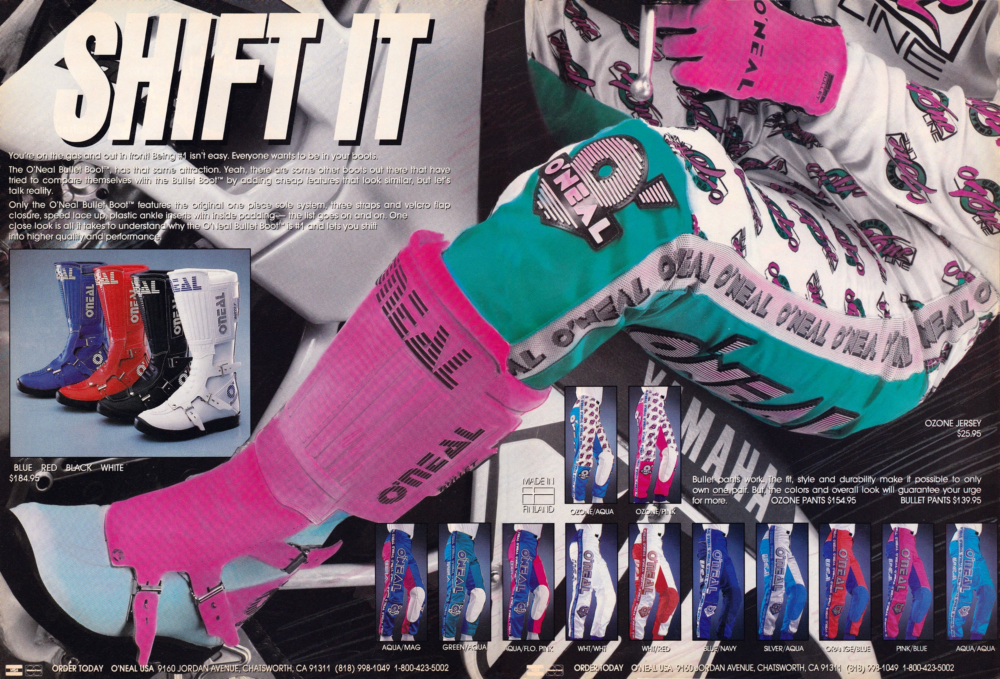 Photo Credit: O'Neal USA
Blaze: Even in 1989, I did not care for this O'Zone gear. I'm sure somebody bought it, but it was not really my cup of tea. One addition for 1989 that I did dig was the new Aqua/ Flo Pink Bullet colorway with one blue leg and one pink one. If I was buying O'Neal in 1989 this would have been my pick for sure.
Matthes: No, no, no and no.
The Doctor: No thanks, I never raced in this stuff!!!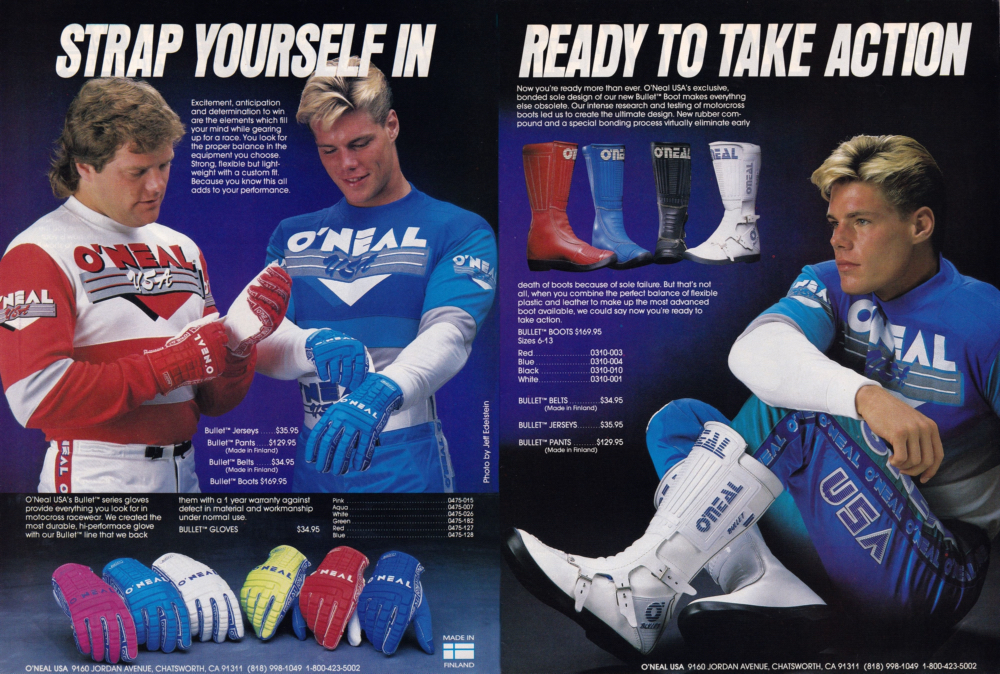 Photo Credit: O'Neal USA
Blaze: There was not much to report in the boots and gloves department for 1989 at O'Neal. Both were in their third year on the market and in need of at least a cosmetic refresh.  One thing that did not need updating in this ad was Jim Holley's mullet, which was the very definition of Mississippi Mud Flap perfection. 
The Doctor: This stuff was getting long in the tooth. Jim did, however, make us some cool one-off gear that had different color combinations.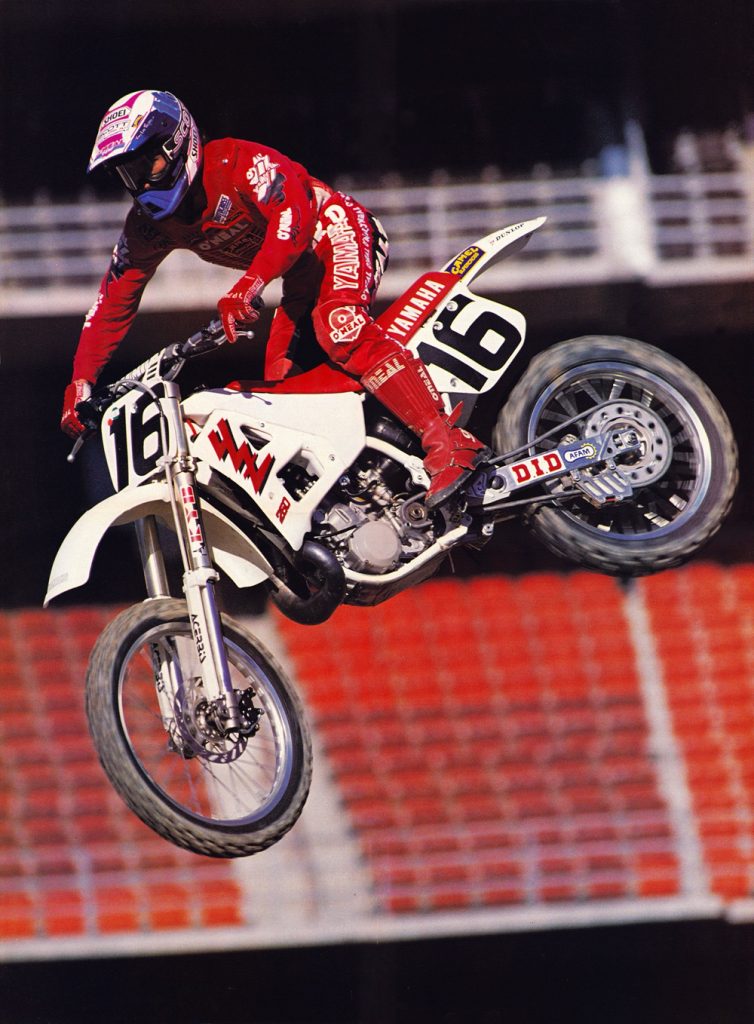 Photo Credit: Kinney Jones 
Blaze: The Doctor's clean monochromatic O'Neal look was quite a contrast to his brash 125 teammate Damon Bradshaw's kaleidoscope of Fox colors in 1989. 
Matthes: Steve Butler's custom numbers on point right here and I loved that Shoei when it came out. This a good look for the Doctor.
The Doctor: This was some of the custom color schemes that I was referring too. This stuff looked great!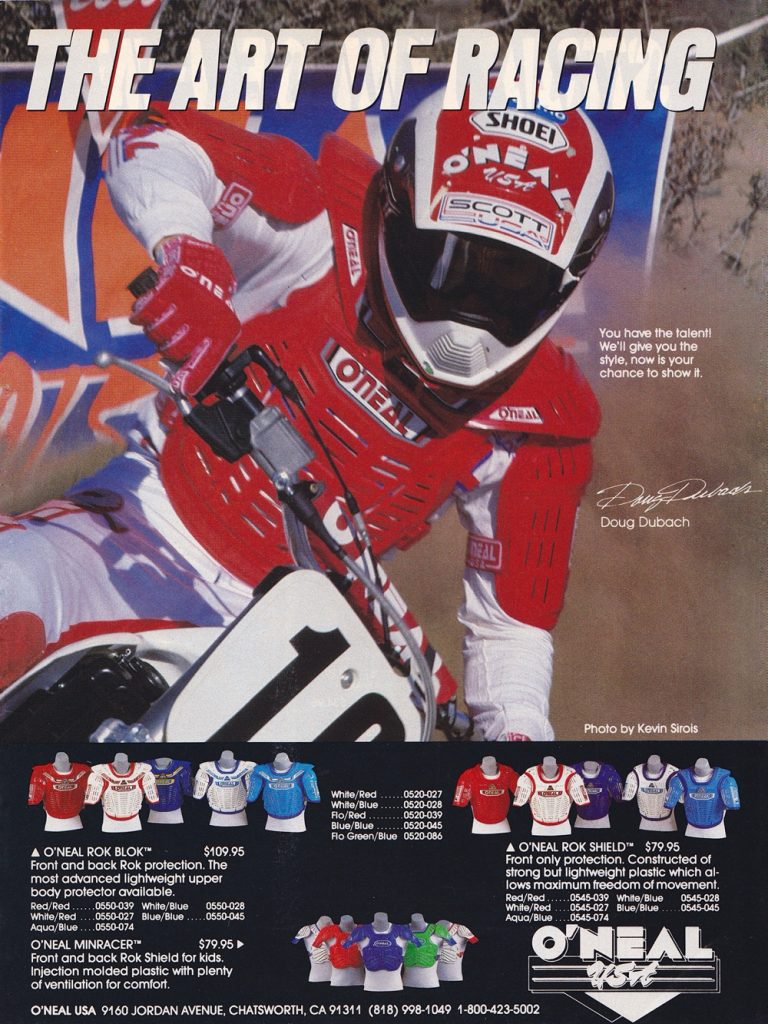 Photo Credit: O'Neal USA
Blaze: While they were never one of my favorites. I will say the look of these Rok Blok chest protectors improved greatly with the right gear and color combination. Taking those arm guards helped too and gave the overall design a more streamlined look. 
The Doctor: I wore the front only at a couple of rocky tracks, Unadilla and Binghamton. 
So, there we have it, a look back at O'Neal's gear in the 1980s. In our next installment, we will cover my favorite era for O'Neal's gear, the 1990s.
For your daily dose of old-school moto goodness, make sure to follow me on Twitter and Instagram – @TonyBlazier
For questions or comments, feel free to drop me a line anytime at TheMotocrossVault@Gmail.com