PulpMX Show (Steve): What a ride. We were discussing this earlier. First half of the race, hanging out, doing all right, everything's okay. Kenny is sprinting, and then you go into beast mode. Do you find some lines? What clicks in your brain to all of a sudden start dropping your lap times like you did?
ET: Well, what was on my mind at that point was… The first part of the race is always a hot pace. It's easy to blow yourself up early if you're going too hard early, especially at that track the way it gets, how bumpy it gets. So really it was just a patience game for me. Then I'm like, all right, I need to get going if I'm going to get anywhere near Ken, because I was eye-balling him and he was sliding away. So, it ended up working out that way. My plan worked out. Be patient and then make the attack. A couple of guys made mistakes. Most of my passes actually were on mistakes. The Barcia pass was a tip-over. Cooper kind of tucked his front in the sand. But that's just the way it went. The cards just kind of fell the right way for my position.
PulpMX Show (JT): When Kenny's out there, he gets out to ten or twelve seconds, whatever it was, are you stressing at that point? Because you still had to deal with Anderson and Webb at that point. I was like, at some point, Eli is going to drop the hammer and I don't know if it's going to be enough or not. But I was always curious because you have this ability. You dropped into the 1:10's where no one could go, and then you start catching him. I'm like, is he waiting? Is he stressing? Obviously it sounded like you were being patient. I was just wondering your mindset. Are you nervous about Kenny getting away? But it sounds like you were. 
ET: If you would have asked me the question the first half of the race, yes, I was nervous. Then the second half, no. One of the two laps there I pulled big time out. I'm like, I'm back in this thing. I think I looked up at the timer and there was five and a half minutes left. I caught him within those next two laps or something. But I was stressing. I'm like, I'm supposed to win this race and Kenny is out front again and I've got to pass Jason, Cooper, and Barcia and those guys. I'm like, this is not good. But it worked out.
PulpMX Show (Steve): Did you find some better lines, too? Or did you stick to what was working for you? I didn't really see any. I wasn't there, so I just watched TV. It looked like you stuck to your lines. I don't know if it just was a matter of picking it up, or if you found some better ones.
ET: The only time I moved or changed lines was the whoops section. I started the main, if you're on the track on the right side, and then I moved over to the left side and kind of was riding the edge. That was more consistent for me. Then the option line would work if you started on the inside and ended on the outside, if you could get the triple clean out of the turn. That's what was really hard about that. I missed that two or three times. If you miss it though, you'd give up more time.
PulpMX Show (JT): Pumping up high there kind of sucked. You could just see your frustration when you were like, oh crap. Now I got to jump up here, and then land…
ET: Yeah. Anyway, I got that clean a few times, and then I would start catching those guys. But there wasn't tons of lines out there to make up huge time. I was kind of just riding, it felt like. 
PulpMX Show (JT): That inside in the sand, you started going inside in the right-hander and then going all the way down the inside of the sand. That seemed like you were gaining. That's where Webb made a mistake there, and you were making up a lot of time on Kenny. Then I noticed once you started really dropping your lap times getting into that next right, and then the left before the triple, you were crushing those two corners. No hesitation. Everyone was like not super aggressive, and you were just in and out of those so fast. I know how that kind of feels. You just get in the zone and you're not even thinking anymore. You're just riding. It was noticeably faster than what everybody else was doing. 
ET: Yeah. My focus was being clean through those two ruts for sure. You got to try to make up time in those dead spots.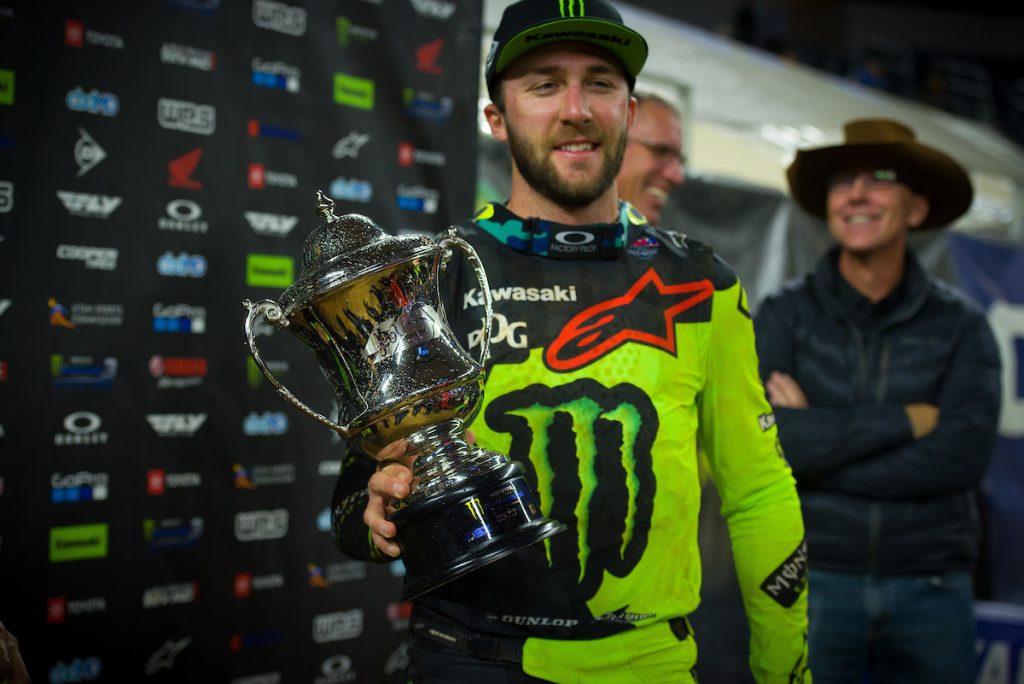 PulpMX Show (Steve): Not the greatest Daytona track we've seen. I know RC is limited with some stuff he's got to do, as far as the logos and sprinklers and the room. There's certainly been better Daytona tracks. I know he tried to bring it old-school a little bit this year too. I wasn't a fan. I talked to a lot of riders that weren't a fan. Did you like it, Eli? Obviously you rode amazing and you won, so maybe that skews it, but walking it, you had to be like, oh boy. Starts are everything here. 
ET: I didn't really have any thought. I didn't really know how it was going to play out just walking the track. I thought the lines would form in a way that would allow for more passing, but it still kind of funneled into the one or two lines. For the most part there wasn't a whole lot of passing going on, without guys making the mistake and allowing the guy to get by. So there wasn't parts where you could just battle it out and then block pass a guy and square him up and do things like that. So I'm with you guys there. It wasn't the best Daytona layout.
PulpMX Show (Steve): We've seen better, and we've seen epic rides from you either way. What about the whoops in the 250, the first two races? What the hell were they thinking there?
ET: For it to happen in both heats though, I think the whoops, I think there was some sticky dirt in there and then maybe there were some edges from before, because there's no way everyone just goes through there and just grenades themselves. It was bad. I'm just like, oh my gosh. 
PulpMX Show (Steve): You watched them in the practice and they were so small and then all of a sudden it was just chaos. Mookie on his Instagram was like, "Go ahead and fix those, guys. We'll wait." We'll wait while you fix those things. I would be hot if I was a 250 guy and I came out and I saw that.
ET: Who knows? They might have got rebuilt a little steep or something, because that was just too weird for everyone to be crashing that bad. That wasn't normal. I don't know what it was. 
PulpMX Show (JT): I think they definitely built them a little steep. That's one of those things where I was curious with a different track crew than normal, you don't really see that inconsistency at a normal supercross. They're very, very good about if they make something different, like the whoops are going to be easier than they were in practice versus harder. Because to catch those guys by surprise like that is so sketchy. You just see guys that are expecting one thing. They get another, and then off they go. It's like they hit a land mine and guys are flying everything. It's just one of those unique Daytona things that is unfortunate for those guys, but I was glad they fixed them before you guys went in there and had to deal with that, too. 
PulpMX Show (Steve): So we did the math. You got more points after round ten than you've ever had before. You got the red plate. So you got to be feeling good about your chances here to get your first 450 supercross title, as far as past performances. 
ET: Oh, yeah. Best position, right? Problem is I'm battling Ken Roczen. So it's just going to be who's the guy that's going to really flinch first, I feel like, between us two. We're riding so close to the same. I can't let him get away like that again on the start, especially inside the tighter domes. So that's what I'm going to have to do. I'm going to have to be within the top guy, and I can't let the guy run away at the start. Then I feel like I can definitely get it. But if that's not the case, then it's going to be tough. It's good to be in the position, but at the same time there's no looking at the end. We're only three points separated from each other so it kind of feels like round one still.
PulpMX Show (Steve): It's going to be tight for sure. Your starts have been… Last year they were good. In the past, your first lap stuff hasn't been great. This year I feel like some starts have been money for you, and some haven't. It's inconsistent starts this year. Good and bad.
ET: Yes. I've been trying to fix them, but you can only do so much. 
PulpMX Show (JT): Everybody you're starting around, they're also pretty decent, too. You're not starting with a bunch of slow guys. 
PulpMX Show Caller (Jeff): Just a quick technique question, and another question on strength. I noticed Eli puts his foot under the foot peg over jumps in the air. I was just wondering what the purpose of that technique was.
ET: For me, I've seen that in pictures and I have no idea why I do it. I've never even thought about doing it. It must be for some sort of bike feel or bike control. But no one's ever told me, you need to put your foot under the peg when you do a seat bounce or a jump. I don't know. 
PulpMX Show Caller (Jeff): I've noticed that you seem to be much more physically strong than other competitors. Is that something that comes to you naturally or do you train for that? It just seems like you can hang onto the bike when things get a little out of control, or you can really just man-handle it.
ET: It's a combination of being physically fit, and I think most of us are, and then you've got to be able to be comfortable while you're racing and on your motorcycle. If you've got all those together, it's what makes it easier to maintain that pace for the distance for for sure. 
PulpMX Show (Steve): Obviously, the Barcia stuff is what everybody's talking about, what everybody likes. They caught you guys post-race talking to each other. I was a mechanic for a long time. I can't tell you how many times I heard two riders telling each other they're going to kill each other after the race. JT, you told everybody that after races when you were angry.
PulpMX Show (JT): Yeah, all the time.
PulpMX Show (Steve): So Eli, it's not the fact that you and him went back and forth and all that, because that happens, so fans just got to look at it. What I'm wondering about, were you a little – I don't want to say pissed is the right word, but were you like, "Thanks for posting that, guys. Thanks for grabbing that." Did it bother you at all that they kind of posted that stuff? 
ET: Between me and Justin, I don't think it matters much. We left it there at that moment or that situation, and then the rest is just the popcorn for everyone else. But I think our mindset between me and Justin, I don't think that really changes it. We're both going to really believe what we think, or whatever. I think what really fired up Justin in the situation there was my handlebar tagged him and it tagged his hand. We bumped, but my handlebar got into him and that's what pissed him off. I think it felt a lot like more of a contact than what it really was. Yeah, I did try to drive it in there and I was pissed that I got passed. Because when you're in the battle with guys and you're in the train of guys, you're trying to get forward, you're trying to get forward, and then someone comes in on the inside of you, you're like, I don't want to be going backwards right now. It was all kind of a rushed situation there. That's what happens in the middle of the pack.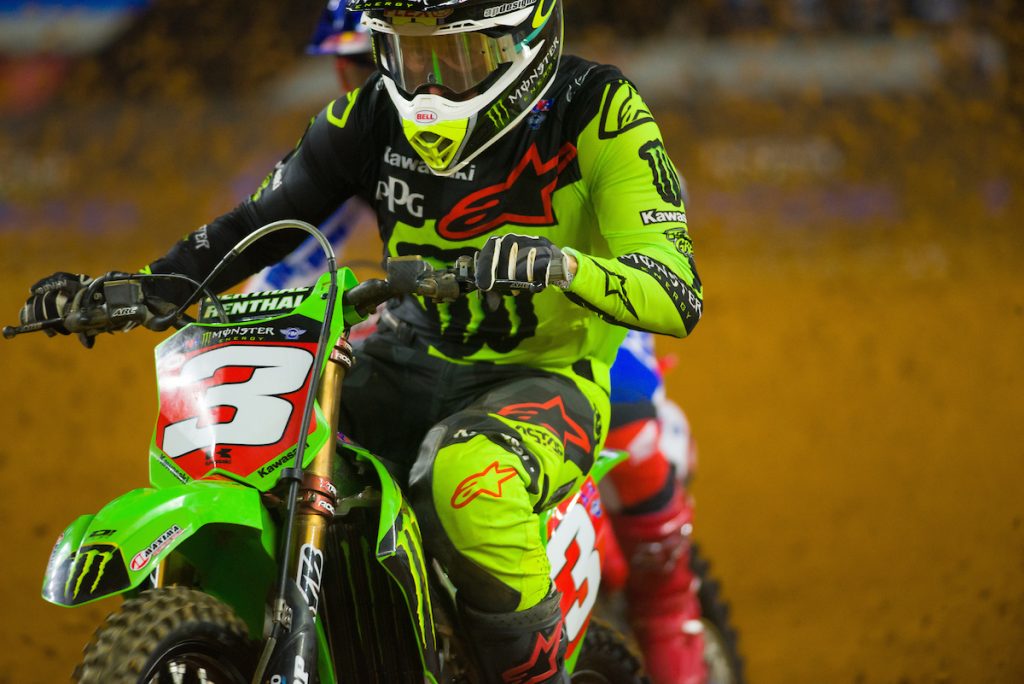 PulpMX Show (Steve): My Instagram, my Twitter, people love that stuff. I'm like, that's not that big of a deal, two guys going at each other after a race. But Feld decided to put it out there. I was like, oh, shit. Big deal.
ET: I don't know. Who knows what it will turn into? Me personally, I'm trying to keep the flame down. I don't know what it will turn into, but we'll see.
PulpMX Show (JT): Honestly to me, I think it was just a peek into what mainstream sports get all the time. Could you imagine if you had something controversial going into the weekend and you're an NFL quarterback or whatever? Something happens. You fumble or do something stupid. Every TV show for the next six days, that's all they talk about on ESPN, every show, all the time. That's the closest we've probably ever had to it is everybody was talking about this one incident. And it's just noise, right? Between Justin and Eli, it's yeah, whatever. The next day you're moving on to something else. You got to worry about Daytona the next day. But these other sports, I'm just like, man. That's as close as we've ever gotten to this moment where everybody's talking about this one incident. For a racer it's like, so what? I got to worry about my practicing and my training and all this other crap. But for us idiots that are all watching it's like, oh my God. That's all we talk about.
PulpMX Show (Steve): I'm sure Eli, that's what everybody wanted to talk to you about, right? Media, cameras? And we are, too. You're like, okay, big deal.
ET: I know. Then you'll get the guy that comes through the autograph line that's like, "Watch your back! Barcia's going to get you!" I'm just like, oh my gosh. 
PulpMX Show (Steve): You're like, "I think I'm good, dude." My favorite part was, "Have you ever passed anybody clean?" And he goes, "This year?" I can't get enough of that. I love that part. Barcia wanted to clarify that because he hasn't really. He knows that. Garrett Marchbanks, man. Your quasi-teammate. What a race for him, too. That's a really good night for the Kawi guys. Garrett rode fantastic.
ET: He did. When I was at the test tracks in California this year, I'm like, this guy is for sure the most [INAUDIBLE 2:03:43.1] 250 I've seen. So that was really cool. Definitely excited for that guy. That was cool to see pre-season that he was going really good, and then it resulted in a win. That was cool.
PulpMX Show (Steve): Great wire-to-wire win. New teammate this year, Adam Cianciarulo. Obviously he's out right now. What's that been like for you to have somebody that is on your level with speed and has won some heat races and set some qualifying fast times? Has that helped you a little bit, do you feel? Or is it business as usual for you? 
ET: We're not in the truck together so we don't really interact during race day, so I'm just kind of going along with business. At the test track it was like, man, he's going good. He definitely pushed me early on. So I would say I was riding harder at the test track before A1 for sure. But then race day it's just like business as usual. But getting second place five weeks in a row by like two hundredths in practice, that started getting annoying. 
PulpMX Show (Steve): It's been cool to watch, for sure.
ET: Yeah. You know what's really nice? Is having another bike that's your same color. Even though motocross everyone is out for themselves, but it really does help having, I feel like, the same color bike up fighting for that podium position. 
PulpMX Show (JT): Don't have to go into Vegas fighting every orange and white bike on the track?
ET: Yeah. 
PulpMX Show (Steve): Not just fighting one color, but two colors. I would agree with you. That's a nice change from years past, for sure. I was talking to Theo a few weeks ago and he was telling me you're happier with the new bike, and the team has worked a little bit better and found some things out about the new bike. So just like anything, the bike was brand-new last year and you feel a little bit more at home on it?
ET: Yeah. The only time I felt off was Anaheim 1. What I basically did was kind of go back to an older setting after Anaheim 1. You always try to find something new and improved, and then you take it racing and half the time it turns into a disaster. The good thing is now I feel like we're settled in pretty well. The bike has been good in most conditions. 
PulpMX Show (Steve): I always think about a new model, whether it's Honda or Kawi, anybody comes out with a brand-new model like they did, it takes a bit of time. After they get some data on it and they learn about what the bike does, everything else. It's obviously working for you, no doubt. 
ET: It is. 
PulpMX Show (JT): Are you in Colorado now? Do you go back to Colorado quite a bit during this part of the season? 
ET: Yeah. I'm here in Colorado.
PulpMX Show (JT): Going to sea level this weekend, does the bike feel way, way different, power delivery-wise after riding at elevation quite a bit? How does that go?
ET: It's bad when I come back from California and then I start practicing here. I'm like, wow, it's a lot slower. But then I get used to it. It basically takes a week to get used to Colorado again, and then I'm fine bouncing back and forth. I will say it was worse on 250s, is where you really feel like you're down on power and you go to sea level and you're like, man. It's like a whole different motorcycle. Thankfully on the 450 most of the time we can leave our gearing the same, so your wheel position is the same and you don't really mess with the chassis that much. 
PulpMX Show Caller (Chris): When you were following Anderson and you guys were jumping into the rollers, I noticed that you were jumping into the third one and Anderson was just setting sail and jumping into the fourth. Were you doing the fourth because you thought it was faster? Or just didn't want to take the pounding of the fourth one?
ET: The heat race is what did it for me. I was doing the quad in, if you want to call it that, the big line what Anderson was doing. But I actually blew up my rear wheel in that race. I'm actually lucky I even finished that heat race. I came across and half the spokes were blown. So I was just like, yup. I'm out on that one. It was a lot worse than what it felt. I came off the track and it was like wobbling. I was like, holy moly. It probably only had another lap in it, and it could have just changed the entire night.
PulpMX Show (Steve): You think about the gate pick you get. It changes everything.
ET: Yeah. Then if you start twelfth, you're for sure screwed there. 
PulpMX Show Caller (Chris): It was incredible watching the distance and the height that those guys were going. I wouldn't want to do it. 
PulpMX Show Caller (David): You posted a week or so ago about skiing up in the mountains. Do you think that high altitude training does a lot of good for you? Versus somebody like Roczen? 
ET: There's always two beliefs about high elevation versus sea level. The high elevation you increase your cardio capacity. You carry more oxygen in your blood, so there's the plus side of high elevation training, but then at sea level you can push your muscles harder. There's benefits to both. I feel like maybe it does benefit me because I can run at a lower heart rate when I'm at sea level so I don't go into anaerobics fast. But for your muscles, they say you can't push them as hard, to the max, if you're always training up high. So those are the two thoughts on that. 
PulpMX Show Caller (Derek): What separated this season from seasons in the past? You've really been on it this year. You seem like a whole new guy. 
PulpMX Show (Steve): A whole new guy? He's won 800 races in the last few years. 
ET: I feel like on race day this year though, I'm different. Mentally I feel more at ease. I don't know what it is, whether it's just age or the experience. I feel like just more level-headed throughout the day. I can manage my emotions better. I feel like that's been the difference. We're not to the end yet, but after this halfway point, heck yeah, I've been better for sure on race day.
PulpMX Show (JT): I think winning that many races and knowing that if everything goes okay, I'm going to be there for a win. That's probably calming. I never felt that, but that's probably calming.
PulpMX Show (Steve): Eli, is J Mart still around down there? 
ET: Yeah. Jeremy is still here.
PulpMX Show (Steve): How's that been going?
ET: They were in Florida last week, but it's been good. It's always nice to have him here. When he's gone, like last week, you realize how boring it can be when you're by yourself.
PulpMX Show (Steve): You miss the little guy. You're like, I just want him around here. Does he ride a 250 there or a 450? I know sometimes he rode a 450 when he was there. 
ET: He's been on his 250 lately, especially for supercross. 
PulpMX Show (Steve): So if he's on it… Obviously he starts first. How does that go? Does it sometimes takes you a little bit? 
ET: I don't want to put him under the bus. Supercross, I can get him on the supercross track for sure. But when he was on his 450, yeah. It's a good battle. 
PulpMX Show (Steve): Osborne when he was on 250 he had to go with Dunge and Marv and he was just like, screw my life. He's like, I got to start first and these guys just eat me up. 
ET: Yeah. That's kind of the way it is. 
PulpMX Show Caller (Tyler): You're known as a good sand rider. A lot of riders have been complaining about the sand sections in the press conferences. Do you enjoy seeing sand out on the track?
ET: If it's not Atlanta, I don't mind it. A lot of times it's a place where you can get a guy if they make a mistake. There's time to be made. But when there's a wall in the sand or whatever, the sand right after a wall and it just blasts you in the face, they can get rid of those. 
PulpMX Show (Steve): You and every other rider, I think. It was brutal. But the sand section in Tampa, that was kind of cool. I didn't like the split lane aspect of it. I wish they would have went back to how Tampa was before. At least there was a lot of mistakes made by riders, so you could make up time. 
ET: Yeah, you can make up time. You can make mistakes. Some people probably hate them, but some people don't mind them. You can go back and forth on that.