Massive pick trend percentages and a new pick trend record!
Hey everyone, thanks for checking in on the lastest PulpMX Fantasy wrap up. These things have been coming rapid-fire, and it's been fun!
Speaking of fun, GregJR35 has been having some fun this year in PulpMX Fantasy. He took down the overall this week by 3 points. The win is also his third top twenty finish this supercross season, impressive! Let's take a look at how he did it.
250s – Greg made a huge decision, and it was a simple one for one swap, to not go with either of the Lawrence brothers, and instead chose Derek Kelley (9) and his 36 points at 11.1%. A classic leverage pick that paid off perfectly. He did have the chalk as well, Cameron McAdoo (5) put up 52 points at a massive 70.9% pick trend, Christian Craig (4) added 38 hard-won points at an even higher 71.9% trend, and Justin Cooper (3AS) rounded out the squad as the all-star, with 26 perfect points at 72%.
450s – Greg chose Blake Baggett at a 3 handicap, and luckily for him, and everyone who chose him, it was an "on" race for BB4. Blake rode to 4th overall, good for a perfect 52 points at a 54.7% pick trend. The Bear, Tyler Bowers was his second-highest scorer with 38 points at a 10 handicap, his pick trend was 24.5%. He was followed by Benny Bloss (3) with 32 points for 32.9%, and Jason Anderson (3AS) in the all-star slot with only 19 points at 30.8%.
Greg also correctly chose both FFL's, Forkner & Webb, for an additional 30 points.
Keys to the win. Greg set himself apart with his against the grain 250 pick, avoiding the high owned Lawrence brothers, who both failed to put up good fantasy scores. While his 450 squad was far from optimal, it was close enough, and he made up for it by correctly choosing both FFL's. Greg chose a solid lineup and is an excellent player, congratulations on the win!
Now, let's see what else unfolded.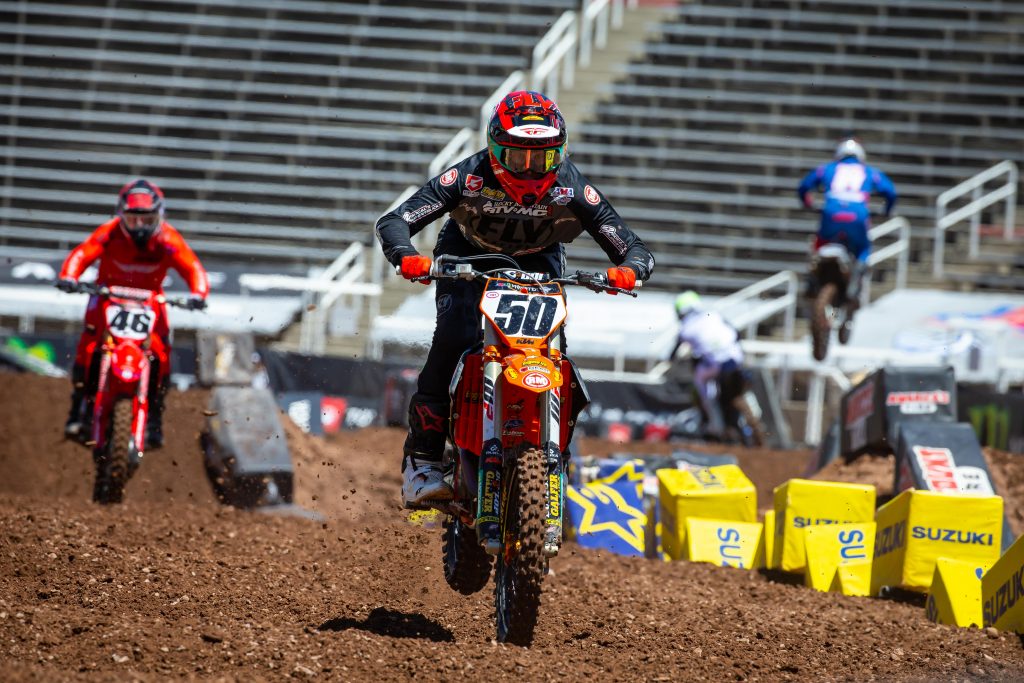 Most picked riders, AKA "the chalk."
We saw some insanely high pick trends for round 4-14 with the 250 squad, and even in the 450s. A typical race will have 2-3 guys in each class with a pick trend at 30% or more. This week we had four in the 250s, and the lowest pick trend was 66.4%, total craziness! Justin Cooper topped the field at 72%, Christian Craig followed at 71.9%, Cameron McAdoo was next at 70.9%, and finally, Jett Lawrence at 66.4%. Definitely the highest concentration of ownership that I've ever seen in PulpMX Fantasy!
450s were a bit closer to normal, Blake Bagget topped the field at 54.7%, followed by Benny Bloss at 32.9%, and Jason Anderson at 30.8%.
Low owned players who delivered – AKA great contrarian plays
Derek Kelley was the key guy to be on in the 250 class. He qualified 15th at a 9 handicap and was overlooked by all by 88.9% of PulpMX Fantasy players, who most likely chose a Lawrence brother. We also saw Bryson Gardner (13) put up 32 points at 0.7%, and Mithell Falk (8) score 30 points for 7.4%.
Zacho was the low owned man to have in the 450 class. He scored 36 points for only 13.6% of teams at a -3 handicap. Chad Reed also put up 36 points at a 6 handicap for only 10.8%. Finally, we had Carlen Garder and ARay score 34 points at very low pick trends, Carlen at 12% and ARay at 9.1%.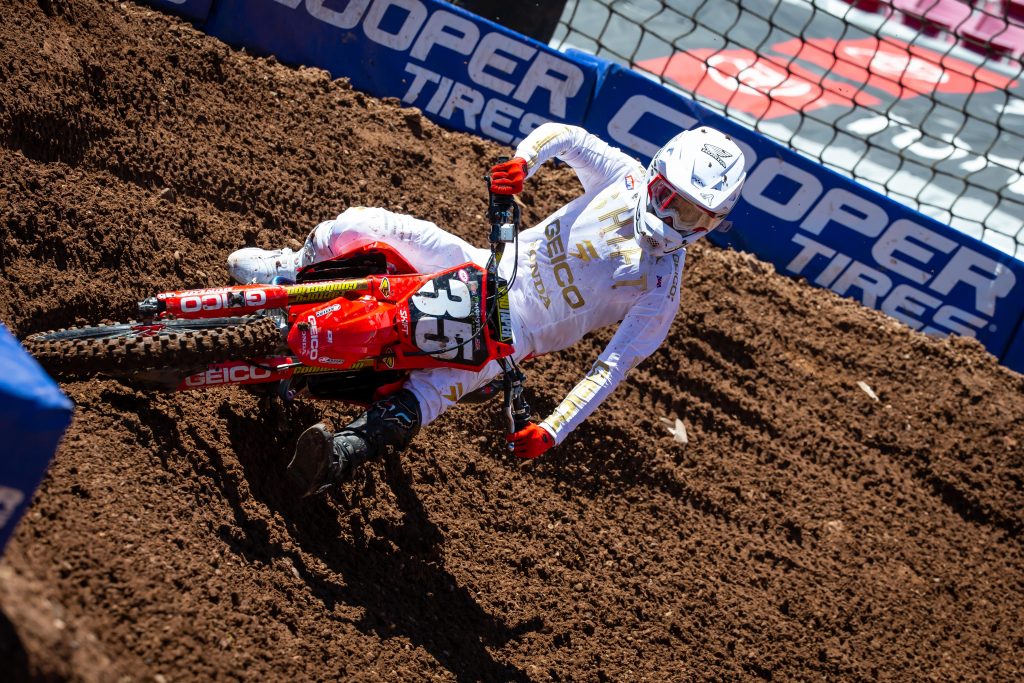 Fantasy Duds
Who burned the field? Let's take a look.
If you played Wednesday night odds are a Lawrence brother burned you. Jett was the main culprit, scoring only 12 points at 66.4%. Hunter's ownership was considerably lower, at only 19.3%. He scored only 11 points.
In the 450 class, Jason Anderson had a less than stellar night, scoring only 19 all-star points at 30.8%. We also saw Mookie leave early with a mechanical, leaving only 8 points for the 19.2% who picked him.
Fantasy Studs
These are the riders with high pick trends who delivered!
When I first saw the 250 handicaps for this race, I thought they were wrong, but also, there were not. It reflected in the pick trends, and they delivered big scores.
Justin Cooper topped 250s with 26 perfect all-star points at 72%. Christian Craig followed him with 38 points at 71.9%, and Cameron McAdoo with 52 at 70.9%.
Blake Baggett topped the 450s with 52 points at 54.7%. Benny Bloss was next – 32 points at 32.9%, Marty with another great night – 36 points at 25.5%, and finally Tyler Bowers – 38 points at 24.5%.
First to Finish Line (First Lap) Leaders
Somewhat normal, if not slightly above average pick trends for FFL this week. We saw 31.7% of teams choose a 250 rider with 25.1% correctly guessing Austin Forkner. (Great choice by the way in ignoring the Star guys, Austin has always been very good at FFL.) For the 450s, we had 24.1% choose with 38.6% correctly picking Cooper Webb.
Final Thoughts
Risers and fallers.
Last week I recommended Chad Reed and said stay away from Tyler Bowers, so I was 1-1. This week I still like the value that Chad has at a 5. It seems like he might be feeling racy again! Bowers dropped from a 10 to an 8 but doesn't have enough value for me, even if he is acclimating to the 4.2K altitude of SLC.
I also like Justin Brayton as a non-all-star zero handicap. He is very capable of running in the top ten and putting up a high score.
For the 250s, I like Derek Kelley again at a 7, and I'd take a shot at Hunter Lawrence at a 3. Jett also looks good at a 1. handicap.
That's it for this week, thank you for reading and please remember to support the sponsors who support PulpMX. If you have any questions or comments, please hit me up on Twitter @msweeneyphoto.
Hope I see you on the leaderboard!