By Darkside 
Most of us who have raced motocross at some point dreamed of what it would be like to have a Factory ride. Being in the semi, fans screaming for an autograph, mechanics and team managers there for our every need. Not to mention endless endorsements and a large payday. For a small percentage of elite amateurs, this dream becomes a reality. Some riders go on to fulfill their destinies and become Kings or even G.O.A.T.s. Some fall short of their goals, but still have successful careers. Others do not and fade away into real life. There's no certainties in professional dirt bike racing. Most do it for the love of the sport and hope for that opportunity. And sometimes, a kid gets handed that dream opportunity unexpectedly. 
Josh Varize is a kid from Perris, Ca and had those same dreams. For the past two years he and his mechanic/driver/dad, Paul, have been traveling the country in the family motorhome making nationals. Not to mention a few top tens in Supercross. His mom, Brandy, owns her own business, Mx Pro Parts out at Perris Mx to help support Josh's pro career. The Varize's are a family like many others helping their son pursue his dream. It was quite the opportunity when Rockstar Husky reached out after Iron Man with a fill in ride for the final two rounds of the Pro Motocross Series.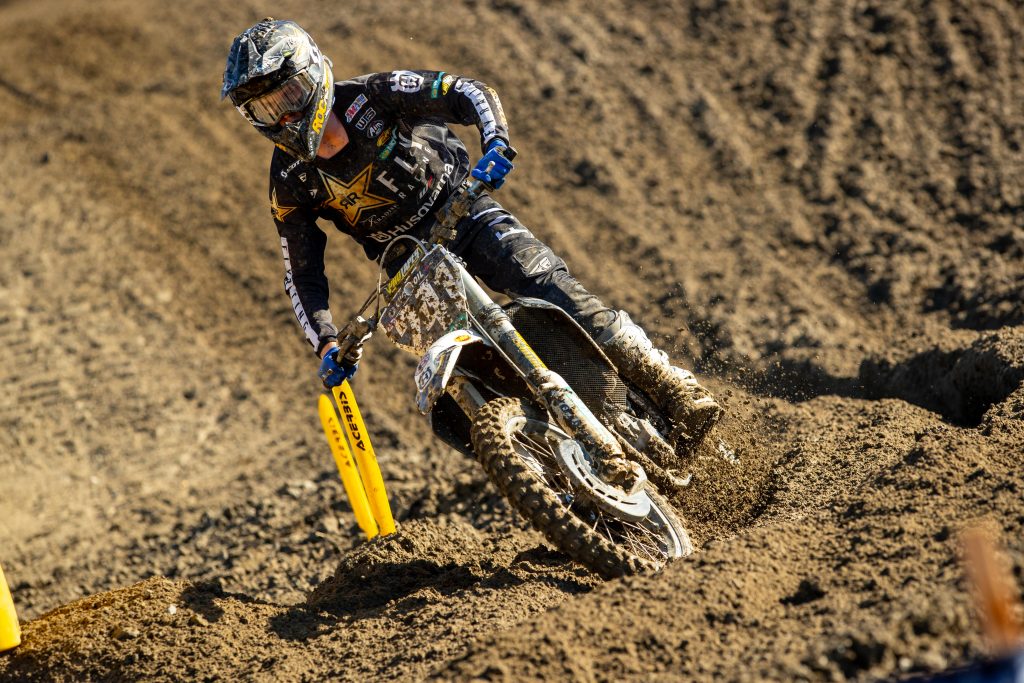 So what's it like going from a full privateer and working on your own bikes, yes he's a kid that can do all his own maintenance, to full factory with all your needs met? Josh told us "it's a lot less stressful. Not having to worry about setting up the pit, unloading, doing the bike work. That was the best part". He also said "it was hard watching the mechanics work on my bike and not helping". One of my big take aways from Josh was his lack of ego and thankful personality. When asked about things that were most beneficial and surprising from his Factory experience he told me "printing out segment times on paper and being able to highlight segment times. Having people show him 'you can go outside here and pick up this much time' and realizing throughout a lap there's a second I can make up. That's the difference in a top 10". 
I wanted to know if this experience made him feel like these teams have an unfair advantage over privateers. His response wasn't what I expected. He said "I thought about that and it does kind of suck. But I think it's all about how much work ethic and dedication you have. My work ethic is through the roof. I'll put in 110% and I won't quit". He told me "I came in as a privateer with no pressure. I just wanted to see where I was and build. Then at Factory Husky I knew I had all the tools to be in the top ten. If I didn't get there, I didn't use the tools properly". 
The last thing I wanted to know is what he would take away from this experience that he could use if the Factory teams don't come calling for 2022. (As of 9/26/21 he hasn't had any offers) He told us organization, from knowing where all the tools are, where the tent hardware goes, having the proper food, to just finding a flow throughout the day. And a key piece "now I know what I need to do to run that pace and what I need to work on in the off season. I learned how to get passed, hold guys off, and picked up on their lines. I will focus on getting stronger. Next year I'll be build differently". 
All in all, I believe Josh Varize had a chance to see what it's like to stand on top for a moment. He got the opportunity to live out a dream. In my opinion he made the best of that opportunity. Following Iron Man, Josh's average OA finish was 17.8. He finished 8th at each of the the two final rounds on the Factory Husky. In Moto 2 at Hangtown he pulled the holeshot and led a lap. Was it all the bike? Or a kid taking all the tools handed to him and making the best of it? It's great to see Factory  teams give a kid a chance when they have an opening. Hopefully Josh will get another opportunity in '22. I'm pulling for this kid.