Lots to talk about when it comes to Glen Helen, here's DV's take
Lots to talk about when it comes to Glen Helen, here's DV's take
Photos by Simon Cudby
Q- Motocross was back at Glen Helen for the first time in four years–what did you think about the track and the event?
It was a typical Glen Helen track. I thought it didn't give too many line options. The track is super wide and big but it seems like in almost every turns there was only one good rut. Everytime someone was trying to go out of the main line he was losing time. I am not a fan of overwatered tracks. It makes a lot of lines but everyone end up riding the same one. The layout was close from what we last saw in 09 but shorter. At the top of every hills, there was only one line… At the bottom of every hill, there was only one rut… The track became only three feet wide by the first motos which was frustrating to watch. That's my opinion. If it was not as watered and not as deep it would give more option to riders to use the whole width of the track and would have gave us better racing.
Jeremy Martin had an incredible day, he was unstoppable and along with Cooper Webb Yamaha went 1-2 and got their first national overall win since 2004. Thoughts on these two blue kids and chances for title?
They both ended up the 2013 pretty strong in 2013. Cooper and Jeremy went 3-4 at the last race of the season in Lake Elsinore behind Tomac and Roczen. With those 2 moving up to the 450 class, it's almost normal to see them up there in 2014 even if it was a surprise for most of us. To tell you the truth though I didn't see that coming. I didn't even pick Martin in my top three fantasy league. I picked Baggett, Anderson and Webb. Martin had 2 good starts and was easily the fastest guy in both motos. Obviously, Yamaha needed that especially with their new bikes. Everyone was expected another Yamaha to win after Pourcel's fastest lap in both practices but Jeremy destroyed the competition. In such an open class with a lot of fast kids, winning by 15 and 21 seconds is called domination. This 250 class is going to be a great season. It will be closer on different tracks where starting in front isn't such an advantage but Martin became a huge favorite for the series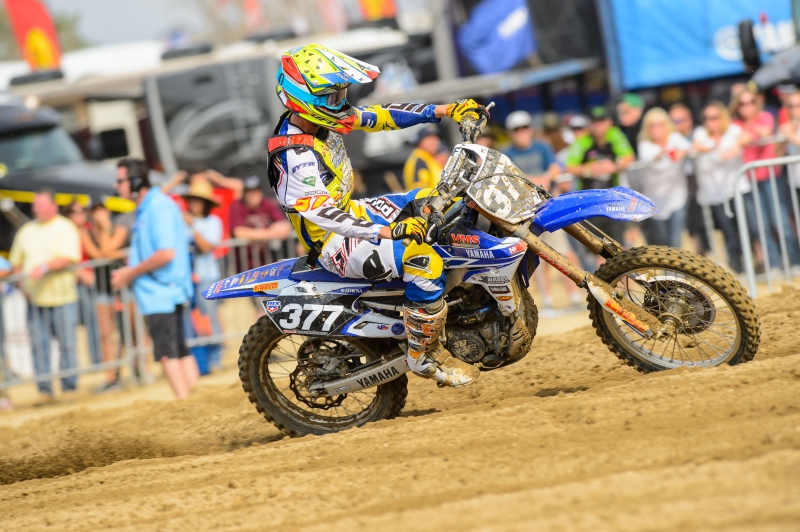 DV was not surprised by Pourcel's results at Glen Helen.
Christophe Pourcel was back. Thoughts on him and his results?
Pourcel is fast. We all know that. He almost won two national titles. Even in 2011 at MCR at his second and last 450 National, he was 5th fastest in practice and ran 2nd in the first moto in Freestone on a privateer 450 passing and battling with Dungey and Reed when s%@# hit the fan. He raced the best riders in the MX1 class in GP in 2012. His speed was and never will be the question. His pole position at Glen Helen is another proof. But, being fast nowadays is enough. There are 12 races, rough tracks and most of the races, heat where you need to be a complete athlete to compete. That's the area I don't know if he's ready. His last official race was Bercy SX in 2012. It was 18 months ago. He obviously lacks racing right now. He will get better if he works the right way but it's difficult to do so since the next race is 7 days after Glen Helen.
As far as last saturday, I don't think the track fit him right. Like Musquin for example, CP is lethal when he starts up front and can ride his own race by himself. After what he showed in practice, for me, his motos at GH were dissapointing. He ended the first lap in moto 1 in 9th and finished 7th. His fastest lap time was 3.3 seconds slower than Martin's and only 9th fastest. In moto 2, he ended the first lap in 3rd and finished 5th. His fastest lap time was 4.4 seconds slower than Martin's and only 8th fastest. But, it's his first race back after a year and a half without racing but after analyzing the data of Glen Helen, he will have to step it up during the motos. When the tracks will have more line options than Glen Helen and not as rough, he will naturally get better.
The vets (Pourcel, Baggett and Wilson) didn't do what we thought they could have while the kids (Martin, Webb and Anderson) did impress a lot. Is this a sign of things to come?
Unlike the 450 class where we pretty much always have the same guys in front year in and year out, the 250 class always bring us surprises. Kids are hungry and working hard to beat the vets in that class. I think Baggett will be up there at the end of the season. Wilson will be out for a while and Pourcel, if he works and ride hard, which is an unknown, will get better. But, Martin, Webb and Anderson are going good and will be tough to beat.
The 450 KTM guys look to be on point, Dungey had 1 minute on 4th in the first moto and the two orange guys had 30 seconds on 3rd in the second moto…a sign of things to come or one race only?
Except the Josh Grant first moto performance, it was a Roczen-Dungey show at Glen Helen. They were the 2 fastest riders and will be the 2 favorites for the title. I don't see anyone else, even James, being there for 12 races to be dangerous for the title for the 2 KTM guys. In both motos at Glen Helen, the three fastest guys were Roczen, Dungey and Canard. That was exactly my top 3 picks for my fantasy league. Dungey screwed me from a perfect score with his un-Dungey-like move in the last lap of the second moto on Roczen! So I'm not surprised by the results to be honest.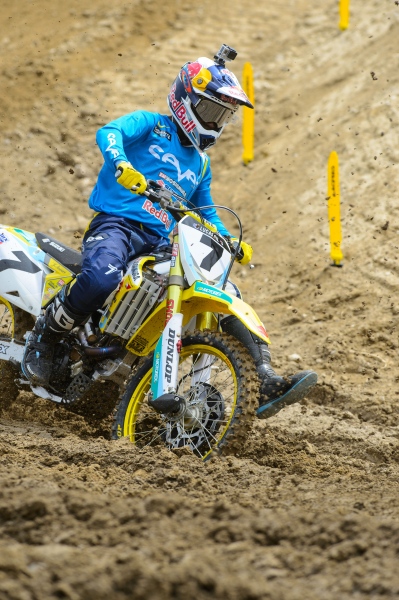 Vuillemin thinks that Stewart will get better from the opener.
James Stewart was just ok…should his fans be worried?
Obviously a 6-6 score was not what we expected from James in Glen Helen. Again, I don't think the track fit him either. He needs space on the track and line options to maximize his talent which wasn't the case Saturday. He will get better and I'm sure he will win motos and races but can he be consistent top 3 guy for the rest of the season? I like to believe he can and i'd love to see him race with the KTM guys for 12 races but he's been a while since he's done it. But, it's James Stewart we are talking about. The best rider, in my opinion, to ever ride a dirt bike. Part of me believes he will be fast and consistent like we saw in SX this year. It's only the first race, there are a lot more laps to go until the series is over.
Have you ever seen two chains breaking on the same lap in the same spot?
It's understandable with deep ruts, soft dirt and rocks on a track like Glen Helen. The sprocket and the chain drag in the ruts pretty much everywhere on that track. When the sand and the rocks go between the sprocket and the chain, the chain gets super tight and easily can snap. Add to that, chains being set a little to tight to start with and you get what we witnessed in Glen Helen. I'm not really surprised about it.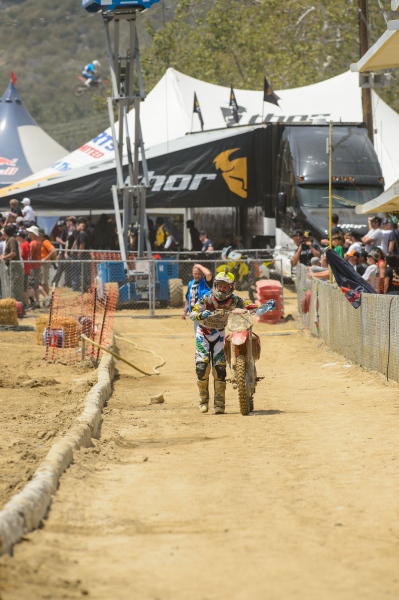 Not a good start to the series for Barcia. Second moto was pretty good though.
Other impressive 450 riders?
Obviously, Josh Grant first moto performance was a surprise. Josh took off early and made it stick. Good thing the race wasn't a lap longer. Roczen should have woke up earlier! haha. But it doesn't take anything away from his great ride. Also, someone that went under the radar with a great ride at Glen Helen was Bret Metcalfe! The newly factory Kawasaki rider that was supposed to race in Canada showed up with a limited time on his new bike and scored an impressive 4-5 for 4th overall. Here is a guy that doesn't make noise, does his homework, works hard, is dedicated and performs. I love guys like that but I wish he would get more exposure for his performance so I had to talk about him…