PulpMX.com Fantasy Pick & Trends
Have you ever owed an apology to someone, and for whatever reason been unable to say that you were sorry? Having experienced it recently, I can tell you; it's a lousy feeling that stays with you, hanging like a proverbial black cloud over your head.
It makes me wonder if this is how Monster Energy Kawasaki's Joey Savatgy has felt going through this outdoor season. Every week something seemed to prevent him from a good result, and every week we had to feature him here, in the duds section of this column.
Well, good news! The sun finally chased Joey's black cloud away and no apology is necessary from Joey. He had a great result in both real life and fantasy, putting up a perfect 100-point score for the 46% of PulpMX Fantasy owners who dared defy the odds and select him.
Speaking of high scores and defying the odds, it took a monster score to take down the overall this week. As to defying the odds, not one, but two teams tied for the overall at 609 points.
Congratulations to TomacYesWebbNo and Chrislynn0429 on the awesome 609-point scores!
The teams shared six out of eight riders, yet they arrived at 609 in vastly different ways. They shared Christian Craig – 94 points at 23%, Derek Drake – 80 points at 51%, Adam Cianciarulo – 47 points at 34%, Joey Savatgy — 100 points at 46%, Ben Lamay — 76 points at 46%, and Eli Tomac — 50 points at 53%.
TomacYes' differentiating riders included Chase Sexton – 72 points at 34% and Isaac Teasdale — 60 points at 9%, good for 132 points. They also correctly chose Dylan Ferrandis and Marvin Musquin as First Lap Leaders for an additional 30 points, or 162 points total.
Chrislynn matched this differentiating 162-point total without choosing a First Lap Leader in either class. They instead chose two very low owned riders, Sean Cantrell – 82 points at 8% and Noah McConahy – 80 points at 5%.
Interesting stuff looking at these two teams, especially considering that either could have been beaten the other had they made a slight change in only one spot of their lineup. Congratulations again on the huge score!
Now, let's take a look at the rest of the scores.
Most picked riders AKA "the chalk"
Lots of high pick trend riders this week! Typically we see two or three riders in each class with a pick trend that is greater than 30%. This week we had four in each class, with the highest-picked rider in each class topping out at just over 50%.
Derek Drake (12) topped the 250 class with a respectable 51% pick trend. Mitchell Oldenburg (6) – 36% was second highest, with Chase Sexton (1) and Adam Cianciarulo (1AS) following at 34%.
The 450 class was topped by perennial all star Eli Tomac (1) at 53% pick trend. Ben Lamay (10) and Joey Savatgy (5) were next at 46%, and finally Taiki Koga (16) rounded out the over 30%ers at 33%.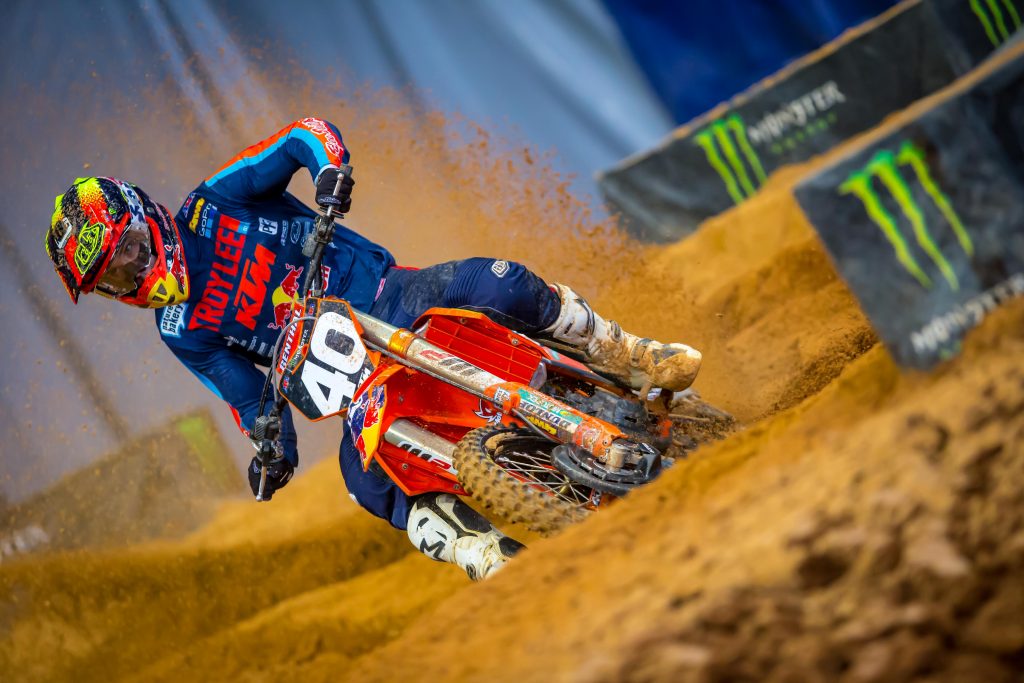 Low owned players who delivered – AKA great contrarian plays
It was kind of schizophrenic at the top of the point scored column for each class this week. It seemed like everyone who put up a big score was either over 30% or in the single digits for pick trend.
Troy Lee Design KTM's Sean Cantrell topped the low owned high scores in the 250 class. He has a 15 handicap and put up 82 points at only 8%. We also saw his teammate Cameron Mcadoo (3) score 72 points at the same pick trend percentage. Those TLD KTM guys are getting no respect in the fantasy realm!
Privateers dominated the low pick trend – high scores in the 450 class. We saw a pair of 18 handicaps, Noah McConahy and Colin Jurin, at the top with a great 80-point score. Noah had a 5% pick trend, while Colin was at only 2%. I'm surprised that their pick trends weren't a bit higher as they qualified in 24th and 25th place, right in the sweet spot for an 18 handicap.
Fantasy Duds
If you had to drop your phone and walk away from the TV for a while, you probably had one of these guys. Taiki Koga (16) was especially brutal because he had an awesome day going until the last lap of the last moto when he crashed, losing 43 valuable points from his total. This precipitous point drop affected 33% of owners, including yours truly.
As motocross has a well-known history of transfer of power (just ask Weege), it also seems to have a transfer of black cloud. I'm pretty sure that Mitchell Oldenburg is the latest recipient. The poor guy cannot catch a break. He injured his ankle in the first moto while running in the top 10 and had to drop out, finishing in 37th place. He did manage to return for moto two and salvage part of the day with an 11th place finish. This left 36% of owners with only 32 points.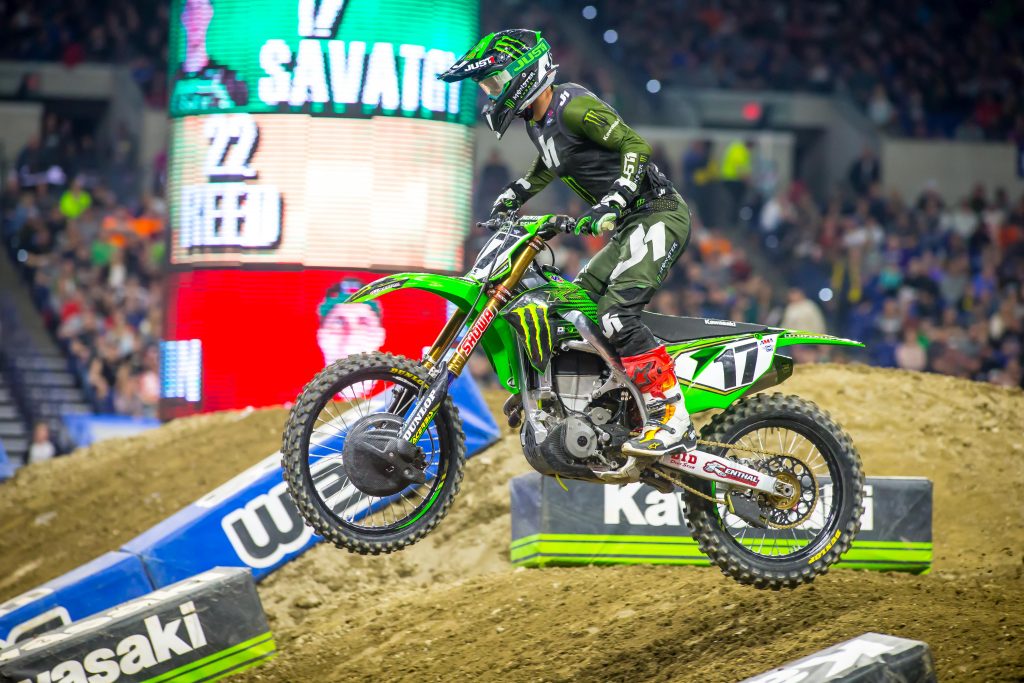 Fantasy Studs
Looking at our high point scorers this week is a lesson in not letting recency bias affect your decision-making. Monster Energy Kawasaki's Joey Savatgy and GEICO Honda's Christian Craig have each had well-documented troubles over the course of this season. Their results have been underwhelming to say the least. As this has gone on from week to week, we have witnessed their handicaps grow, so it's no surprise that they both put up huge scores at Washougal.
Joey had a perfect, 100-point day at a 5 handicap for 46% of team owners. I will be very interested to see where he lands when the series returns at Unadilla.
Christian Craig had a nearly perfect day as well, scoring 94 points for 23% at an 11 handicap. The 250 class also saw TLD KTM's Derek Drake (12) put up a solid 80-point score at 51% ownership. GEICO's Chase Sexton (1) had a day as well, scoring 72 points at 34%.
Finally the 450 class also featured a great score from the Alaskan Assassin, Ben Lamay (10). The Fly Racing sponsored rider had a great 76-point score at 46% pick trend.
The 100% "Lead Pipe Locks"
This week the fantasy pod was an abbreviated version due to the Fly Racing Summer Camp. As the usual guests did not appear, Steve said that everyone would tweet their Lead Pipe Locks. Only Dan and Paul managed to do so, and they both chose Joey and Christian Craig for 194 points total and a new weekly record! This also makes a tremendous shift in the season point standings.
Season Point Standings.
Dan: 1111
Paul: 951
JT: 699
Steve: 664
First Lap Leaders
Somewhat of a return to normalcy with the FLL pick trend percentages. The 250's saw 47.8% of team owners pick, with 24.9% correctly guessing Blu Cru teammates Justin Cooper or Dylan Ferrandis. The YZ's were mobbing the starts!
The 450's had a very close pick trend percentage at 47.6%, with a much lower correct pick rate of only 4.1%. Joey Savatgy and Marvin Musquin each crossed the stripe first.
All Stars
It was a fairly average week for all-star scoring. The 250's saw three out of seven riders score a perfect 50 points. Michael Mosiman (7), Justin Cooper (3), and Dylan Ferrandis (2) all got it done, with Alex Martin (5) being low point scorer with 35 points. (Note, Hunter Lawrence was the eighth all-star but was declared out prior to Washougal due to injury.)
The 450's had only two out of seven achieve a perfect 50-point score, with Eli Tomac (1) and Ken Roczen (4) getting it done. Zacho was the low point scorer with 36 points. (Note, Blake Baggett was declared out prior to Washougal due to some sort of virus that will shelve him for the remainder of the outdoor season.)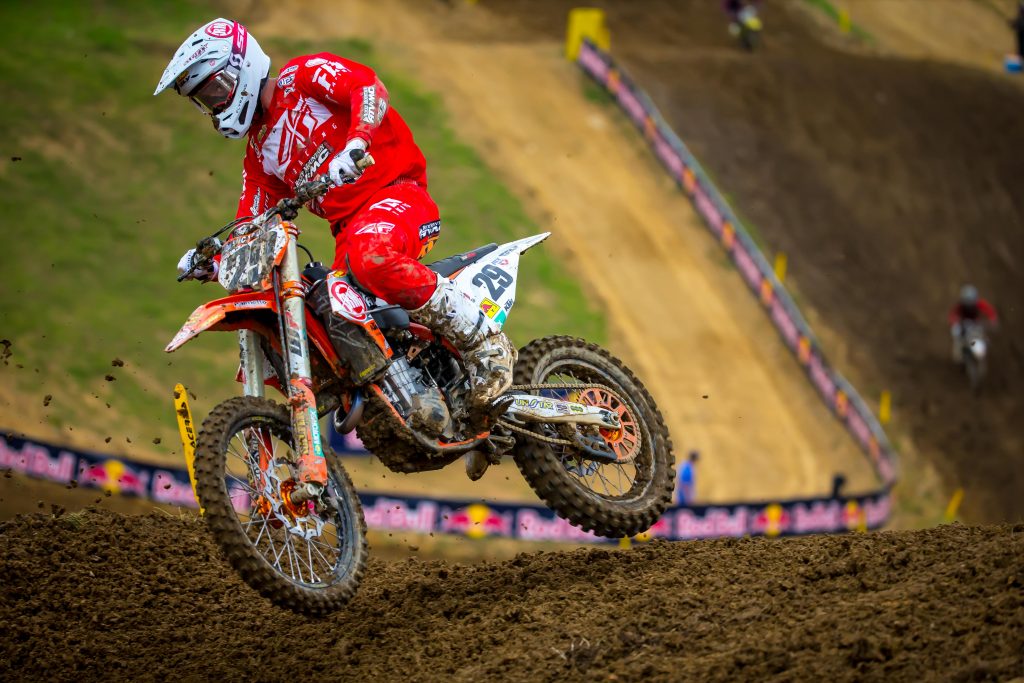 Final Thoughts – Unadilla!
The factory rigs make the long trek back across country to the east coast for round ten of the Lucas Oil Pro Motocross series, held in upstate New York at Unadilla.
I would look for some bounce back performances from riders who are due for a good result; they will have even higher handicaps this week, increasing value.
TLD KTM's Shane McElrath had a great week at Millville, saw his handicap drop to -1 and couldn't back it up at Washougal, scoring only 16 fantasy points. I would expect this to go back up to a 1 or 2 at the least, giving him solid value, as he is very capable of a top-ten finish.
Pro Circuit Kawasaki's Garrett Marchbanks is another rider who can't seem to catch a break and is well past due. I expect his 1 handicap at Washougal to rise by 3 to 4 making him an interesting if not risky pick.
Factory Yamaha's Aaron Plessinger has not had a good return to the outdoors and I'm sure he would like nothing better than to put in a good performance at the rutted and loamy Unadilla circuit. He had a 4 handicap at Washougal and I expect this to come in around 6 for 'dilla.
Finally, Team RMATV/MC-KTM-WPS' Benny Bloss has had consistent top-ten finishes at Unadilla. He had a crash that sidelined a good result at Washougal but should be fine after the long break. I would expect his handicap to come in around 3 or 4 at Unadilla. If it's any higher than that, I might just lock him in.
Well, that's it for this week. Please remember to support the PulpMX Fantasy sponsors when you shop for all of your off road, motorcycle and MTB needs.
Hope I see you on the leaderboard!