Remember Slater Skins? Yeah the Blue Buffalo Supercross Team that had the complete signage/coverings across their bikes was John Slater's brainchild, but most recently he has started to offer air box covers for late model YZ-F's that increase airflow. We all know more air equals more power, but how does it relate to the track? I took one of Slater Skins air box lid covers out with me on a test day, to see how each performed on a 2020 YZ250F as well as a 2021 YZ450F and found the results interesting.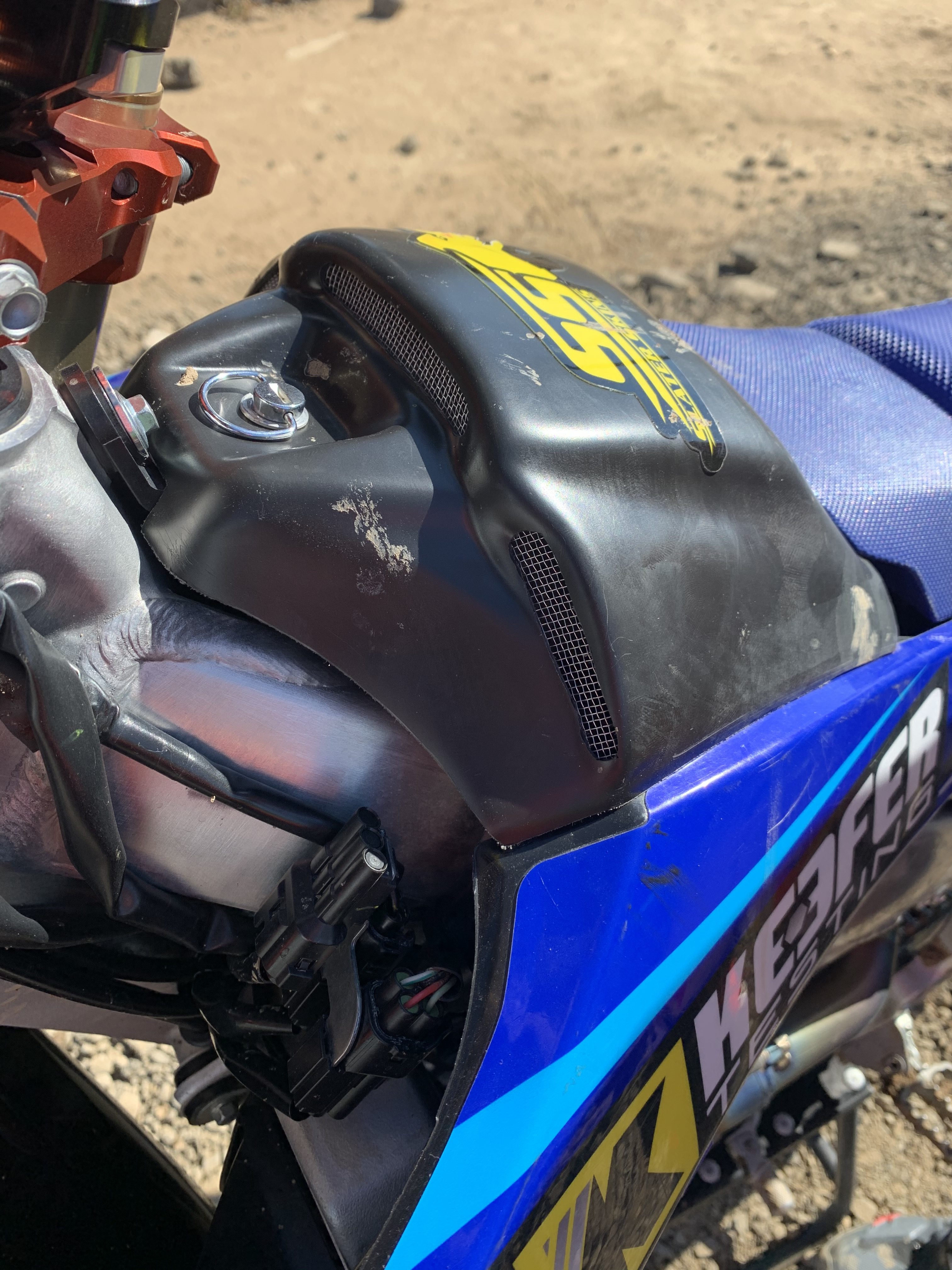 Now you might be asking yourself, why the hell do I need more power on my YZ450F? You don't if you're a mere mortal like me! However, if you're looking for slightly more midrange pulling power on softer tracks as well as faster tracks with hills, this Slater Skins cover will give you a little more in those areas. Where I really liked the Slater Skins cover was on the YZ250F. The Slater Skins cover not only has front vents for increased air flow, but also more volume to allow more air inside the air box. By doing this I can really feel more bottom end pulling power out of the YZ250F as well as better low end RPM response through corners. This Slater Skins air box cover can make your YZ250F have just a little more snap out of the hole along with a slightly snappier mid RPM punch in third gear. I notice most of the mid range RPM increase while accelerating out of a corner (in third gear on the YZ250F) when the track has nasty square edge or bumps. Trying to "hop" over some of those bumps with the stock cover makes the bike feel a little less reactive to your throttle hand and heavy. With the Slater Skins cover the YZ250F felt crisper and allowed me to "pop" over bumps with a lighter more exciting feel. The difference between the stock lid and the Slater Skins lid is NOT MIND BLOWING, but it is noticeable (albeit mostly on the YZ250F). If you look at a stock 2021 YZ250F air box cover you will notice Yamaha put holes on the back side of the air box lid, so that tells you that even the in house Yamaha R&D team was looking for increased air flow through the stock cover. The difference is that Yamaha put their vents near the back of the lid and Slater Skins incorporates the front part of the lid for increased ventilation.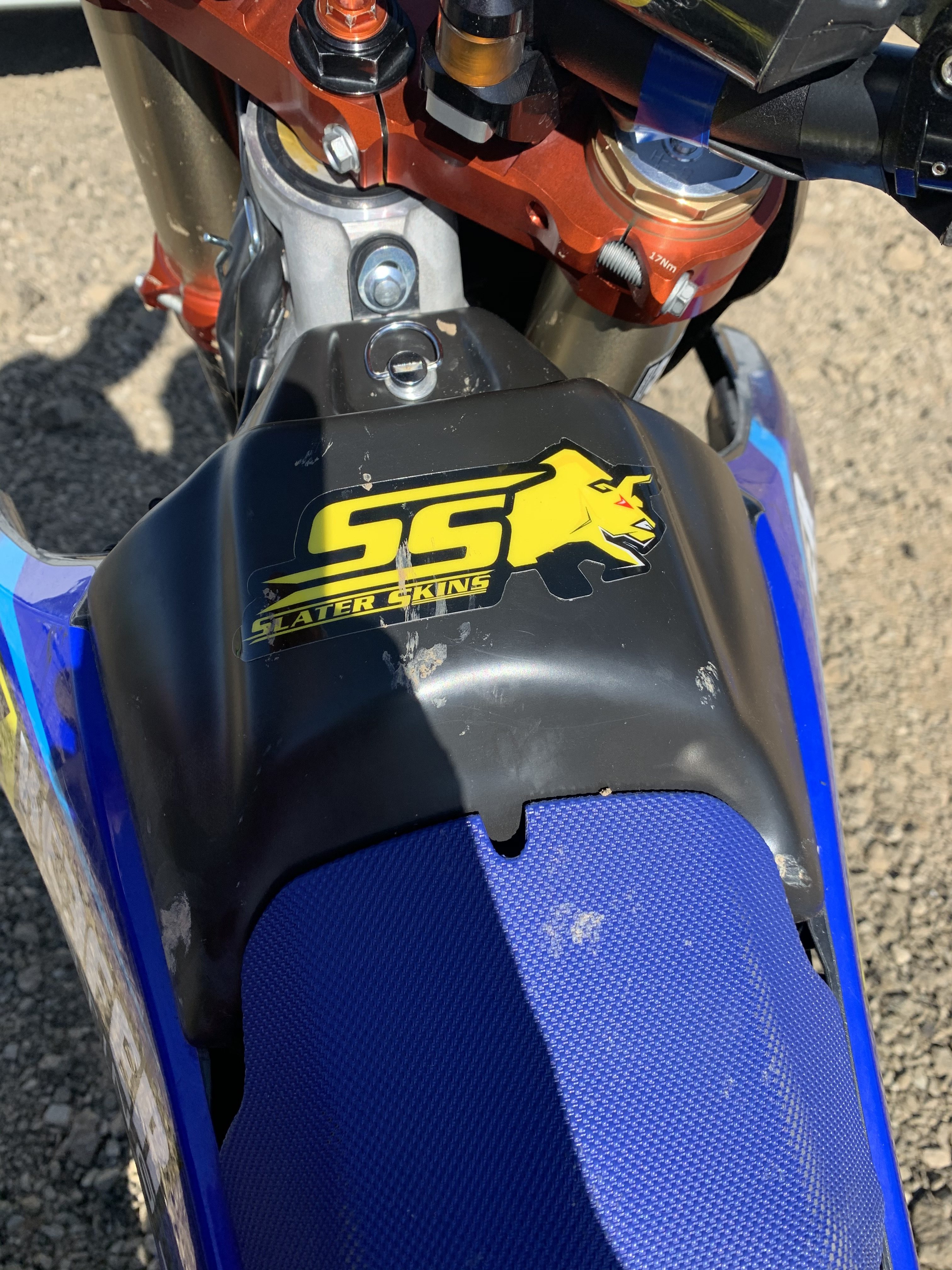 The next question is, what about the noise Keefer? Yes, it is a little louder, but to me it sounds very race bike-ish. The suction or increased noise you're going to hear from your air box is not going to deafen you. However, I tested some other Slater Skins covers with larger vents and those were too loud and to me the power increase didn't warrant the noise. If you're coming off of another brand of motorcycle onto the YZ250F with the Slater Skins cover then it could be nuisance, but if you already ride a Yamaha, you should not notice a huge amount of noise. The suction noise/does get louder as you open your throttle. 
If I was needing a little more bottom end pull as well as RPM response the Slater Skins $80.00 air box lid offering is a good deal. The cover comes in black or white, with a washer clip for your stock dzus fastener and are available by reaching John over at slaterskins@gmail.com. If you're looking for a blue cover John has a sticker kit he can install on a black cover if need be. Blue will be available shortly.
Notes: I tested the Slater Skins cover with a stock air filter cage/screen. I have also tried it with a Twin Air Power Flow open cage/filter with even better results, but also a little louder. FYI…  
I  used the "Keefer Free Feeling Map on the YZ250F with this cover with best results. Stock map also works well. On the YZ450F, the TP 3.0 map gave me less de-cel pop than some others that I tried with the Slater Skins cover. The stock map had some off throttle lean popping that was annoying on the YZ450F.
Just note that your filter will/can get dirtier with the vents being up front of the lid. The screen that covers the holes doesn't allow a ton of dirt through, but it can get much dirtier in sandier/silty conditions. FYI…