I wanted to mend a fence between two of my buds as well as pick Wil's brain about the psyche of top racers.

I wanted to mend a fence between two of my buds as well as pick Wil's brain about the psyche of top racers.
Photos by: THE James Lissimore
(Disclaimer- Matthes asked me to touch base with Wil while he was flying to JMB-land and didn't want anyone to think that Wil was ducking anything so he asked me to ask about "Beeker-gate".)
Swizcore- First things first, is Matthes still dead to you?
Will Hahn- Not dead but being truthful, I don't get the way it got blown out of proportion over nothin'. People can call me a cry baby or whatever, plenty of people did, but all I said was "wow" and "double wow". That's all that was said, I never said "oh you're an idiot". I never said anything. The whole thing got blown out of proportion and how he treated people that are in my corner and behind me, I really didn't agree with. So is he dead to me? No, I don't care. If he says Hi to me, I'm gonna say Hi; I'm not that kind of person but did I lose some respect? Yes. That's just me being honest and truthful with myself.
I see you rebounding in a big way in 2012, so chances are he'll be coming around to bro you down. Will he get an icy stare or a warm smile?
I don't think he'll get a warm smile but if he comes to talk to me, I'm not the kind of guy that holds grudges. If he wants to come do an interview, of course I'll do one. I just want him to know that I lost a little respect for what he said and I've always kinda liked him.
Speaking of 2012, how excited are you for the clean slate that comes with it?
More than you could even imagine right now. I'm just so excited about moving forward and putting everything behind me from this year. People can say I have a black cloud or whatever but unfortunately, it was one of those years. I just need to take as many positives away as I can and forget the negatives. The best part about it is I still have a great team behind me moving into next year and they're willing to do what it takes and I'm ready for some redemption.
I can only imagine how crazy you could have made yourself going over everything that happened to you this year, do you feel in the end it was a learning experience or more of a shit happens deal and just stick to your program?
Yeah. It's weird. I don't wanna say you feel sorry for yourself; but it's kinda hard not to.
Yeah, I imagine at some point, you gotta ask, "what the hell is going on"?
Yeah, at one point you start to second guess everything, and then ultimately you realize it's just the cards you've been dealt. When you get there, you just realize you need to take the positives out of a mostly negative situation.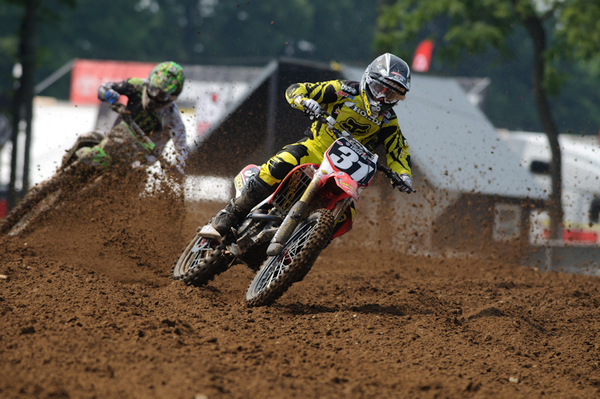 Wil was solid at his outdoor debut at a scorching Red Bud.
In our last interview, you were preparing to come back at Red Bud which went really well for your first race of the year. But after that, your lack of action during the year seemed to swallow you up. Was jumping in so late a bigger hurdle than you anticipated?
No, I don't think so. I went to Red Bud and did exactly what I wanted to. Got through it, rode well, rode strong and knew what I needed to work on and built on it. Went to Millville, did decent. I didn't improve like I wanted but I still did good. Went to Washougal; I really struggled. When I say struggled, I mean I REALLY struggled. I just wasn't fast. I felt like I was going as fast as I could but just had no fire. It was just a total off-day.
I went home and regrouped. Man, at Unadilla I felt great! I had my fire back and I qualified 5th. I felt like everything was clicking all day. I felt like "I got this" but then what happened was just an unexpected deal, more than anything.
I don't know how to word it. I wasn't unprepared or anything. I really don't know what I could have done to prevent it, it was just one of those deals.
So the Geico squad has opted to move from Fox to another gear brand, does this open the team riders up for personal helmet boot and goggle deals?
I don't think I can get specific yet but they will be a Team deal.
There have been mumblings of The Geico team framework being in question due to Pro Circuits dominating 2011 outdoor series. At the races you were at, did you ever feel focus was lacking?
I would totally disagree with that. It may look that way from the outside looking in but from when I was there, the focus was absolutely there.
Knowing you, you're not pulling any punches getting ready for A1 and I know you plan on being a title favorite, who do you see being right there with you till the last round?
For sure my teammate and the PC guys. It's been proven time and again and that's who I expect to be there again.
It baffles me how riders at your level, the truly elite, can still have confidence shaken by chance happenings and adversity trying too trip you up. Is that just human nature or do you think you can train your mind to just build off the positives and let the negatives roll off your back without them affecting you?
You know, it is weird. I've thought a lot about that. It's crazy how little stuff can bother you, especially when you get to this level; you're the best at what you do but you'll still second guess yourself on some stuff, even when it's obvious you shouldn't. I'm a strong believer in positive atmosphere. Positive mind, positive people around you and how it all affects you in positive ways. Even with mostly negative situations, you still gotta try to pull the positives out of it.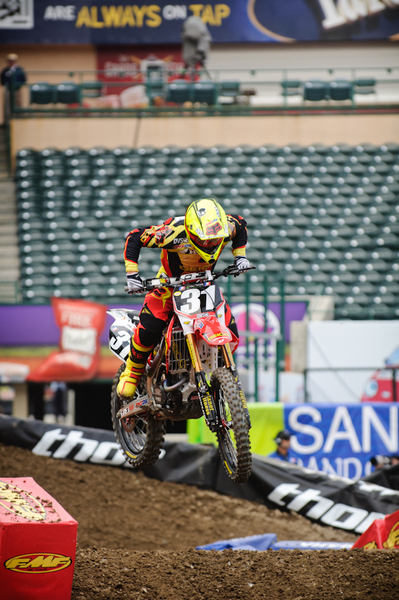 Wil's focus is A1 and beyond in 2012.
Ok, here's the important stuff.
Have you kept up with your Mad Skills training?
I was for a while with the new one and got some more top 5 times and was stoked but it's getting gnarly, way too competitive.
How's the DMXS contract going, feeling enough love?
To an extent yeah but I feel like I've gotten more haters than love out of the deal. People are sick of hearing me talk–
Because of the rapping?
–well, yeah that to. That didn't really help a whole lot(laughs).
Think we'll ever see a Nick Wey, Wil Hahn showdown for DMXS dominance?
I'll arm wrestle him, whatever he wants to do. We'll have a rap-off(laughs). I really like him so we'll make it fun somehow.
Rapid Fire(Option/Word Associations):
Mac or PC?
Mac.
East Coast or West Coast?
West Coast.
Matthes.
Shit-talk.(Laughs)
Yoshimura.
On my bike. Carbon Fiber.
Inspirational Tweet.
All Day.
Lastly, will you join my Twitter riders union to stand up against the ridiculous rider RT requests? This applies only to the "You're the best, can I get a RT?", or "My life will be so awesome if you RT me!" tweets. RT-ing for a cause is fair game.
Yeah I'm following you, I'm totally on board.
Thanks for the time Wil; who do you want to shout out to?
The whole Geico Team, my family, my mechanic Jay, R-Fed and Sandy!