The much ballyhooed "penultimate" round of the Supercross series was setup for either max-drama or predictable deflation.
The much ballyhooed "penultimate" round of the Supercross series was setup for either max-drama or predictable deflation.
Photos: THE James Lissimore
As fate would have it, we got a little of both sides of the coins and that ain't all bad if you ask me. I mean seriously, the RV we've seen for the majority of this series was just not going to be denied. He's the same guy who secured the title in 2011 without qualifying for a main and also the guy who put the title on ice last year with what amounted to 3 rounds left on the schedule. SpeedTV did their best to build that last gasp of drama with the qualifying session crash-compilation of the repeat champion and even in the heat race, Millsaps made it look like he may have RV's number for SLC. As soon as Millsaps put the move on RV in the heat race, the crowd cheered and I took a deep breath and said, "ohhhh, now RV is going to file away his lines for the main". Not good for those of us wanting to see the title decided in Vegas.
Regarding that insanely short start straight. I liked it. Everybody was thrown off by it, which is good but it was absurdly unfair to anyone not on the inside 7 gates. If the start is that short, they need to angle the gate. It's not like the angle would have to be extreme or take up a lot of track. About 5 degrees of angle would make it pretty damn competitive for all 20 gates. I'm all for format changes which challenge both the technical and mental skills of the riders but a start straight where the riders don't even shift is highly favoring the inside gates.
450
We saw all night that the hole shots came from gates one through about seven and anyone outside of there was, as Weege would say, "livin' on a prayer". Ken Roczen was the most glaring example of how horribly wrong it could go on the outside. Chad Reed was another. Chad actually survived his outside gate in his heat race but that rock in his rear brake extended his streak of "shit happening" in 2013 and forced him to his first LCQ ever. Ralph mentioned on the live broadcast that Chad had to race the LCQ in Detroit 2008 which is technically true but he really didn't have to due to the provisional rule which was in place in 2008. Detroit '08 was when Chad went over the bars in a rhythm which sent him to the hospital with a fractured right shoulder and coughing up blood. He essentially took two gate drops, completed one lap and then invoked the provisional. As an aside, how pissed are you if you're K-Dub looking back on the provisional rule? They didn't have one in 2007 and there wasn't one in 2010, yet the year that Chad Reed used it, 2008, it was very possibly the deciding factor in Kevin Windham not securing his only premier class title in his storied career! Just ouch.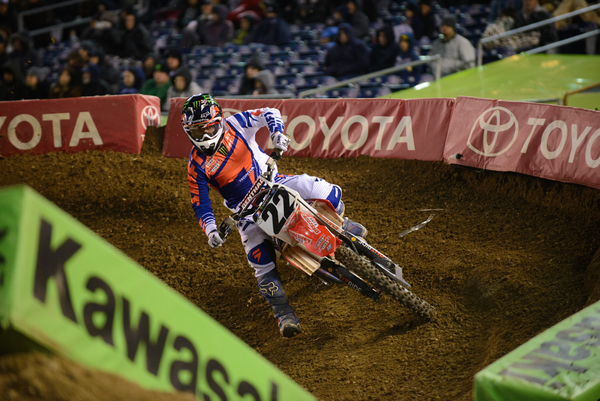 The 2013 SX Series will not be getting a Christmas card from TwoTwo.
Anyhow, Chad just knew the moment that rock ended his heat race that he was in a for an uphill battle the rest of the night. He would be forced outside and yup, he got caught up in first turn carnage from the outside and he became a lapper. If ever there were a mulligan in Supercross, it would be Chad's 2013. Yeah, guys have had worse luck but when you're that guy, with the skill, resources and pedigree; pretty much since round 5 he's got be asking himself, "what the hell is it going to be this week?". Two words for TwoTwo: Fresh Start.
When it came to the 450 main, the first thing that caught me by surprise was Dungey giving up the inside to RV in the 3rd corner! Really?! RV could have drove Big B's Mule through the gap Dungey left open coming into that corner. As the two riders hit the apex of the corner, they came together a little but the damage was done when Dungey left the massive opening between he and the inside tuff block on the 180º turn.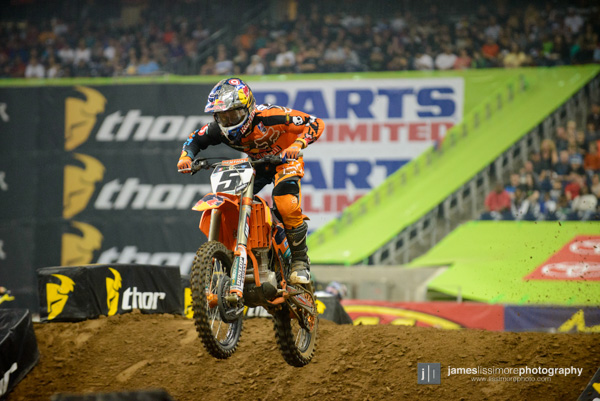 The Dunge kept both Millsaps and RV honest but he has one race left to overtake the Duke for 2nd in points.
After that it was all out war for 20 laps– well, as much war as there can be without any passing or contact. Davi Millsaps made quick work of Dungey and made it look like it was only a matter of time before he moved past RV2 just as he did in the heat race. It never happened though. RV looked sketchy more than a few times in the whoops, honestly everybody did at some point during the night but he kept his Kawi under control and never let Millsaps close the deal. Dungey got screwed by lappers a little worse than Davi and lost Davi's rear wheel for a few laps but he made it back, though he still couldn't make a move for second. The two are separated by only 3 points with one round to go, so that pass could and likely will prove to be pretty important for that 2nd place battle.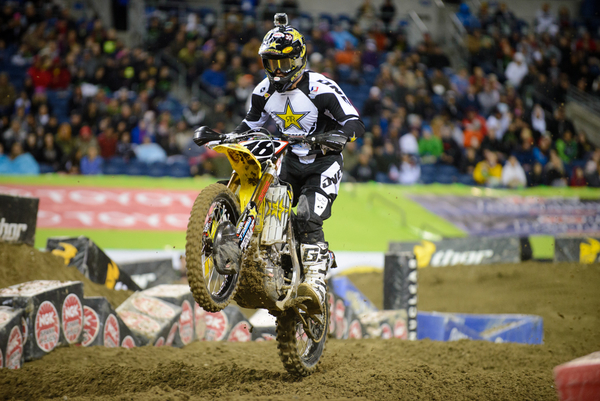 It was great to see Davi riding like the Davi of earlier this series in SLC. Lets hope he is good for the outdoors.
Ryan Villopoto clinched his 3rd straight title and did so on the offensive which is really damn impressive. The SLC track was far less treacherous than years past, other than that whoop section, so RV got a start and rode his ass off to secure the series. Three straight titles is ridiculous. Think back to RV's rookie year when he was still sporting his "freshman 15" and compare that RV to now. He's a machine. From his physical fitness to his mindset on the track, he is programmed to care about one thing only- winning. Only Jeremy McGrath has won 4 straight in the sports history and I'm not claiming that RV will but I honestly believe between his skill-set, focus and will; there has never been a more capable racer to do just that. He takes NOTHING for granted. He's like a mad dog. He sets his sights on what he wants and doesn't blink until it's either his or some unforeseen event makes it an impossibility. So far he's seized everything he's sought out.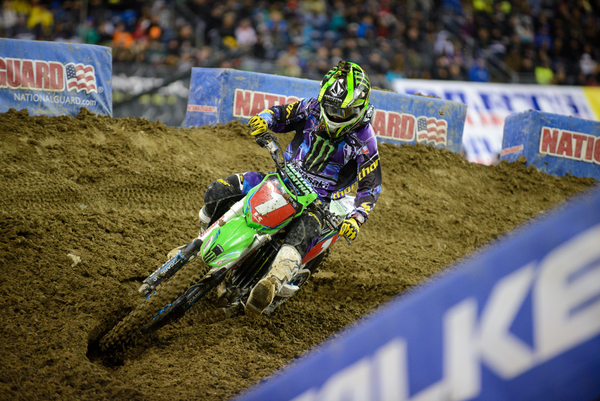 Hell on wheels. Straight up.
250
Man. I thought the first thing every racer was taught, right after how to use a clutch, was that you never, ever, under any circumstance, pull out of a race unless your bike or you, break. Ken Roczen rolling through the whoops on lap-three of his heat race had everybody shaking their heads, with eyes wide. Emig thought there was an injury or a bike failure and K-Dub, also in the booth, was utterly amazed that Ken was apparently just banking on an LCQ transfer. Apparently he forgot how short the start was and how unfair it was for riders in the outside gates. In just about any other venue, this unfathomable action would have been at least a little less incredible but he literally pulled off in the worst possible venue and track design imaginable.
One thing is certain, Ken Roczen will never pull off again unless he or his bike literally can not finish. Can you imagine what Roger was telling both he and his mechanic after the heat race? After the LCQ? When he pulled off in the heat and his mechanic walked over to him, and patted him on the back, I was amazed! I'd like to know what Frank would say to JT in that situation.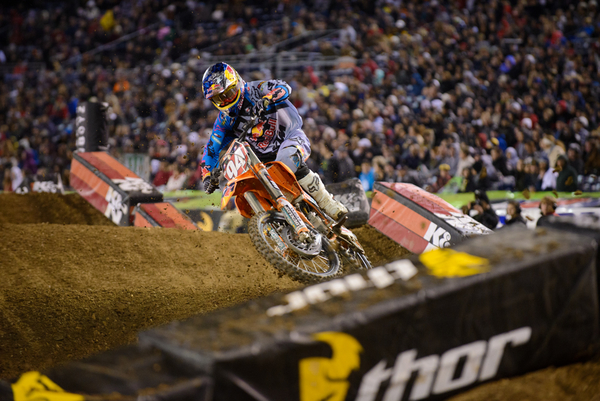 Roczen broke rule number 1 in SLC.
The stage was set for Eli Tomac to unfathomably leave SLC with the points lead. Think about it. Eli looked indestructible through the first few rounds (yes, that really was this series!), then his big digger in Oakland and only scoring 1 point, gave the points lead to Roczen who until SLC had matched Eli's previously impenetrable dominance. It seemed a foregone conclusion that Eli was racing for second due to his Oakland crash and Ken's consistency. As the smart ones will always tell you though, "that's why they race every lap of every race". Nothing is a foregone conclusion, oh yeah, and you never pull off.
Mirroring the insanity of Ken's decision to pull of was the epic meltdown(?) of Eli Tomac with the points lead lying in the balance. Conspiracy theories are of course out there. Is he hiding an injury? I don't know man, but he looked terrible out there. I couldn't pinpoint anything he may have been favoring if it is injury. He just looked to have no flow. He was pointing and shooting around the track. Everyone who came up on him, quickly disposed of him until the latter stages of the race when he finally started reclaiming some of those lost positions. It was a bit of damage control but in all honesty more damage than control.
Prior to SLC, Ken was up by 20 points, Eli had a chance to leave SLC with a 5 point lead but instead is down by 5 points. Prior to Ken's SLC heat race, Eli probably would have done cart-wheels for that result. As it stands though, the way it worked out, Ken is the one doing cart-wheels.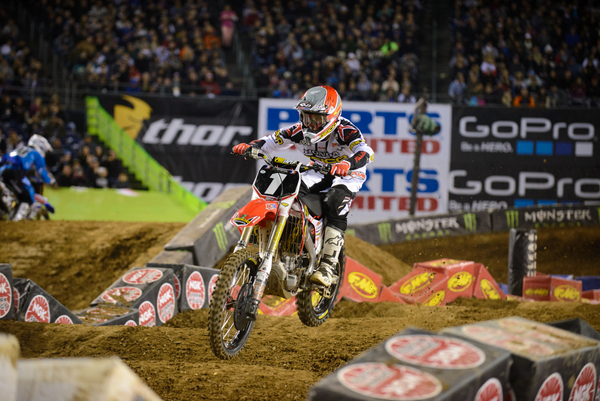 Who's SLC falter will end up costing the most in Vegas?
Lots of irony surrounding this SX2 West title fight in SLC. Ken quits and is setup to lose the points lead but in the end Eli's blunders in the main keep Ken atop as title favorite. Sounds a little like Jacksonville 2011 with it's wild and crazy right hand first turn. You know, the race where RV missed the main, was headed home before the gate drop, assuming he would have a points deficit to James Stewart, then receives a phone call during his drive that JS7 crashed out of the main just after the start and the missed main suddenly isn't the death rattle it first appeared.
One round to go folks and two titles to be decided in the 250SX coasts. What is more surprising, that both 250 titles are between the same two teams? Or that neither of them includes a Pro Circuit rider?
(ED Note: An earlier version of this column left out that Mcgrath is the only rider to win four straight SX titles)