The great JMB talks about his amazing year
The great JMB talks about his amazing year
Hi everyone, from the late 80s through the mid 90s I was a contributing photographer for Hi-Torque Publications (MXA and Dirt Bike magazine). The photos that you see here were never published and have been stored as 35mm slides for the last 15-20 years. A month or so ago, I finally got around to purchasing a quality scanner and the journey began, going through these images has been a revelation, as I haven't looked at any of them since I put them away and had only seen them as tiny little 35mm slides. Scanning them, then seeing the images on a computer screen has been like seeing them for the first time, they stir up lots of great memories, and bring back a great era for motocross, lots of bright color, big characters and of course, some true legends of the sport.I hope you enjoy viewing them as much as I have-Mike Sweeney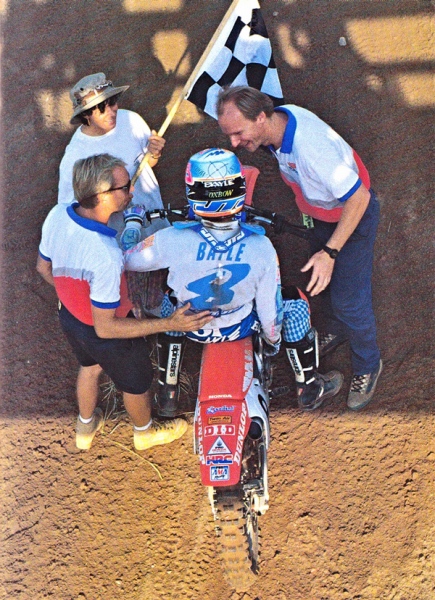 Sweeney- "1991 was an interesting year for AMA – American motocross and the 250 outdoor championship, two of the most dominant racers of the mid to late 80's, Ricky Johnson and Johnny O'Mara had retired, Wardy still going fast, was nearing the end and Jeff Stanton who dominated 1990 was now forced to share space with a much heralded French rider, Jean Michel Bayle.
JMB didn't always receive a warm welcome from the American fans and I always thought it was undeserved, I remember him getting loudly booed at many races!
The tragedy of it was that the fans who were booing, for the most part didn't take the time to appreciate what they were seeing.
He rode with an incredibly smooth, effortless style that is unmatched even to this day, he made the biggest obstacles look easy and basically floated over everything at an incredible speed.
I've always wondered if the fans would have treated him differently had they known how short his American career would turn out to be?
The checkered flag photo is one of my proudest moments as I actually thought about getting this exact shot from the bridge and, as it turns out, got lucky and got it. This was the last round of the 1991 250 MX season. Stanton went 1-1 for the overall and JMB went 4-2 for second, clinching the 250 title. This photo was taken just after he finished the second moto, clinching the championship, his girlfriend, his mechanic Cliff White and another Honda mechanic came out to congratulate him and begin the celebration. I remember a lot of unhappy American fans leaving Southwick that day. Stanton did all he could and would have needed a disaster from JMB to take the title that year."
Bayle- "This was the last race in 1991, Southwick where I clinched the 250 title. In the beginning of the season the first national was during Supercross season. My main goal was to win the Supercross championship, so first few race in National I went easy to not hurt myself.
I won a lot of motos but not races but I don't care because I won 8 races in Supercross. I knew I was able to win, but the season was very long. My goal was to be the only one to win the three championships so I put my ego on the side and I said if I don't win a race it's not a problem. I need to go for the championship. It's difficult to win every race. A championship is a championship.
I was helped out a lot because the first race at Hangtown, it was a huge mud race. Actually it was not too much mud, it was so much water. It was not so muddy but… It was water everywhere. It was like a river we have to go across. I was looking, everybody was pushing the bike, Jeff Stanton and everybody's bike was dead. So I tried to protect my bike all the way through the race.
Because I'm used to the mud in Europe and the water. If you put wide open throttle you get nowhere and when you go wide open you suck a lot of air into the motor. So when you want to go across the water, you get air in there but then the water follows! You don't want the water to go in. So I knew all that because my experience, but I use it there because I didn't want to get stuck someplace.
Some people say that I thought I won when I crossed the finish line but no, I was leading the race and I knew that (John) Dowd was trying to catch me back but I didn't want to take any risks. It was only three laps to go. And I saw Jeff (Stanton) stopping and (Damon) Bradshaw DNF'ing… So I say it's 22 points. I said, okay, forget about the win when Dowd passed me, just make it to the finish line. It's 22 points. It's good to start the championship with 22 point lead!
I had a good lead because of Hangtown. So I was a little bit resting on this. For the last race I didn't want to take any risks. I knew I could get the championship quite easy. My goal was just to win the championship and after get ready for the 500 and try to get the 500."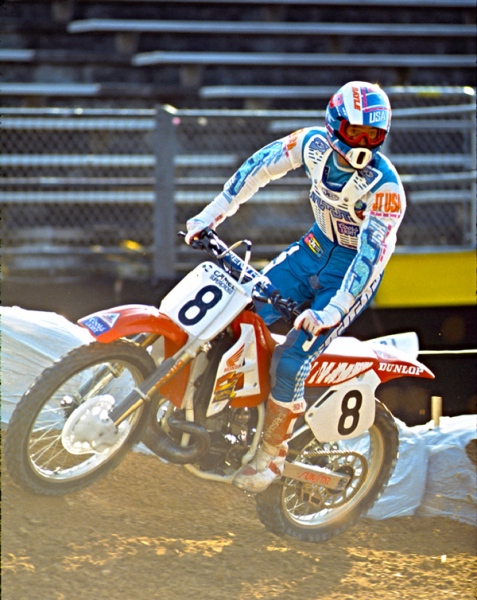 Sweeney- "As for the stadium shot, it was opening day practice, 1991 at Orlando, I loved the light in this corner, JMB was on a sight lap here, checking out the lines and watching how the other riders were hitting the different obstacles. I remember he went "slowly" by, thinking man that Honda sounds good, those factory CR250s just made this sound that was incredible, no two stroke sounded like them. Next lap he went by me again at light speed the bike barking angrily, floating over the whoops, I'll never forget those few laps."
Matthes: "The 1991 season opened in Orlando and was easily one of the more anticipated supercross seasons at that time. Jeff Stanton was back-to-back sx champion but there was still a sense that the title was wide open. You had Jeff Matiasevich who led the series for most of it in 1990 (but wouldn't really be a factor in '91 but you didn't know that when the series opened), Stanton the consistent, doesn't-wow-you-with-speed guy, Damon Bradshaw who did indeed wow you with speed and this guy, Jean Michel Bayle.
Bayle started out in 1990 and it was his first full-time year in the USA and he wasn't considered much of a threat. And he started slow before really coming on that year. Lost in the 1990 supercross series was the fact that JMB came very, very close to winning it. He missed one race with injury and that was what did him in. Clearly, the Frenchman had the hang of supercross.
This race ended with the champ Stanton winning it, Bayle was second and Bradshaw third so the order was set. These three would be the men all year long with Bayle eventually taking control of the series and clinching it early. He was smooth and precise throughout the series and just rode around when he was indeed charging hard. I imagine it was a lot like watching Pourcel a few years back.
Want to watch the 1991 Phoenix Supercross with Jean Michel Bayle? Well you're in luck, I sat down with him last year at Bercy and we watched the race while he took me through what he was thinking at the time. Click HERE to go there