Here we are in the midst of (truly the only time of year that you could make an argument for) the off-season in this incestuous circle of Motocross and Supercross.
Here we are in the midst of (truly the only time of year that you could make an argument for) the off-season in this incestuous circle of Motocross and Supercross.
Photos By: James Lissimore and Courtesy of FMF
That term may sound dirty but there's no denying it is a very close-knit group of industry personnel who work on a "scratch my back, I'll scratch yours" type of honor system. How ironic that the industry works this way yet the running joke is that contracts are shit and you're only as good as your last result. Sounds like a family to me alright… perhaps the Gallagher family from Shameless on Showtime?
It seems like clockwork every year. It's the dark side of the joy we all get from both riding ourselves and bench racing about the elite pro's day in and day out. Death is never far from the consciousness of all of us who love moto. Few sports compare with the adrenaline, natural skill, trained precision and unfortunately luck which presents itself in so many facets, moment to moment. The danger is inherent and so closely related to that luck that it's really quite incredible we don't hear of tragedy more often; sad as that thought is. The news of the passing of Kurt Caselli at the Baja 1000 spread through the moto world faster than any before due to Motodrive, the Twittersphere, Facebook and the general social-grapevine which we are further entwined in by the day. Just like almost all information conveyed these days via these unregulated vehicles, the story surrounding Kurt's passing was swirling with misinformation, speculation and in some cases intended prejudice.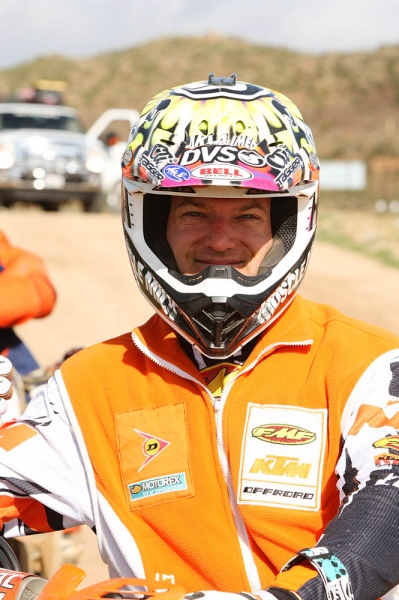 Always smiling. Kurt Caselli.
At the onset, the story spreading like wild fire was Mexican locals along the route had buried debris in an attempt to entertain themselves at the expense of unsuspecting racers. Just about anyone who was not on-site heard and conveyed that Kurt's passing was due to one of these situations. As time passed, those with firsthand knowledge who were privy to the actual story, came to grips with their heartbreaking reality and caught wind of the exaggerated stories. They did their best to quell the inaccurate leaks and inform fans that his death was due to the meeting of the high Baja speeds and that which I spoke of earlier, luck. Pure chance or bad timing intersected Kurt's path with that of a passing animal. Simply awful.
There are many forms of two-wheeled competition and their participants are all linked by the same risks and rewards. It was very apparent that Kurt had a major impact on all who interacted with him. He transcended his two-wheeled discipline with his likeability as well as his prowess. The emotion and sincere responses throughout social-media alone was grandiose and touching.
Godspeed Kurt Caselli.
*****
Moving along, I want to look at the changes to the 2014 Supercross series. I really hate to agree with Matthes on much of anything but I could not be more on the same page with him when it comes to the LONG overdue changes to the forthcoming Supercross series. Putting those two starting gates, which have simply remained empty (installed! but empty), back into use is simple logic. If a caveman, Moser for instance, were to step onto a Supercross track and see 22 gates with only 20 riders, even he would think it was ridiculous. Good job Feld.
Bringing the Semi's back is another great step forward (ironic since both of these changes are throwbacks to how the series used to be). At this rate, we'll be welcoming back the night/day double header at the Pontiac SIlverdome, two-strokes and Frezno Smooth 2 soon and I'll be happy as a pig in shit. One night in Detroit will do for now. So anyway, back to the Semi's; I could go on about all the reasons bringing the Semi's back are awesome but I don't need to because Rich Taylor did on the PulpMX Show earlier this year and I pulled his reasons for the Year in Review show which will be out in just over a month. Listen in to that, fella's!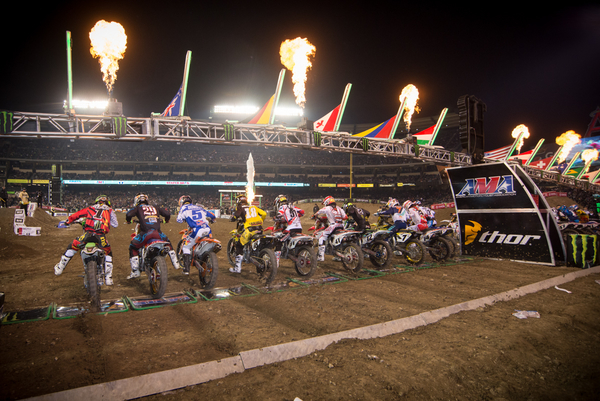 See that empty gate on the left of A1 this year? Not in 2014.
There are also mumblings of Joker Lanes and 3 ten-lap mains. Bring it on. These ideas are new and as new ideas often are, they have been polarizing and ridiculed for their alienness. The 3 ten-lap mains much less than the Joker-Lane because lets face it, a Joker Lane is a truly game-changing aspect, whereas 3 ten-lappers really just alters the approach to execution a bit. It also doesn't help that Feld is often cited as not caring about the racing, only the show and the name Joker-Lane doesn't do much in the way of dispelling those beliefs. I see these two changes as proof that Feld is trying to evolve Supercross a bit and with the machines they are on these days and the tracks not providing much difficulty (please can we get some long whoop sections this year?), it's a great way to start. I don't want to be lumped in with the two-stroke fanatic sect but there isn't a question in my mind, the racing will be better when two-strokes are the norm again. It will happen, everything goes in cycles.
****
Chad Reed came on the PulpMX Show last night and was his typical honest self. Above all, he put to bed all the debates on what brand he will be riding in 2014; though unless you're either way out of the loop or were the debate team captain, you knew from the clues a few weeks back. Once again, he affirmed his love for screwing with people via social media. Why not?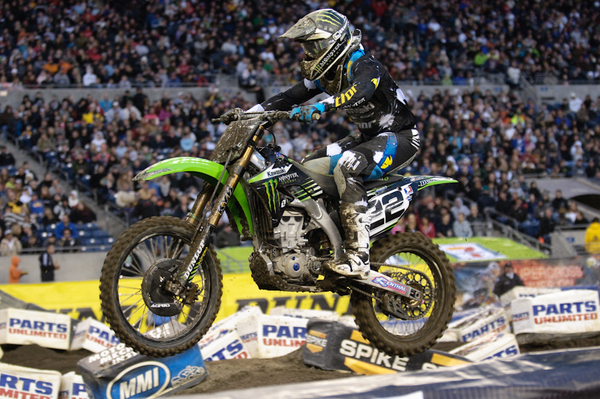 Reedy is back on Green… well, it's blood is green anyway; for 2014.
So Ken Roczen has joined the Aldon Baker program based out of RV's Florida training grounds. It did seem a little odd at first but then I read Aldon's input over on RacerX Virtual Trainer and it made perfect sense. I'm paraphrasing but essentially he said, RV likes Ken and RV needs motivations other than wins and titles to keep at the top of his game. Ken will provide that. I do believe it will cause friction within KTM now that Dungey's teammate is in bed (not literally) with Ryan's prime competition of the last 4 years. Ken had at least a fighters chance of beating Dungey regularly before jumping into the Baker training formula but now it almost seems expected. We can't forget though that Dungey is the perennial title-contender and Ken will be merely a rookie in the 450 class. It's an interesting dichotomy and next to Reed on Kawi and Davi on KTM, the most intriguing storyline I see for 2014.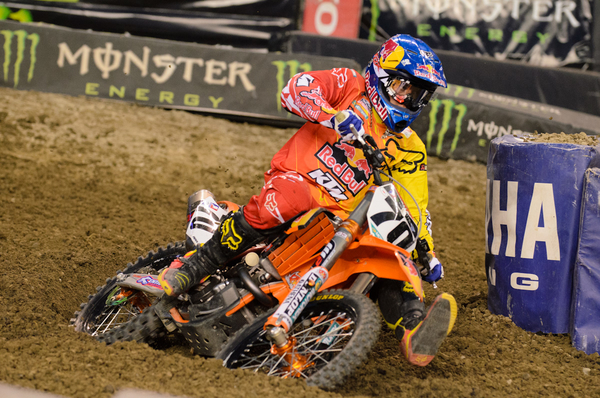 Seattle 2012. Remember when Ken holeshot and nearly won on the 350 when Shorty dominated (and Moser snored…)
In closing, I'm sure there is at least one or two Mad Skills Motocross players out there and I'm sure you are very excited about the launch of Tournamet 4 this Thursday. Although I am, I don't expect I'll be anywhere within the top 100 for #T4, we are knee deep in the development and testing cycle for MSM 2 and though I can't get into specifics right now, I will say that there isn't a thing about MSM2 that isn't an improvement (in many instances, meteoric leaps forward) and when it hits, you will undoubtedly be more transfixed by the game, the competition schemes and most importantly, the fun; than ever.
Thanks for reading people and don't forget, the PulpMX Show Year in Review is on deck.