A rider lets us into the minds of what riders think about out there
A rider lets us into the minds of what riders think about out there
Hammerhead Designs was launched with the intent to provide new and better parts and innovative accessories for motocross bikes. One of our goals has been to design entirely new and unique products with improved ergonomics and the shift lever was the first part that we felt could be dramatically improved by providing a feature that would allow for the shifter to be repositioned to perfectly suit the riders size, shape, and preference.
So, every now and again, I like to imagine I am a random rider in the field at varying points of the race and ponder what they are thinking at that moment. The main events are 15-20 minutes typically and while riders are focusing on what they are doing, there is certainly time for differing thoughts to creep in. This is what I pictured running through a few minds on Saturday night.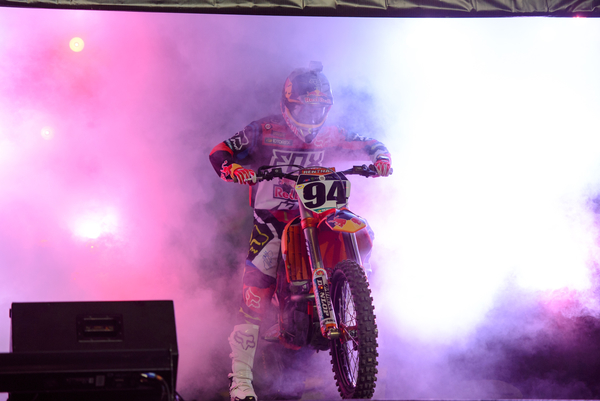 Jason Thomas is in the mind of Kenny Roczen! Lissimore photo
Lap 1
RV: You guys realllllly shouldn't have let me get into the lead this early. Consider the hammer dropped.
Deano: Woooohoooo, holeshot! If Chad tries to take my $1500, we are brawling at the semi. I will choke him with a haggis hoagie.
Mike Alessi: Drats! The universe will get all of you back for this!
Ken Roczen: Ich liebe Daytona aber das wird nicht gut
Justin Brayton: 14th? How did I get here? Anyone have directions to Phoenix?
Josh Grant: The good news is that Phil is already here riding so I can't get benched. The bad news is that he is ahead of me.
Chris Blose: Just because I am in 20th doesn't mean I am not gonna win this race.
James Stewart: Break out the tools on pit lane because I am comin' in!
Lap 5:
Deano: I hope my agent has his cell phone on, we are blowing up! This isn't so hard, Chad, I got this. This bike likes me better anyway.
Mookie: This 450 is what I am talking about! When push comes to shove, I am just a better 450 rider.
Ken Roczen: Könnte jemand bitte fragen Sie Mookie, mein Weg? Er ist viel größer als ich, aber ich finde die Ryan's.
Broc Tickle: Shutup Ricky, I am working on it. Gimme a minute.
Phil Nicoletti: Bench this, mofo's! Top ten!
Cole Seely: I miss Indy.
Nick Schmidt: I wish Matthes would stop touching my hair, it's freaking me the eff out.
Mike Alessi: I have no front brakes but I didn't use those in Atlanta anyway. Let's do this!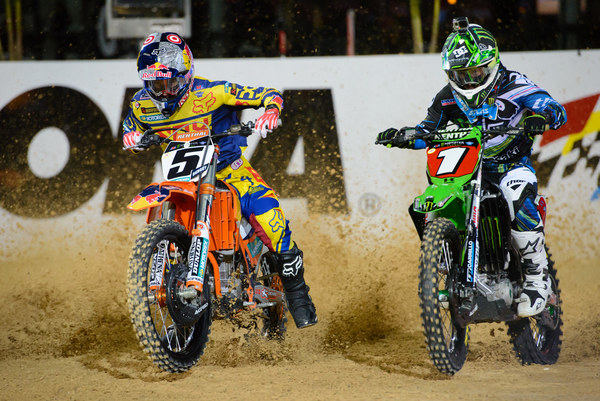 Dungey and Villopoto both made the podium at Daytona and both riders minds were read by JT. Lissimore photo
Lap 10:
RV: Halfway home. I <3 Aldon.
Ryan Dungey: Please, please, please let me by Dean. Please? No? Ok, I will just follow you for a while longer.
Broc Tickle: I know, Ricky, you won Daytona 5 times. I get it! You are the goat! I am trying to work out here! Stop yelling at me!
Andrew Short: This is a fabulous day. I am thankful to be here and I love all mankind.
Josh Grant: I passed Phil! I may be 9th but I am still happy living the now. #greasy
Justin Barcia: I just got roundhoused by a Dunlop. Is it warm in Huntersville yet?
Nick Schmidt: Seriously, Matthes, stop staring at me. If I give you a lock of my mane, will you go away?
Lap 15:
Mike Alessi: I am in 2nd place! Ok, maybe not but I am going to pretend I am and hopefully no one that reads the newsletter will know any better.
Ken Roczen: Shutup Mike, I am in 2nd place and my bff is leading this shindig. I can finally think in English again. My German comes out when I am buried in the pack. I hope my Instagram pics are good when this is over!
Ryan Dungey: Well, thanks a lot Dean! I was being all polite (I am from Minnesota, dontcha know) and you let Roczen get both of us! Just great!
Dean Wilson: WHERE WAS THE WHITE FLAG? WHERE IS THE CHECKERED FLAG? THIS IS NOT FUNNY! CHAD? RYNO? SOMEONE DO SOMETHING!!!! HELP ME TOM CRUISE!!!!
Andrew Short: How are you doing today, Pulp readers? I am interested in your well being and if there is anything I can do to make your life more pleasant, please let me know. I wish all of you a spectacular night here in Daytona.
Matt Goerke: What happened to all of the bowl berms? Oh, wait.
Justin Brayton: Hold me and tell me everything will be ok, Weege.
Jimmy Albertson: I'm about to boner air this sumbitch.
Lap 20:
RV: I told you idiots I was still the best guy.
Ken Roczen: Team Aldon forever! Did you see how good I rode Ricky? Does anyone know if Pink watched me?
Ryan Dungey: I really, really, really hate Aldon Baker. And Matthes.
Wil Hahn: 6th isn't great but I was better than the results look.
Deano: I don't know why we are still out here, the race has been over for 5 minutes. I can't believe I got 2nd! What should I say on the podium? Should I thank Mitch first or Chad? Podium baby!
Matt Goerke: Where's the beef?!! See what happens when you let me use all 10 fingers?
James Stewart: Haha, silly RV, trying to lap me. If I don't crash in Detroit, I will win. And Toronto. And St. Louis. And Houston. And…
Chris Blose: Suck it, James. I am going to win Detroit.