Pro riders are picky.
Pro riders are picky.
Photos By: Simon Cudby
Calling the top gun's picky isn't a slight toward them, they know it as well as anyone. It's embedded into their DNA as they rise through the amateur ranks. Riders who not only have the resources to cater their machines to their personal tastes but also possess the ability to dictate those desires to the specialists, are in the best position to excel and rise above. Given that the 40 rider gates at the Lucas Oil Nationals are comprised of many of these type-A personality racers, the tracks are rarely given a necessarily optimistic report card by said racers. Red Bud has long been the standard track on the National schedule that the majority of racers will openly voice their love for. It's got elevation changes, big air, insane fans and the most important factor, great soil (albeit with some artificial manipulation; which in itself is another reason riders appreciate it: The owners really care.).
A few weeks back, Matthes and Weege sided with more than a few Vital forum members in agreement that perhaps Millville has taken that coveted title as best track. The Red Bud Rowdies will NOT stand for that smack talk. Millville also has that great midwest soil that has aspects of loam and sand which responds positively to water, ripping and sun. It's a workable track surface which rewards the racers when properly prepped. The same can't be said for most tracks further west which extend a stubborn and uncooperative middle finger to the preparator's.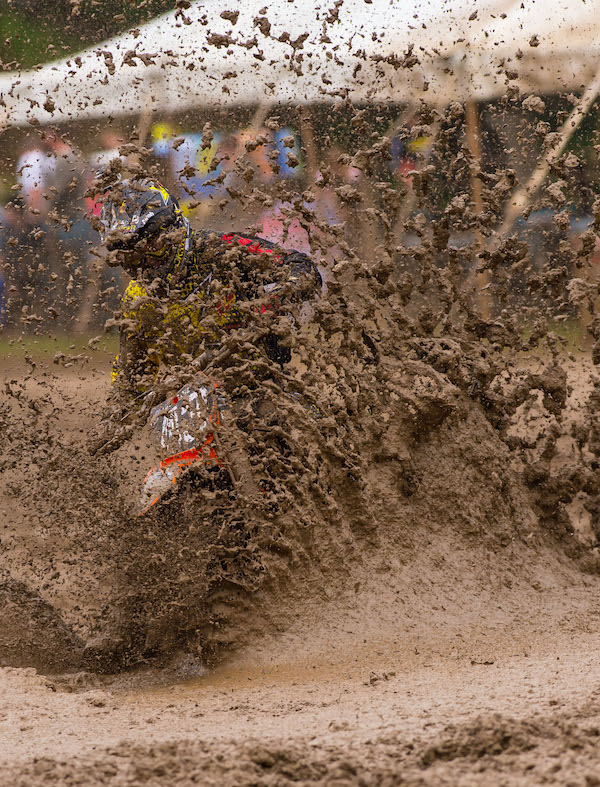 Joey Savatgy demonstrates just how wet the track got.
Flashing forward to this past weekend in Indiana where the most recent iteration of fresh arrivals on the National circuit saw it's unveiling. Things were looking good even months ago just knowing the track record (unintended pun) for these midwest race tracks. Though in all honesty, Kenworthy never really fell in line with our grand midwest plan. Perhaps it would today, as the National track prep has come a long way. DC and the MX Sports crew did their standard Instagram-assault from early-on, making sure fans knew that this new Indiana round would be the most pure and idealized track conception brought to reality in the history of motocross in the USA! That is not an exaggeration either. Between Pala, Lake Elsinore, Freestone and losing Glen Helen for a few years, MX Sports has received more criticism than anyone would be comfortable trying to deflect; and DC was not going to put anything less than 100% into assuring the Indiana National was as well received as any National track ever could be. Yes, even when considered against the perennial favorite, Red Bud and it's possible protege, Millville.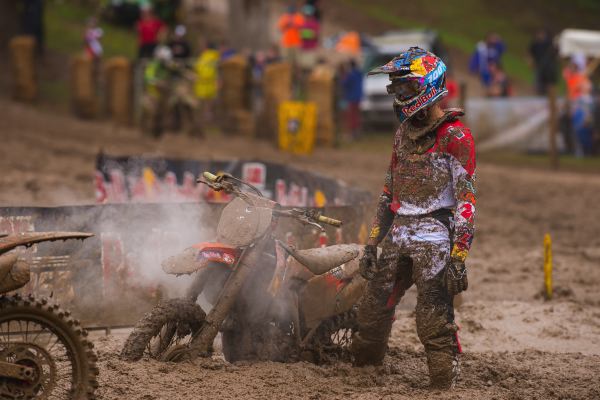 Whatever the French translation of "Really?" is, Marvin is thinking that right here.
There's one thing Davey Coombs, MX Sports and Marc Peters could not control though, Mother Nature. And like she often does in the midwest, she flexed her muscles in the form of a monsoon on race day. We've had a few incredible dumping downpours here in the midwest this year. This wet season comes on the heels of a record winter in terms of snowfall totals and the storms have extended deep into summer. I'm sitting through another now as I type this.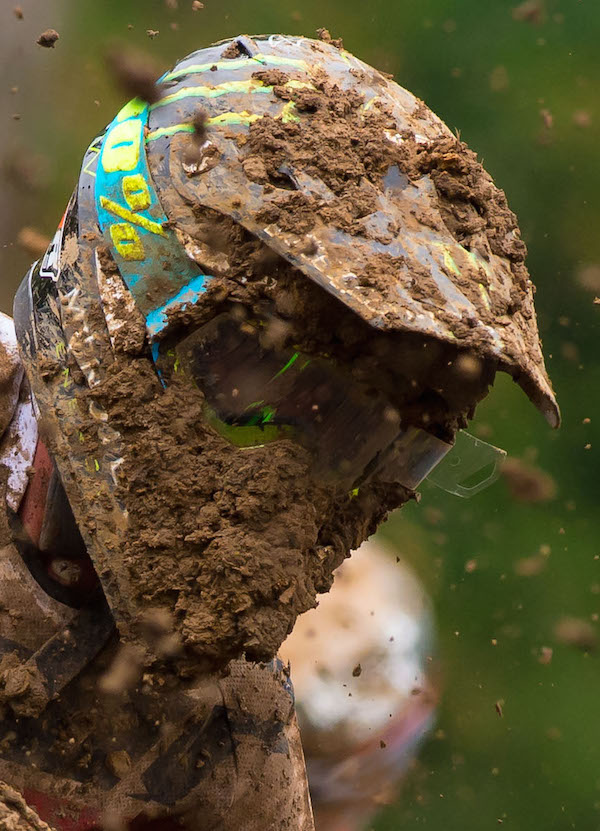 Check out this awesome Cudby shot of Metty's mud build up. I hope he wore a breath-right.
Here's the kicker though, even with the treacherous conditions, the overwhelming majority or those 40-man gates came away with positive opinions on the potential of the Indiana track. It is a rare case when riders are making excuses in defense of a track, so when it happens, you take notice. In most cases, a mud-fest would only add fuel to the fire of track-deprecating opinions. Following Indiana though, many riders were complimentary of the new track and eager to come back in 2015 to get a real sense of what this track's capabilities are.
Davey Coombs and MX Sports (Marc Peters too) got something this weekend they rarely get from the masses of moto fans during a series, an optimistic mulligan and a one-year grace period from criticism.