A lot of thought and preperation go into goggles at a race like Indiana
A lot of thought and preperation go into goggles at a race like Indiana
When you get a race like we had this past weekend in Indiana there's no doubt that one of the most important things for a rider to do is keep the goggles on. Once the goggles are tossed, your race could really go either way. And so this is when the goggle men in the sport kick it into overdrive and try to use every little trick they can come up with the make the goggles last as long as you can. And there is a little luck involved in this as well.
One of the best goggle guys around is Scott USA's John Knowles and after the muddy mess we just had and seeing Trey Canard's "two goggle" technique, we called up John to talk mud, goggles and Canard.
Pulpmx: Let's talk a little bit about Indiana because we're both ace goggle guys, or at least you are. There's always that debate with riders – and you look after Canard and PC and lots of top riders – as to whether to run roll-offs or tear offs. There was no rain, so do you run roll-offs or laminates? What's your advice in that situation?
John Knowles: First off, Roll-off is a Smith term. Film system is a Scott term. (laughs). (Matthes note: Ah, maybe that's why EKS Brand says Zip-off's…who knew Smith had the name roll-off's on lockdown?)
We should probably start with the fact that practice was so far beyond bad, that I think a lot of guys who typically are just scared of or hate wearing film systems just thought that they kind of had to. It was kind of getting to the point by the first 250 moto where I was kind of thinking to myself that tear-offs are probably going to be better, just because it was done raining and it got kind of almost sticky and heavy. That's not really ideal for the film system.
So in practice you sent everybody out with film system?
Absolutely, yeah. But it was obviously so bad, there was so much standing water at the time when they were out there, especially when the 450 guys went out there, it was a downpour. Not much we could do. Not much anybody can do. So they were making it like a lap or two and taking goggles off and going back out. At the time I'm thinking if it keeps up I won't have enough stock. I just won't have enough product for guys to come in every lap or two. It's just not possible. So I was getting nervous at the time.
How many film systems do you bring for a race like that?
I'll make sure everybody that's on my build list, which is probably about 14 guys, have 4 a piece, plus my spares. I had at least 100 built film systems this weekend.
So you would have gone through 100 film systems with all your guys?
Plus, I'm still thinking, start with a film system, you make it a couple laps, maybe one more film system, if you have to come in again then we'll go to tear-offs. That was at the time it was 2-3 inches of rain. And everybody was like, oh my God, this is going to be the worst ever. It actually didn't turn out to be that unbelievably bad. But it was pretty bad.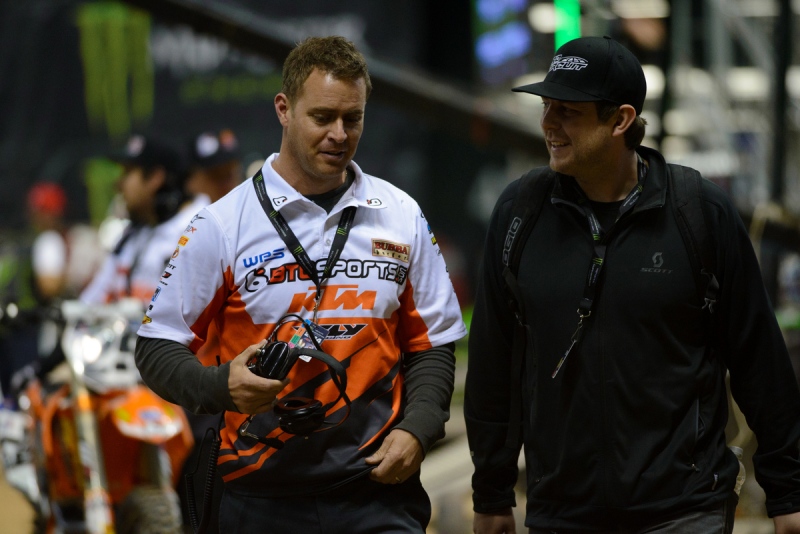 Knowles (right), has been a fixture for Scott at the races for years. Lissimore photo
So first motos come around, Noren tells me he hates zip-offs. So I put 21 laminate tear-offs on and I build a little visor. And (Jimmy)Albertson is all about the roll-offs. But when it's not raining and it's clumpy and sticky, roll-offs aren't the best.
Definitely there's a fine line there. You say you have 21 laminates on there and that's what I say too but technically does a rider get through all 7 without losing one or two in each stack? So you probably get more, let's say you get 18 tear-offs. But in a 35-minute moto really you're going to be able to do one every two minutes. That's not a lot, especially when the conditions are like that. If you were behind somebody, immediately you were covered. So you almost have to run film systems in that particular case. But then, like you said, when it gets all clumpy they just don't work well unfortunately, when it's clumpy and drying out.
Do you have guys who just refuse to wear film systems?
Yeah, (Blake) Baggett for example really, really dislikes them but he had to wear them in the practice. He was the first guy when the conditions were getting a little bit better to be like, "dude, I want tear-offs now." I put 28 on, which is pushing it with the length of our pins. That's really starting to get where they might just start to fly off, which is also bad.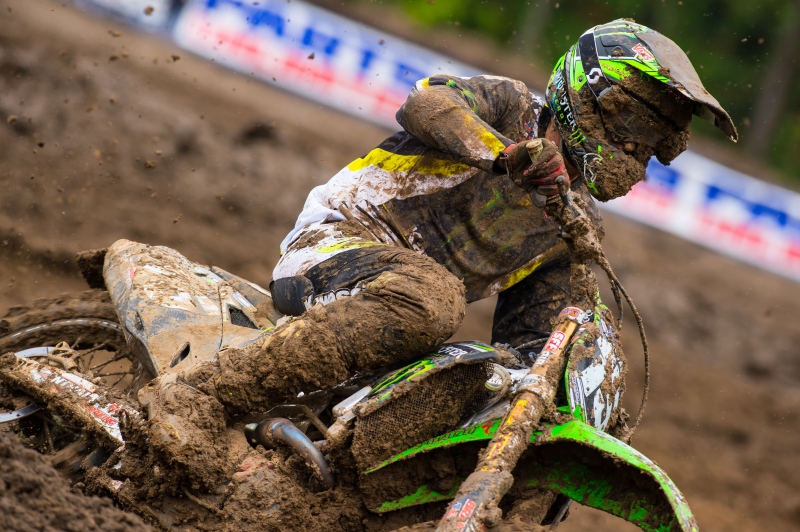 Dean Wilson with his Scott film-system on. Cudby photo
I had Noren and Lamay and they made it through both motos, 21, no problem, laminates. It really is such a luck of the draw, isn't it?
I think if you take all the precautions there's only so much you can do. And then, yes, there is a little bit of luck involved, whether the guy in front of you happened to hit that one puddle, or you get a bad start in 30th and you're a guy like say Baggett who's going to come through the pack you're going to eat roost the entire time. You are never going to be up there-you're always going to be going forward. And I used to say back in the day this is a good time to bag on JT, but he was a great goggle tester because the dude was always in roost, always. There's definitely some luck involved.
Did you have guys who kept them on and had no problems and guys who couldn't keep them on?
Yeah, absolutely. I thought the first moto was worse. Dean Wilson, for example, made it the entire first moto with the film system, no issues, went all the way through the roll of film. Second moto he had his goggles off like third lap. And I think he was coming through the pack, a dude cut off into the stuff they pushed off, it was soupy. He just got splashed and there's just nothing you can really do for that. Again, you got to get lucky a little bit, but if you take all the precautions…
A guy like Tomac pulled in early for goggles, both motos, like second lap. Do you think that was a strategy or did he get doused both motos second lap early?
I would assume he got doused. I wouldn't assume that they had any kind of planning for that early. I didn't really take notice but maybe he just got two bad starts and unlucky in those first two laps or whatever. He could have started over-thinking the situation a little bit too. That's also bad. You got to be smart but you got to go out and have fun when the conditions are like that. You can't be thinking about, "oh my God, what am I going to do about goggles?" Good to have a plan, don't get me wrong, but I think you can really get yourself in trouble by just over-thinking the situation.
Like you said, there's only so much you can do. How stressful was it for you? You don't stop working, do you?
It's stressful. And this is the main reason why this weekend was stressful. I had all my stuff done. I was prepared. I checked the forecast and Friday evening it was still calling for 30%-40% chance of a thunderstorm or a shower or whatever. So I kind of went with my normal game plan which was tinted lenses. Not only was I getting ready for a super mudder, but I had to be ready for the fact that if it dried out enough for tear-offs I had to get those guys out of the tinted lenses because it wasn't going to be bright enough for that. So I kind of screwed myself. And I'm usually pretty good about staying ahead, but call me lazy or whatever with two rounds to go. I just didn't expect it to be like that. So it was stressful for sure.
How many tear-offs do riders run over top of the film systems?
We usually three holeshot tear-offs and then… Every situation's a little bit different but let's say we get 40 to 50 pulls out of a film system canister.
In your expert goggle advice, does raining equals always film systems; no rain equals tear-offs?
No, that's not necessarily true because sometimes raining in the right conditions and if it's super hard-pack like we've seen, like a Washougal that doesn't really have a lot of dirt, the rain actually washes your stuff out. Now, if you had tear-offs on top and it was raining and it got in-between the lamination book, then you're looking at a disaster and you're going to have to pull them all off anyway. I don't know if it necessarily always equals that.
Let's talk about the Trey Canard two goggle thing. Whose idea was it?
We get down to the line, we usually head down there by like 12:30, quarter to 1:00. So 25 after 12:00 I'm getting a text and it's from Ferry (Canard's coach) and he's requesting another Tyrant goggle for Trey. I'm like, first of all phone service wasn't great so I don't know how long ago that was. So I walked over there and I walk into the Honda truck and Canard's there in a t-shirt but he's got his helmet on. He's got goggles all over the place. I'm like, what are you two guys up to? And the Honda guys, I think I heard this story from one of them before, I can't remember who told me. But Akira Narita was at a race in Japan and it was just an absolute disaster mud race. He said, I'm going to wear two goggles. Like, why wouldn't I? If I can get at least a lap or two laps, that gives me an advantage. I'm like, I don't know where you guys are headed with this but I'll do whatever you want, Trey. That's what I'm here for. Just tell me what you want.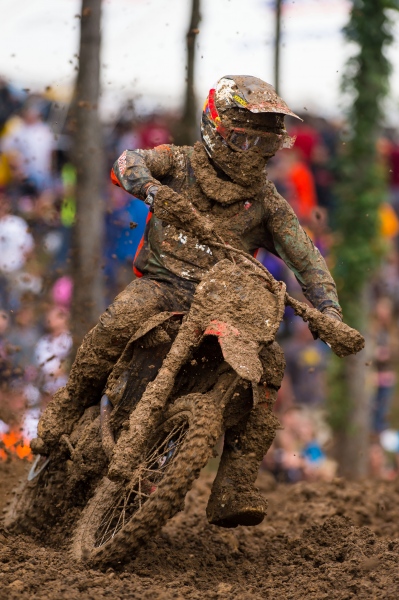 Here's Canard with his two goggle system he ran early in both motos. Cudby photo
Basically he wore a film system like he normally would and then I built him another Tyrant goggle just with 28 laminates, with the little mud flap on top. That was pretty much all I was involved with. And then we got the idea like, let's make it easy to get these on. So then we put these duct tape tabs on the side of the strap so he could really grab it. If that made him feel more confident about going out there and being able to make it longer than everybody else, I'm all for it. It may look goofy or whatever but it's not a fashion show. We're trying to win races. The conditions were bad enough that I think it warranted a discussion. I'm not sure they ended up being as bad as that they actually needed it, but it didn't hurt us. It didn't hurt Trey and that's the main thing.
We were wondering if the two goggles work like a magnifying glass where you saw things better!
Dude, I had to try it for myself, honestly. It really wasn't that bad. Trey's not really that picky when it comes to stuff so he's a guy that would be perfect for it. Whatever it takes to get the job done. A guy that's a little more picky with goggles and vision may not be able to even handle it. It was a crazy deal. It caught like wildfire. People took notice in the first moto and they were like, what was that? What are you guys doing? I'm like, hey man, I just built the stuff. You're going to have to ask Trey what he's up to.
How long did he keep the first pair on? Do you know?
No, the first moto I'm not really sure, but actually not really that long. But the second moto when he got the start the whole plan was anyway, it's just the start, just toss them. So I don't even know if he pulled a tear-off in the second moto. He just busted off and could have stayed with the film system on. And then he takes them off with a corner to go to throw them to the crowd. I'm like, dude, that's what I try to do is make you finish the whole moto, come across the finish line, I don't care what you do with them after that, but now we got pictures he's coming across the finish line, checkered flag out, fist pump, no goggles. Why'd you do that? It was one corner to go! He was just pumped.