Here's what the former factory rider & SX winner thinks of the last round of SX
Here's what the former factory rider & SX winner thinks of the last round of SX
Photos by James Lissimore
Wow, a mudder in Vegas! And it truly was like an east coast mudder. First of all, as a guy that could ride the mud…talk about what you need to do, your experience in mud SXs and who was good in mud and why last night?
In my opinion, SX and MX muds are totally different. In MX, it's all about carrying speed and keeping the momentum while being most of the time in charge. By that, I mean always being on the throttle to have traction most of the time. I was always way better in MX in the mud. I actually won my first 125 and 250 GPs in the mud. In SX, it's all about jumping the most obstacles possible and having great balance. You also have to avoid the steep transitions in rhythm sections. They rut up the most. Where it's always faster to avoid tall jumps in rhythm sections on a dry track to spend the least amount of time in the air, in the mud you have to jump the safe way. That often means to take off from nice transition jumps.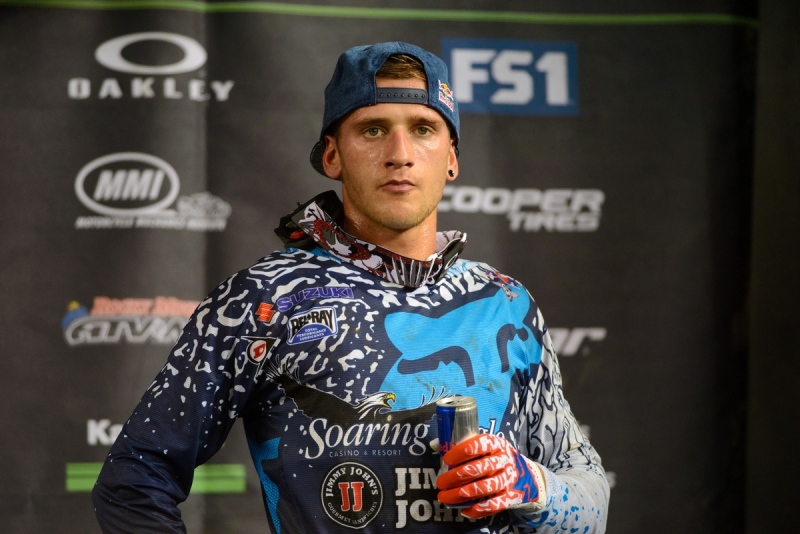 Roczen crashed out shortly after getting into the lead in Vegas.
For example, we saw Roczen and Friese endoed in the rhythm section because they kept wanting to jump over the 3 ski jumps. The combo of heavy bike, 3 footer take offs and ruts result in getting kicked a lot. In that section, the safe way to do it for a main event was to double all the way from the ski jumps. Another key was the whoops. So many guys rolled them sitting on the seat with feet of the pegs. That's not the way to do it. You can't keep your balance like that. Standing on the pegs goes a long way. By the main events time, the main line was getting dryer. You have to start jumping more obstacles and start doing jumps that weren't doable in the heat races. Chad started jumping the first triple. In the main on a 450, it didn't look too difficult to jump it but not too many guys went for it. If I remember right, we only saw Chad do it on TV. Lastly, you have to charge on the drying and safe section. I saw too many guys regrouping outside of the stadium where it was a good section to pin it because the track was getting pretty good there. From the finish line to the first triple, you had to switch in full MX mode.
Thoughts on the 450 Main event? Roczen was on it, crashed out..Dungey rode awesome..Baggett was, not surprisingly, very good.
Ken was definitely on it. Dungey was Dungey. He was very smooth, rode well and pretty cautiously. I think Ken had a bit of an excess of confidence when he passed Ryan. On a muddy SX track, it can bite you and it did. When they both crashed, it made for great TV. Too bad Ken's bike got messed up in the crash. It could've been a great battle between those guys. I thought Baggett had a pretty good ride. He was 11th on lap one and moved up to 4th. He got passed by Chad on the last lap but it was still a good main for him. He matched his best finish of the year-he also had a top 5 in Indy. What surprised me in Vegas was the difference between top 3-4 guys plus Roczen to the rest of the factory guys and the field. The rest of the guys looked like they never rode in the mud before. On a track of 1 minute 15 seconds and with only a 16 lap main event, only 6 guys were in the same lap. 1 min 15 seconds = 75 seconds. 75 seconds divided by 16 laps is 4.68 second. That means that the 7th place guy (Brayton) in the main was close to 5 seconds slower than the leader in average. The 13th place guy (Friese) got lapped twice which means he was at least 9.36 slower a lap in average. I won't bother talking about the 14th and over guys… What do they do when it rains during the week? Go to the movies and drink hot chocolate?
Did you like the two coasts coming together in the 250SX class? Good idea and should they keep it going?
I think it's a great idea and like I said before, I would add a few more to the schedule. Whenever the series is in the middle of the country, they should have an East/West confrontation like in the '90's. I've never raced those because I came too late but it would be great to have them again. The riders barely making the mains on a regular regional race would not be too happy but I think the fans and the industry would. If we have a few confrontations a year, it would raise the level of competition and would bring some excitement to the series. It's better to have several top 250s racing each other than a few on each coast.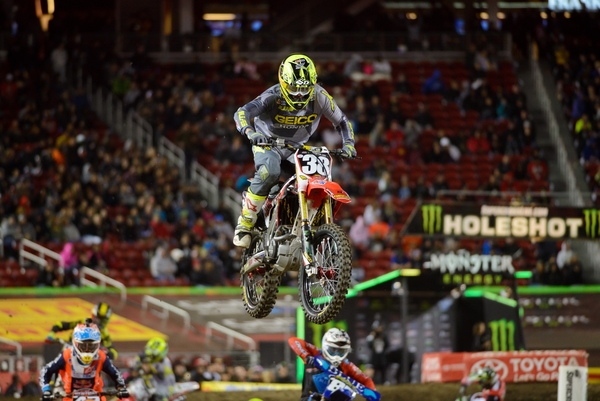 If it were up to Vuillemin, he would change the entire structure of the 250SX class.
But if it were up to me, I would totally change the format of this "stepping stone" class. Too many guys are making a career racing the 250 class. This class isn't made to make a career and buy a house at the beach. The 250 class needs to go back being a stepping stone class. If it goes back to the real purpose of that class, less money would be spent in that class which would free up some cash to have more budget to field the 450 class with veteran 250 guys that shouldn't be racing 250's. It would hurt the 450 privateer guys but we would have an even more competitive premier class. To make the 250 class what it was made to be, we don't need to have an age limit. The age limit doesn't do the trick because the kids get better younger nowadays. We see it with Herlings in GPs for exemple. We need a concept more like college sports. We have to introduce a salary cap to the factory supported teams. We would also have less gap between factory 250 riders and privateers. Why race Dungey, Roczen, Stew, Tomac, Reed, Anderson in the 450 class if you can make a few hundred grand base salary racing the 250 class and do half of the SX races? It could be the subject of a debate we should address.
What did you think of 250SX main event? (Webb's ride, Savatgy ride..etc)
It was definitely a nail biter for the West series. Savatgy rode very Dungey-like and did what he had to do to keep his chances for the number 1 plate. Those conditions were perfect for the riders in need to gain a bunch of points. If Webb would've lost the championship in Vegas it would've been one of the biggest upset of our sport. Maybe as much as Bradshaw losing the 92 SX title. J-Mart was the fastest in the main but he got too many tastes of the Nevada mud. It was surprising to see him with the best lap time of the main event. I thought Plessinger looked the best overall. He was fast, smooth and had a great technique in the mud. He was 13th on lap 1 and almost passed Mookie in the whoops before the finish for a podium spot. As far as Cooper goes, I didn't even know he was hurt and I was wondering who was riding his bike Saturday. After hearing about his wrist injury, it was then understandable…
We hear that Webb's got a scaphoid injury to his left wrist, hard to see him doing all or any of the nationals right? What do you think?
As many of you know, the scaphoid might be the smallest bone in the body but might also be the one that takes the longest to heal. Ask Ricky Johnson. That injury ended his career. We are not in the early '90's anymore but it's still serious. Cooper salvaged enough points Saturday to go back to back but it might be a good idea to take some time off to make sure his wrist held properly. I don't know the extend of his injury but it might be smart to sit out the Nationals if it's serious. For a rider like Cooper that already signed his 450 deal for 2017 and beyond and even if the 250 Nationals are an important series, not being able to compete in that class shouldn't a problem. The ultimate goal for a rider like him is to be competitive in the 450 class.
Actually, it should the goal of everyone but it's not really the case for some of them. If he races the Nationals not at 100% with an injury, I don't see him being competitive against J-Mart and the top guys of the class. It would be a long and frustrating season for Webb not being able to compete at his full potential and it will automatically affect his preparation for his 450 debut. What they have to do is whatever it takes to be at 100% on October 1st to be able to have a 3 months preparation for the 450 SX season. and if it means to sit out the Nationals, he would have to do just that.
Mooke's got to go to 450's next year, would you hire him or would you be scared of the family situation, drama, etc?
Malcolm did great this SX season and we have to congratulate him on the championship. He was the best SX East guy this year. He fully deserves it. I believe his morphology would suit the 450 better than it did the 250. He can be competitive in SX 450 right away but I'm questioning his physical abilities a bit for the big class. I think he will have to work harder than he ever worked to be ready for the 450s. His fitness is the question mark in my opinion. We saw him struggling a bit at some races this year. As you know, the big bike is very demanding in and outdoors. To answer your question, hiring him in a good 450 team wouldn't be a worse pick than any other factory 450 guys that never really produce at their full potential for many years. Riders change rarely from season to season. A guy that is racing the same way and getting the same results for many years will not transform himself because of a bike change. It's why it wouldn't be that much of a gamble to hire Malcolm. He would just have to realize how much work he'll have to do to be competitive in that class and be willing to do the homework.