Daytime Program
East Rutherford
Photos by Rich Sheppard
The riders got a much needed week off from the grind of the series, but were back at it in New Jersey for round 16. East Rutherford was literally a "Daytime Program" race so it seems that AMA is taking a page straight from my book and getting the riders and teams out of there by nightfall. As a fan I personally like the daytime races as families/friends can watch the race at a decent hour and be able to get back home to enjoy some dinner at a reasonable hour. Sometimes when a 450 main event kicks off at 9:30-10:00PM it can make the "out of the industry audience" turn off the tv or not want to go to the races at all.
I was busy this weekend putting in the work for Hangtown, so I didn't get to dive deep into practice and qualifying, but here is a short Daytime Program from Jersey.
Cooper Webb: I liked Daniel Blair's take of how some riders have that "clutch" gene and some just simply don't. Cooper gives zero F's about who or what you have accomplished and goes out and lays it to these other dudes that were supposed to win this title. 23 points up going into Vegas means he basically has to qualify and ride like a privateer and he's good. I am bummed that the championship isn't going down to the wire, but I am stoked that my prediction at MEC is not just some BS. This KTM 450 SX-F that Cooper got on proves that this bike is good and it actually has helped his career. In production form this machine has the widest window for several types of riders and styles. It's easy to ride, very light, and is forgiving. You can get away with a lot on this chassis. Webb simply has the best bike in the paddock and the strongest mind as well. He is NOT the fastest rider on the track, but he's the most mentally put together human in the 450 class. Boom. Champion!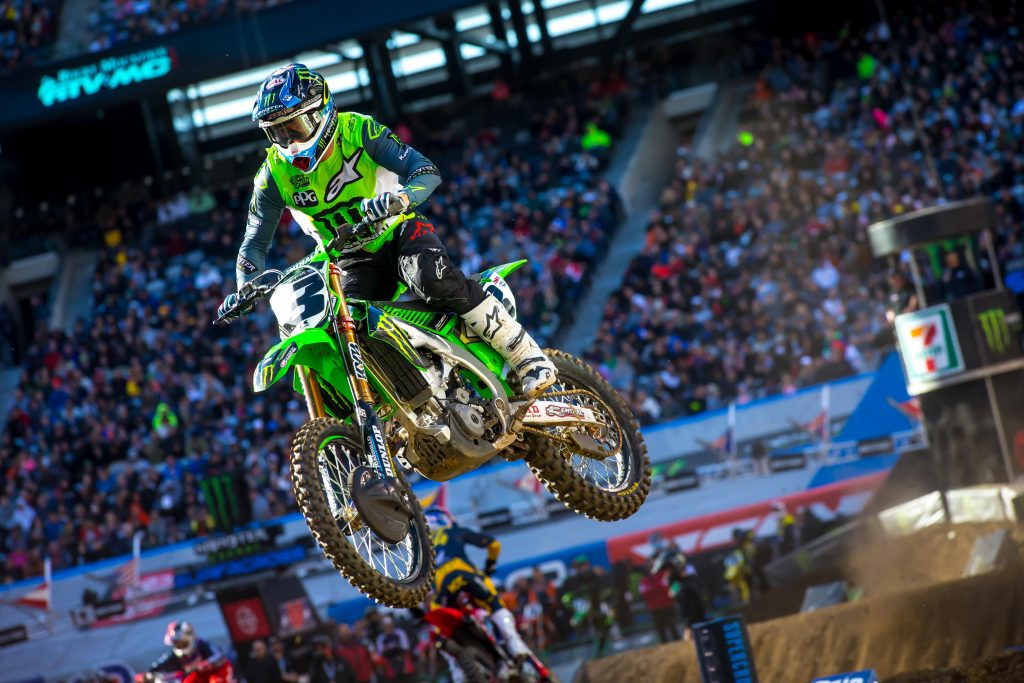 Eli Tomac: Probably the fastest rider in the paddock is this dude right here. However the mental game needs some work for Tomac in Supercross. It's funny how a rider can be so mentally tough in motocross, but not nearly as mentally strong in another discipline like Supercross. It really shows how important mental strength is and how our minds can make or break us. Having a technique error in the exact same place twice is almost unheard of at this level, but Tomac somehow managed to do this. He is capable and fast enough to race back up to the front, only to make a mistake again. I have no doubt that he can figure it out, but he needs to do so next year or we may never see ET3 become ET1 in Supercross. I also like that he was playing with Webb in the main and trying to force a mistake. That was fun while it lasted right?
Zach Osborne: Damn it! If there is one other rider I would have loved to win a Supercross this year besides Roczen it would have been Osborne. He is just a genuine dude and I really like real people. The dude can rip a dirt bike and is also very mentally put together, but injuries have hurt him this year. Look at it this way: He misses seven rounds of Supercross, but claws his way back every week with hard work and almost wins Jersey! People at home DO NOT know how hard it is mentally to watch your competition race every week and then you're just supposed to get back up to their speed ASAP. If you think he's expected to come back at round 11 and kill it, you really don't know this sport. Congrats to Zach on a great ride even though sometimes my butthole puckered up more than a couple times watching him.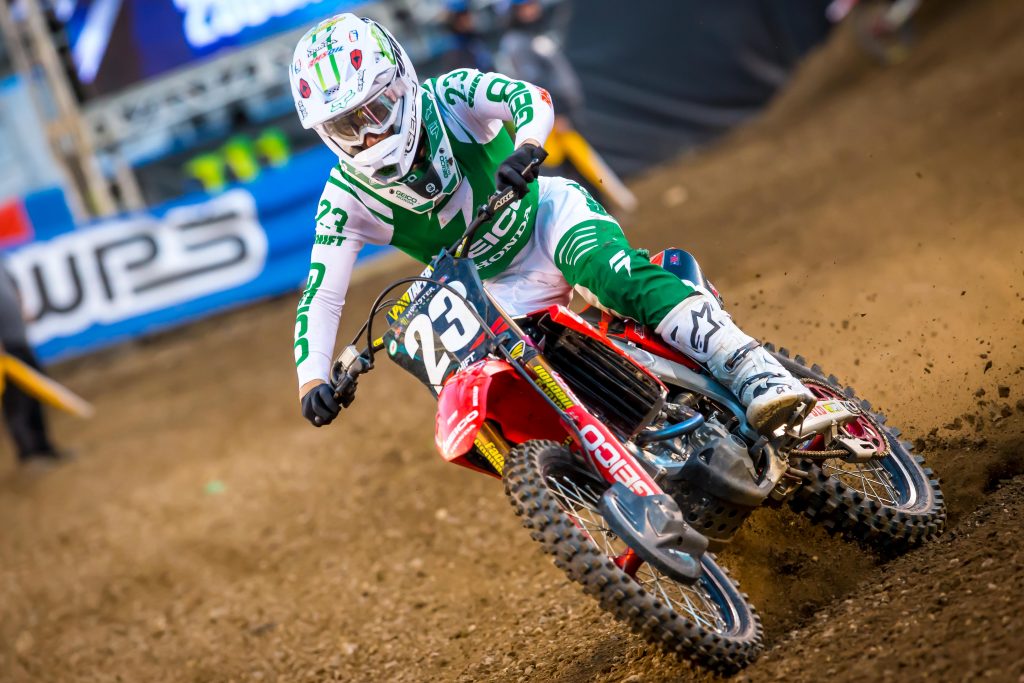 Chase Sexton: I tweeted this out Saturday night, "Chase's style is built for 450's". In the 250 class riding calculated and smooth doesn't always pay off like it can in the 450's. The 250 kids are balls to the wall aggressive and slam shit like their pissed off. Chase is super smooth, looks great on a bike and never really gets aggressive with his higher RPM's. The only other rider that is similar to him his Christian Craig and we know how good Craig is on a 450 right? Cool to see Chase not go all apeshit when Forkner got crazy with him as he knew Forkner was going to pop at some point in the Main. Sexton never looks like he's going fast, but when you look at the leader board, it will show he's up nine seconds! Chase doesn't have to worry about the green guys in Vegas as I am pretty sure that Forkner is done for the year. Just finish ahead of Justin Cooper and the championship is his! Crazy to think that Honda has had more success in the 250 class than they have in the 450's these past few years.
Austin Forkner: You have to give it up to Austin for trying to get in Sexton' head. I probably would have done the same thing. Forkner got a little too rambunctious when he saw the lead was within his grasp though. I assume he got a Toradol shot before the main event and that might have given him just enough "pain relief" to feel like he could go for it. However jumping into the face of the wall (and the compression that his body took) looked like it hurt even without a bad knee. I can't imagine what this dude must be feeling after he clearly was the fastest rider all year. Having a huge lead in the championship and for it to be gone because of a practice crash sucks! It also sucks for the outdoor season because he was also a threat to win that title too! Well… At least he has a hot blonde to lift his spirits up at home right fellas?
Mitchell Oldenburg: Good for Mitch! I think it's funny that Jimmy Albertson saw something in this kid a long time ago when Jimmy had his own team. Jimmy always thought highly of Mitchell and knew he would be good even before he was a TLD KTM rider. If Oldenburg gets a chance at another go next year in Supercross he could be a title threat, but he will have to get through the outdoor series unscathed to make him a valuable commodity for teams in 2020.
Best Dressed/Shift MX: I would say this was the best gear combo yet this year! I am not even a Jets fan and this shit was so bad ass! The attention to detail was second to none and the way the white and green was laid out looked just like the Jets uniforms. Even the logo on the Fox helmet was just like the Jets NFL logo, but instead they incorporated the riders names. I know licensing is a nightmare with the NFL, so to get this gear set this close to the actual players uniforms was impressive. I thought the green was going to look like crap on the Honda's, but it looked insane! Want to know why? WHITE COLORWAYS PEOPLE! WHITE COLORWAYS ARE BAD ASS! ATTENTION GEAR COMPANIES!!!! WE WANT MORE WHITE IN OUR GEAR SETS!