PulpMX.com Fantasy Pick & Trends
Motocross is back!
After a long two week off-season (insert roll eyes emoji here) the United States Pro Motocross Championship kicked off another glorious season of unleashed outdoor horsepower at Hangtown.
A gloomy and wet forecast came to fruition, for part of the day at least, leaving the track a challenging, rutted obstacle course. This didn't seem to make much of an impact on fantasy scoring though.
It certainly didn't impact Elms68, who took down the Championship League with a massive 597 point score, congratulations Elms68!
Elms just missed picking a perfect team in the 250 class, scoring 315 points thanks to Ty Masterpool, Wilson Todd, and Colt Nichols, who each scored 90 points. He just missed perfection on his all-star pick as Dylan Ferrandis finished with a 45 point score.
Elms also picked an amazing 450 team, almost picking the optimal team (a perfect score was not possible this week due to individual rider scoring). Jake Masterpool, who was the only rider in class to achieve a perfect 90 point score, led Elms68's 450 team. Todd Waters followed with 84 points (second highest in class score), and then he dropped down a few spots, choosing Dean Ferris who scored 58 points. Ken Roczen filled his all-star slot and rewarded him with a perfect 50 point score.
The difference makers in Elms68's team were Todd Waters (10), who qualified 20th OA, and Ty Masterpool (11), who qualified 18th OA. Waters really made a big difference as he had a very low 6% pick trend. Masterpool's was only slightly higher at 13%. Looking at overall scoring, there were a few riders who delivered less than optimal scores based on expectations, and this is what gave Elms68 separation from the pack.
Now, let's take a look at the rest of the scores.
Most picked riders AKA "the chalk"
Over the last few weeks of the Supercross season, as attrition really took hold among the elite, we saw more and more focused line ups with corresponding very high pick trends. The outdoor series seems to have mitigated that somewhat, as we did see slightly lower – less focused ownership.
The 250 class had four riders with >30% pick trends, with the 450 class coming in slightly lower with three.
Garrett Marchbanks (3) took the pick trend podium this week at 48%, scoring 39 points. While this is by no means a horrible score, it's not going to get us to the top step in overall scoring – avoiding him here was crucial to doing well in your leagues. We also saw Dylan Ferrandis (2AS) – 42% pick trend for 45 points, Derek Drake (9) – 35% pick trend for 55 points, and Adam Cianciarulo (2AS) – 34% pick trend for 50 perfect points round out the top four. Drake is another rider who was a crucial "do not select" with a very high pick trend – lower than optimal score.
The 450 class saw Jake Masterpool (10) with the highest pick trend in class at 36%. He rewarded his owners with 90 perfect points. Eli Tomac (1AS) – 32% pick trend for 45 points and Zach Osborne (5) – 31% for 50 points rounded out the high pick trends.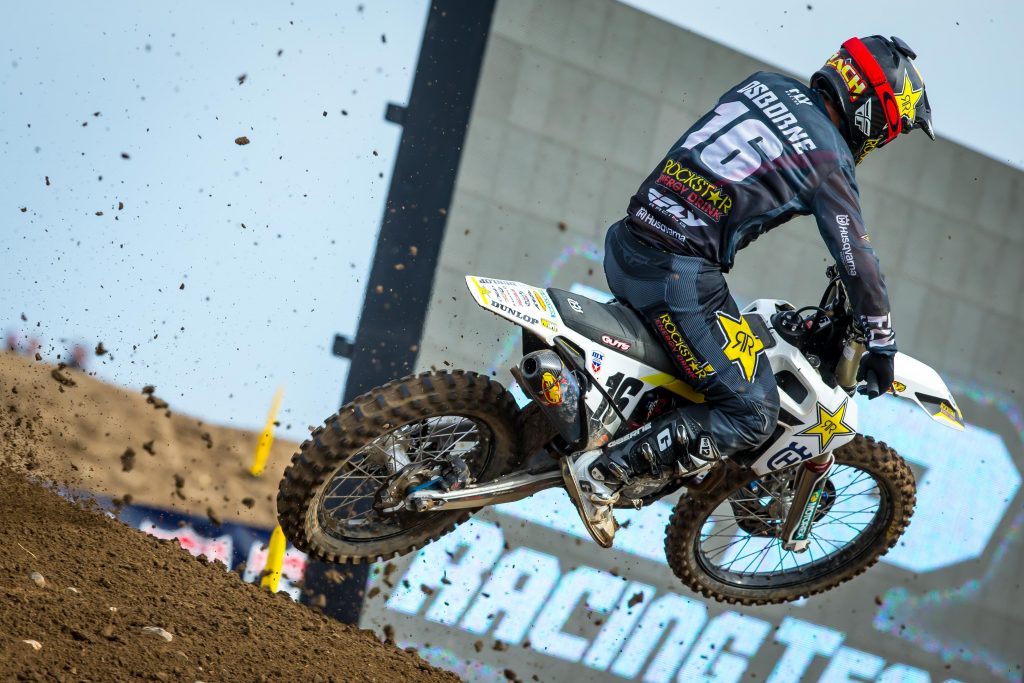 Low owned players who delivered – AKA great contrarian plays
The difference makers! We have already discussed Todd Waters and Ty Masterpool, who were key components in Elm68's team. We also saw great scores with low ownership from Taiki Koga (18) – 6% ownership for 82 points and Mathias Jorgensen (18) – 0% ownership for 72 points.
Colt Nichols, who we discussed here last week in the preview column led the 250 class in the low owned- high score column. Only 18% of owners selected Colt at a 2 handicap, he rewarded those owners with 90 perfect points.
Fantasy Duds
There were more than a few riders who underperformed for their fantasy team owners this week. As we mentioned in the high pick trend section, Zacho and Marchbanks each had less than great days in fantasy terms. They weren't the only ones though.The 250 class duds start with Derek Drake (9) who delivered only 55 points for 35% of team owners. Hunter Lawrence (0) had an even worse day, delivering only 19 points for 28% of team owners. We also saw Brandon Hartranft (6), who put up some great scores last season, have a miserable day for 22% of team owners, scoring zero points.
The 450 class featured Justin Bogle (3) – 28% for 58 points, Ben Lamay (6) – 24% for 56 points, and Cody Cooper (8) – 24% for 28 points. While Bogle and Lamay's scores weren't horrible, they certainly didn't get owners to the top step. Cody Cooper didn't have his usual good day at Hangtown, and struggled to his 28 point score.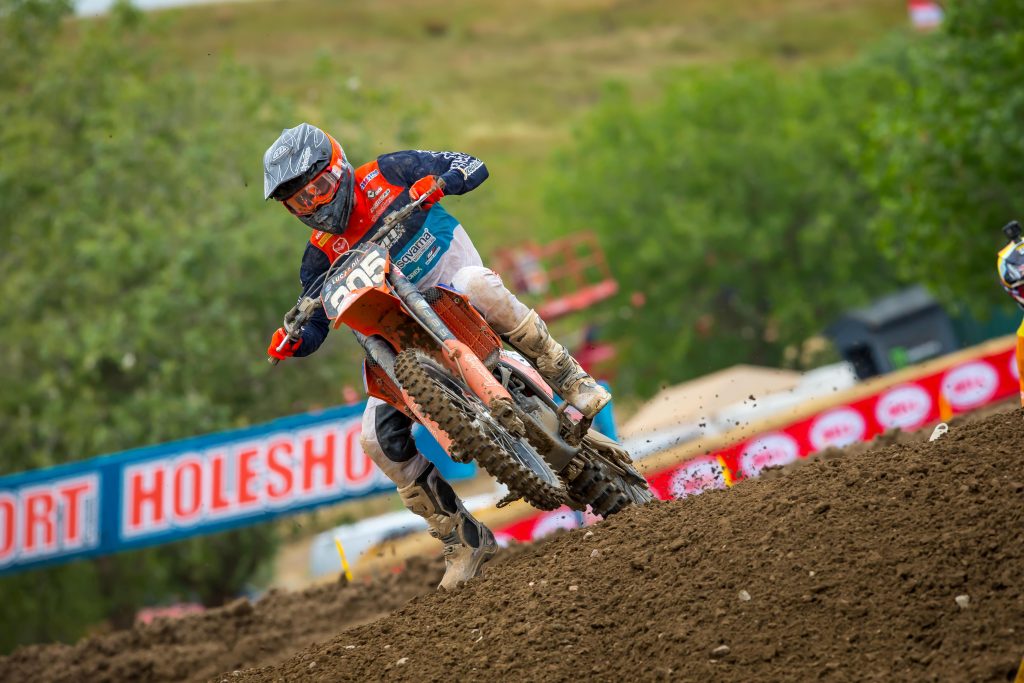 Fantasy Studs
 The big scores came from the small bores this week! We saw three riders put up perfect 90 point scores in the 250 class, while only one rider accomplished this feat in the 450 class.
Wilson Todd was the highest scoring – high pick trend rider in the 250 class putting up 90 perfect points for 28% of owners.
In the 450 class, we saw Jake Masterpool (10) also put up a perfect 90 point score for 36% of team owners who selected him.
The 100% "Lead Pipe Locks"
The motocross fantasy pod season kickoff featured Steve, Dan, Paul and Travis making 100% picks. Steve went with Brandon Hartranft and Cody Cooper for 28 points, Dan went with Kyle Peters and Lorenzo Locurcio for 64 points, Paul went with Derek Drake and Toshiki Tomita for 87 points, and Travis went with Ty Masterpool and Dare Demartile for 132 points.
Congrats to Travis for taking down this week's 100% Lead Pipe Lock with a great 132 point score!
First Lap Leaders
This week we saw over 25% of team owners pick a first lap leader, with over 50% guessing correctly! In the 250 class 25.2% of team owners made a pick, with 63.8% correctly choosing either Adam Cianciarulo or Justin Cooper. The 450 class had similar numbers, 26.3% of team owners chose, with 55.4% correctly guessing Ken Roczen or Eli Tomac. I would bet that the slightly lower correct ownership here was due to Cooper Webb failing to get to the stripe first.
 Final Thoughts – Vegas Picks
Round two will take place in SoCal at Pala – Fox Raceway early weather reports are indicating that it will be a nice day for racing.
There are some juicy picks to be had here, as handicaps still have not caught up to how the season will shake out.
In the 250 class, I like the Aussies this week, Hunter Lawrence will be a one handicap and Wilson Todd will be a six. Lawrence finished 11P last week, despite a nasty looking fall with fork leg to the butt. Wilson Todd finished in 12P last week and still has plenty of value left at a 6 handicap.
In the 450 class I am looking for Tyler Bowers to bounce back from his 20P finish last week. He now has even more value as his handicap has risen from five to nine.
Well that's it for this week, please remember to support the PulpMX Fantasy sponsors when you shop for all of your off road, motorcycle and MTB needs.
Hope I see you on the leaderboard!