Photos by LeBig
The Project 500 is over, you can see where I started right HERE. The backstory of this bike is pretty cool in that IT WAS MY BIKE back in the day!
I've restored some bikes here in my time, you can read about the '90 KX HERE, the '88 YZ HERE, the '89 CR HERE and I faced some dilemmas with this 500 build such as, do I restore it to how it was when I rode it? Do I do a complete restore and make it look new? Do I do a modified retro-restore? Lots of decisions and any old bike builder will tell you that whatever you want to do, is the right choice.
With that in mind I decided to modernize this build and make it different from when I raced it. Back in the day, on this very 1990 CR500, I put a 1991 subframe/airbox on it, PC pipe and silencer and called it a day. I mean, it's a CR500-what else you need?
Well, the forks on this model were not good for one and upon searching on-line, lots of people put a more modern front end on this bike so that was a starting point for me. I could've left my actual numbers and stickers on like you see in that article I did when I first got the bike but that was kind of hack. So I went with the classic yellow 500 national backgrounds with the Jeff Stanton-era #2's. Something about this look when Jeff rode 500's looks right to me.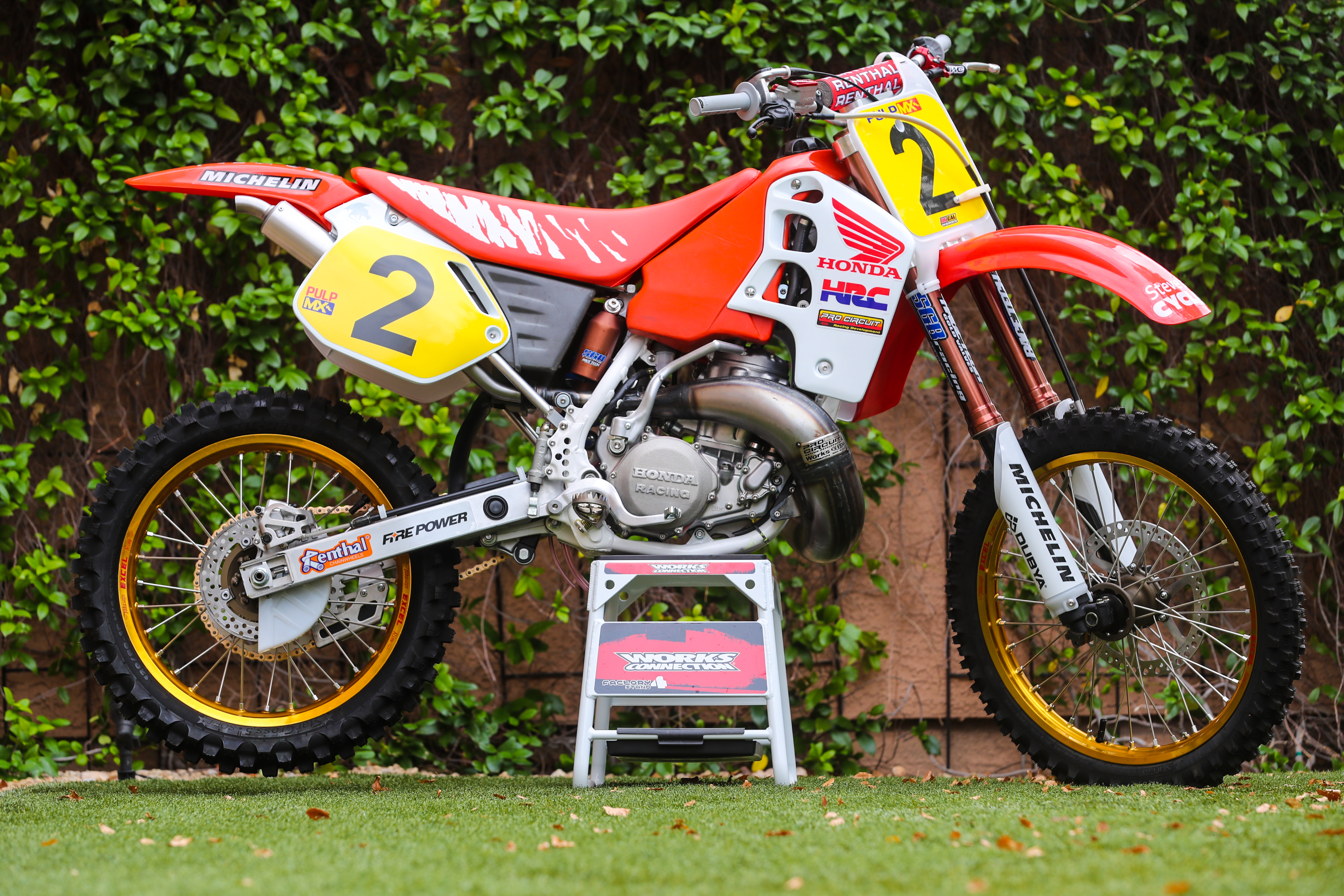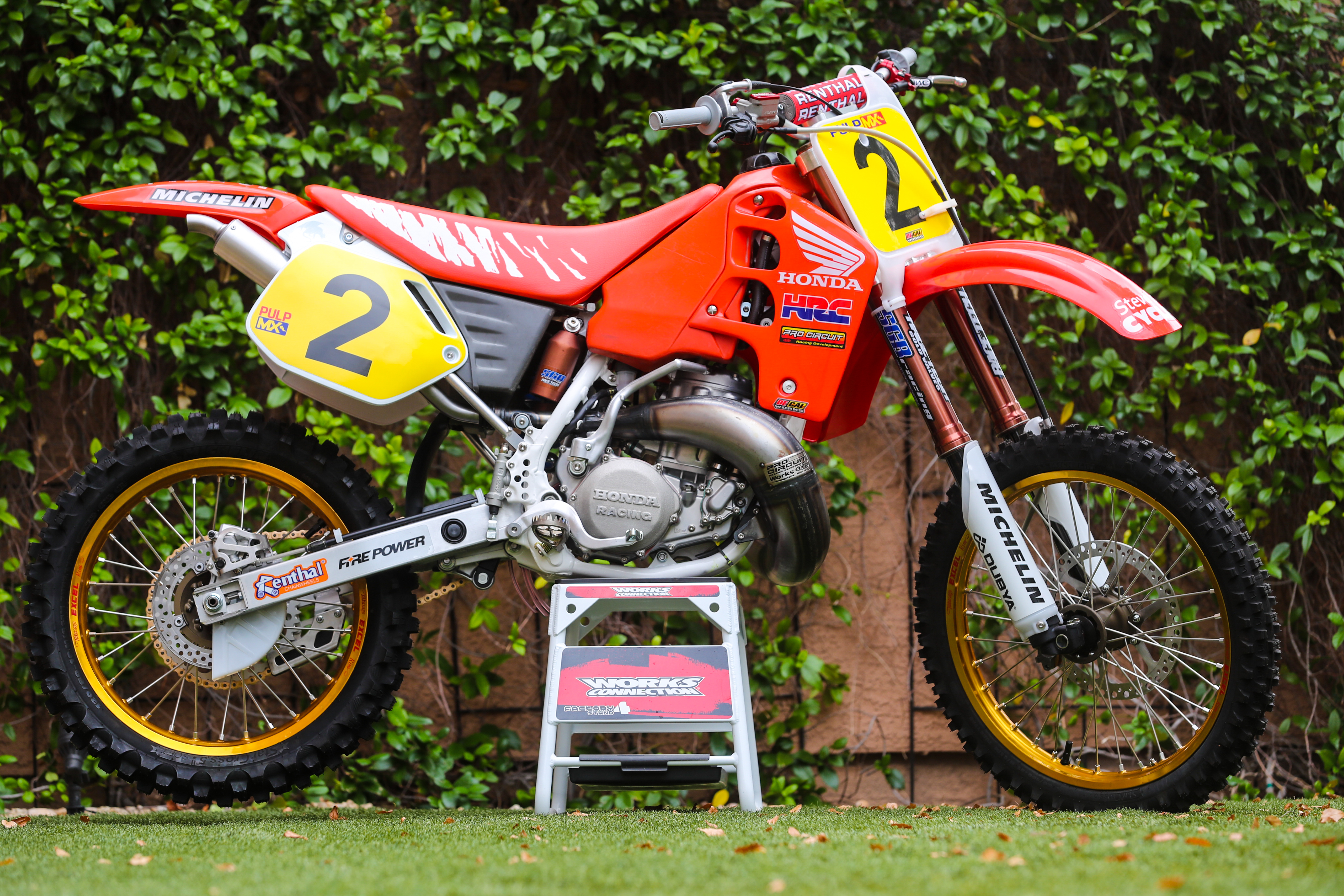 Below are the costs for restoring this bike, not all things were needed of course and of course I got some stuff for free and other stuff I got a deal on but I just went with retail (ish) costs for the stuff because that's easier. I'll add in some notes when appropriate.
The used 1990 Honda CR500 that used to be mine-$3500.00
2007 CRF Forks w clamps on eBay-$550.00
2007 Front Hub on eBay (needed with newer forks)-$75.00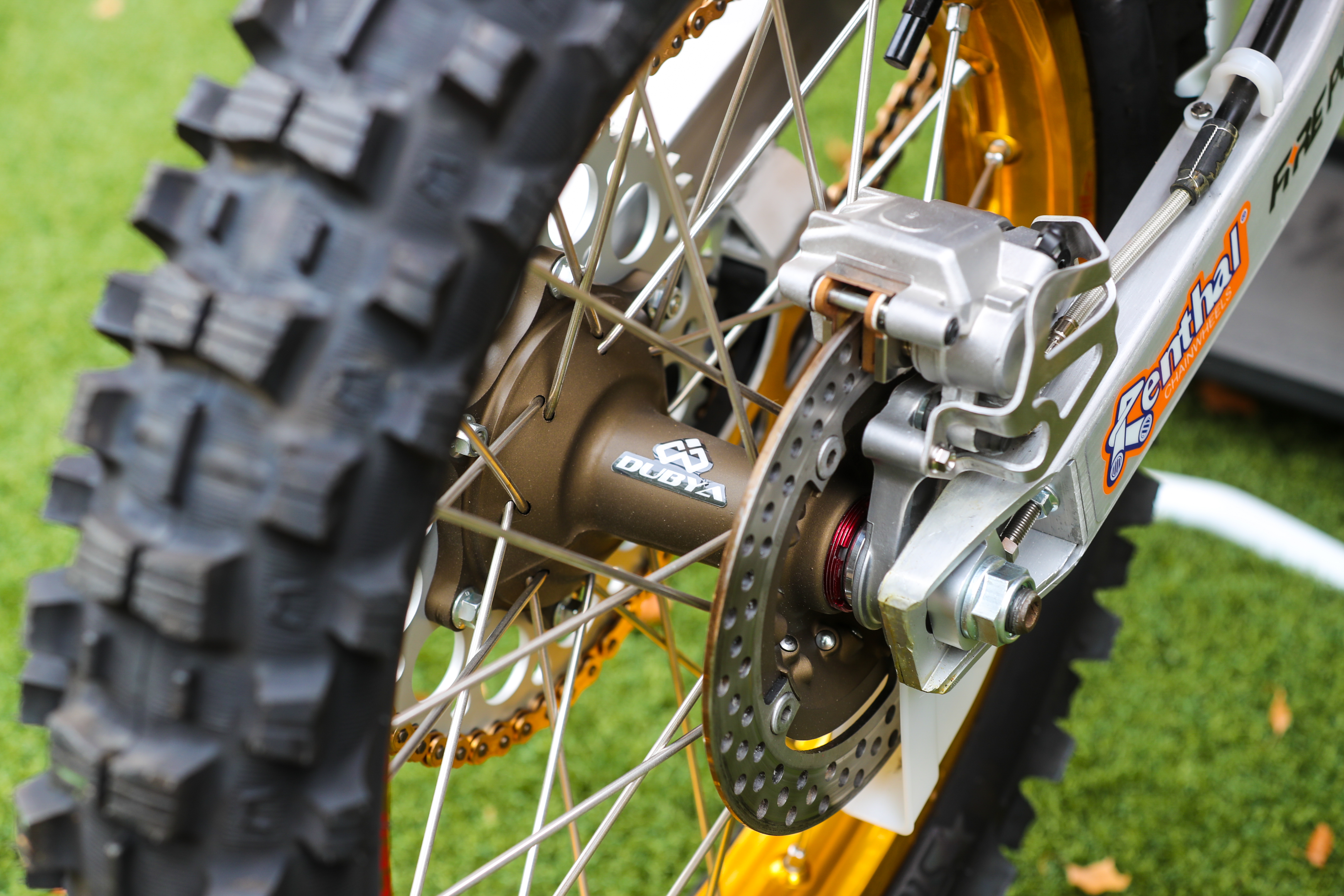 I supplied DUBYA USA with te 2007 front hub, my stock hub and they laced up Excel rims, DUBYA spokes and Cerakoted the stock hubs for the mag look. This was $700.00
MICHELIN 120/80-19 medium Starcross 5- $110.00
MICHELIN 90-21 medium Starcross 5-$92.00
Upon closer inspection at some point the cases behind the stator were welded as the crank went through it I suppose. It looked rather gruesome and they leaked air so new cases were needed. Guess what though? The right side case is available new through Honda but the left side was discontinued. Why? Who knows! But guess what? The people on eBay know this and the prices for the for left case are stupid. FML. I didn't need a right side case but mine was kind of beat and it was cheap so I went with a new one.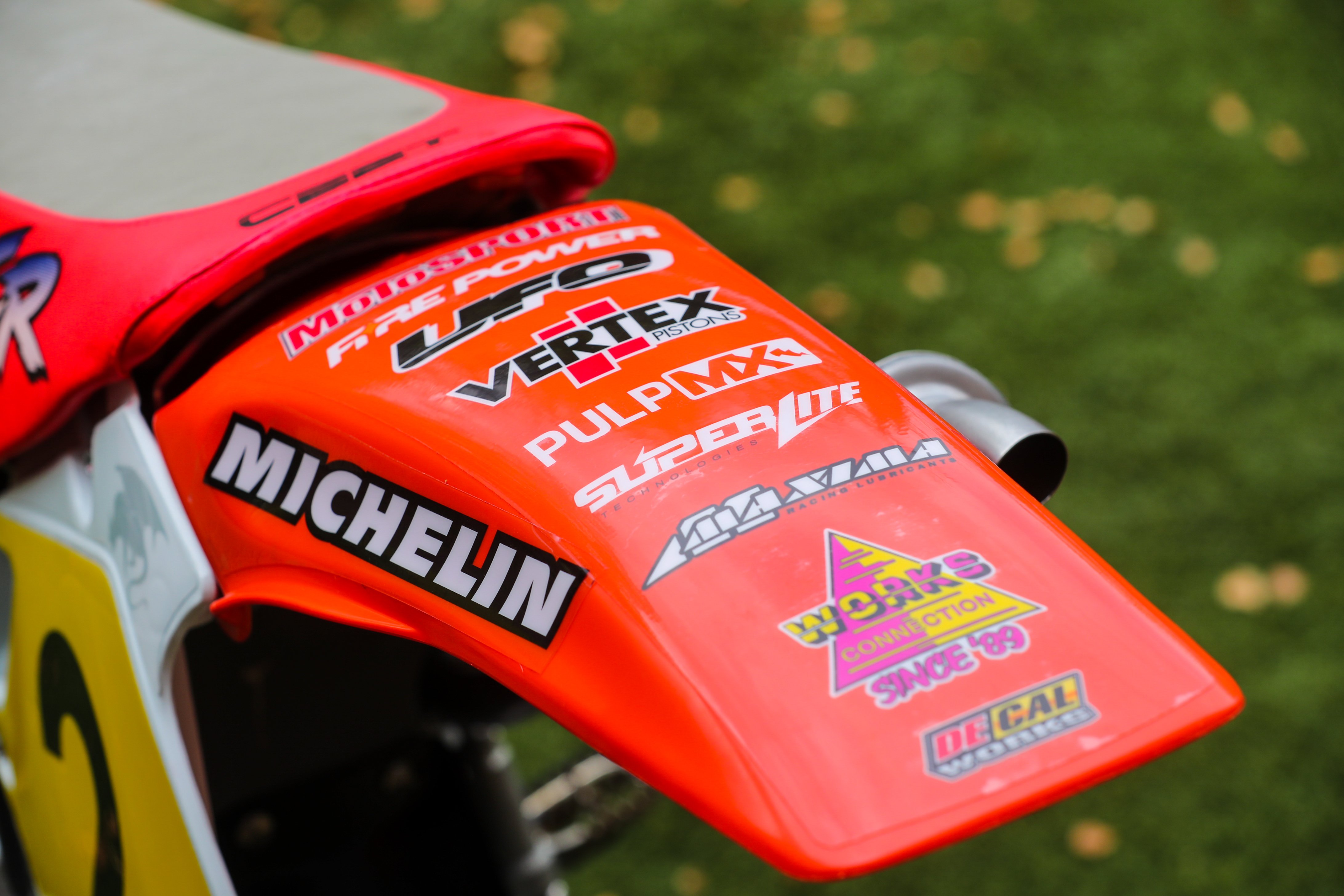 Everyone on eBay had me over a barrel so I was screwed. Left side case on eBay-$900.00
New right side case, only $228.00 though!
(Also when I got the case it had been shaved down on the motor mounts and the pivot bolt to fit into a dirt track chassis. Yeah, wonderful. So I got a $300 refund because that wasn't mentioned but I spent $200 at machine shop for a new "top hat" to be made for the pivot top stock dimensions and I had to shim the bottom and front motor mounts. Yay for me)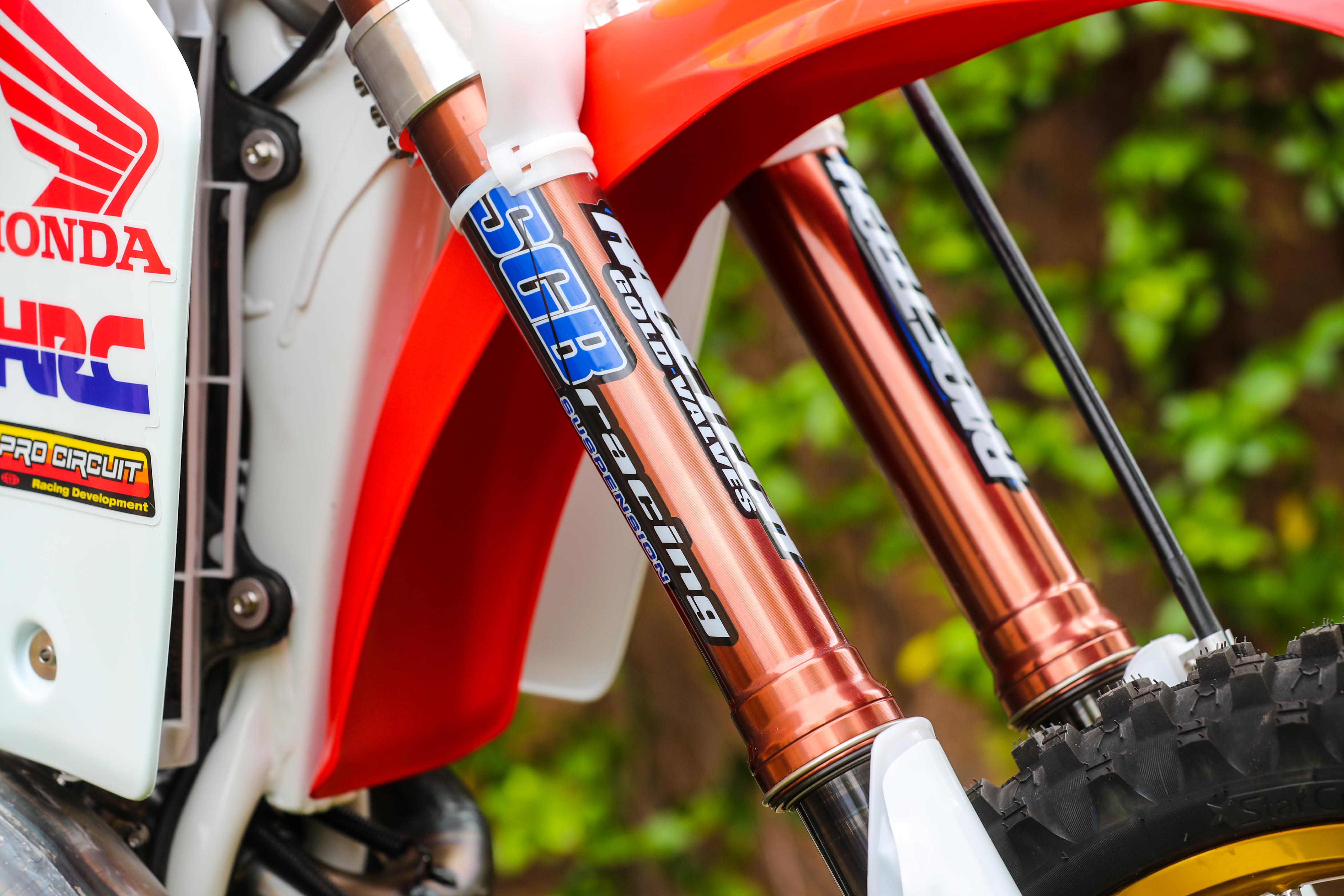 Jason at SGB Racing out in Maryland is a Race Tech Service center and he does a ton of suspension coating work for companies as well. To service, re-valve and coat the fork and shock is a $3200.00 job. Suspension is basically brand new and looks awesome as well.
The Honda OEM parts were $2145.00 for this bike. I tried to go with OEM when I could, just fit better and looks better. Thanks to Babbitts and Motosport.com for the deal on these.
Wrench Rabbit motor rebuild kit, these things are cool. All the bearings, crank rebuild stuff, gaskets, etc. These retail for $480.00
Clutch basket was shot. Hinson basket –$180.00
Sudco supplied me with a brand new Keihin PWK 38mm carb- $350.00
Fourth gear was hammered and it was also discontinued. The people on eBay also know this and so to get a new one was $200.00
The stock CDI unit and coil were really bad. I'm sure they probably worked but were so crusty and disgusting, I went with newer CR500 stuff (these bikes were the same from 90-01) used on eBay for $230.00 for both CDI and coil.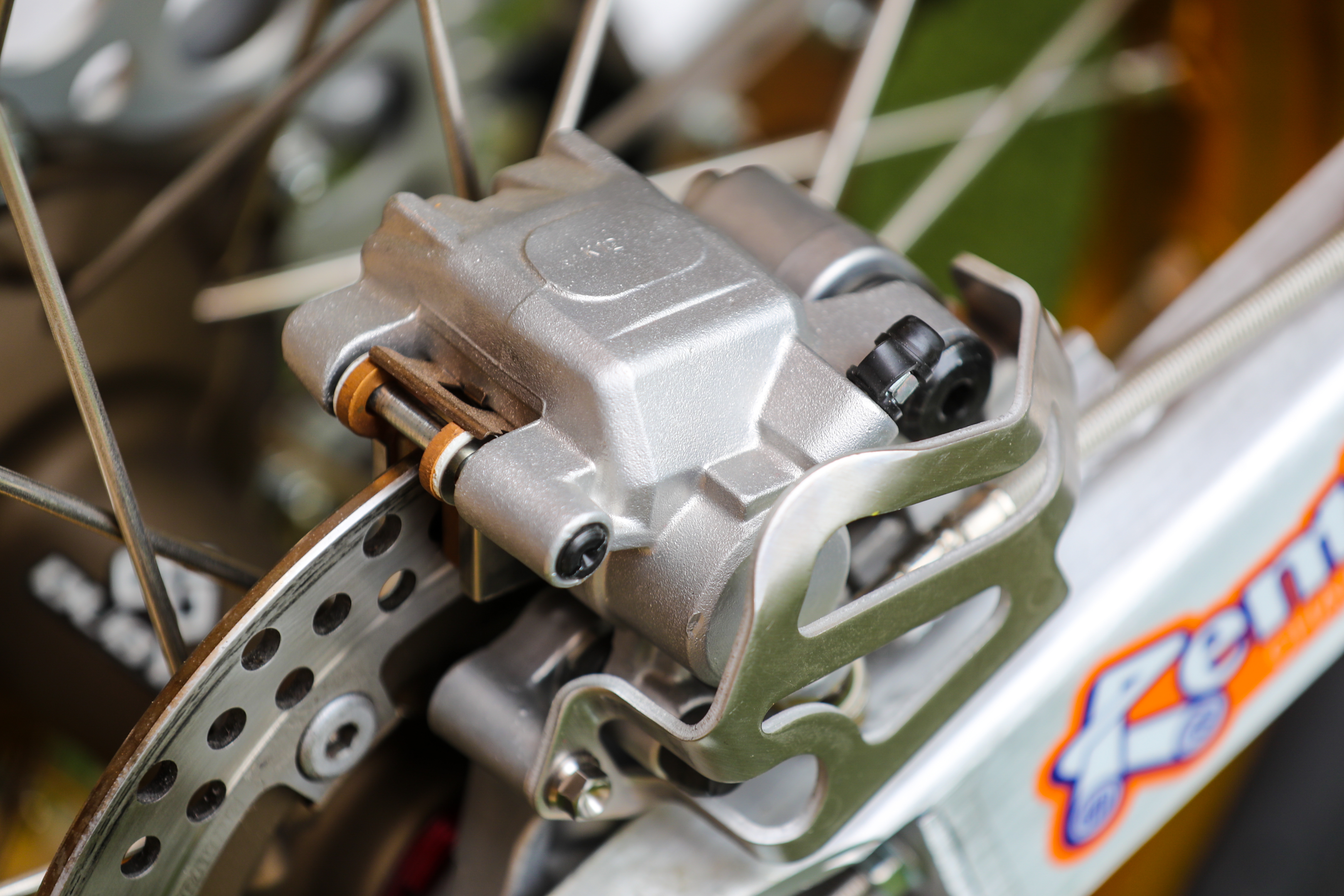 The stock rear disc had slots, they went to holes in 1992 and it looked cooler so got one on eBay for $29.00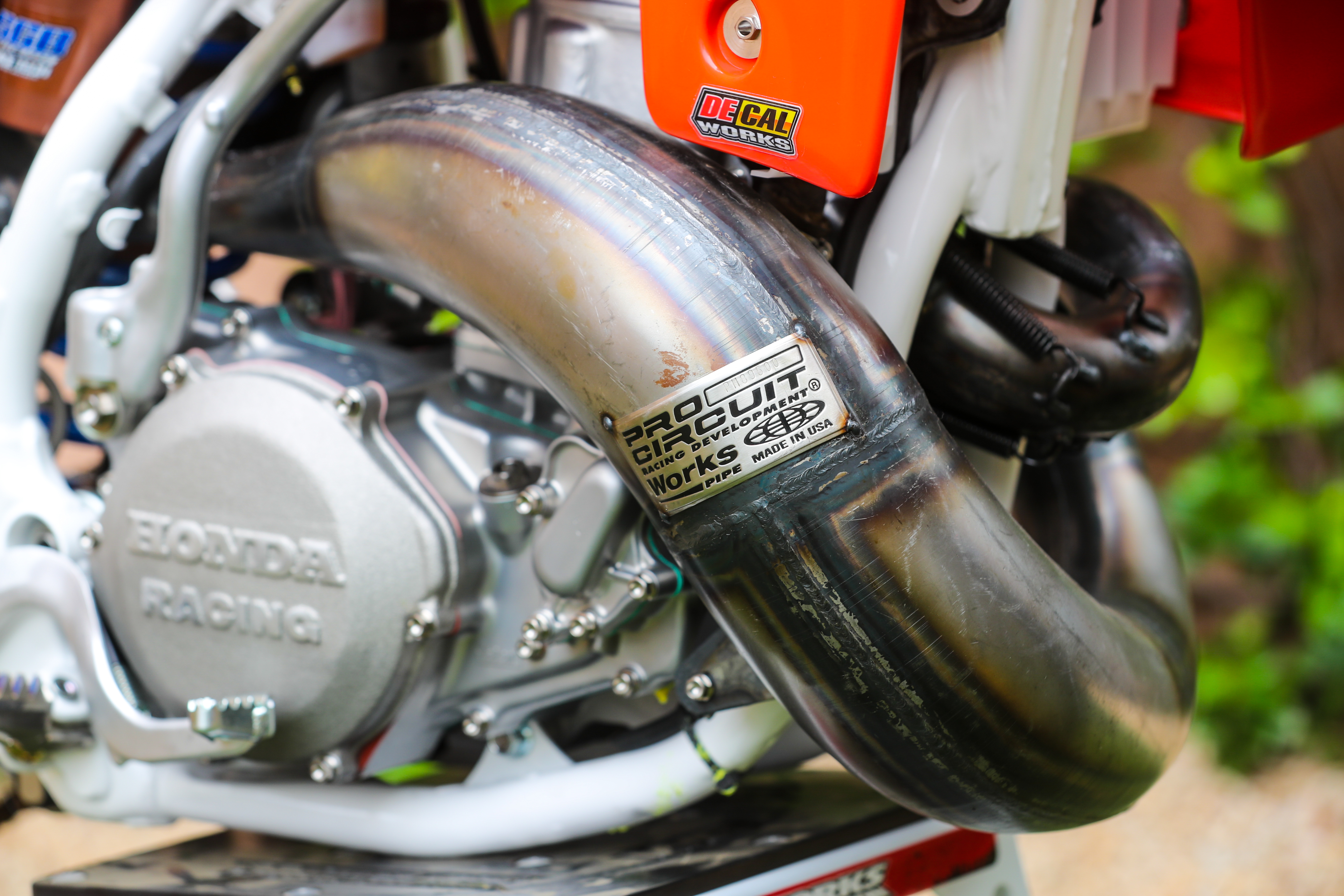 Pro Circuit pipe- $150.00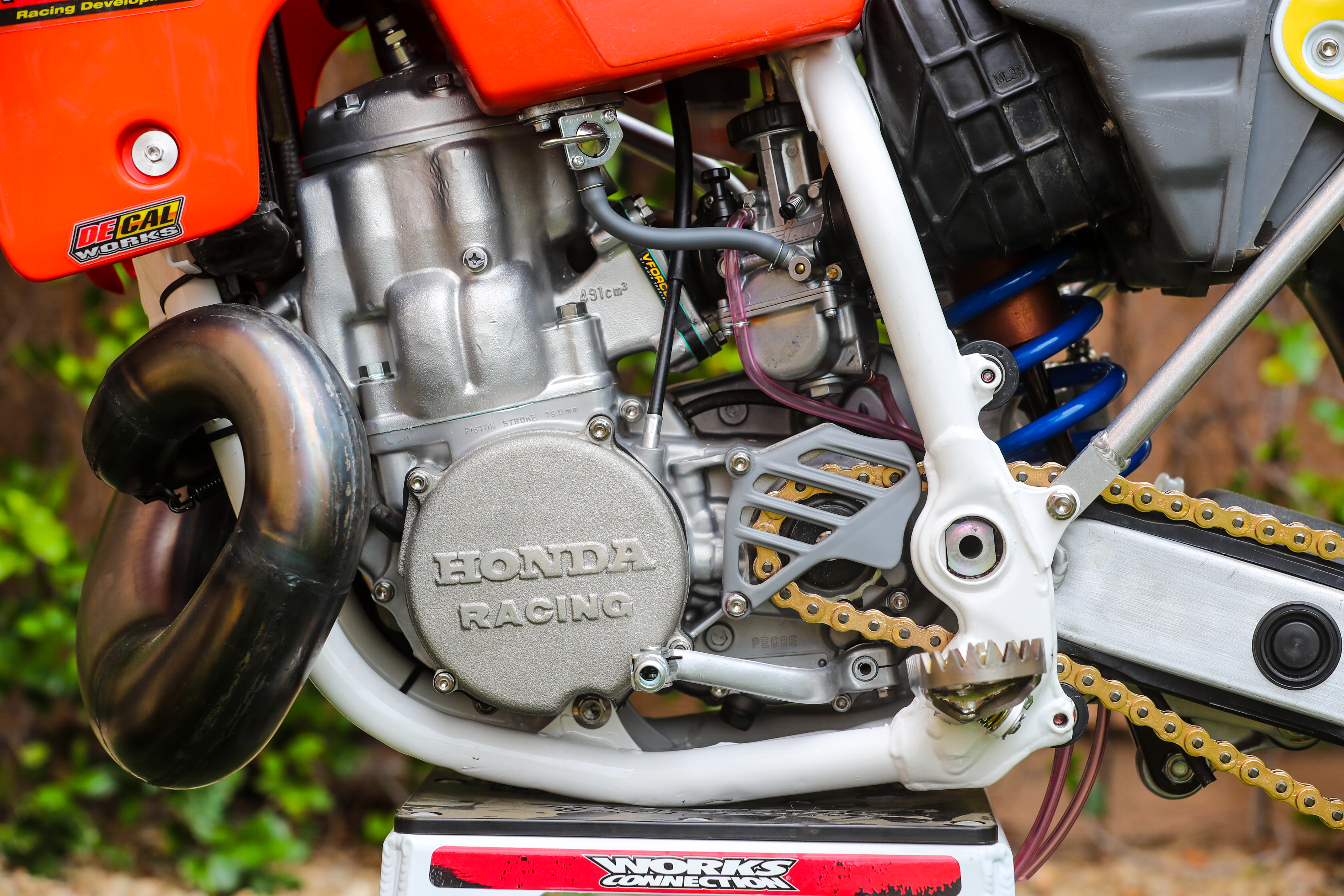 The last thing I need is more power or throttle response on a CR500 but the V-Force reed block is a must have for all two-strokes IMO and it looks cool so that's $140.00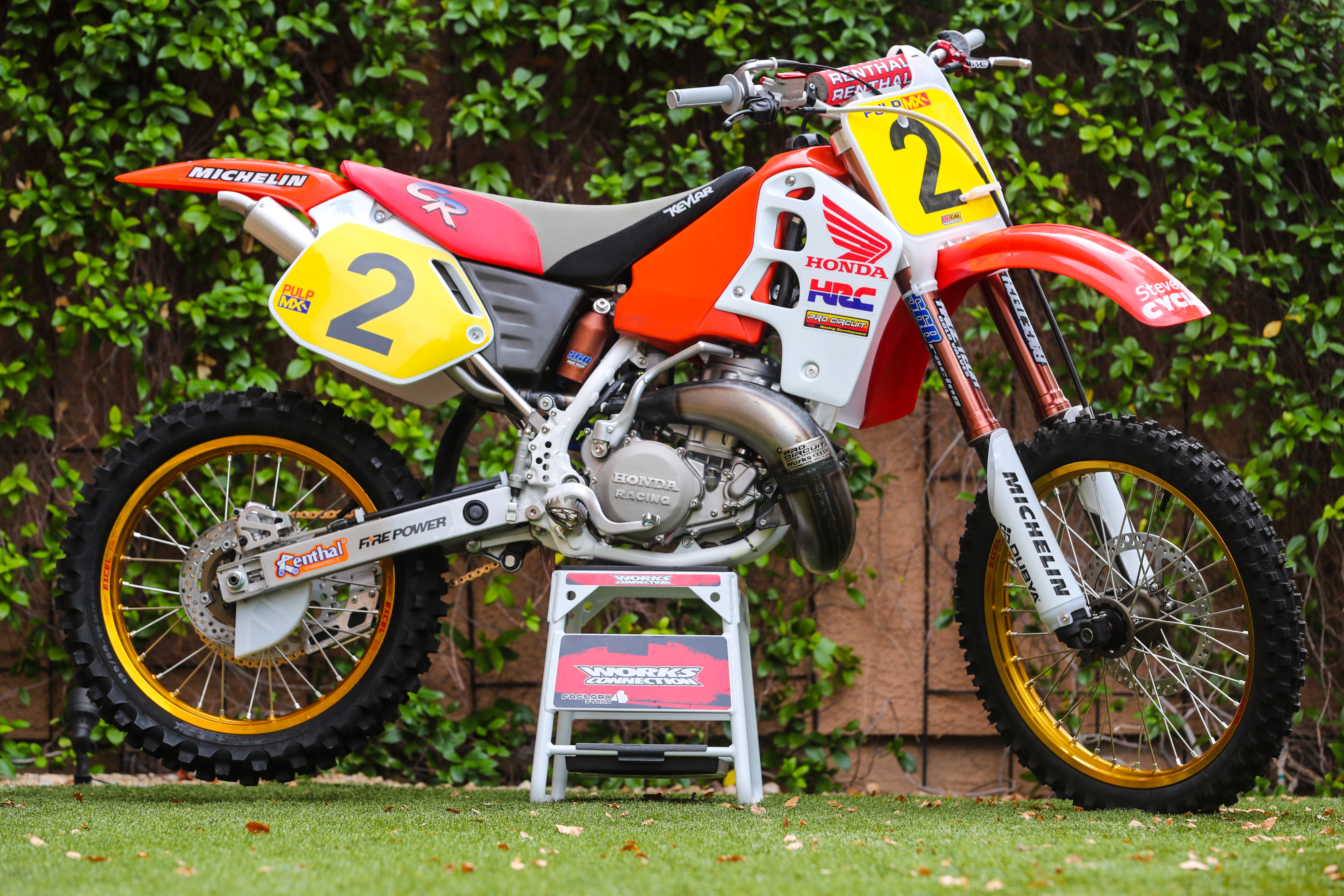 I had a NOS '92 CR125/500 CEET cover from back in the day and although it's a different shade of red, I got the GUTS guys to put it on my spare seat just to see how it looked. Eeehh, not so good. If the red matched, this would be my favorite but I can't unsee that flash red against the stock Honda orange.
Ok the next stuff is probably not really needed but I wanted to make this thing look amazing so I had to contact my buddy in the UK, Doc Wobbles for some super trick stuff.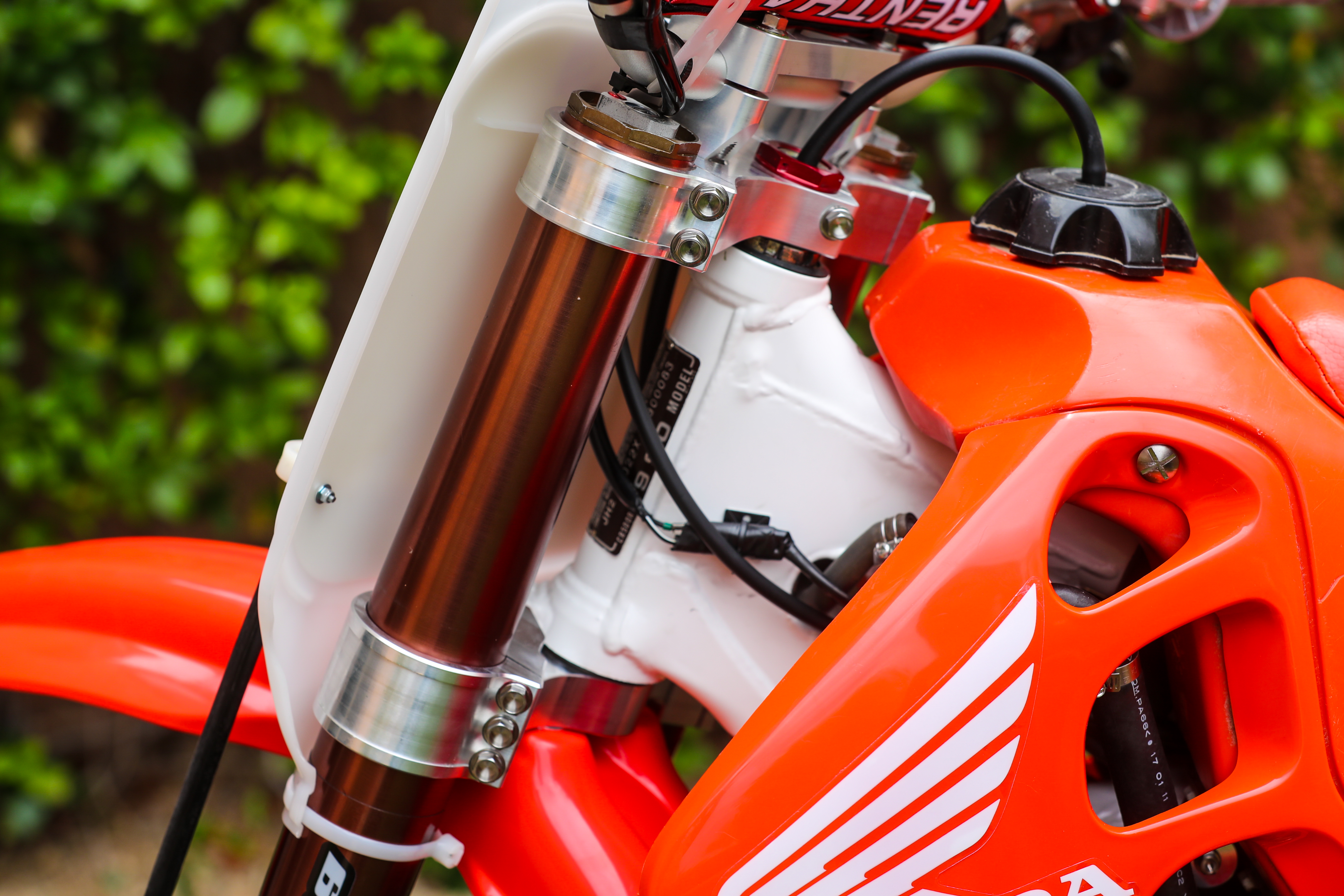 I could've used the stock 2007 clamps with an All-Balls bearing conversion kit but that wouldn't be as cool as the factory replica clamps Wob makes for older CR500's that fit the modern forks. He sells them with a stem (I used my own stem) for $816.00 and that's with Ti bolts and bar mounts.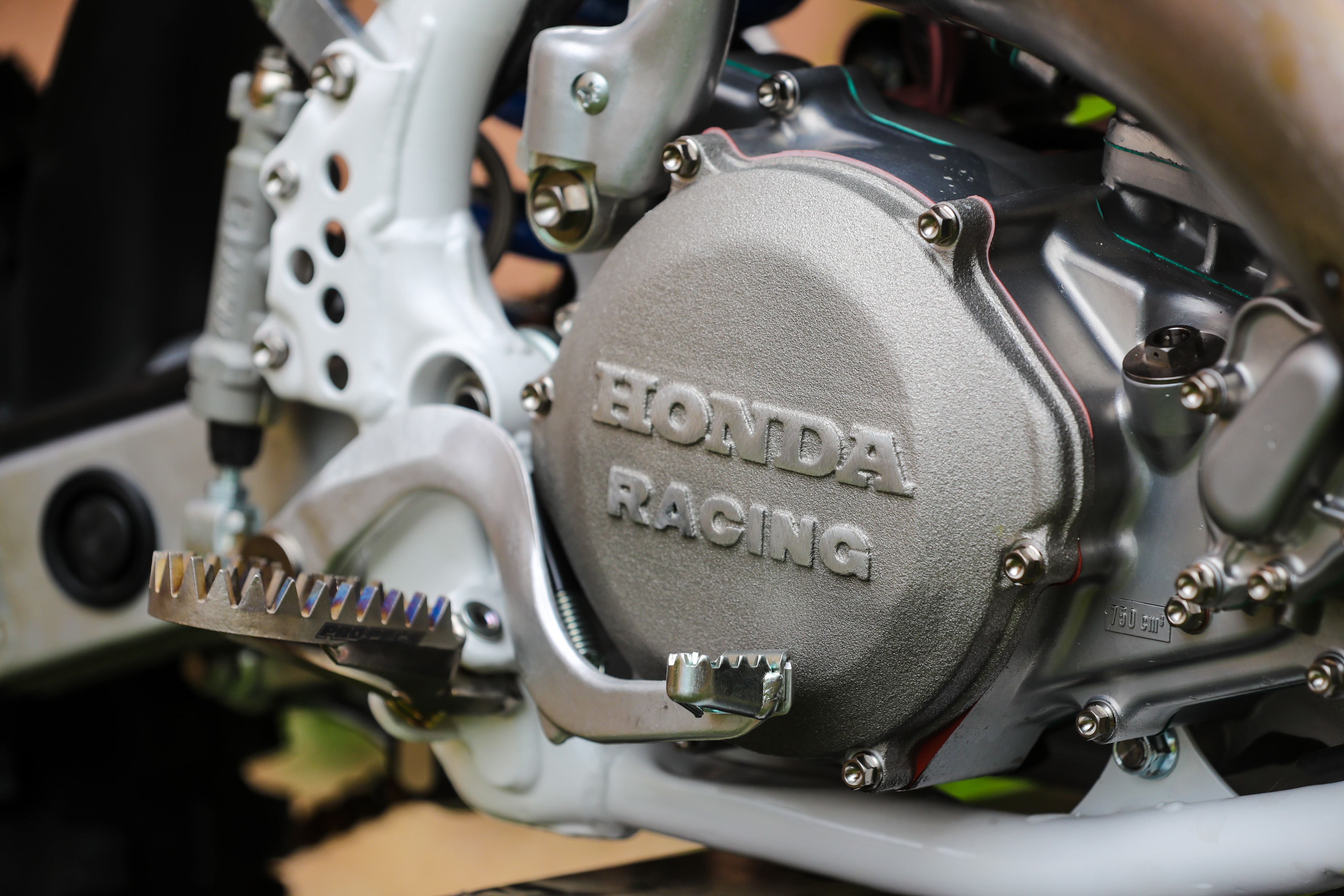 The replica Honda HRC clutch and ignition covers are $108.00 each and they're awesome. So $216.00 for these.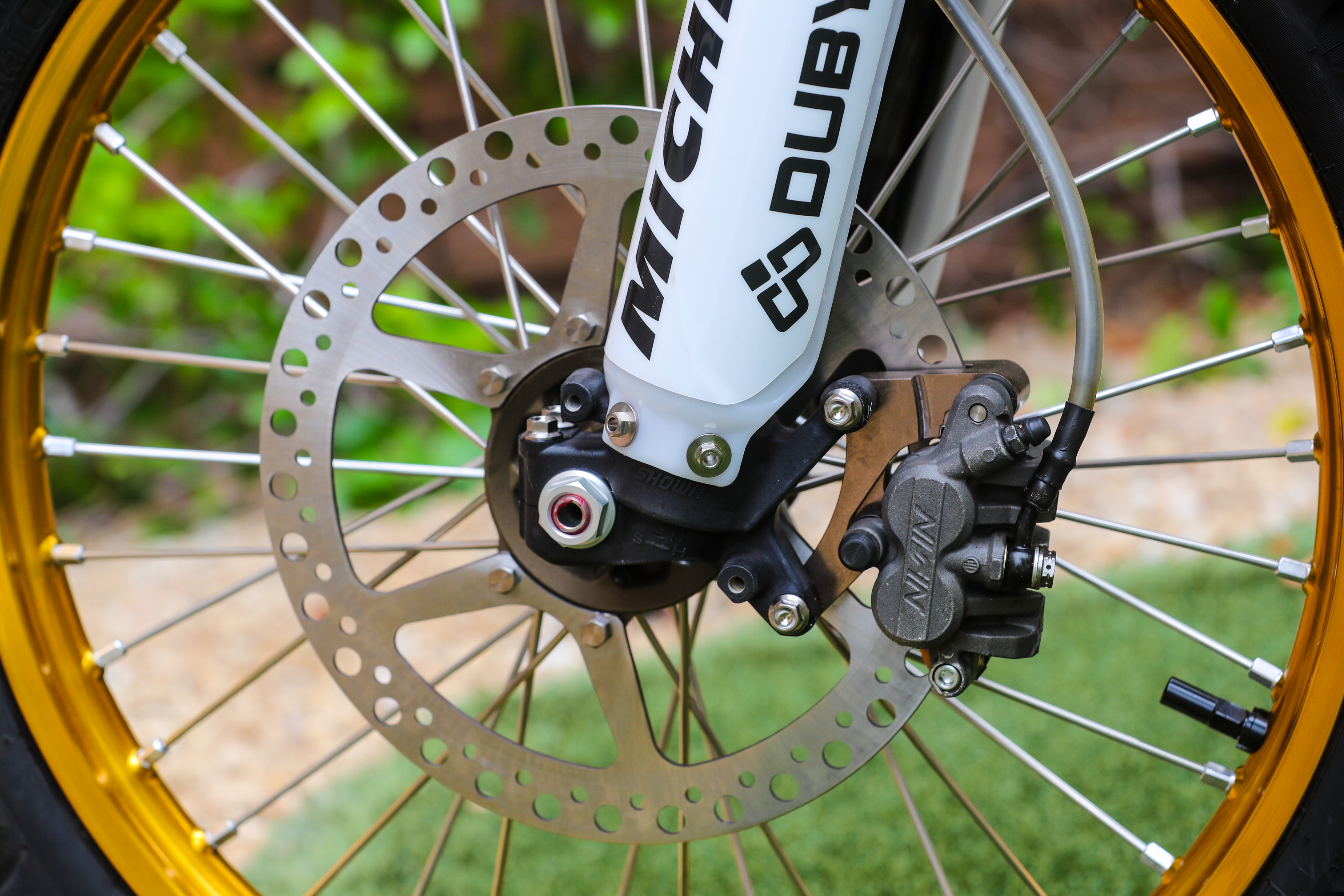 Do I need a 280mm front disc conversion for this bike? No, but it's what the factory guys ran so let's do it up right! This is $224.00 and I can now stop on a dime.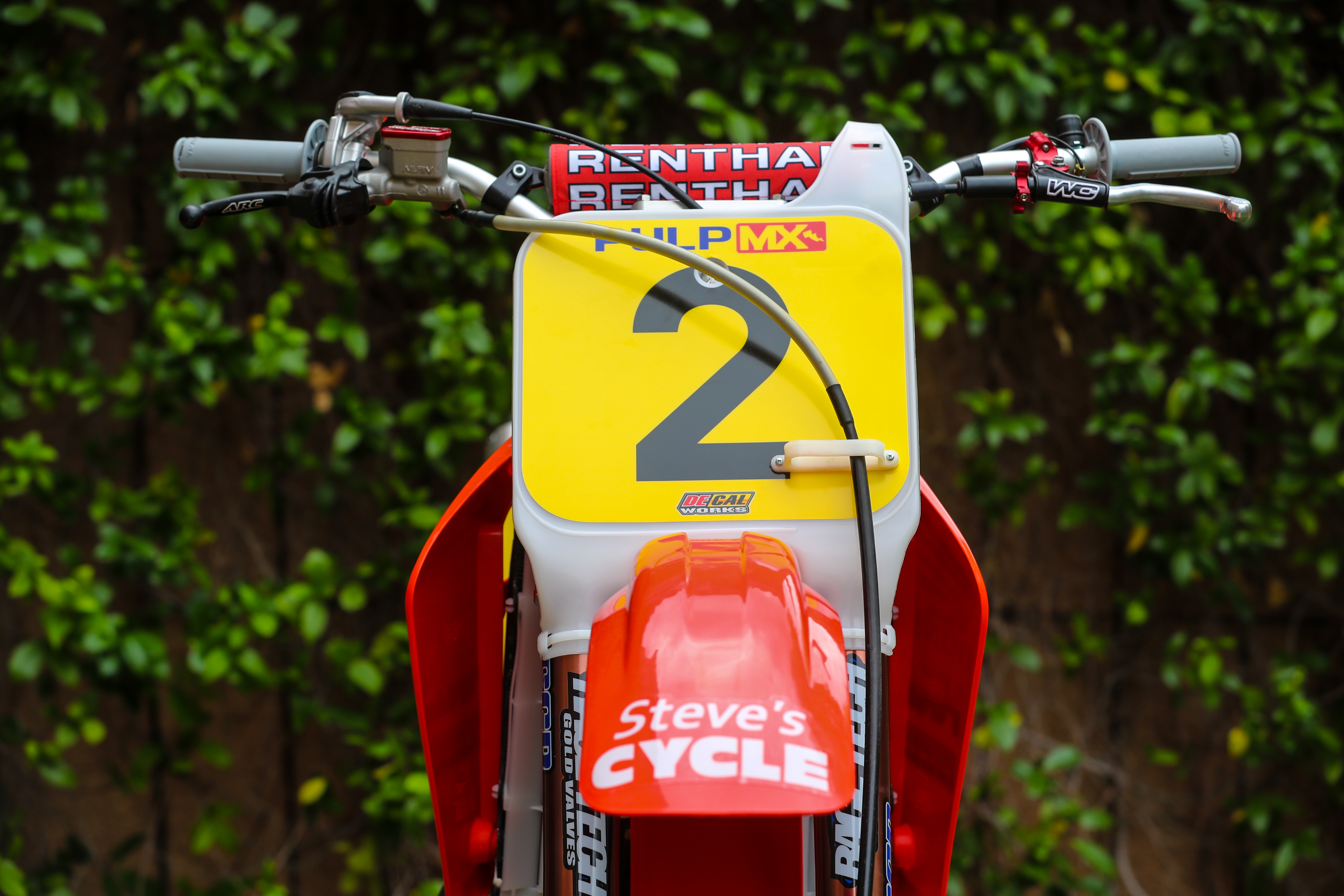 One of the coolest things about the old factory Honda look was the translucent front number plate for the USD forks and Wobbles makes a replica for $61.00. Also, that cable guide may or may not have been "acquired" from Seb Tortelli's factory bike back in the day.
Of course I need all Ti bolts for the motor and chassis and SuperLite supplied that. Looking good, feeling good! $1200.00 for everything, didn't get axles or pivot though for that price.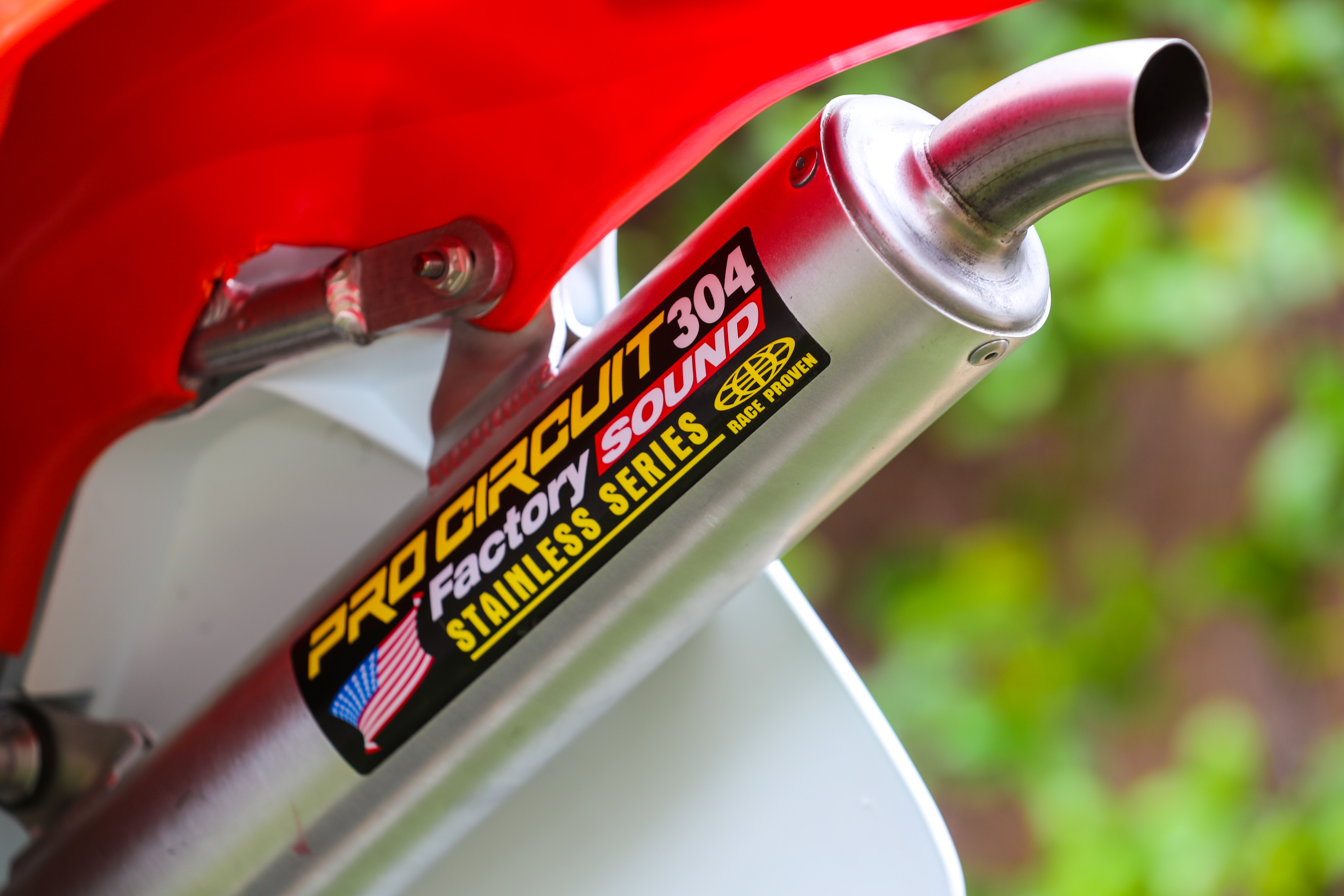 The bike had the stock silencer on it (which probably work better TBH) but I needed an old-school 1991 Pro Circuit silencer with the tip on it. Found one on eBay for $80.00 and the boys at Pro Circuit totally rebuilt it for me.
The stock seat was hammered, I got a complete one of eBay for $179.00
Retro 1991 stock cover off eBay- $35.00
GUTS Racing foam- $90.00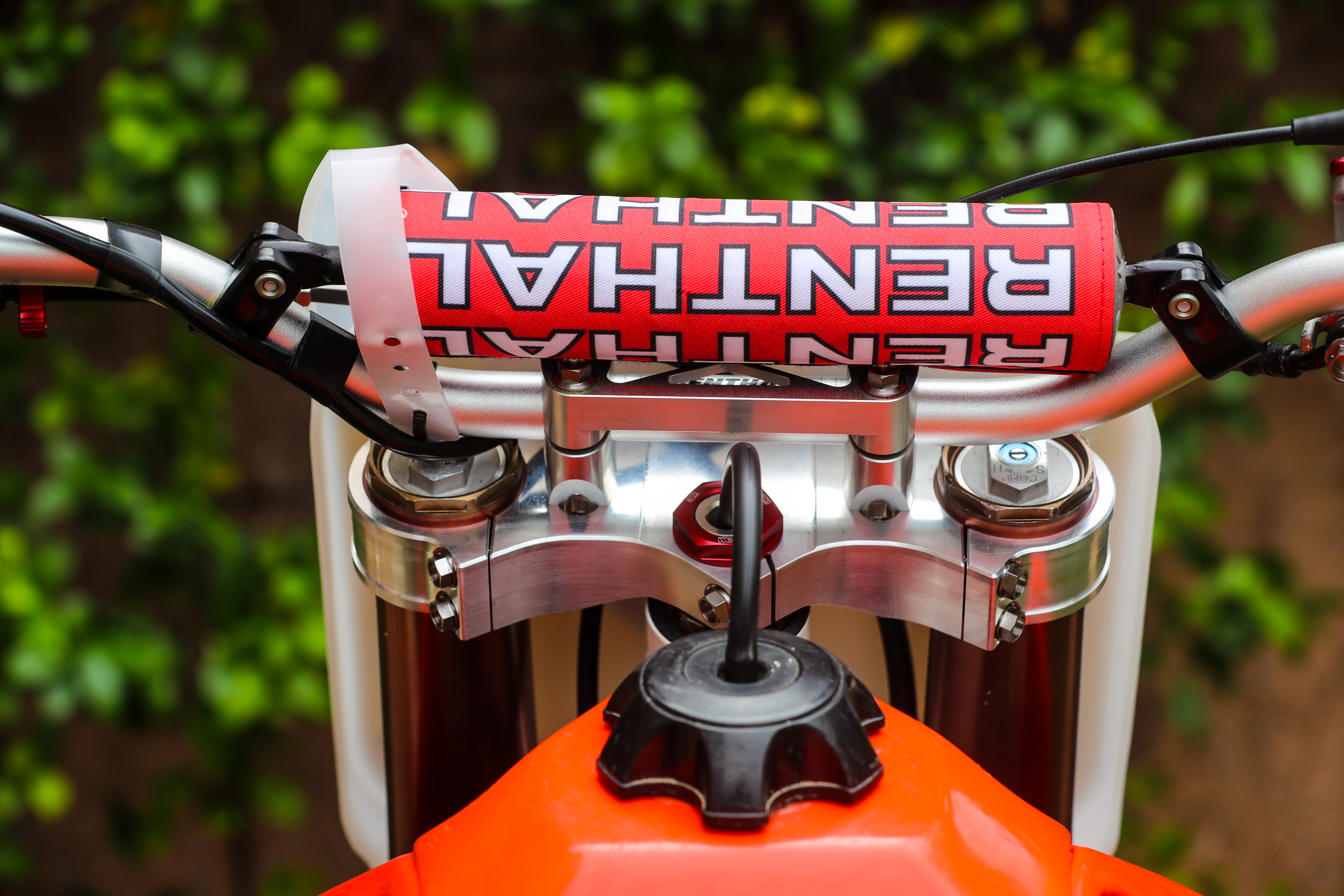 Renthal 7/8 bars (gotta try to stay OG right?) – $87.00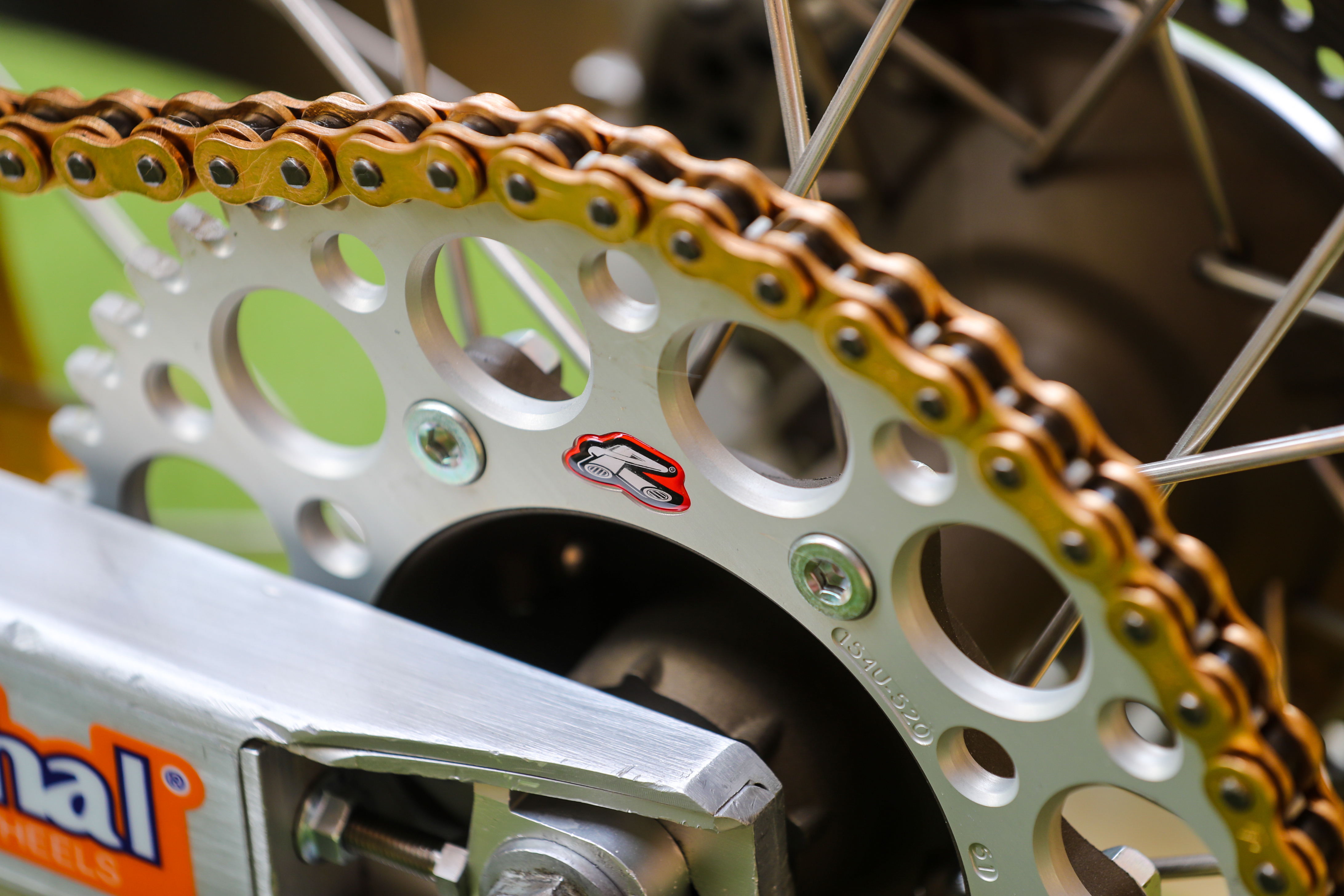 Renthal front and rear sprockets- $75.00
Renthal half/waffle soft grips- $15.00
Pro Taper aluminum throttle tube– $52.00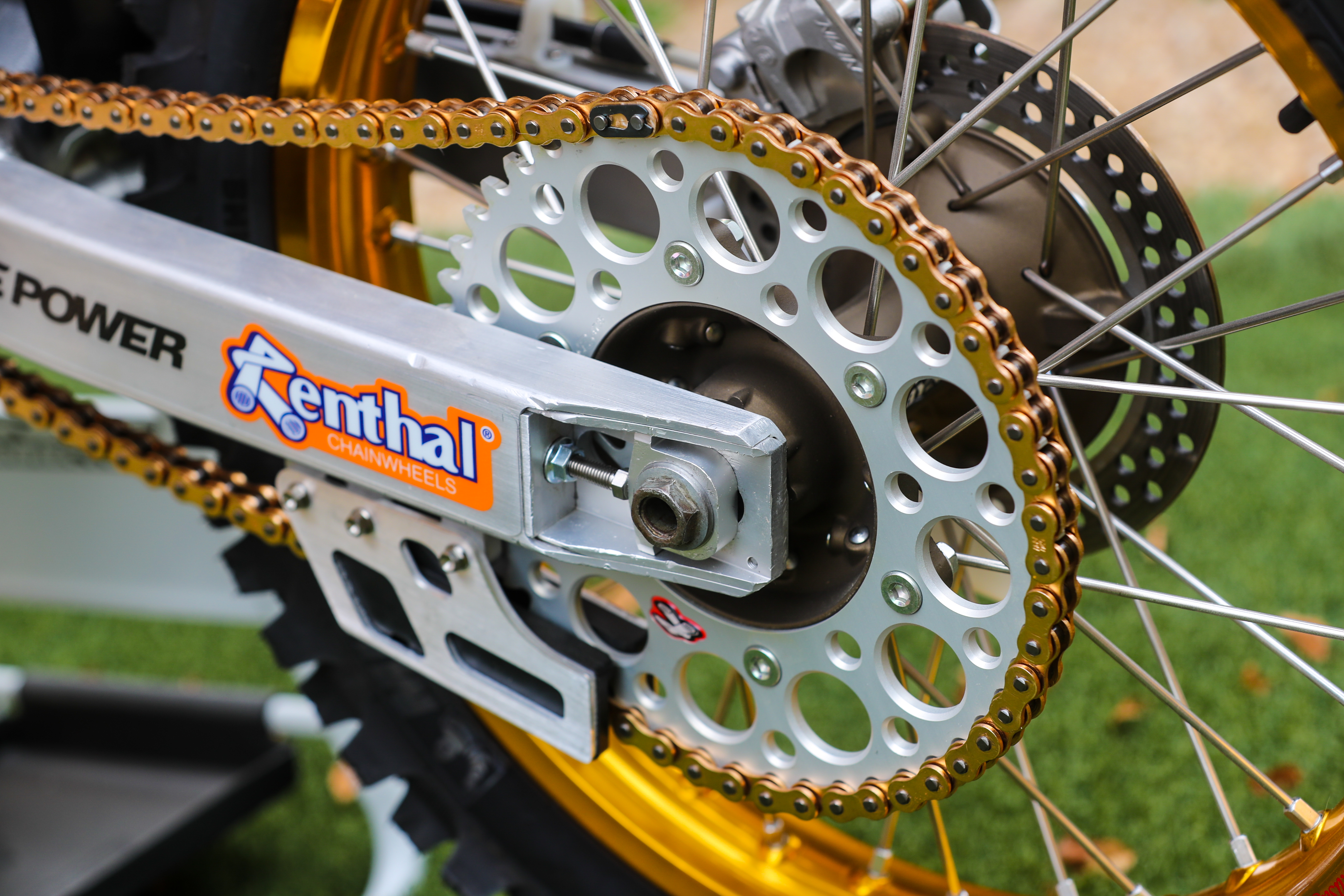 Firepower chain- $55.00
Galfer rear brake pads and rear brake line- $76.00
Pro Filter- $24.95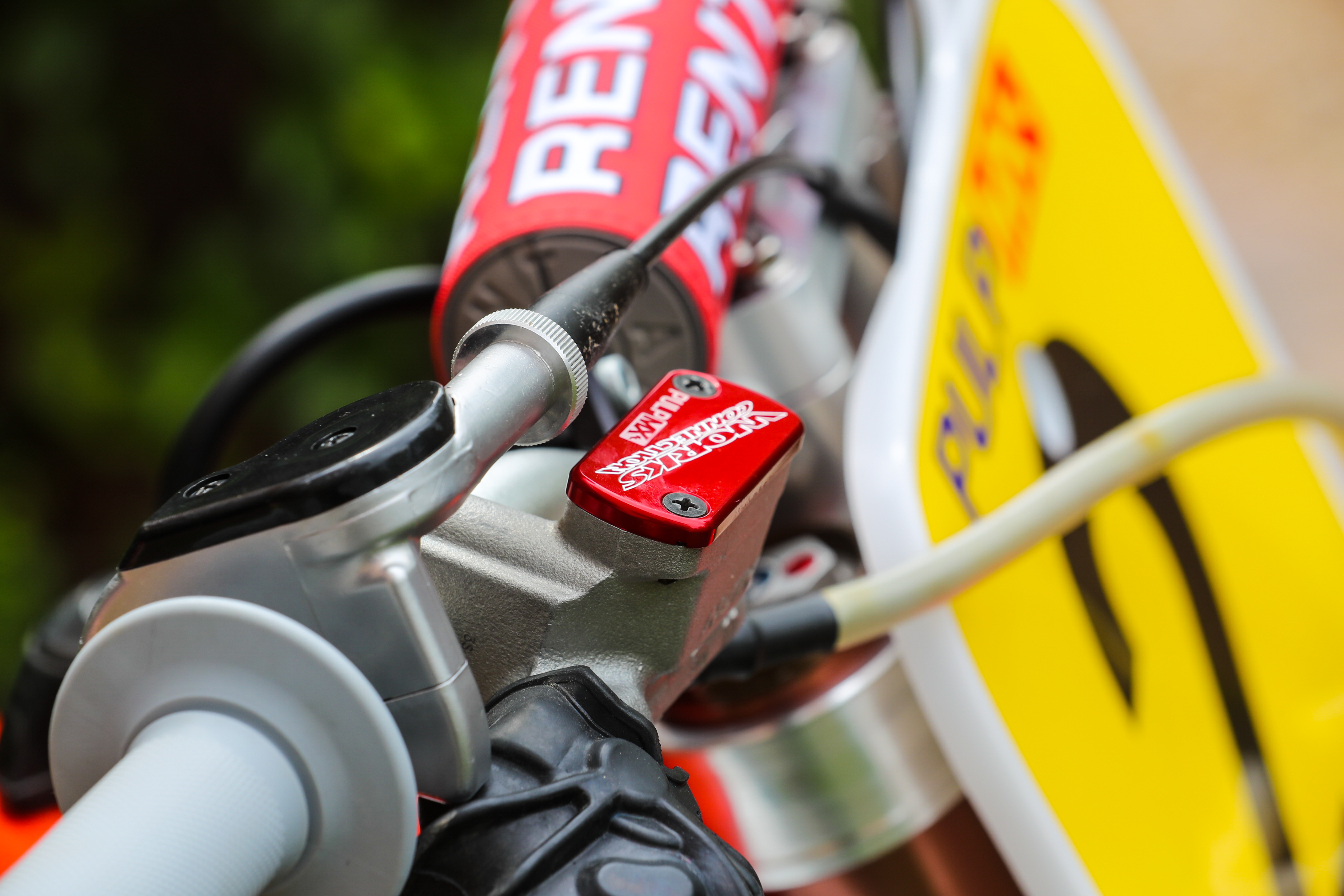 Went with new-style wheel throttle style, found a used one on eBay for $35.00
I went with OEM plastic when I could but that only included the front and rear fenders for $110.00
Dave at UFO hooked me up with the 2007 fork guards, red and white radiator shrouds (different options bro) and the side plates. Prices for these are $130.00
Sent throttle parts, rear axle, swingarm, chain blocks, the cases, some bolts, cylinder and head to KE3 in Iowa to get vapor blasted, looks great. That was $500.00
Powder coating on frame- $150.00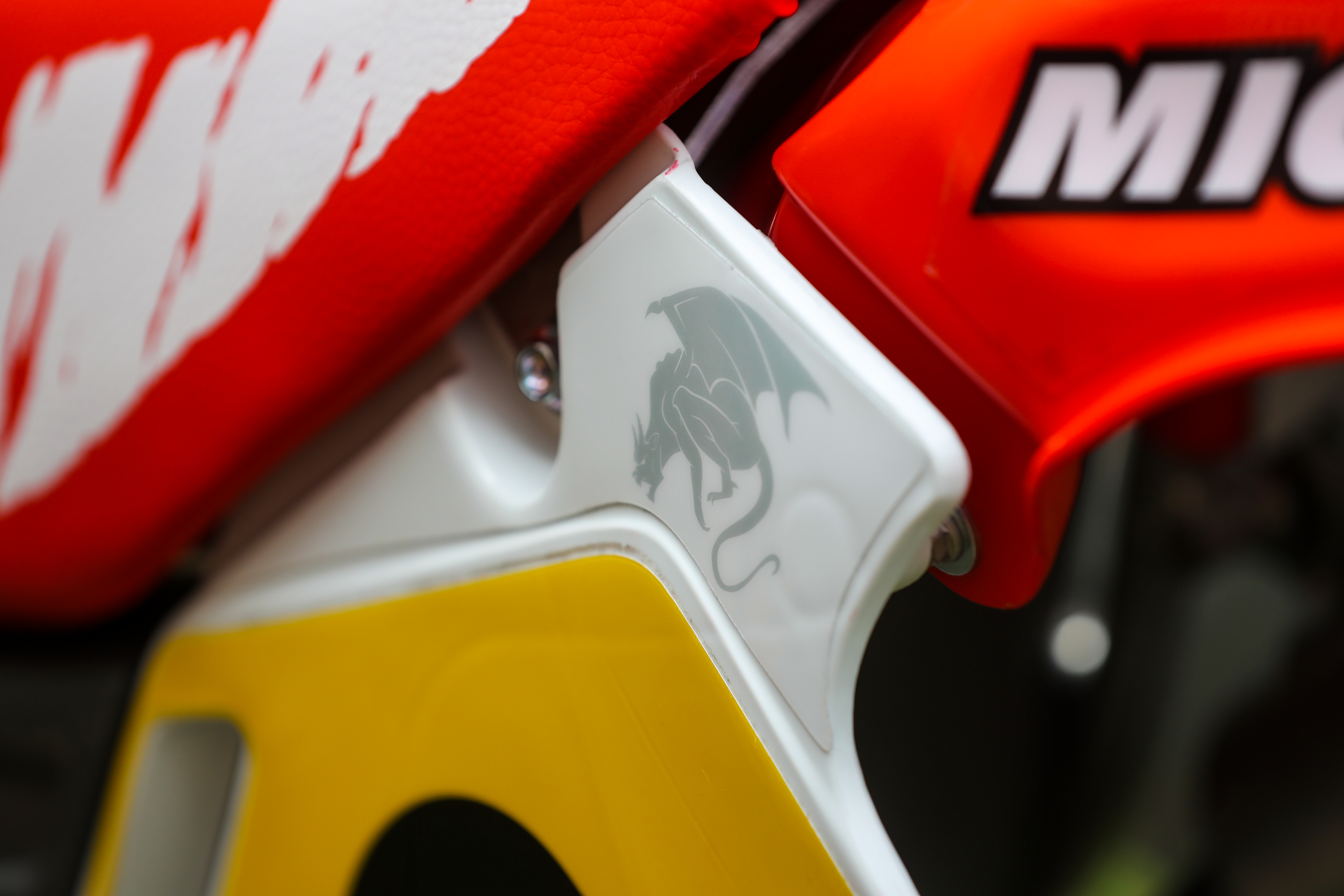 My dad and I had bought a VRP sweet aluminum subframe back in 1991 to turn the '90 CR500 into having the 1990 CR250 rear end. It's what the factory Honda guys did in 1990 and came stock in 1991. So taking it apart, it seemed like it would be ok, there was a heli-coil put in for the silencer that was hack, the rear was bent a bit as well and I tried to straighten it.
When I went to bolt it up, the upper subframe bolt wouldn't go through (but it did come out ok which was weird?), the silencer didn't line up right, etc. So I could get a new VRP subframe for $700 bucks or I could order an AC Racing one for $280.00 I went with the AC one in aluminum finish because I didn't want to wait and even though the VRP looks cooler, maybe not $500 cooler?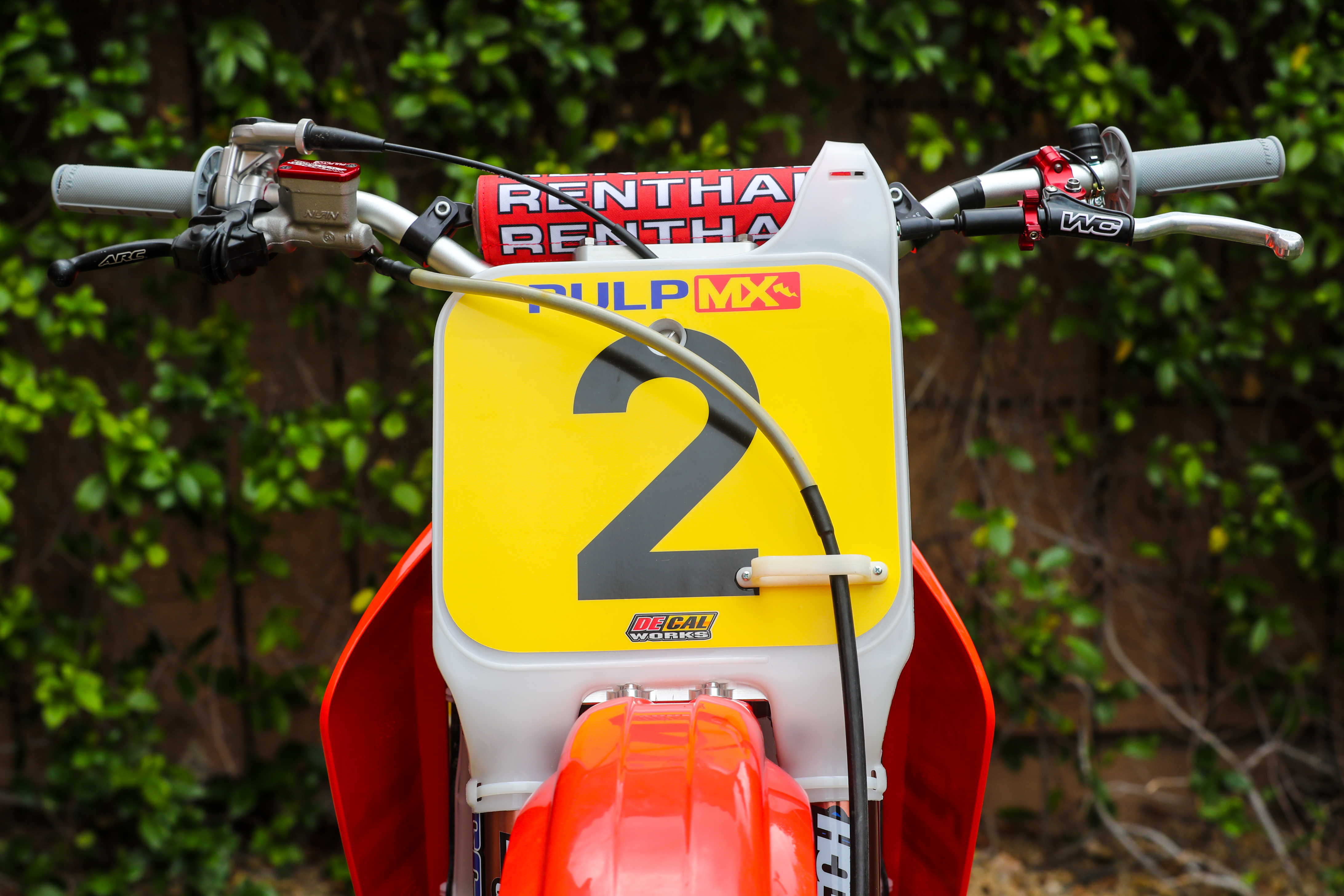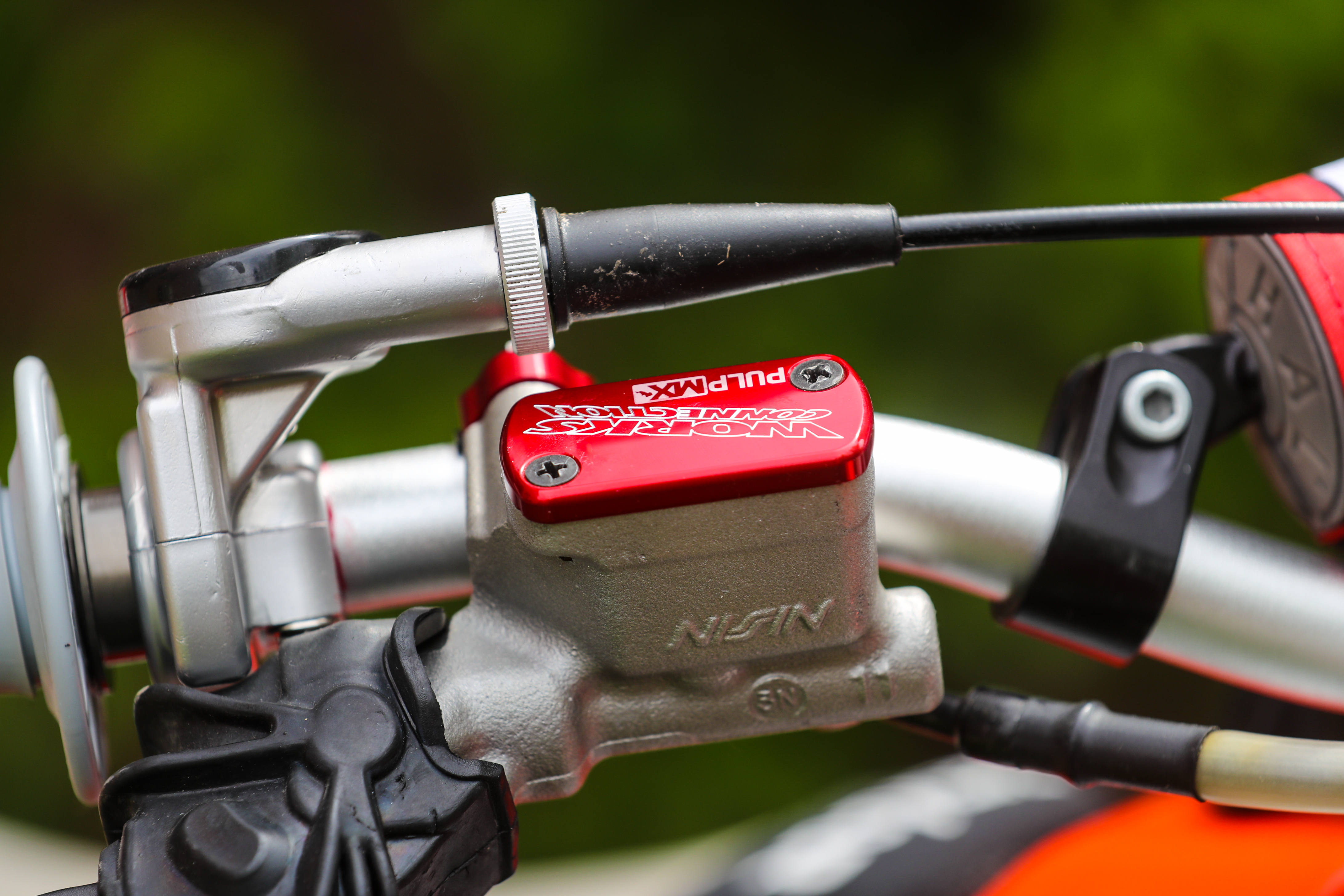 Works Connection stuff is great, Honda red looks really good as well. The Elite Perch was $155.00, the Front brake master cylinder cover with personalization is $37.00, the steering head nut is $30.00 and the rotating bar clamp is $27.00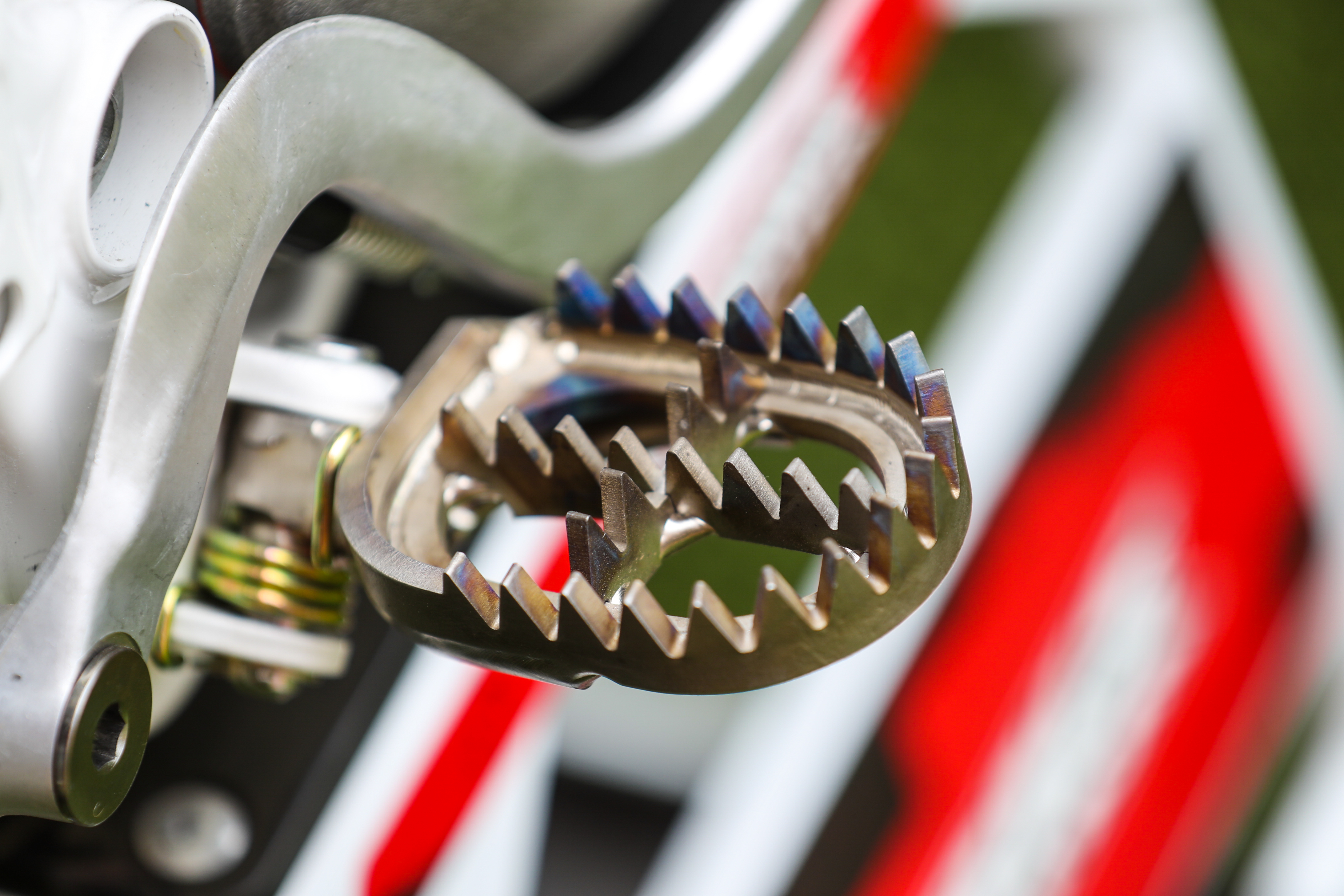 I've learned through my other builds that modern Yamaha YZ250's pegs, springs, pins fit on these older Hondas so Works Connection sells Ti Pro Pegs YZ's for $270.00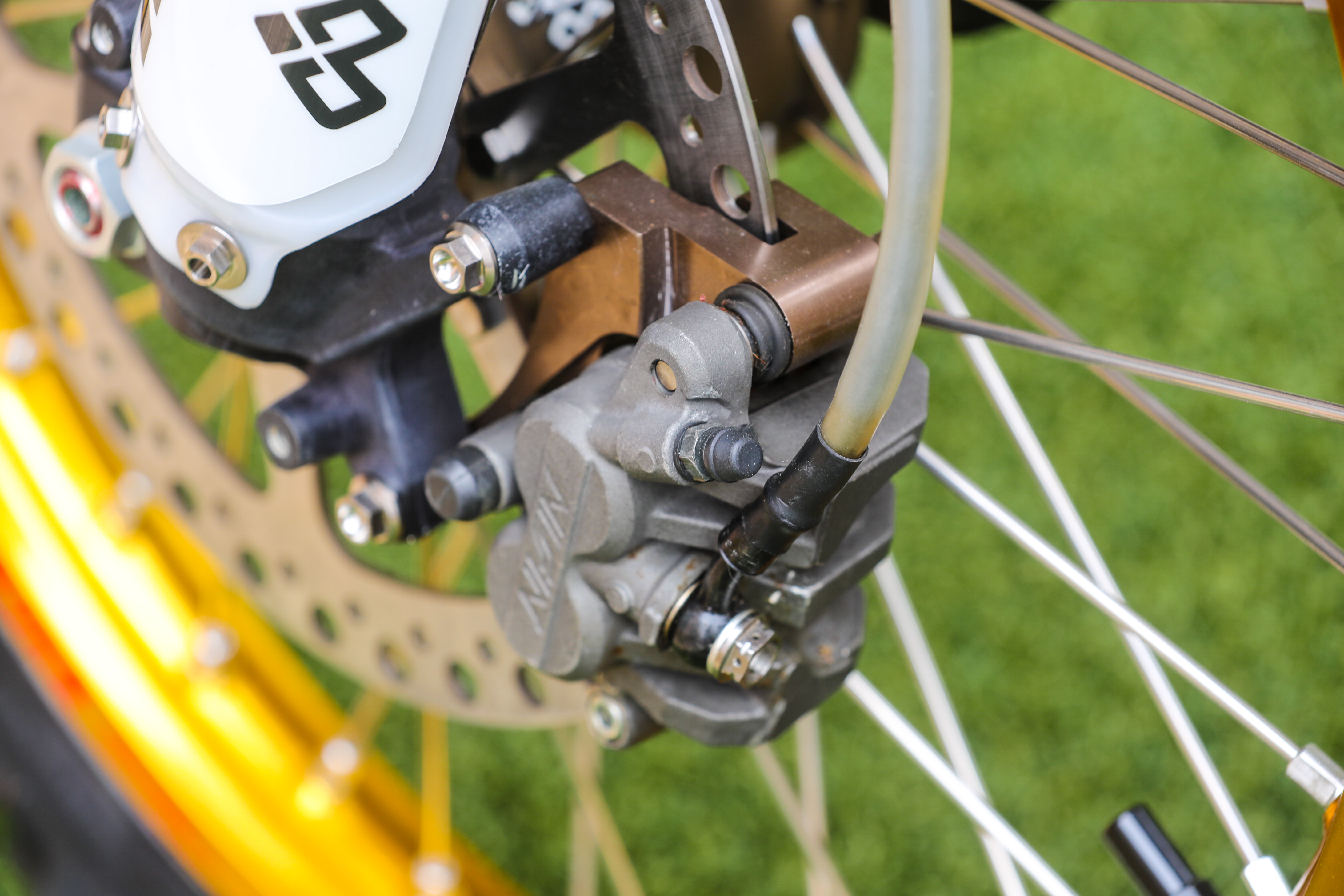 Chad Reed's entire front brake system off one of his old CRF450's was free! Yay for me!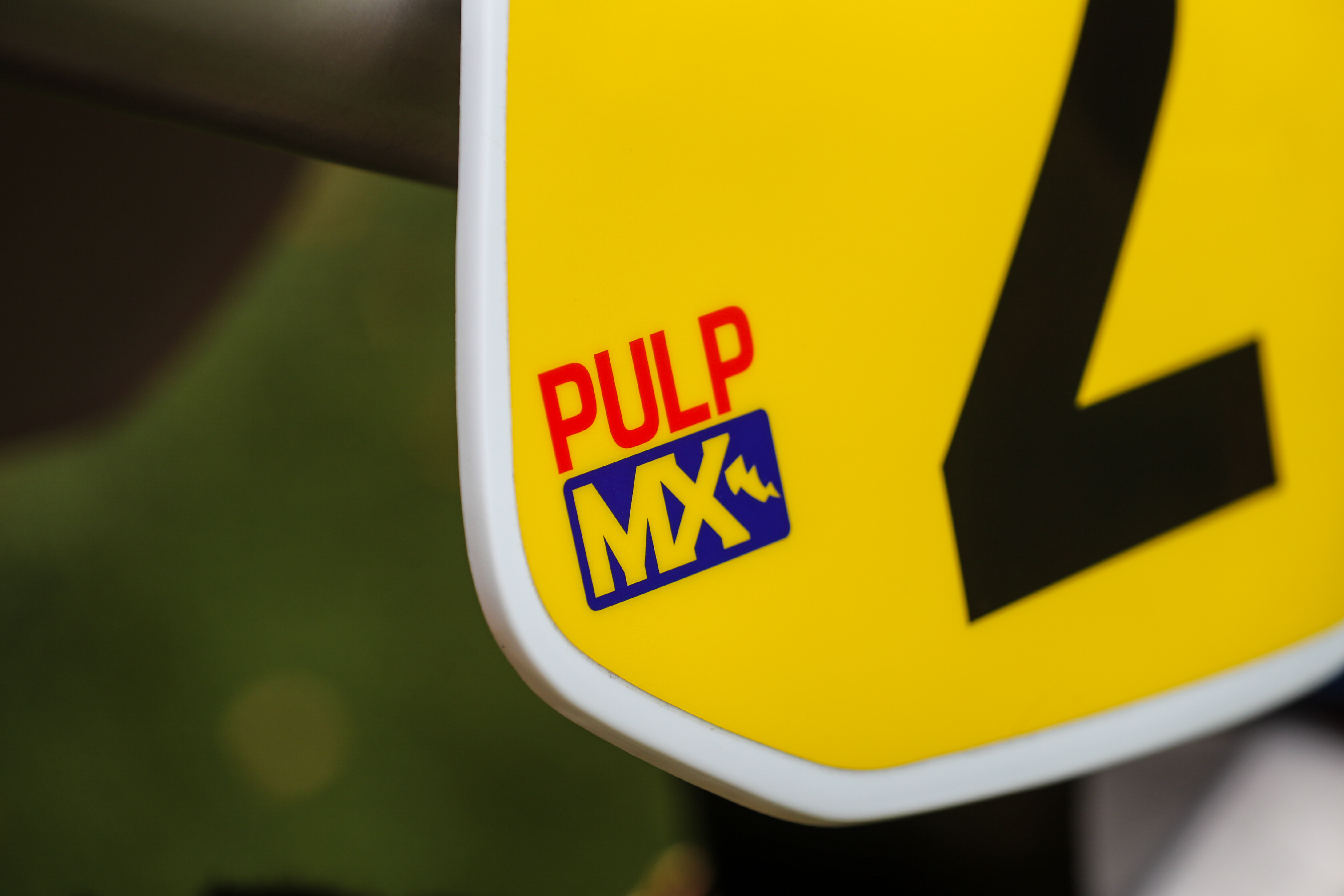 The guys at DeCal Works made me the custom graphic kit for the bike for $200.00 and I tried to stay with the appropriate logos when I could on the bike. The Honda wing HRC/Pro Circuit logo was what the factory guys ran in '91 so that was a no brainer.
So there we go, what a build. This one took the longest by far due to a move, some motivational issues for Doc Wob to ditch the business that pays to get me my stuff for a discount, some general apathy by me and who knows what else. Still, I think it turned out the coolest one out of all my builds. This bike is trick.
All told, it's just shy of 19K for everything listed in here but I guarantee you I'm forgetting some small stuff and it's probably a 20K build when it's all said and done. Lots of money, maybe too much. Don't tell my wife.
But priceless is the fact it's my actual bike I rode for three years! Welcome back home buddy.