Daytona is in the books and what a night of racing, at least in the 450's. Eli Tomac put on one of his now patented charges and caught and passed Cooper Webb. No question he got a helping hand from Shane McElrath with 3 laps to go, but when's the last time you've seen Cooper Webb get caught at the end of a race and lose the lead!? Let me know when you find the answer – it just doesn't happen.
It seems no one is stopping Eli Tomac this season. He now has an 18 point lead and is all but a lock to bring home his 2nd championship. Consider this… since 1990, the leader after Daytona has won the championship 88% of the time. There's only 4 times where the eventual champion wasn't leading after Daytona…
1990 – Jeff Matiasevich was leading Jeff Ward (-6 points), and Jeff Stanton (-9 points). Stanton would go on to win the title.
1992 – Damon Bradshaw was leading Jean Michel Bayle and Jeff Stanton (both were down -26 points). Stanton would go on to win the title.
2009 – Chad Reed was leading James Stewart (-11 points). Stewart would go on to win the title.
2021 – Ken Roczen was leading Cooper Webb (-2 points). Webb would go on to win the title.
Most impressive to me is that Eli is happy. He's been a mostly quiet guy for the better part of his career, but this season he's been uncharacteristically, happy. He's smiling in interviews and looks to be genuinely enjoying life. What's most interesting to me is that I can't remember a rider in their prime actually enjoying it. Dungey looked mostly miserable and stressed from the pressure in his final season. RV retired relatively young and it's only in retirement did we get to see him smile. But Eli Tomac is smiling and having fun while he's winning and at the absolute top of the sport. That's pretty cool.
I could continue talking about Eli and the multitude of stats that every other outlet will cover… his 6th Daytona win, 41st win that ties him with Ryan Villopoto for 5th all-time, and how close he is to being 5th in all-time points. But you can get that stuff anywhere. Instead, let's take a look at the key stat for the Top 10 450 riders through 9 rounds. A bit of a report card.
Disclaimer: I've incredible respect for each of these riders. What they do during the week for years on end to perform at their best on Saturday is incredible. This is simply an analysis of their season so far.
450's SUPERCROSS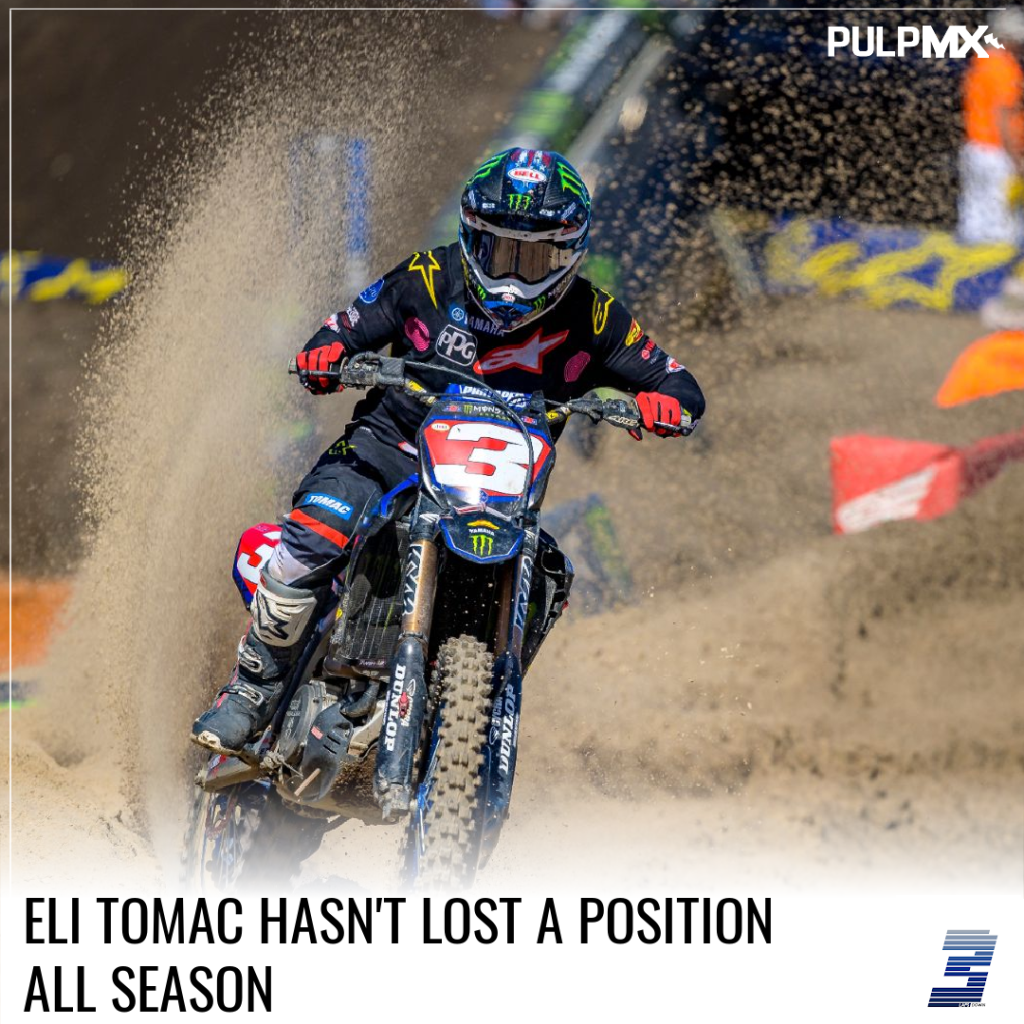 Eli Tomac (1st, 203 points). Eli's not lost a position in 9 races. He's also the ONLY rider to not lose a position in 9 races. From the first lap to the last lap of each race, Eli's not lost a position. Considering the competition and all the variables on a given night, it's amazing to think that Eli's moved forward every single time. There are 4 riders that have lost a position in only 1 race which underscores just how difficult it is. He's just not made a significant mistake and that's why he's led the series since round 3.
Jason Anderson (2nd, 185 points). Considering he'd gone 47 races without a win dating back to his championship season in 2018, you've gotta give a nod to Jason's 3 wins. He entered the season on a new team for the first time in his professional career. He hadn't won in over 3 years. Virtually no one had him as a title contender. But here he is 2nd in points and a contender since the gate dropped at round 1.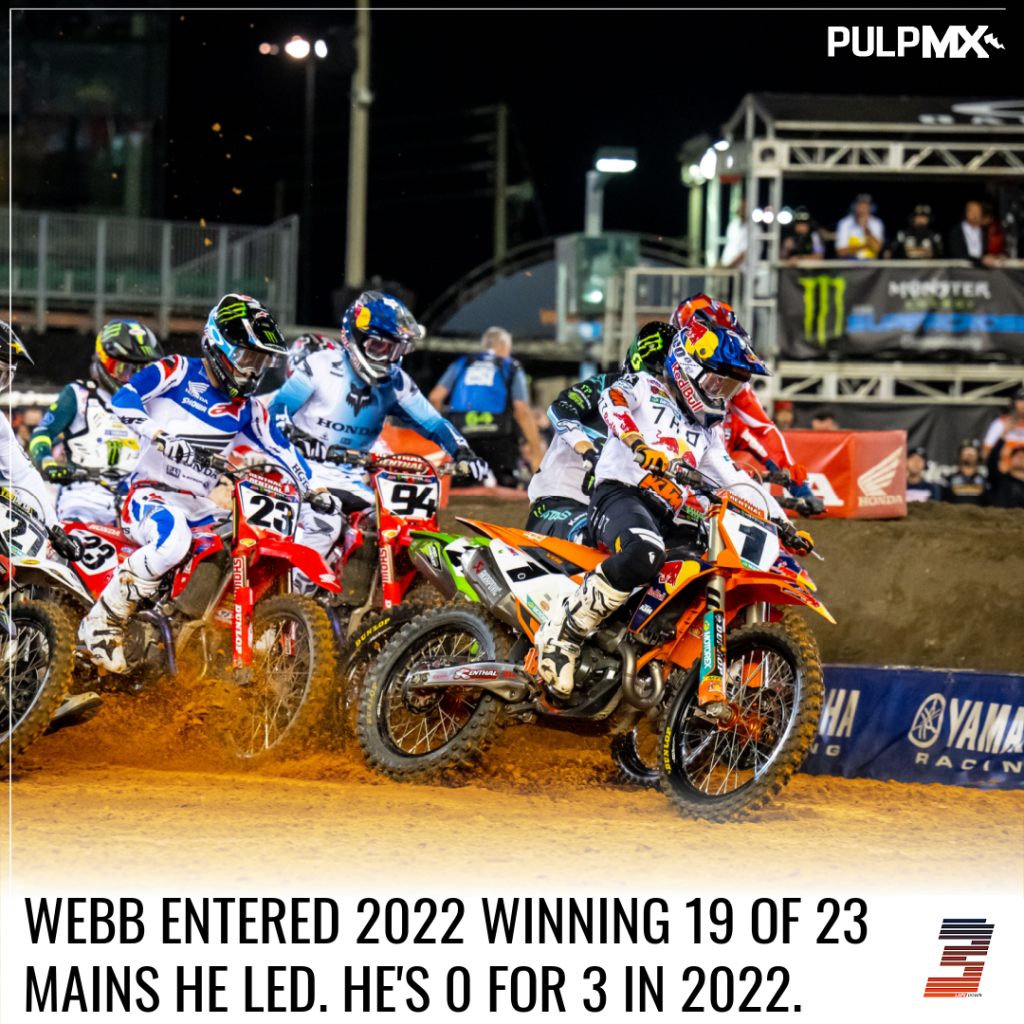 Cooper Webb (3rd, 170 points). Entering the 2022 season, Webb had won 19 of 23 races he led. Think about that for a second… he won 83% of the races he's led. When he got into the lead you could all but guarantee he was going to win the race. It's a testament to his determination and never give up attitude. But he's now gone the longest without a win (9 rounds) since joining KTM in 2019 and he's led 3 races and has 0 wins. He's nearly doubled the number of races he's led and not won in the first half of this season. It's uncharacteristically Cooper and that's why it sticks out as the stat of his season so far.
Malcolm Stewart (4th, 164 points). Malcolm is having a career year as evidenced by his career best 2nd place in Glendale and career best 3rd in the series for two rounds. The critical stat for him is 7 Top 5 finishes, tied for the most in the series. He's shown blistering speed with two fastest qualifiers and we've always known he was fast in the whoops. But this year, he's show consistent speed and 7 Top 5 finishes highlights that nicely.
Chase Sexton (5th, 163 points). The easy stat to call out is Chase's first win in San Diego, but that's not a great indication of his performance through 9 rounds. More indicative is the combination of 4 races with lost positions plus setting the fastest main event lap 3 times. He's got the speed, but not the consistency. He's still only 22 years old though, so when you see that he's lost position in 10 of the 20 career starts, it's not entirely surprising.
Justin Barcia (5th, 163 points). I've been trying to find something that would highlight his season and you know what… there's not a lot of stats that stand out. He's averaging 10th in qualifying. He's done so for 4 straight years. He's averaging 8th on the first lap, he's been 7th or 8th the last 4 years. He's averaging 5th in the mains and that's 2 positions better than last year so let's go with that.
Marvin Musquin (7th, 145 points). 1 podium. That's the stat that highlights Musquins season-to-date. It's the least amount of podiums through 9 rounds in his career. His previous podium low through 9 rounds was 3 (2016, 2021).  It's not that he's having a bad season – it's just not been a great season. Case in point was San Diego where he led the first 3 laps but then finished 10th. When he got out to an early lead, I thought for sure he was in position to win or at least podium. That's what we've come to expect of the veteran. But that's just not how his seasons go so far. Good, but not great.
Dylan Ferrandis (8th, 137 points). Ferrandis has been the fastest qualifier all year long – averaging 3.2 through 9 rounds. But the most important stat is 10th on the first lap. He's getting horrible starts. Not mediocre, but horrible. He's typically buried around 14th at the holeshot line. In a field with this much talent, he's simply not going to contend for podiums and wins. But in San Diego when he rounded the first lap in 6th he got his one and only podium of the season, proving that his key to the race is indeed a good start.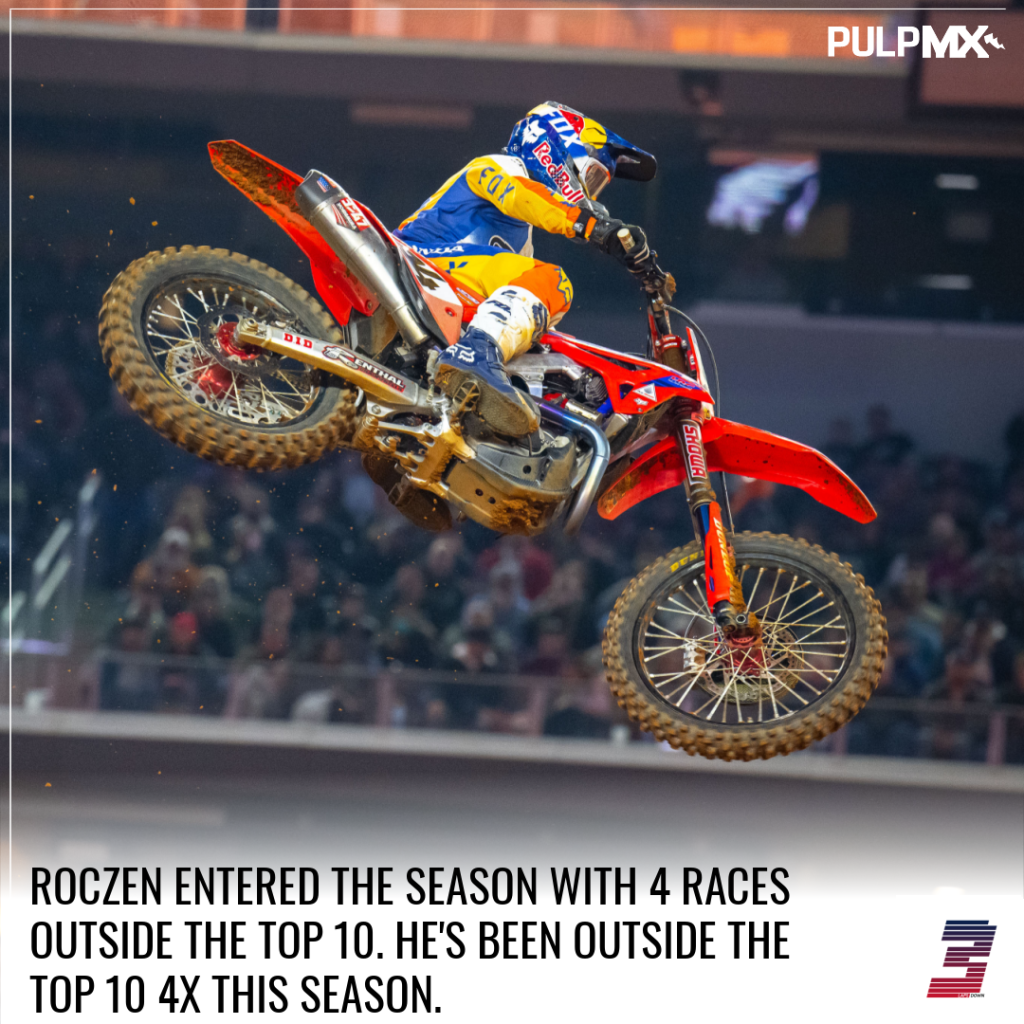 Ken Roczen (9th, 133 points). Last year, Roczen left Daytona with a 2 point lead. This year, he's -70 points back of Eli Tomac. It's been a very different 2022 season and there's one stat that describes it perfectly. He's finished outside the Top 10 4x. Think about this for a moment… he had finished outside the Top 10 4x in his first 107 career starts. He's now finished outside the Top 10 4x in just 9 starts in 2022. At this point, we have to start the conversation about Ken Roczen joining Damon Bradshaw as one of the best to never win a premier class supercross title.
Dean Wilson (10th, 110 points). Dean-O's magic number is 11th. He's averaging 11th in qualifying, 11th on the first lap, and 11th place in the main events. We simply know what we're going to get from the likeable scotsman in 2022 – 11th.
Anything I missed for the Top 10 riders in the series? Drop me a line @3lapsdown on Instagram or Twitter and let me know.