After his great ride in Italy (2nd overall), Pulp's Jonathan McCready catches up to the American.

After his great ride in Italy (2nd overall), Pulp's Jonathan McCready catches up to the American.
Podium redemption for Leib!
Photos and words by Jonathan McCready
Californian Michael Leib has had a rough couple of season in the World Championship struggling with machinery, injuries and living in foreign countries (first France, then Italy). To say it wasn't easy was an understatement and that was before he took on the riders such as Osborne, Roczen, Herlings and Searle on the various tracks in different countries.
Leib had the odd top ten over the two GP seasons to show he had some real speed but things just never worked on a consistent basis. So for 2012, Michael headed back to America to rediscover his love for racing and to be back in an environment where he could ride to his potential.
After a good rookie supercross season on his own team, Leib got an unexpected call from Steve Dixon, manager of the factory MX2 Yamaha GP team. Steve needed a short term replacement rider for Zach Osborne who was injured prior to the first GP and, after seeing Leib's performances in Supercross and combining that with his GP experience, Steve felt Michael had the talent to get some decent results on what is one of the best bikes in the GP paddock.
With no outdoor preparation and no time on the Yamaha prior to his first GP, Leib scored a solid tenth and eleventh in Bulgaria. Then Leib headed to Italy. He had got good results there before but this time Leib rode the race of his life. Twentieth to third in race one, Leib finally got a good start in race two and eventually passed the Factory KTM of Jeremy Van Horebeek to lead for the next 25 minutes of the race. Herlings and Searle eventually caught and passed Leib, but they were setting a blistering pace consumed by a championship battle, while Leib battled a lack of outdoor preparation and an injured knee. Michael would eventually come home third again, but crucially he finished second overall and scored the first professional podium of his career, putting the American flag back on the podium. It was the best performance of his career and showed just how good the American really is when he has some top class machinery.
To say it was redemption is no understatement and the American's performance was the talk of the pits after the races. Even a member or Leib's 2011 Husqvarna team came to congratulate him, showing that the friendly and likeable Californian made many friends in Europe. It seemed everyone was happy for him and understood at least to some degree just how tough the last couple of years had been for him.
We caught up with an ecstatic and at some points lost for word Micheal Leib on what was the best day of his career so far.
Did you expect to podium today? It kind of came out of nowhere!
It was pretty unbelievable honestly. The first moto I made a charge from twentieth to third and I actually kind of injured my leg a little bit and I was worried for the next moto. I can't thank Monster Energy, Yamaha, Bike it, Cosworth and all the people that have helped me out, and all the people at home. It is unbelievable, this is my fourth day on the bike and I went 3-3 for second overall. You expect to do good, you work hard to do good, but it is easy to say. The last two years have been very very hard for me to go through.
Do you think the last two years being so tough has helped you?
It is something that was hard to come away from, I had a decent supercross series apart from a crash in San Diego. The last couple of years will make me the racer I want to be and without those… I don't know. It is such an unbelievable feeling, I don't know what to say!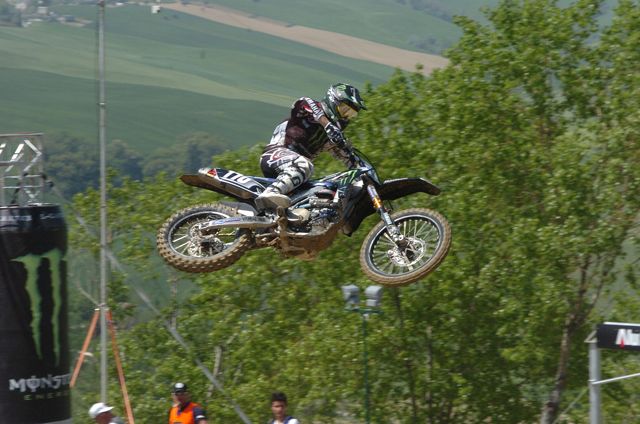 Leib led the second moto for a long time before settling for third.
What did it feel like to be leading ?
After I passed Jeremy I kind of thought he was going to stay right with me but somehow I pulled away. After fifteen minutes I was leading, but I trained one day for outdoors before coming here and to do two 40s (minute motos)… it is hard.
Did you feel those guys (Herlings and Searle) coming, or where you struggling with your knee or fitness?
It was a combination of both… (pauses and thinks about what he has accomplished) I just don't know what to say, I am at a loss for words!
How much does this result redeem what you have been through the last couple of years, and are you riding outdoors in America?
It is all up in the air, normally I will be riding for eleven ten mods, in the nationals, and maybe Vegas Supercross next weekend.
This (GP deal with Yamaha) came together basically within a week, and like a said it is completely unexpected. I came to back to Europe and I wanted to have redemption of some sort, of anything at at all, and I completely succeded with that goal. I put a lot of work in over the winter, people underestimated me in Europe for two years, I completely understand why but it is perfect what happened here today.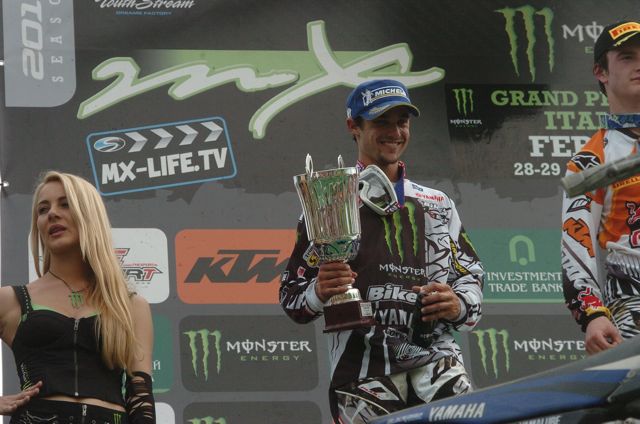 Leib on the podium after his best ever race in a GP.
This was the first time you have had top machinery, do you think that will help people in America realise what you can do on a good bike too?
It is something I don't really know. All I know is I am having fun doing it and that is the only reason I will doing it. The day that I am not having fun anymore that is when I will quit. I am enjoying life right now so much, I have a great girlfriend back home, a great family, a great support group around me. I am super blessed, it's as simple as that.